Reviewed By Dominic B, Northwest WI
Overview: In 2011, we purchased our showroom new 2009 Arctic Cat 550 H1 EFI primarily for utility work around our tree covered property in northwest Wisconsin. It had all the features we were looking for: Automatic Transmission…with reverse, selective 2WD/4WD and enough power to drag/pull cut trees around our property. The one thing that probably sold us for sure on the Arctic Cat was that it came with a standard towing receiver. Using separate draw bars it is quick and easy to change between ball, clevis or pintle hitch. When we need to reposition (very carefully because of tongue weight limitations) our 5 x 10 Cargo Trailer we attach our ball hitch. For dragging cut trees to our wood pile we switch to our draw bar with a clevis hitch and when we need to tow a 4 wheel wagon that requires a pintle hookup we use can easily switch to our pintle hitch. It's great because we use these very same hitches on our pickup. Many other ATV's come standard with a flat receiver so you must undo the ball hitch (which is time consuming) when you want to switch to a clevis hitch.
Towing/pulling capabilities: With the 545 CC engine and a towing capacity of just over 1,000 lbs we have had no problems dragging a 10 – 12 foot section of a trimmed 10 inch diameter tree to our wood splitting area.  We have also pulled 7″ x 9″ x 10′ standard railroad ties and the Arctic Cat can pull two of them with no problem even with the additional drag from the ties being on the ground.

We mostly take one at a time just to make sure we don't break anything in case we get hung up or get snagged on our way to the retaining wall work area. When we need to reposition our 5 x 10 Cargo Trailer (when empty) from the trailer storage area to somewhere nearer our garage (200-300 ft away) we use the Cat for that as well.  Though the tongue weight of our cargo trailer is heavier than the Arctic Cat's Tongue Weight limit we don't hesitate because we take it very slow and our driveway is fairly smooth. If we had to move the trailer a farther distance or over rougher ground we would probably use our pickup.

Transmission: Our Arctic Cat 550 has an automatic transmission, low and high range and reverse. It has an electrical switch to easily change between 2WD and 4WD. The owners manual warns not to attempt to change transmission range to/from High or Low while moving. It also warns not to switch to/from either 2WD or 4WD while in motion.
Accessory hookup: We quickly found that we could easily attach our 15 gallon Fimco Spot Sprayer on the rear rack of the ATV even though we did not have standard ATV/Sprayer hardware attachment bars and brackets. Two strap style tie-downs is all that was needed to securely attach the sprayer. There is a 2-flat electrical connection in the rear which is exactly what our sprayer required though I had to purchase an extension to reach the pump connection. There is an additional accessory plug (cigarette lighter style) on the right side of the main instrument console.

Handling: With individual 4 wheel suspension and 11 inches of ground clearance the Cat easily maneuvers over rough terrain while keeping all wheels on the ground. Steering is responsive and placement of the handle bars are a comfortable distance so there is less arm strain.
Fuel capacity: Our Arctic Cat has a 6.5gal gas tank but because we only use our ATV for utility purposes I can not even guess what sort of mileage it might get. One moment we might be traveling 15mph down the driveway to get the mail and the next we might be dragging a tree around the property at 2-3 mph in 4WD and Low range.
Engine/Ignition/Startup: The 550 H1 EFI is fuel injected and has no choke. Startup is simple and there is no need to guess how to adjust the choke. 2-3 minutes of warm up time, as with almost any ATV, and off we go. If we were to consider taking our ATV out on the trail we might consider installing a backup recoil starting mechanism which is an option on this model.
Additional Images: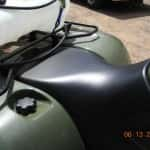 What's Your Reaction?