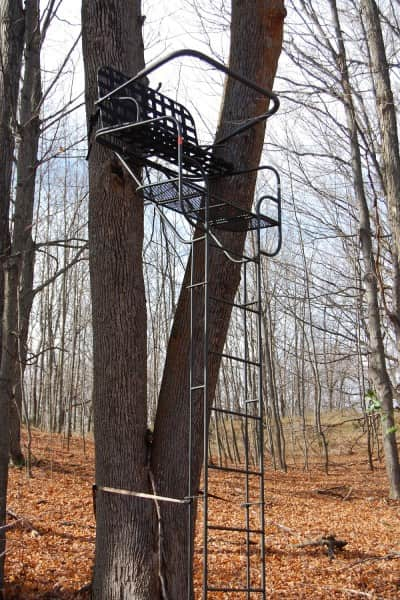 I get to test out a lot of cool hunting stuff, and I spend a lot of time hunting each fall. Now, like many of you, I know that to be an effective bowhunter, sometimes you need to get vertical to fool a deer into bow range. The problem I have is that I hate heights. Not good with them at all. I also have two kids, so safety is paramount. I went looking for a ladder stand that would be strong and safe. I didn't have to go far. In fact, it was just a short drive here in Michigan to Family Tradition Treestands, LLC, and I had a DD14 Ladder Stand–the ultimate ladder stand for deer season.
I went with a double stand model from them as I wanted ample room to move around and to have space to take my wife, or to film from. Filming your hunts is the rage right now and let's face it, It's Not Easy, but it's pretty darn cool.
It's all in the construction
What makes it the best? Well for one, there's not much assembly with this bad boy. They weld as much as possible at Family Tradition, because that is the best way to make a stand strong. Bolts fail more than welds. I was shocked to see a stand that was basically three pieces and a shooting rail.
The ladder sections feature a double-rung design, and Family Tradition was the first to do that, said Jack Turner, owner of Family Tradition Treestands. The seat section was one-piece and was tougher than anything I've ever seen. The few bolts it did take for assembly were extremely high-quality and the strap for attaching it to the tree were not the cheap varieties you'd find in the bargain bin. These were as high a quality straps as you could get. It inspired a lot of confidence in me that I was going to be safe in this stand. I've had this stand up for almost a full year now and it still looks brand new. No rust and no failures of any kind. The steel is all powder-coated and has a high-traction feel to it.
We, meaning my daredevil wife and I, set up the stand and after a few adjustments, it was rock solid. No wiggle at all. This stand has made me more confident than I've ever been. Usually there is some amount of movement in a ladder stand–not this one. I've used big commercial ladders for house work that aren't even close to being this stable. To top it off, the stand works with just about any tree. Very impressive.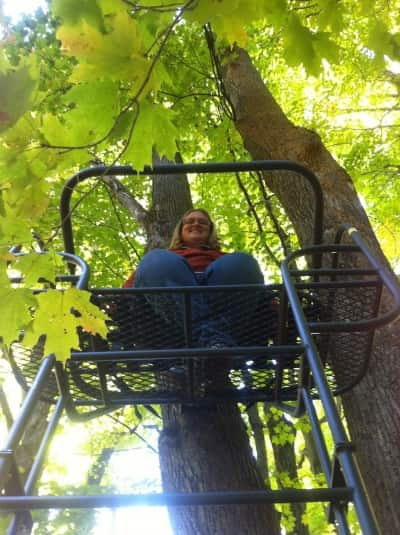 My test model, the DD14, double ladder stand has a seat height of 12 feet, three inches off the ground. When seated in the DD14, my eye level is about is 14-and-a-half feet off the ground. The nylon webbed seat measures 42 inches wide by 15 inches deep, and the webbed back measures 23 inches high. The seat is very comfortable and so far seems to be extremely durable. The standing platform measures 42 inches wide by 17 inches deep and is made with expanded metal flooring, making the platform very stable-feeling.
The Family Tradition double-rail ladder construction eliminates the need for an additional brace against the tree. In fact, a single ratchet strap secures the stand. The pivoting rifle rest allows for easy entry and exit, again, vital for a guy like me who doesn't like being up that high. The rail is padded as well, to keep things quiet.
A fall restraint system is provided with each stand for added safety, although I used my Scentblocker Tree Spider system. I don't take chances. Wear a vest if you go up in any tree, people.
If you're in the market for a new treestand, I can't urge you enough to contact Jack Turner at Family Tradition Treestands. If you care enough about yourself to have the best possible gear when you go hunting, this is the way to go.
And if you're like me, if you're going to do something that puts you in possible peril, like say going up a tree 15 feet in the air to hunt, you want and need the best–these stands are it!
These are not cheap stands. They use premium steel and a lot of time and care is used in the construction. And Turner cares about his product too. We spent a good deal of time on the phone discussing the stand and he wanted to make sure I knew how to properly set it up. It was impressive to see how much pride went into the stand and that shows. They routinely win awards for being a top-quality product and quite a few big-name hunting celebrities use and endorse them.
Impressing me with hunting gear is, well, It's Not Easy! I did find myself impressed with the stand enough to say that if you're in the market for a high-quality ladder-style treestand, you should really check this one out.
Images by Derrek Sigler
What's Your Reaction?