Lifetime Decoys' rigs are handmade American products that set a high standard in Texas-style rigged decoy lines. If you have not made the switch to the slip-style decoy rig, you are missing out on a great way to haul, place, store, and quickly handle dozens of decoys at a time. Pick-up is simple and all you have to do is grab the decoy, hook the loop on the provided large, camouflage carabiner, and drop the decoy, keeping your hand out of the cold water. Grab one after another and hook them on and you can hold a dozen or more decoys very easily. Putting decoys out is equally easy, but take a look at Lifetime's video to see for yourself.
I used mine on magnum foam-filled decoys with four-ounce teardrop weights. This type of weight does not grab vegetation and works very well. In total I have just over 25 pounds on the carabiner, so in this format you might consider the overall weight. A three-ounce weight coupled hollow standard-sized decoys reduces the weight to just over 12 pounds. You will quickly notice when grabbing the loops that they are big and easy to grab. This makes picking up the decoys much easier.
Lifetime provides steel cable-coated lines that come in a variety of lengths and a variety of color options. Complete two-dozen kits are also available to prepare 24-inch to 48-inch decoys for only $54.99. These kits include the heavy-duty cross-lock swivels, three-ounce teardrop weights, 48-inch lines, and two extra-large carabiners, making two-dozen decoy rigs. Pre-made rigs come in 30-inch ($34.99), 48-inch ($39.99), and 72-inch ($44.99) lengths. Custom rigs are available with three-ounce weights and lengths in one-inch increments from 24 to 48 inches. Crimps, weights, and swivels are available separately.
The cable-coated rigs have huge benefits over monofilament rigs, such as greater strength, enhanced weather resistance, virtually no line memory, almost no tangling, and are backed up by a three-year warranty. Rigging is simple using a fixed weight-style of Texas rig which gives you a decoy that can move about on the line using a swivel and heavy-duty clip attached to the decoy. This type of rig provides excellent realism on the water, as the decoy's movement is not restricted by tethering it directly to the decoy weight. While other options for line exist, the use of plastic-coated cable is an important benefit of Lifetime Decoy rigs because the swivel and decoy will never hang up on a kinked line and leave the line floating on the surface.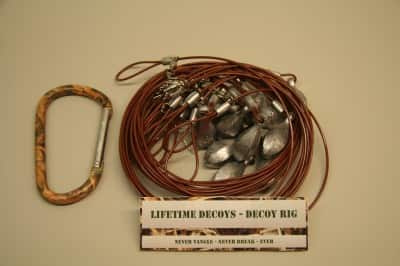 Another notable feature of the Lifetime Decoy coated cable is it does not tangle easily and will not knot. The cables are also protected from abrasion and should they kink, they can easily be bent back straight. Because the cable is so durable you can shorten the cables by tying a large knot around all the lines with the carabiner attached and haul or store them with no chance of a kink or memory loops. With a three-year warranty and a pretty much indestructible material, the Lifetime Decoy rigs are meant to last a lifetime and those cold days of wrapping lines around keels and heads are over.
Images by David Vaught
What's Your Reaction?