Black rifles, AR-15s, or modern sporting rifles—whatever you want to call them—remain as popular as ever and the number of accessories available for these kinds of weapons continues to grow. Sighting systems, of course, comprise a major sub-category of AR-15 accessories and include variations on open or iron sights, riflescopes, and tactical "red dot" or reflex optics. An option in the red dot category, the Aimpoint Micro H-1 provides an effective and lightweight aiming solution that's more suitable for hunting applications than any kind of tactical work.
Specifications
Lightweight—84 grams (2.96 ounces) without mount and 105 grams (3.70 ounces) with mount
Integral Weaver-style base allows easy attachment
ACET technology allows 50,000 hours of operation on one battery
Available in two dot sizes (2 and 4 MOA)
Fully waterproof
Patent-pending mount is keyed to the sight body to absorb recoil
Precision adjustment for windage and elevation: top of protective caps fits into holes on adjustment screws, no other tool required
12 settings for use in daylight and low-light conditions
$606 (Brownells)
Quality
Mounted on a flat-top Anderson Manufacturing rifle (their AM-15 in .223), I used the Aimpoint Micro H-1 to fire several aimed shots at an armor silhouette target in a wooded environment. If hitting the target with deadly accuracy every time with ease counts for quality, the Aimpoint Micro is very high quality. Moreover, in addition to how it helps a shooter aim, the Micro H-1 is constructed of high-strength anodized aluminum and completely waterproof. Easy to mount and remove, the Micro H-1 offers 12 brightness settings for the red dot you see when you look through it. In daylight, I dialed it up to 8 or 9 so that the dot was bright but not overpoweringly so. The mount switch and brightness dial felt robust with positive but quiet "clicks" and very good tactile feel.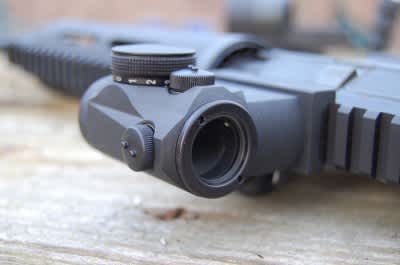 Reliability
At 2.4 inches in length, 1.6 inches in width, 1.4 inches in height, and just under three ounces in weight not including the mount, it is on the smaller and lighter side of many of today's optics. In addition to the 12 brightness settings, the Micro H-1's key features include 50,000 hours of operation on one 3V lithium battery and precision settings for windage and elevation that you can adjust using the top of the protective cap. With 1x magnification, the 4 MOA red dot offered just the right sight picture for unrushed shots. Its best use is not, therefore, on an AR-15, but on a hunting rifle, handgun, or bow.
Without its extended/raised mount, the Aimpoint Micro H-1 sits too low on a flat-top rifle to be useful. Adding the raised mount was easy. With the included micro tool, unscrew the built-in mount and replace it with the raised mount using the four built-in screws. Once securely attached to the sight, the raised mount attaches to the rifle using a quick-release lever. The mounting is exceptionally solid and showed no signs of loosening after long periods of use.
The key strength, however, of the Aimpoint Micro H-1 is its exceptionally lightweight. Even with its mount, it adds virtually no weight to any weapon platform.
Adjusting the red dot for windage and elevation is very easy, allowing a user to use the included protective lens cap to turn the dials. Once sighted-in to whatever distance a user prefers, the sight maintains its integrity despite being removed and re-installed numerous times on the AR-15. In addition, while the Micro H-1 is indeed "micro" in size, it was possible to sight and shoot with both eyes open. I preferred, however, to close one eye to aim. And on an AR-15, I found the Aimpoint's sight picture improved as I mounted it toward the rear of the upper, closer to my eye.
Price/Value
Made in Sweden, the Aimpoint Micro H-1 is available on Brownells for $606—an investment that might match or exceed the cost of the weapon on which it is mounted. Note that the LaRue Tactical Hi-Mount used to mount it on flat-top rifles runs an additional $125 at Brownells.
Referability
While a serviceable sighting option for some tactical applications, the Aimpoint Micro H-1 would be much more suitable for hunting applications. Despite its high price, it gets four stars for referability as it can be mounted on a variety of firearms.
Images by Mark Kakkuri
What's Your Reaction?