I was sitting around with a couple of other outdoorsmen the other day, talking about deer rifles, compound bows, and other stuff related to deer season. One of the guys was talking about getting a crossbow not only for himself, but to share with his wife and son, so they could experience the archery season. He asked if I knew of a crossbow that was solid, dependable, accurate, and "way under $800."
My answer was swift, as I knew exactly what crossbow I'd recommend. I suggested he take a look at the Carbon Express Covert SLS. I've suggested Carbon Express (CX) crossbows before to friends and family and they've been pretty happy. In fact, my father-in-law, Brian, has been shooting one for a while now and loves it. He even skips firearm deer season to hunt with his crossbow.
So why do I like the CX SLS bow? Well, it kind of reminds me of a car I used to have. It's not the sleekest or the fastest one out there, but it is well-built, dependable, and gets the job done. That may not sound like a glowing recommendation, but it is. Let me elaborate.
Since speed is a big issue with crossbow buyers these days, let's start with that. The CX SLS flings bolts at a respectable 355 feet per second. That will vary some with arrow selection and weather and so on, but an average of 355 feet per second will kill anything you're going to use a crossbow for, all from a 13-inch power stroke. What that translates to is 119 foot-pounds of energy—in other words, thumpability. I like things that thump, and the CX SLS thumps.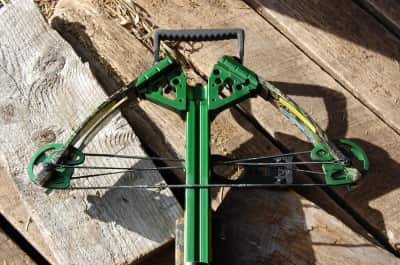 To get there, you need to draw the bow back, and that takes 185 pounds of draw weight. It's pretty easy to do with the included cocking rope. There is a cocking winch available from CX, but I haven't really used one. The one I did use broke. It was a buddy's and CX replaced it right away.
Room to move
Now, I may have compared the CX crossbows to big cars earlier, but the SLS is more like a compact truck. The SLS is CX's compact, 8.3-pound, bullpup-design crossbow setup and it works really well when hunting off the ground.
When not cocked, the bow is 17 inches wide and only 13.5 inches when cocked, locked, and ready to rock. It is 36 inches long and there are three different options for adjusting the length with one- and two-inch, pads for the butt of the stock. Standing, I was most comfortable with the mid-length, one-inch pad, but in the blind and sitting, I took off all of the pads for a shorter stock.
As I mentioned before in my article on crossbow evolution, CX added a folding foregrip, much like one you see on modern sporting rifles. It gives you very good control and lends an impressive degree of "pointability" to the SLS, and keeps your thumb and fingers below the whacking line. If that isn't thumbs-up cool, I don't know what is.
The foregrip mounts to a Picatinny rail that also serves as the mounting location for a bracket to mount the included quiver off to the side and inline with the shooting rail. I like this set up much more than other ways of mounting quivers on crossbows.
Other areas
The rear pistol-style grip works well and is comfortable. And the trigger is, well, adequate. I have to say something to crossbow manufacturers: it's time to take a look at the firearms industry. There has been a trigger revolution in firearms that has lead to some great triggers being made in firearms everyone can afford. It's time for crossbows to do that, too. I'm not saying the trigger is awful or anything, but as someone who has pulled a lot of triggers in his day, there is much room for improvement. CX isn't alone in that boat, and I don't want anyone to think I'm singling them out here. The trigger works and does what it is supposed to, but as a wise gunman once said to me, it all starts with the trigger. Making it smoother and lighter would make people shoot better.

And that is the rub, you see. The CX SLS is a very accurate crossbow. It isn't too loud by crossbow standards and it shoots very straight.
The included 4×32 scope is very good—as long as you don't use the illuminated part of it the wrong way. I had some trouble with the illuminated part of the scope making the rest of the scope cloudy. When I was using the green setting, it looked like a green cloud was in the sight window. The same went for the red settings. I had to be very careful how I used the illuminated part of the scope. Most of the time, I didn't turn it on. It works well without it. There are crosshairs for different distances and I found it only took a dozen or so shots to get the scope dialed in. There is even a little note to the shooter etched in the glass when you look through the scope to remind you to keep your fingers away from the string.
Other nice touches include three CX Maxima crossbow bolts that are very good. I have always liked CX arrows and their Maxima line is among the best you can get. I shot and shot the included bolts and they still look new, even after repeatedly touching each other as I shot group after group. Notice what I just said—three-shot groups at 25 yards that touched repeatedly? Yeah, did I mention how accurate the CX SLS is?
And there you have it, an accurate, reliable crossbow that is fast enough to kill anything you'd use it for, all for a price point of $600. Yeah, the scope and trigger are a little wonky, but you'd get that on crossbows costing twice what this one does. If you're looking for in a crossbow, try the CX SLS. You'll be totally sold on it too.
Images courtesy Derrek Sigler
What's Your Reaction?