The problem with durable boots is that they can sometimes become a sauna for your feet. This is less of a problem in winter, but as the temperature spikes and summer comes into full swing, you'll find yourself wishing for some sandals—or even Crocs—rather than a pair of hard-stomping boots. Seeing as how flip-flops are hardly the best choice for rough terrain, for the summer hiking season I decided to opt for something tougher, but still breathable. To that end, Vasque sent me a pair of their very meshy, very breathable Breeze 2.0 GTX boots for review.
Here are some stats to get you acquainted with the footwear:
Weight: 2 lbs. 8 oz. (1,140 g)
Last: Arc Tempo
Upper: 2 mm waterproof nubuck leather, air mesh
Footbed: Dual density EVA
Midsole: Dual density EVA, molded TPU plate
Outsole: Vasque-exclusive Vibram Contact with XSTrek Compound
Features GORE-TEX with Extended Comfort Technology
Reflective piping
Molded rubber toe cap
MSRP: $169.99
Street price: As low as $90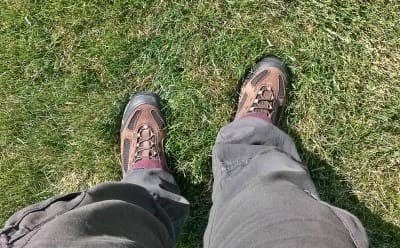 Construction
The upper is constructed from nubuck leather, which if you've never handled before, is a pretty decent material similar to suede in both feel and construction. On the Vasque Breeze 2.0 GTX, it provides a somewhat waterproof cover that has moderate durability and strength, although the leather can scratch easily. If you're worried about scratches on an outdoor boot, you're probably not looking for something like this anyway. To compensate, the Vasque Breeze 2.0 GTX is surprisingly flexible and softer than it looks. The lightness of the boot comes from what is arguably its best feature: the air mesh portions on either side of the shoe. They keep the wearer's feet aerated and cool, or at least as cool as you'll get wearing boots.
I have not noticed anything spectacular from the Breeze's much-touted Vibram Contact sole, but it seems to be perfectly adequate for most trails not currently under five feet of snow. The traction offered by the Vasque Breeze 2.0 GTX is practical if not exactly remarkable, but the boot does have excellent support. The boot is thinner than it seems and you'll probably notice a bit more sensitivity than with other hiking boots. Vasque does make a version of the Breeze without GORE-TEX—which also costs a bit less—and I'll assume that version is even lighter.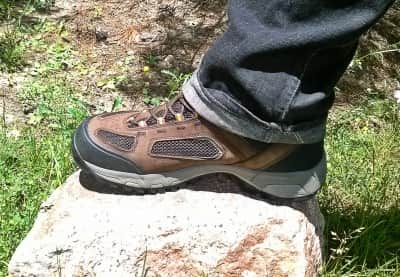 The Breeze's hard toe cap is generously sized and comfortable, although you probably won't want to be kicking anything much. Also, the boot's metal lace hooks are a great bonus.
Comfort
Vasque advertises out-of-the-box comfort with the Vasque Breeze 2.0 GTX, and while this is not entirely true, the break-in period is gratifyingly short. By now (a few months after first lacing them up) the boots feel like a natural extension of my legs. The lightness of the boot also made me feel quicker on my feet, and I often felt like I was actually wearing sneakers instead of boots. True to its name, the Breeze is among the most breathable shoes I own. The Breeze first came with me on a short seven-mile hike and it performed admirably, and I was pleasantly surprised that when I took the boots off, my feet didn't smell like moist Roquefort cheese.
Durability
Everything is just a hair thinner on the Vasque Breeze 2.0 GTX than I would like, but that doesn't seem to detract from the overall ruggedness of the boot. Keep in mind, the Breeze is not a boot that you can probably feed to a Louisiana alligator and still wear it afterwards. Its lightness comes at the price of durability, and those air meshes I so love are the boots' biggest weak points. The Breeze is good for sustained hikes in comfortable terrain. It is not for climbing Mount Everest with a Yeti strapped to your back.
That said, I've noticed almost no wear and tear on the boots since I first got them, and I am unfailingly brutal on my shoes. The Vibram soles seems to have come out of the experience especially well-maintained.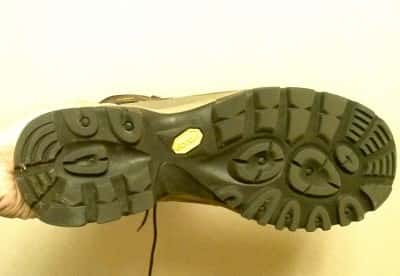 Practicality and conclusion
The Vasque Breeze 2.0 GTX is designed to be a hiker but it will fit a number of other roles comfortably. In essence it is a lightweight and well-ventilated pair of boots. They won't survive much hard use, however, so use them wisely. The Breeze's waterproof capabilities are also rather limited since nubuck leather absorbs water, and of course, the air mesh will drink water like there's no tomorrow. Your socks will stay dry in the rain, but don't expect to wade through any small lakes.
This is probably not what you're looking for if you're planning on doing some really hardcore backpacking—if it feels like you're carrying around a baby hippo in your pack, it's probably too much. What is the Breeze good for? Light to medium hiking, exploring, and running away from zombies in a wooded area.
Images by Daniel Xu
What's Your Reaction?