This summer, we began on a quest to get our gear organized well in advance of the hunt. This has included donating hunting clothing the kids have outgrown, sorting ammo, and building out the walls of our hunting gear closet to include our entire dining room (everyone knows walk-in hunting closets add more resale value to a home than formal dining rooms). Our organizational efforts have extended to the family vehicle. Keeping our truck organized during the hunting season is typically an insurmountable challenge, especially given the fact we are often hunting different quarry back-to-back with little "recovery" time. Before you know it, there are baseballs piled on the Brownings, HEVI-Shot boxes filled with handwarmers, and firearms in cases rattling around in the bed of the truck on the verge of being crushed by a dog kennel. We needed a truck storage solution designed for a family on the go, and we found it in the MobileStrong HDP Vehicular Storage Drawer System.
To catch you up on the basics, MobileStrong has been manufacturing furniture and accessories for over 23 years. They offer a full line of vehicular storage solutions for trucks and SUVs in a variety of standard drawer sizes with dozens of cool accessories and options, or you can use the MiY HDP tool and custom-design your own.
We opted to "test drive" a two-drawer stacked system as part of MobileStrong's promotion of our TV show, SportingDog Adventures. Now that we've had the system in our pick-up truck for several months, we can fill you in on some of the benefits we've reaped.
Strong enough for a man (or a family of five)
MobileStrong drawers are made of HDPE (or high-density polyethylene for all you Bill Nye the Science Guy groupies). HDPE is known for its high strength-to-density ratio, making it extremely durable yet lightweight. It's also resistant to moisture, bugs, rot, and UV rays. In doing a little research, I found that HDPE is used for such applications such as sanitary landfill liners, natural gas pipelines, and reconstructive surgery. Our family is pretty tough on our gear, but I'm sure we didn't put it up to same degree of punishment as one would a landfill liner—though the two are certainly comparable. We've been using our truck this summer to haul wood chips, new furniture, and lawn equipment, so we have had to take the system in and out of the vehicle several times, and it has held up well. We also have left it outside for several days at a time in high humidity and light rain, and the HDP drawers haven't "aged" a bit.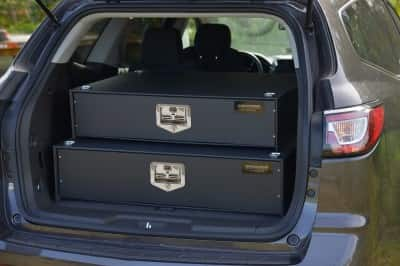 No second mortgage necessary
So many times in life the words "quality" and "customized" end up meaning "overly expensive."  That's not the case with any of the MobileStrong family of products, whether you opt for a standard storage model or a customized one. We have three young boys and that means three college accounts; our family, like most, could not afford to invest in an extremely pricey vehicle storage solution, no matter how useful. We also noticed when we began to shop for vehicle storage, that many vendors don't provide their pricing up-front. MobileStrong doesn't play games with prices: standard unit pricing is right on the website. The HDP models retail for $599 to $895, depending on the dimensions of the unit you choose.
Not just for Uncle Ted
In checking out the MobileStrong website, it becomes readily apparent that if you think a MobileStrong is just for hunters, you probably also think that Blackberries are still the top technology in smartphones. Not. Even. Close. MobileStrong has created customized storage solution such as desks inside service trucks for the trades, safe storages for numerous police department fleet vehicles, and more than just a few custom solutions for everyone from the soccer mom to the leader of the band. Sure, our family is into hunting in a big way, but we also have baseball enthusiasts, a dog breeder, and a television show. If we're toting dogs, the drawer system leaves enough space in the truck bed to put in a full-size dog crate, as we did when we delivered one of our puppies to our guide in Missoula, Montana this summer. We also removed the drawer's three-gun holder this summer to repurpose a drawer for baseball gear. This fall, one of the drawers will be dedicated to all things camera-related, such as battery packs, microphones, reflectors, and the like.
Proud to be American
Croix Valley Composites manufactures MobileStrong HDP storage units right here in Wisconsin. Sure, there are other vehicular storage options out there, but how many can you Google that are both cost-effective and American-made?
The environmental footprint
As outdoors enthusiasts, our family prefers to patronize companies that work to preserve the lands we hunt. MobileStrong pledges a portion of all profits from the purchase of MobileStrong storage drawers to the Pheasants Forever "Build a Wildlife Area" program. Additionally, the MobileStrong HDP drawer components and shell are made from 100 percent recyclable materials. HDPE creates no harmful emissions during production or use, and leaks no toxic ingredients into the water, which is important to us as parents who want our kids to be able to safely enjoy the outdoors.
I can assuredly say our family will not go without a vehicular storage system going forward. MobileStrong offers a great pricepoint with the added benefits of an American-made, environmentally-friendly product, so there's no reason to look any further. They are available for order by phone or email through the company website, or through a large number of local dealers.
Images courtesy MobileStrong
What's Your Reaction?