There's no doubt about the Sig Sauer P226's status as a reliable and quality handgun. Hard-core gun users like Navy SEALs and Texas Rangers carry the P226 (or as the military calls it, the MK25). Like most of the other Sig Sauer "P" models, the standard P226 is a hammer-fired, double-/single-action design. The first shot requires a 10-pound trigger pull to cock the hammer and break the shot. Subsequent shots only require about 4-1/2 pounds of trigger pressure as the hammer is cocked from the semiautomatic action. "Standard" P226s are available in multiple calibers: 9x19mm, .40 S&W, and .357 SIG.
Here's what's different about the Sig Sauer P226 Elite SAO. As you might surmise from the name, it's a single-action-only design. It's kind of like the love child of the 1911 and a Sig P226 Enhanced Elite model. If you're not familiar with the Sig E2 (Enhanced Elite) concept, it's an improved grip design that reduced reach to the trigger while offering a full, and very rounded, grip profile. In addition, the SAO model is only available in 9x19mm at this time.
I wanted to take a closer look at the Sig P226 Elite SAO, so I recently received one to test.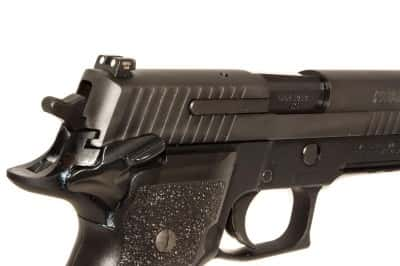 The Sig Sauer P226 Elite SAO comes with two 15-round magazines. The P226 is a full-size gun. It's 8.2 inches long and 5.5 inches high. At its widest point, its width measures 1.6 inches. The barrel itself is 4.4 inches. Overall weight with an empty magazine in place is 34.4 ounces.
Speaking of magazines, they're all metal—base plate and body. The mags also have index holes at the five-, 10-, and 15-round positions so you can easily see how loaded (or unloaded) they are.
The ambidextrous safety blocks the trigger, but still allows you the cock the hammer. What this means is you can operate the slide, in process cocking the hammer, to load and chamber a round while the safety is on. Conversely, you can remove the magazine and rack the slide to clear the gun while the safety is on. The ability to perform administrative functions like loading and unloading is a big plus and smart design. Nice touch.
There's much to be said about the single-action trigger. There's about 3/8 of an inch of take-up followed by a smooth pressure for about 1/16 of an inch, where the trigger breaks. If you close your eyes and concentrate really hard while working the trigger, you can break it into three distinct motions. First is about 1/16 of an inch to 1/8 of an inch of pure effortless take-up with no drag. Next there is another 1/8 of an inch of take-up with very light resistance—maybe one and a half pounds, if I had to guess. Once you encounter resistance, the trigger moves for maybe another 1/8 of an inch during which it breaks. There really is no way to detect when the break is going to happen, as with other systems. It's a surprise break within that 1/8 of an inch of travel. When shooting, you don't feel the two stages of take-up—I had to really focus on the motion to detect that. I measured trigger break right at five pounds of pressure.
While we're talking about the trigger, it's made of well-rounded and smoothed metal. It's comfortable for long shooting sessions and won't tear up your fingers during recoil like many polymer pistols with their rough and sharp edges. The P226 Elite SAO is an exceptionally comfortable gun to shoot.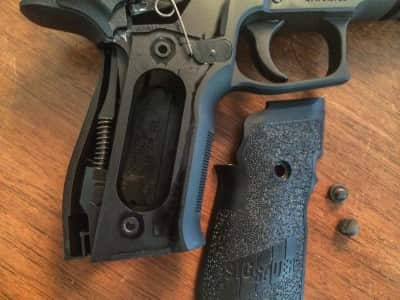 The pistol features SigLite Night Sights with tritium inserts, so you'll see them in the dark—at least for a decade or so. The rear sight has a vertical front edge instead of a ramp, so if you need to cycle the slide with one hand, you can hook the sight on a belt, boot, or jawbone, if you're feeling particularly hard-core.
My intention was to use this gun at the Crimson Trace Midnight 3 Gun Invitational with Crimson Trace Lasergrips and a Crimson Trace Rail Master weapon light on the front rail. D'oh! I forgot that, as a single-action design, this P226 has an ambidextrous safety right where the laser wants to be. My bad, but no worries—I mounted a Crimson Trace Rail Master Pro on the rail and it has integrated light and laser, so I'm good to go. Crimson Trace includes several rail mount supports in the Rail Master Pro's packaging so you can easily customize the distance of the paddles from your trigger finger. As you can see in the photos here, I set mine up with the light and laser activation paddles just covering the front of the trigger guard As a side note, if you want to use this configuration, the Galco Halo holster works perfectly with this gun and Crimson Trace Rail Master Pro. The Halo is a one-size-fits-many-lights holster with an enlarged area specifically for rail-attached weapon lights. You choose your gun frame style to get the right Halo shape, and the holster has an enlarged area below the dust cover pocket to accommodate a variety of weapon light makes.
On my first range visit, I shot tons of 9x19mm ammunition to check out the feel and function of the gun. I tried everything from cheap steel-cased practice ammo to high-end premium defense ammo. This Sig ate it all without a hiccup. Then I got bored and tried to create a malfunction by mixing random types of ammo in the same magazine. I dumped various types of cartridges of different brands, weights, and projectile types on the table and randomly loaded multiple magazines from the pile of ammo. Predictably, the gun ran without fail.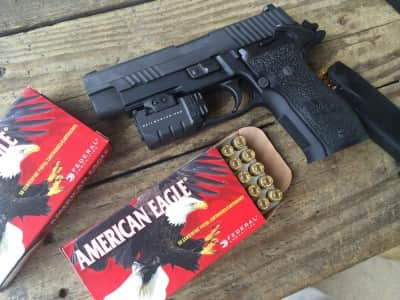 I shot a particularly large volume of American Eagle 9x19mm 147-grain flat point (AE9FP) through this gun to check out its suitability for match ammo. My thought was that the heavier bullet, at lower velocity, would offer soft recoil and low muzzle flip—and it did. I set up a Shooting Chrony Beta Master chronograph 15 feet downrange to check actual velocity out of the Sig P226 Elite SAO and it averaged 951 feet per second. Interestingly, the same ammo measured 925 feet per second from a Glock 17 and the two guns have similar barrel length. Hmmm—I always thought polygonal rifling was supposed to provide a better gas seal and pressure retention?
Besides the obvious quality of construction and reliability, the big surprise of this particular pistol is the softness of recoil. Yes, it's a 9x19mm, so recoil will never be abusive, but even for 9x19mm full-size guns, it's soft. Here's my theory on that: as a metal gun, the weight of the pistol helps reduce the felt recoil, but what really makes the difference are the E2 grips. The rounded shape of the grip offers more surface area for hand contact, so recoil force is distributed across a larger area. Imagine batting a baseball holding a 2×4 with squared corners, versus doing the same thing with a round bat and you'll get the idea. Your hands have a better and more complete grip on the rounded surface of the bat as compared to a squared-off hunk of wood. It's the same principle here. The round profile of the E2 grips contact more surface area of your hand—not only improving trigger reach, but offering more control and recoil mitigation.
The bottom line
Sig Sauer pistols aren't the least expensive, but you absolutely get what you pay for. The gun's fit and finish is outstanding. The slide glides as if on butter, and there are no careless tool marks or poor-fitting parts. The Sig P226 Elite SAO certainly falls in the category of premium production guns.

With nearly 500 rounds in the gun, I'm starting to get a hint of reliability, as there have been no failures of any kind. I'm looking forward to giving this gun a workout at an upcoming 3-gun class and the Crimson Trace Midnight 3 Gun Invitational. Time will tell about long-term service, but the Navy likes the double-action version of this gun for a reason.
I've got a thing for metal handguns. The weight feels good and I've never had weird issues related to frames flexing under recoil. If we were talking about cars, you can think of this pistol as a fine automobile—one where the doors make that ever so satisfying "click" when you shut them. While this is a metal gun, Sig has balanced strength and weight by constructing the frame from anodized aluminum. The slide is made from Nitron-coated stainless steel. This pistol will cost you a bit more—its suggested retail price is $1,243, but you can probably find one with a street price closer to $1,000. In my book, it's money well spent—this pistol will serve you well for a very long time.
Tom McHale is the author of the Insanely Practical Guides book series that guides new and experienced shooters alike in a fun, approachable, and practical way. His books are available in print and eBook format on Amazon.
Images by Tom McHale
What's Your Reaction?