Polaris has been making the Sportsman ATV line for many years and it is one of the most popular sport/utility vehicles on the market. As Polaris has evolved, so too have the Sportsman ATVs. For 2014, the Sportsman 850 XP has proven to have just about everything an ATV rider could want.
I have had the great fortune of spending a good amount of time aboard the Sportsman 850 XP and it rapidly became one of my favorite machines. Great power, suspension, handling, and ergonomics, along with the vehicle's overall utility, have endeared the ATV to me.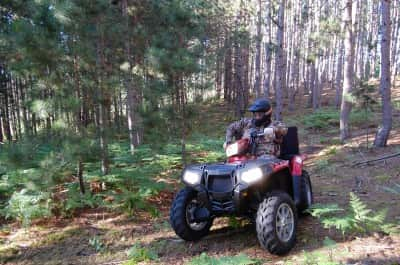 The heart of the matter
At the heart of every ATV is the engine. The XP features an 850cc SOHC twin-cylinder four-stroke engine that pumps out 77 horsepower. I remember not that long ago when a 500cc engine was considered mammoth. Soon we jumped up to 600, 700, 850, and yes, for 2015 there is a Sportsman 1000 XP.
The 850 offers great, usable power that can do everything you'd want a utility machine to do, from tearing down trails for recreational riding to flat-out hauling the mail and burning down back roads. Is it too much engine? That was a concern for me when I picked up my test machine. The answer is, obviously, no.
For a big engine, it's amazingly usable and fun. The only downside to the engine size comes from the throttle. There is a noticeable drop when you let off the gas, meaning the engine braking does hit a bit harshly.
It's also a bit fuel-intensive—the 850 XP is not as bad as other machines I've tested, but it does like to drink the no-lead.
The flip side is that when you get on the throttle, the XP gets up and goes. It has great low-end grunt for working, a snappy mid-range that makes it fun to ride, and, like I said, it'll haul the mail on a straightaway.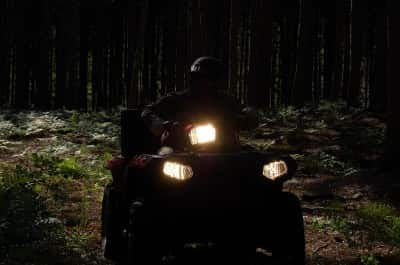 Can you handle it?
Of course you can! The XP I tested had Polaris' Electronic Power Steering (EPS), which has become an industry standard. With a dry weight of 773 pounds, you want the XP to have EPS.
Suspension-wise, the XP has nine inches of travel in the front riding on dual A-arms, and 10.25 inches on the rear, also on dual A-arms. The shocks work very well to soak up trail obstacles and keep you pointed in the direction you want to go. For serious trail riders, there is an LE model with Fox Podium shocks that allow you to dial in your ride for more aggressive trail taming. That's one of the sweet things about Polaris—they listen to what their customers are doing with the machines, and then come out with limited edition models and accessory packages to match.
You can select from two-wheel drive or Polaris' One Demand True All-Wheel Drive for times when traction is needed. Unlike some machines, switching into AWD doesn't affect steering or handling, unless you want to count not being stuck. I rode through some deep sand and was cross-hilling. Switching in to AWD made that terrain easy to handle—all without feeling like I was driving a tank.
The Sportsman 850 XP has 11.5 inches of ground clearance to drive right over junk in the trail with ease. I found that Polaris did a great job giving the 850 XP sufficient clearance while keeping the center of gravity low enough to make you feel more in control and stable.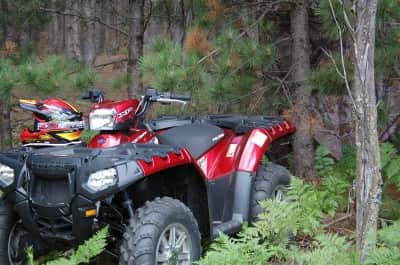 Other features
Like many Polaris ATVs, the Sportsman 850 XP features their all-in-one single brake lever on the left side of the handle bars. There is a rear-brake foot pedal on the right as well. While I think the all-in-one brakes do a great job, I find myself wanting to grab a nonexistent brake lever on the right. It may just be force of habit, but I would still like to see a separate front brake.
The XP has electronic fuel injection (EFI), which is almost like EPS these days (who still uses carburetors anymore?). It certainly makes things smoother and a lot easier on your thumb. EFI reduces the amount of pressure needed on the throttle, so you don't get bad cramps in your right hand on long rides.
The machine will tow 1,500 pounds from the class I receiver hitch, 120 pounds on the front rack, and 240 pounds on the rear rack. With that kind of capacity, you can haul every bit of gear you need to in some shape or form. Working up food plots with the Sportsman 850 XP is a snap. I've been using a GroundHog Max plow and it barely feels like it's there.
The front and rear tires are 26-inch Carlisles that grip well and handle the trails just fine. They seem pretty durable so far, too. They are wrapped around 14-inch, eight-spoke cast aluminum wheels that look sweet. They complement the Sunset Red paint job very well. My dealer, Don Pishney at Classic Motorsports, and I were chatting about the color options for hunters. We agreed that it might not be camo, but it looks so cool, who cares?
With a base price of $9,999, the Polaris Sportsman 850 XP is right on target with other machines in the category, and the competition. With several color options, different packages from the manufacturer, and a ton of accessories, the Sportsman 850 XP is a great choice for riders looking for a top-level recreational or utility ATV. It's not a beginner's machine for sure, but it's not intended to be. I will say this: it is one of my favorite machines I've ridden in a long time.
What's Your Reaction?