Savage built their modern brand by offering accurate rifles at an affordable price. Somewhat surprisingly, they never participated in the AR frenzy during the last decade. Maybe they were waiting until they could produce MSRs that were better, more useful, and easier to customize. Or maybe, they held their cards until ready to offer something that, as Savage's point man Bill Dermody said, "…reflects the next phase of AR-15 evolution and aren't just knock-offs of an old design."
For 2017, Savage is offering four MSRs: two AR-15 and two AR-10 style rifles. All feature button-rifled barrels with accuracy-enhancing 5R rifling and a long-lasting Melonite QPQ finish inside and out. Here's a quick look at these four rifles.


MSR15 Patrol
This is Savage's entry-level AR, and it has the 223 Wylde chamber to allow shooters to safely enjoy optimal accuracy from 223 Remington and 5.56 NATO ammunition. It's driven by a mid-length, direct impingement system, and it has a dependable MIL-SPEC trigger and an A-frame gas block front sight with a Blackhawk! rear sight. It also has Blackhawk! furniture, a 16-inch barrel, fixed front sight, and a suggested retail of only $849.


MSR15 Recon
The Recon also has a 16-inch barrel and the Wylde chamber. Like the Patrol, it accepts all standard MIL-SPEC accessories, including the variety of tactical accessories from Savage's sister company, Blackhawk! Standard is a Blackhawk! Blaze trigger, a 12-inch free-floating hand guard, and Blackhawk! buttstock, pistol grip, and flip-up sights. It also has a stylish gas block and a custom-forged lower receiver. MSRP: $999.


MSR10 Hunter
With their new MSR10s, Savage tailored the barrels to the cartridge and purpose. The 308 Winchester MSR10 Hunter has a 16-inch barrel and weighs 7.5 pounds. The 6.5 Creedmoor has an 18-inch barrel. Lightweight and with plenty of power for all North American big game, the MSR10 Hunter's trigger receives secondary grinding and polishing to help with precision shot placement. It also has a proprietary target chamber, adjustable gas block, and the ergonomic Blackhawk! pistol grip and backup sights. Suggested retail: $1,399.


MSR10 Long Range
Purpose-built for long-range shooting, the new MSR10 Long Range boasts five-shot minute-of-angle accuracy. It's fitted with the Blackhawk! Blaze two-stage target trigger and an adjustable gas block. Available in 308 Winchester and 6.5 Creedmoor, the 308 version has a 20-inch barrel, and the Creedmoor a 22. Both have a Magpul PRS target-adjustable buttstock and a side-charging handle that's infinitely easier to operate when shooting from a prone position or with larger tactical riflescopes. MSRP: $2,199.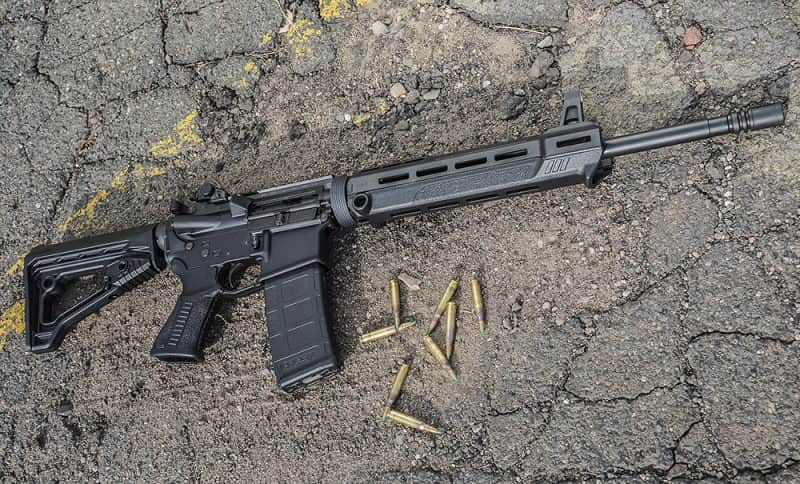 Back when AR madness first began sweeping the nation, I coined the phrase "America's Rifle" as a true representation of the "AR" acronym. According to Savage, MSR now stands for "Modern Savage Rifle." That just might catch on, too.
MSR with ammo photo by Richard Mann
What's Your Reaction?