Turkey season is once again upon us, so it's time to make sure your gear is good to go. Vest, check. Calls, check. Camo, check. Optic, check.
Yes, I said optic.
But it's a shotgun! You don't need an optic . . . do you?
I'm unequivocally in the camp that says "yes." And I'm far from the only one who thinks so. More and more turkey hunters are catching on to the benefits of mounting an optic on your gobbler gun, and it makes a ton of sense.
Tim Lesser, vice president of product development at Leupold & Stevens, Inc., (and a former professional hunting guide) has a long list of reasons optics make sense for turkey hunters.
"The short version is that optics help hunters make precise shots, and that's what we all want to do," Lesser said. "Advances in shotgun optics, modern turkey ammunition, and the ever-growing number of hunters, have made optics a more valuable tool than ever."
The greatest benefit in using an optic is the ability to set your dot or reticle in the center of your shot pattern. Lesser says it's akin to zeroing your rifle; simply pattern your shotgun then adjust the aiming point to the center of the shot, maximizing the number of pellets you can put on target.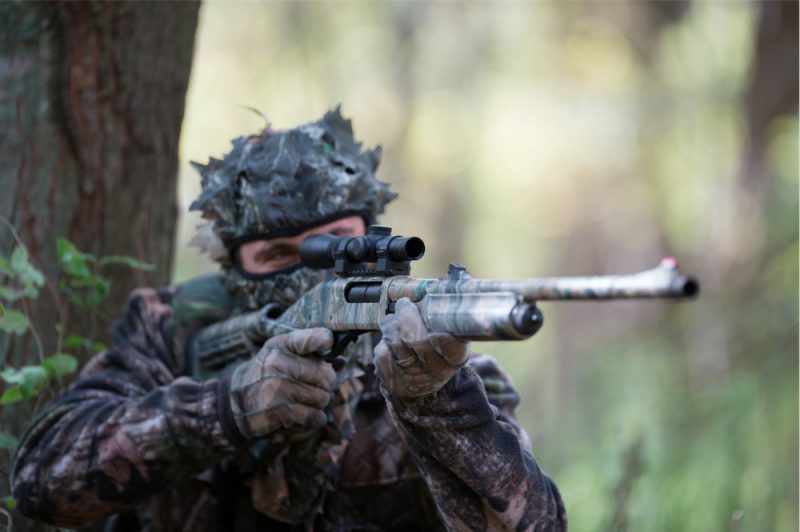 Optics-Specific Benefits
Turkey hunters have two main options for optics: magnified scopes and red dot (holographic) sights. Both help hunters put the load on target, but each bring a slightly different set of benefits.
Once you've got turkeys in sight, magnified optics help you dial in and make a more informed selection. The additional power can help you find the longest beard or identify a specific subspecies, such as a Merriam's vs. a Rio, if you're looking for a particular bird to fill your Grand Slam.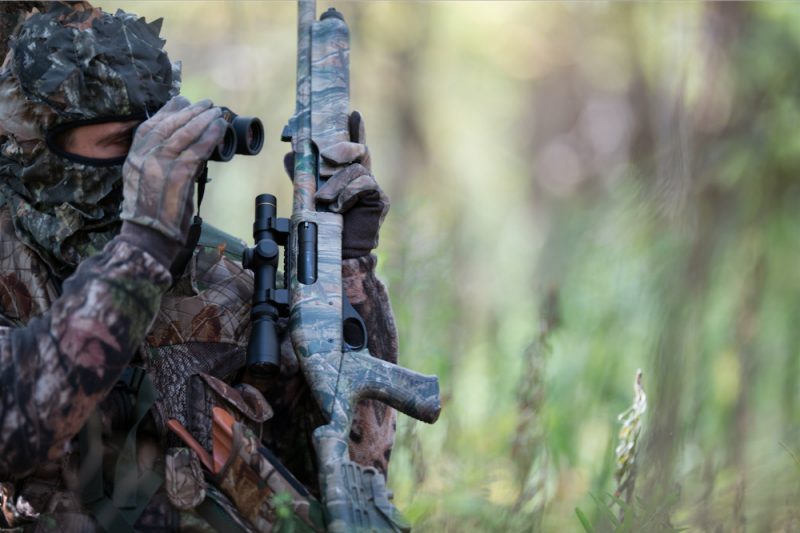 While binoculars help, and are highly recommend as part of your turkey kit, having the ability to select the right bird without having to put down a bino and pick up the shotgun can be the difference in a tom on the ground or a fleeing flock of birds.
Magnified optics are also becoming more necessary as modern turkey loads have made 60 yards the new 40 yards when it comes to maximum effective shot distance. With improved flight wads, high-tech chokes and specialized shot, new turkey ammo such as Hornady Heavy Magnum and Winchester Long Beard enable turkey hunters to take ever longer shots and still keep enough pellets in the vitals to bring down the bird. As these distances continue to increase, having the ability to precisely place the shot is key.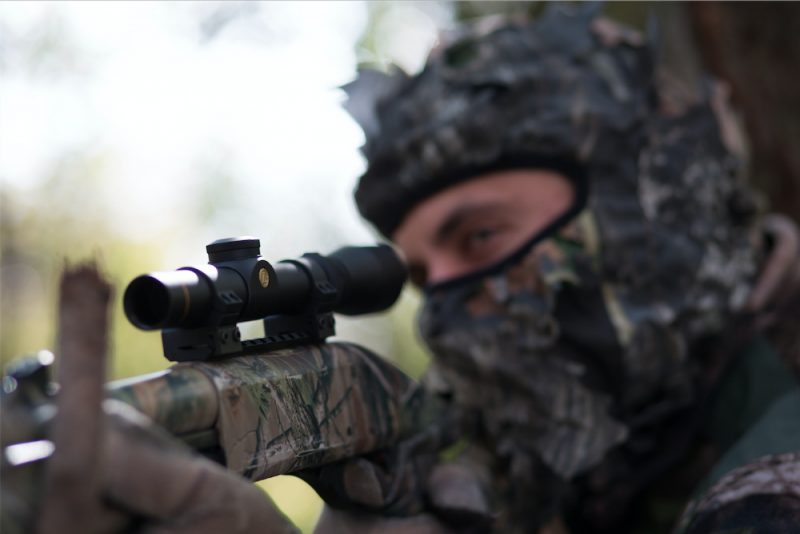 Lesser pointed out that Leupold offers a Turkey Plex reticle (below) in its VX-1 Shotgun 1-4x20mm scope (above) to help hunters range birds. This reticle has a circle in the center that, at 4x, perfectly encompasses a turkey's head from crown to wattles at 40 yards.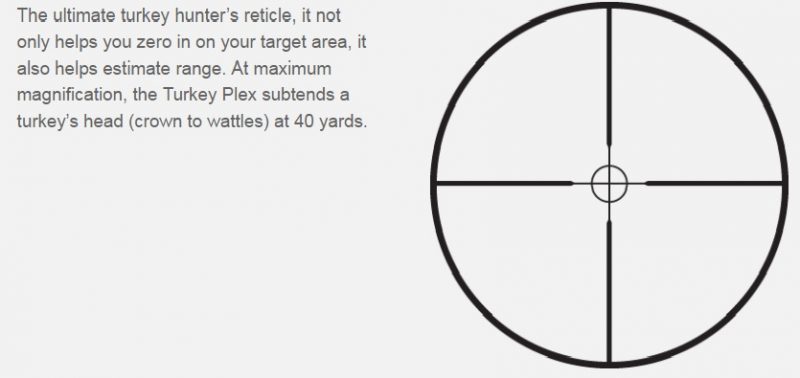 The other option for turkey hunters are red dot, or holographic, sights. These optics have been wildly popular on rifles and handguns, but bring a ton of benefit to the shotgun hunter as well.
I don't know about you, but my local turkeys seem to know where I'm sitting and come in from weird angles. While I try to wait them out until they come into a better position, at times I've had to make the shot from an awkward position, such as rotated halfway around and leaning over.
With a red dot, this shot becomes infinitely easier, because all I have to do is be able to see the dot to make a precise shot. Red dots are also insanely fast, which can be a hunt saver if you startle a bird and have to make a snap shot.
The other place red dots shine are in their ability to assist those of us with aging eyes. As I get older, my eyes are starting to struggle with the sights. With a red dot such as the Leupold DeltaPoint Pro (below), I can maintain a target focus and the dot simply floats into view. I'm a big fan of this, especially on those early morning hunts when the coffee hasn't quite done its job.

"Red dots are almost an elixir of youth," Lesser said. "Especially for those who need bifocals or reading glasses to see up close. The DeltaPoint Pro lets you keep your eye on the bird without having to shift back and forth to a bead sight."
And while newer fiber-optic sight beads are a huge step up from a blackened steel front sight, red dots allow for shots from exceptionally dark spots, such as pop-up blinds, or from deep in the trees, where light may be lacking for fibers to work effectively.
Lastly, but in my mind most importantly, red dot sights are fantastic tools for new shooters and youth hunters. These beginners often get locked on the bird and can sometimes forget about the front bead entirely. With a red dot, the sight is right in their view and naturally draws their attention.
Red dots help these newer hunters make precise shots, which increases their chances of success. As we all know, a successful hunter is a happy hunter, and happy hunters keep coming back (and may even bring their friends).
Yes, there are many reasons why optics belong on your turkey shotgun. Young or old, new or veteran, your gobbler adventure can be improved on with the simple addition of an optic.