You Know You Want One – the Woodsman Rifle
Richard Mann 05.30.17

West or East, North or South, in hardwood ridges, dense pine thickets, and along the edges of a partially grown up clear-cuts, these are all great places to find deer, elk and bear. For hunting those locations, a fast-handling lever-action rifle – a woodsman's rifle – is a perfect companion. No, it won't reach across three football fields, but it will find your shoulder in less than a second, and – if you need 'em – fast follow-up shots come just as rapidly.
Lever-action hunting rifles are still popular, but are considered by many to be beginner's guns. Lots of hunters will tell you they killed their first deer with a lever action. Then, they'll talk about how they transitioned to a big booming bolt gun, fitted with a scope with enough magnification to read a license plate on the moon. One of the pleasures of hunting is applying true woodcraft to find the game and get close. When and if you can do that, a reliable lever action is all you need.
Crafting the Woodsman
Custom gun builder Jerry Dove in Princeton, West Virginia, knows that. He started with a well-worn Marlin 336 chambered for the .35 Remington, cut the barrel back to 16 inches, and threaded the muzzle. He then reattached the shortened magazine tube and added a sling swivel stud. The rifle's stock looked like a battered fencepost, so Dove installed a new one and added a recoil pad.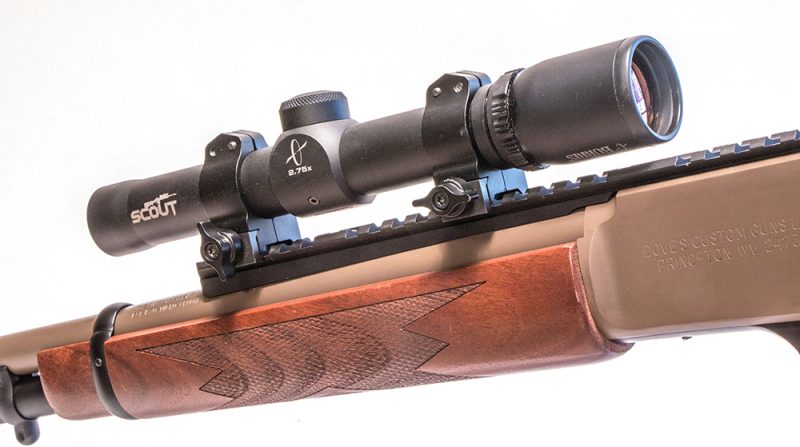 Then Dove went to work on the action. His experience working cowboy action lever guns for competition told him what he needed to do, and he smoothed the 336's lever to the point it glides effortlessly back and forth. He worked the trigger, too. To maximize the rifle's versatility, Dove installed an XS Lever Rail, which allows the rifle to work with any scout scope, red dot, or conventional riflescope. Finally, Dove selected a two-tone Dura-Kote finish. The result is a very attractive, earthy looking, workman-like rifle that gives you the impression it means business.
Shooting the Woodsman
From a sandbag rest at 50 yards, I could put every shot into a snuff can using the XS sights, and with a Burris 2.75X Scout Scope, three-shot groups shrunk to about 1 inch, regardless of the ammunition used. But a compact carbine of this nature is meant to be carried and snapped to the shoulder at a moment's notice. At 50 yards, snap shots on 6-inch targets could be obtained in about 2 seconds. At 100 yards, it was a simple task to keep all shots on an 8-inch steel plate, from the standing, off-hand position, while shooting in a hurry.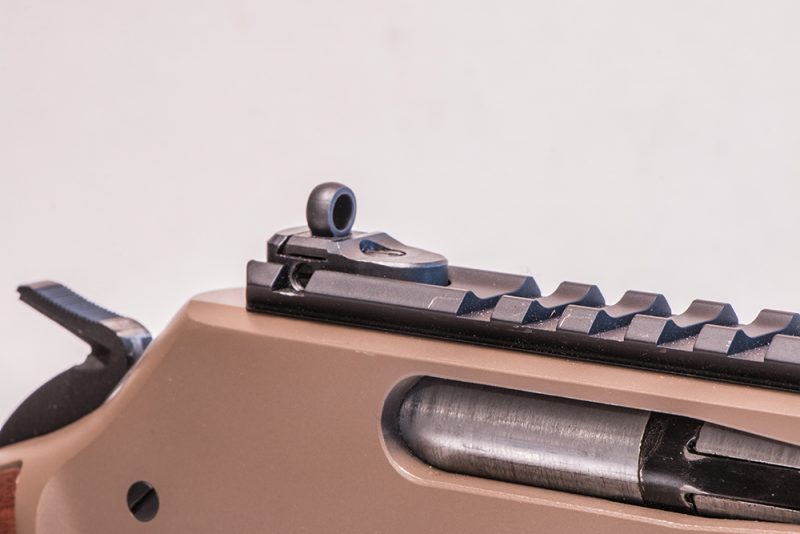 Not only did the rifle shoot exceptionally well, but it was just the right length to allow it to be carried at the wrist in your shooting hand, without the muzzle digging into the dirt. The shortening of the barrel also makes the rifle just a tad butt-heavy, which is perfect for fast handling during spontaneous shots, or when working in close cover. The only thing I wanted to change about this rifle was its owner.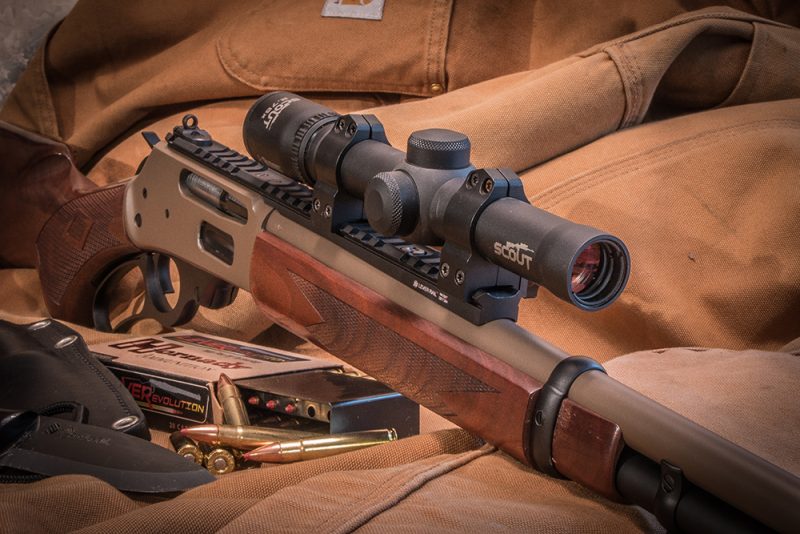 I Know You Want One
The Dove Custom Guns Woodsman rifle is a one-off customization, but Dove can modify your 336 to look like the Woodsman for about $600. Those who don't want to spend the extra money to have the barrel of their Marlin 336 shortened to 16 inches can still reap some of benefits of this rig by purchasing and installing the XS Lever Rail on their own. It will set you back about $167, and you can install it and the sights in about an hour, with the tools you probably have stored under the kitchen sink.
Nope, you won't be able to reach across the prairie to smack a big whitetail, but real woodsmen prefer to stalk closer anyway.