As I was sitting watching John Wick 2, I was reminded of a great scene from the first installment of these modern-day westerns. The moment after his dog is killed, his car is stolen and he snaps back in to his previous life of an assassin. What's the first thing he does? He goes to his basement and sledgehammers his concrete floor, revealing a buried safe containing guns, gold and gear.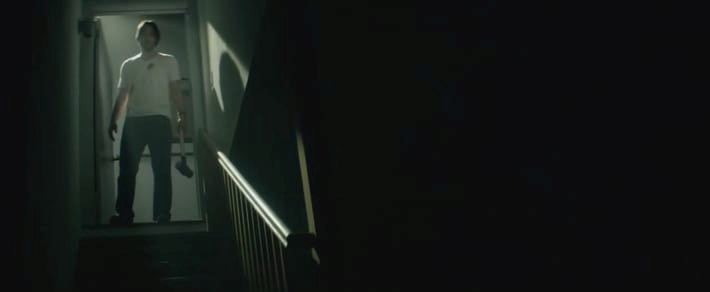 Now, I'm obviously not an assassin, and using a firearm for self-defense is something I hope I never have to do, but the idea of John Wick's hidden storage is really appealing to me. Now, burying a safe below my basement floor would certainly ensure that no one would be able to access my stuff, but that would include me as well. I also don't want to do any permanent modifications to my house just to covertly store my firearms.
So, what's a guy like me to do if he wants some covert storage without all the construction? Find a safe that can be hidden without a lot of trouble, large enough to handle multiple guns, and not get me in trouble with my wife for adding yet another gun safe to my house. Luckily, that product already exists, and our friends at SnapSafe were kind enough to let me check one out.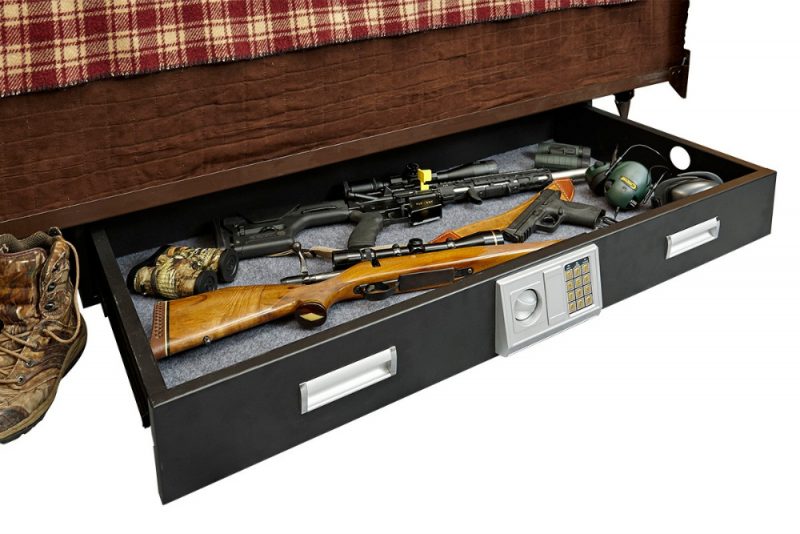 SnapSafe's discrete storage solution is called the Under Bed Safe (above). Large enough to fit multiple long guns, but just the right size to fit under your bed, and exactly what I was looking for. Different from your standard long gun safe, it features a gliding drawer design that is extremely smooth to pull out and surprisingly easy when loaded up with multiple long guns.
After coordinating the order, I was anxious for the safe to arrive. Assuming this would be like any other delivery, I was surprised when I got a call from a freight company looking to discuss the delivery time. This was by no means a hassle, just something I'm unaccustomed to in the age Amazon. Because I was gone and my wife was home for the delivery, I had the guys leave it in the entryway of my house for later relocation.
Having moved a couple of standard long gun safes into my house in the past, I assumed I was going to need help with this one as well. SnapSafe lists the weight at 140 pounds, and the total package weight at delivery is around 180 pounds. I decided before arrival that the final resting place for this would be in my master bedroom on the second floor. While I was able push the box upstairs on my own, I recommend being honest with yourself about your personal fitness level and getting help if you think it will be too much.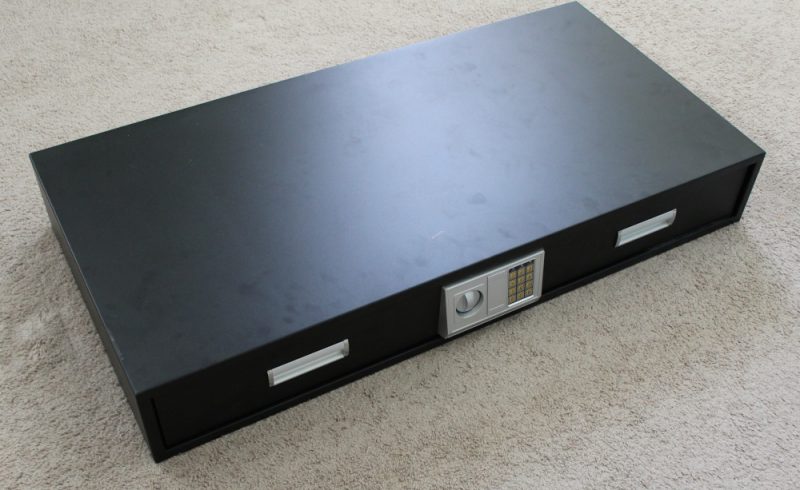 Once unboxed (photo above), I checked out everything the safe had to offer. The locking mechanism is operated by a digital lock with key backup that can be programmed with a three to eight digit access code. What is really cool is the ability to program two different passcodes. I really like this design because my wife and I have two different go-to codes, and this allowed me to put her code in as well.
The inside of the safe is lined with a very soft carpet material to keep your stored items from scratching. The overall storage space of the carpeted area is roughly 46" wide X 22" deep, plenty of surface area to store a number of items. For me, I wanted to relocate some of the firearms that were taking up space and didn't fit perfectly in one of my other safes. Pictured below are the following:
Stevens 555 – Overall Length – 44 7/8″
Sig Sauer – M400 Elite with a Romeo 5 Red dot – Overall Length – 32"
Century Arms Ras47 – Overall Length – 37.25"
Scoped Ruger 10/22 Takedown – Overall Length – 18.5"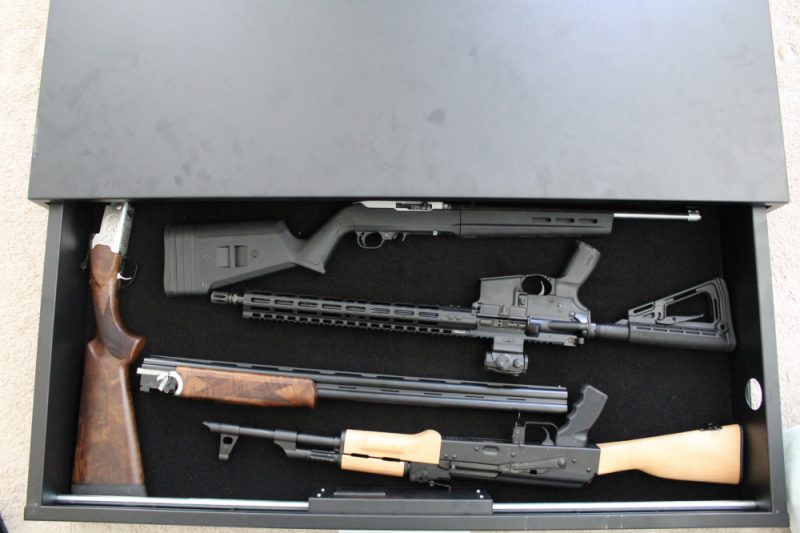 With everything loaded up, I was ready to get this set up under my bed for the covert storage I had been dreaming of. There was just one problem – I hadn't checked the height of my bedframe before delivery. I was working with a standard queen-size, metal bedframe, which to my surprise had a center support that prevented me from sliding the safe under my bed. Again, this wasn't a big hassle, just poor planning on my part.
After some brief research, I found a $7 solution at Target in the form of bed risers. These are plastic supports (photo below) that go underneath the frame and add an extra 6 inches of clearance. I highly recommend doing your due diligence before you safe arrives to make sure you have the adequate clearance. It's a cheap and easy fix if you need it, and it will save you from having to stop everything and run to the store once your safe arrives.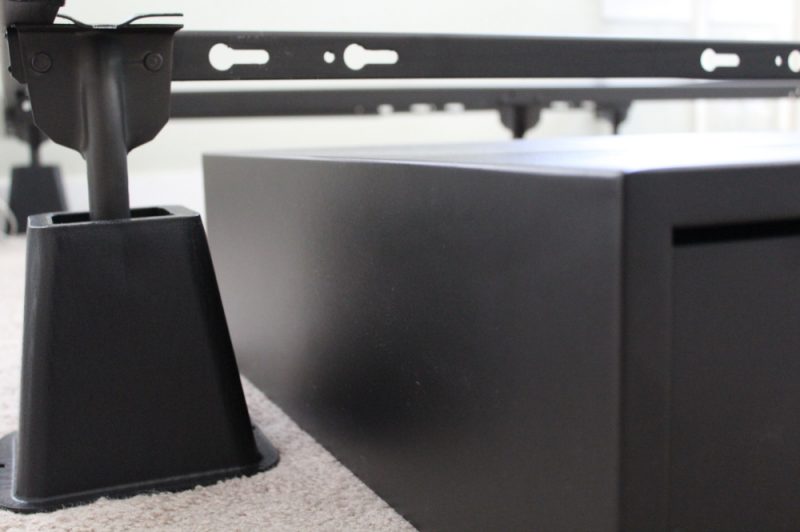 After getting the bedframe set, it was time to put everything back together.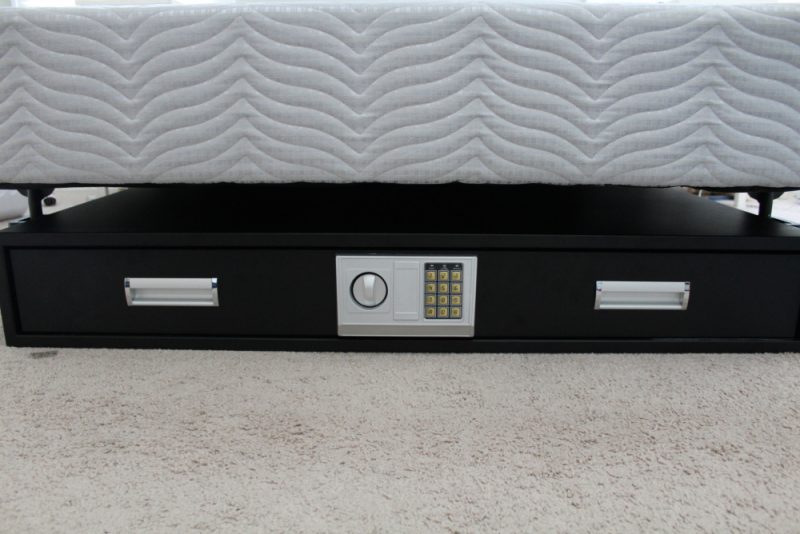 Once the mattress was all set and the bed skirt was in place, I could get a sense of the Under Bed Safe in practical use. It was very well hidden underneath my bed, and it would certainly take some extra searching for an intruder to find it. The design features a pry resistant door, which also made me feel very comfortable placing this in an area that is more accessible to my two young kids. Keeping them safe is one of my top reasons for owning firearms, and keeping them away from those firearms is why a high-quality safe like this is so important.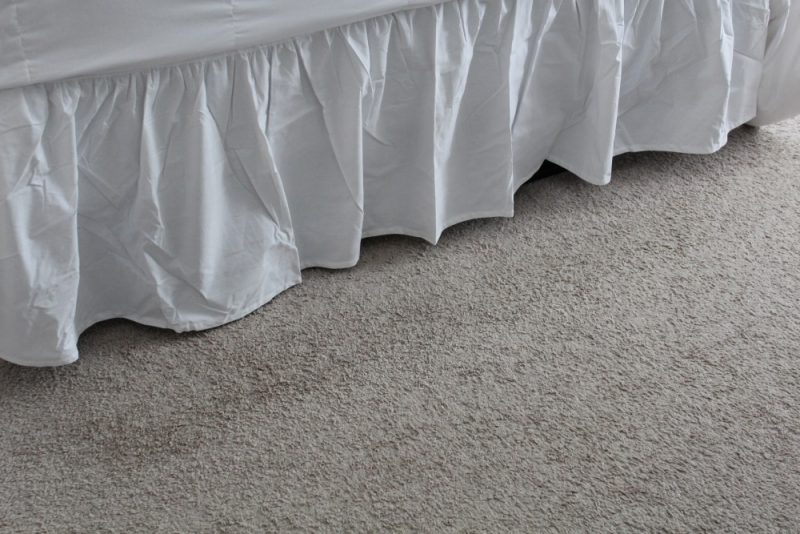 The additional height of the risers also gave me an added benefit: I can quickly stuff the bed skirt into the gap between the mattress and safe to access the keypad.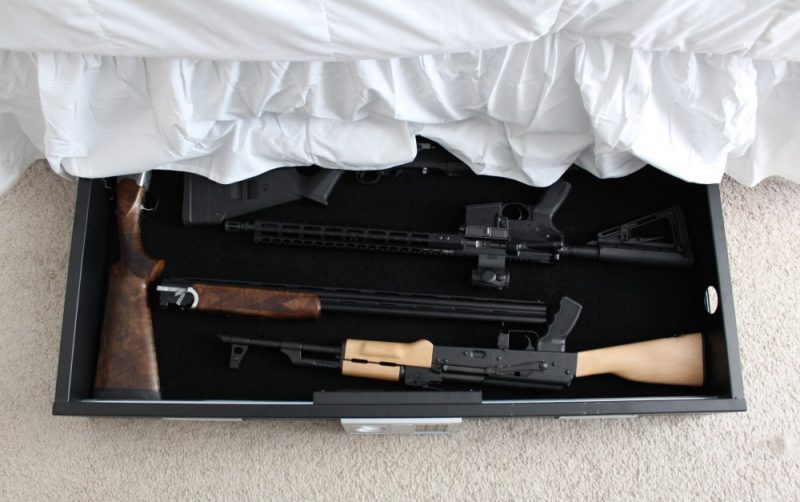 Ultimately, I'm not John Wick and I never will be, but that doesn't mean I can't have a cool solution for keeping my guns tucked away and out of the hands of those who shouldn't have them. So far, I'm loving this Under Bed Safe, and I even received positive feedback from my wife, which is unheard of when it comes to anything related to guns, especially gun safes. She said she was really surprised how much she liked that it was under the bed and out of sight. That's something, right?
I highly encourage anyone looking for a new gun safe to consider an Under Bed Safe. It's designed well, can hold a number of firearms, and best of all, it is far more discrete than a standard long gun safe.
What do you think about the Under Bed Safe? Let us know in the comments section below. To order one for yourself, or as a gift for Father's Day, click here.