Vacation Spotlight: Arrowwood Lodge at Brainerd Lakes – An Ultimate Summer Vacation for Families and Fishermen
Tony Capecchi 06.23.17

As a fisherman, I love being on the water, ideally at a lodge with outdoor décor, north woods charm and a variety of fish species to chase all day. As a toddler, my son loves being in the water, ideally at a waterpark hotel with water spraying, handy snacks and a variety of easy-to-access activities that can be abandoned quickly depending on shifting weather or attention spans.
My wife and I kept that criteria in mind as we searched for the ideal destination for our first-ever family vacation. Jodie and I have travelled with Joe to visit relatives or attend a wedding, but this spring was our first true family vacation simply to indulge ourselves and get away.
When it comes to trips, I'm both a planner and a researcher. I cherish vacations, so I invest time beforehand to maximize my odds of creating the best possible experience. Our first-ever family vacation was no exception, so I pounded the e-pavement (TripAdvisor, travel blogs, OutdoorHub, and emails to friends) to search for an easy-to-reach, family friendly destination that would equally excite one 2-year-old and two 33-year-olds.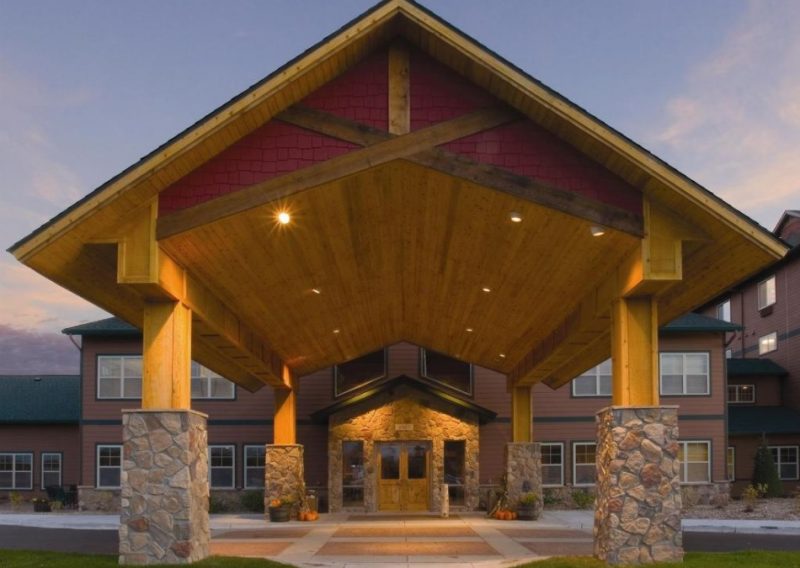 All my homework, including some insightful advice from a friend who's taken his family seemingly everywhere across the Midwest, pointed us toward Arrowwood Lodge at Brainerd Lakes (above) in Baxter, Minnesota. We loaded up the car with the bare essentials – swimsuits, hiking gear, collapsible fishing rod and Joe's don't-leave-home-without-them blankets – and made the easy 2-plus hour drive from our home in St. Paul, Minnesota. Upon arriving, we quickly discovered the obvious: Arrowwood is the perfect place for a family getaway – especially if you or your kids enjoy the water.
"Arrowwood Lodge is a great getaway for kids of all ages," said Karolyn McCarte, Director of Sales at Arrowwood Lodge at Brainerd Lakes. "There is something for everyone, from our spacious lodging rooms to our onsite Baxter's Bar & Grill that serves everything from breakfast to dinner to catered events and late night beverages. Splash and play in the Paul Bunyan Indoor Waterpark; partake in games at the Gold Mine arcade; or get outside and play – our outdoor recreation includes a bonfire pit, children's playset, sand volleyball court, zipline, lawn games and horseshoe pits."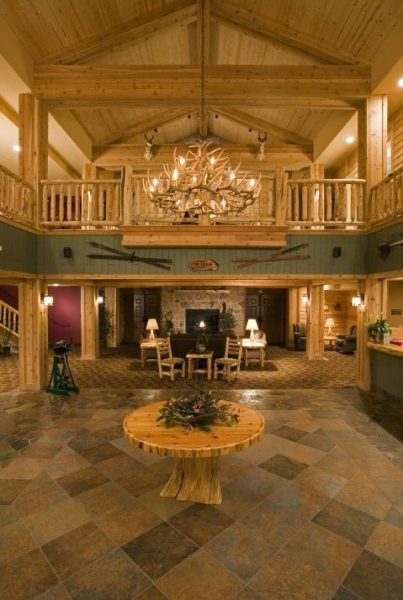 As we walked past a half-dozen antique outboard motors and into the lobby with mounted animals and a deer-antler chandelier hanging from the vaulted wood ceiling, the first thought that popped into my head was, "Dad would love this place." My dad would transform his house into a Canadian fishing lodge in a heartbeat if he could, if only to wake up every day to a giant moose on the wall, a crammed tackle shop in place of his kitchen, and the unmistakable smell of being immersed in an old log cabin.
Arrowwood delivers this scene (minus the odor) in spades. We enjoyed exploring the expansive, 102-room hotel and discovering its diverse décor, including antique fishing lures, full-mount grizzly bears, mountain goats, wolves, a record-book moose shot by a local youth hunter, and Joe's favorite – a mount of the world-record walleye.
Something might have been lost in translation when I showed Joe the fish; he appears to be under the impression that I caught the trophy. I didn't have the heart to correct him when each time we walked by the beautiful display he'd say, "Look, there's Daddy's fish."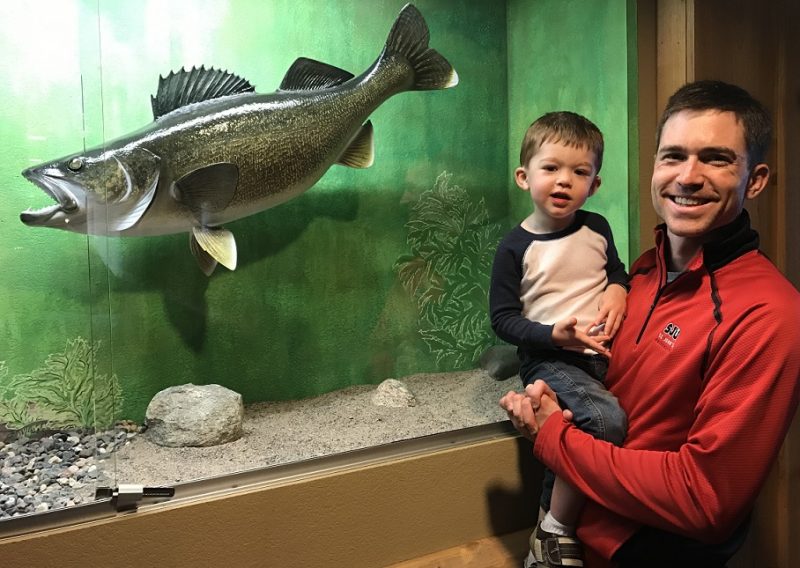 Indeed, the lodge delivers big time on ambiance, much as the area itself does on fishing. Brainerd is home to Gull Lake, one of Minnesota's most famous and reliable walleye factories. I've enjoyed some of my better state-side fishing on the area's other legendary lake, Pelican Lake, while over the years I've also cruised on the Whitefish Chain, a lake-lover's paradise well-known for recreational boating.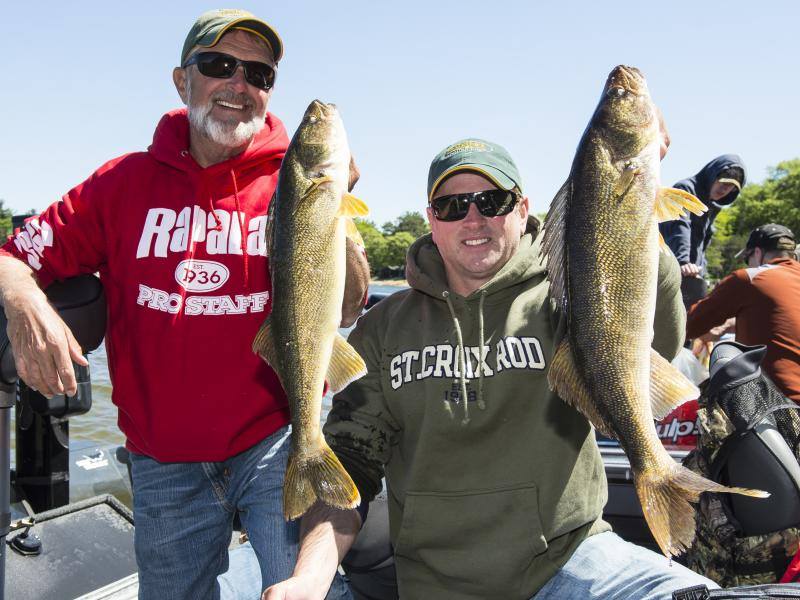 Given both the purpose and company of this trip, I didn't fish much, though Joe did help me reel in several sunfish from the casting dock of an area lake. Based on Joe's excitement, you'd think our catch rivaled Arrowwood's prized walleye mount (and stay posted, since I plan to return to Brainerd later this year for serious fishing).
The hands-down highlight of vacation, as anticipated, was the hotel's outstanding waterpark. Before booking, I had noticed numerous TripAdvisor reviews (and several publications) commenting that Arrowwood's Paul Bunyan Indoor Waterpark (below) was the best waterpark their family had ever experienced. After spending several hours each day of our trip there, I'd have to agree. Joe had found waterpark heaven.

The best part is how well the pool caters to both big kids and little kids. I've been to waterparks with big slides and noisy, forceful water spouts that appeal to 10-year-olds but terrify 2-year-olds. The Paul Bunyan Indoor Waterpark effectively caters to all ages with its zero-depth entry pool with a non-slip rubberized deck, a lazy river, log walk, small fountains and water bubblers plus a big treehouse with hoses and slides perfect for toddlers.
Joe is afraid of the small slide at my local waterpark because it's an enclosed slide, which can be disorienting to small kids who can't gauge its size or see their surroundings. Paul Bunyan Indoor Waterpark presents a handful of open-air slides ideal for little kids. I was relieved to see Joe, within 30 seconds of entering the pool, independently approach and use a slide (below).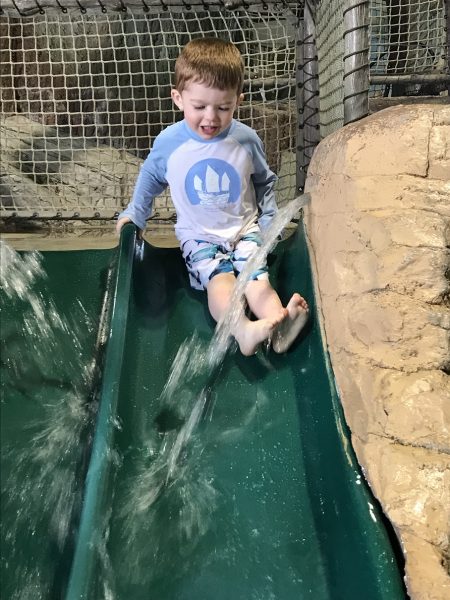 To complement the attractions for toddlers, there's also a four-story body slide and a giant tube slide that I enjoyed, plus basketball hoops, water cannons and the state's only indoor/outdoor hot tub. The space is structured perfectly so big kids can be big kids and little kids can be little kids without interfering with one another; meanwhile adult kids can enjoy beer specials, pizza and ice cream at Sourdough Sam's Snack Bar inside the pool area.

Jodie and I did exactly that, and for dinners we went to Baxter's Bar and Grill (above). The food was flavorful and the atmosphere made us wish we had a babysitter to enable us return for after-hour drinks––it's a cool and convenient setup on premise. Breakfast is Jodie's favorite meal of the day so she was delighted with their expansive continental breakfast.
To support another local operation, we also tried Boomer Pizza (owner Chris grew up in the Brainerd area). It's literally a 3-minute drive from the hotel, and their famous wood-fired pizzas live up to the hype.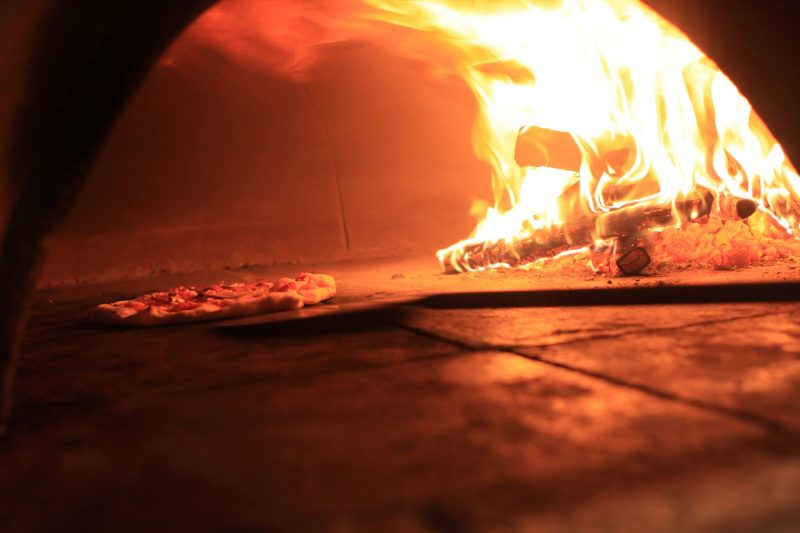 As phenomenal as the food options were, it was extremely convenient to have a full kitchen, which we did in our "Wolf Den" cabin suite. Joe loves making pancakes, and he felt pretty darn cool sitting up on the bar stool, which just happens to be a beautiful wood stool with an ornate moose carving. The suite is a perfect microcosm of the hotel: fun and convenient for kids, yet exceptionally nice and loaded with outdoor décor for adults and nature lovers.
It was remarkable how big the suite was and how much space we had, even with all the toys we brought.

"Guests love the fact that our rooms are 30 percent larger than a typical hotel room," said McCarte, adding that the extra space is the item new guests cite as their biggest surprise. "They also like how each room has its own cabin name."
For us, the magic was not in the name, but rather in the unique way Arrowwood combines the classic cabin charm with the hotel convenience – all in the midst of the boater's paradise that is Brainerd. Case in point: During our trip, Jodie and I loved hiking scenic Pillsbury State Forest, while Joe loved hiking the hotel hallways at 5:45 on our second morning when he woke up wide awake, eager and excited for another great day at Arrowwood.
Even filling the ice bucket can be an adventure for a kid, given the unique allure of a hotel. At Arrowwood, the magic isn't confirmed to an age range, and the activities are limitless. Joe also had a blast at the hotel's Goldmine Arcade – his first time playing arcade games and winning prizes – and so, too, did Jodie (one night she snuck out and played skee ball while I tucked Joe into bed).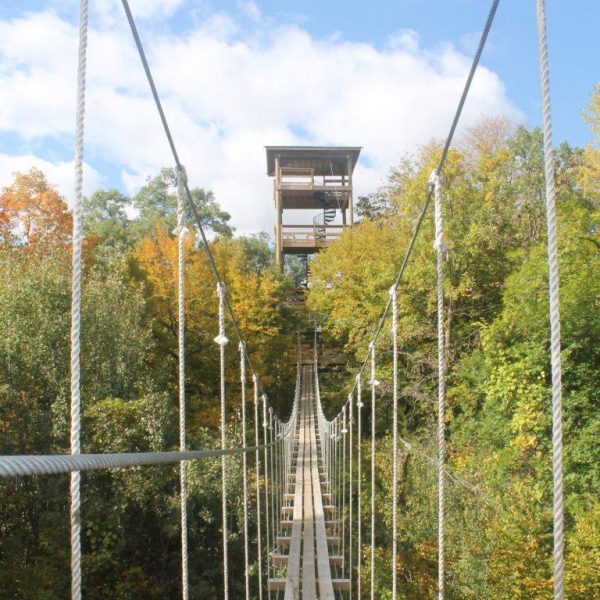 "Arrowwood Lodge is perfect for families. With the waterpark, arcade and restaurant on-site, you don't need to leave. They've got amazing rooms with a variety of lodging set-ups to accommodate all families," said Mary Devine Johnson, Executive Director of Visit Brainerd.  "If you want to explore the Brainerd Lakes area, there's a great mix of contemporary attractions like go-karts, mini-golf, amusement parks, shopping, fabulous restaurants and breweries. And then there are all of the opportunities to explore nature at its finest with biking and hiking trails, river- and lake-side parks, horseback riding, water sports, fishing and golfing. No matter what your family enjoys doing on vacation, you can find it here."
I agree, and more importantly, so does Jodie and Joe. We loved Arrowwood and the Brainerd Lakes area, and the trip went flawlessly. The other night, Joe confirmed to me just what a success it was. I was putting him to bed, and after I turned the lights off, Joe said to me, "Do you want to go back to the hotel someday, Daddy?"
Author's note: The website for Arrowwood Lodge at Brainerd Lakes is ArrowwoodBrainerdLodge.com. For more information, call 218.822.5634. And be sure to check out this 30-second video for a quick tour of Arrowwood Lodge: