If you're in the market for a compact, powerful ATV to get you started for the 2017/2018 hunting season, then look toward Yamaha's new Kodiak 450. This mid-bore SOHC single-cylinder ATV has respected features such as power steering and fuel injection, as well as the always reliable Ultramatic CVT transmission.
Of course, the first item many hunters may look for is pricing. With an MSRP for the base model of $5,999 (hunter green color), it is sure to fit the hunting budget. Add in the EPS (Electronic Power Steering), and the price jumps a bit to $6,899. It is my opinion, EPS is well worth that money. And FYI: my test machine was EPS equipped.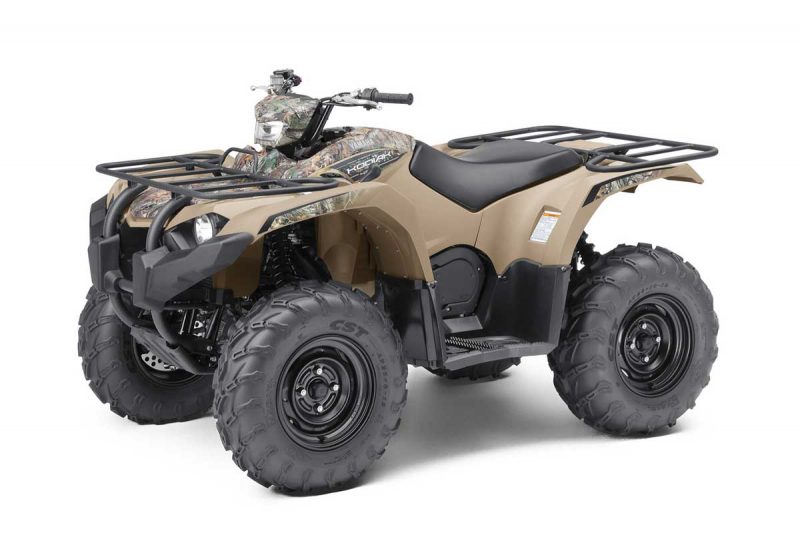 After a lengthy ride on the tight ATV trails of Washington's Capital Forest, I made many key observations about the new Kodiak 450. This machine isn't a full-size frame with a mid-bore power plant. The chassis is designed specifically for the Kodiak, and the suspension has been engineered to provide many miles of smooth trails ahead with a little longer reach from the frame's center.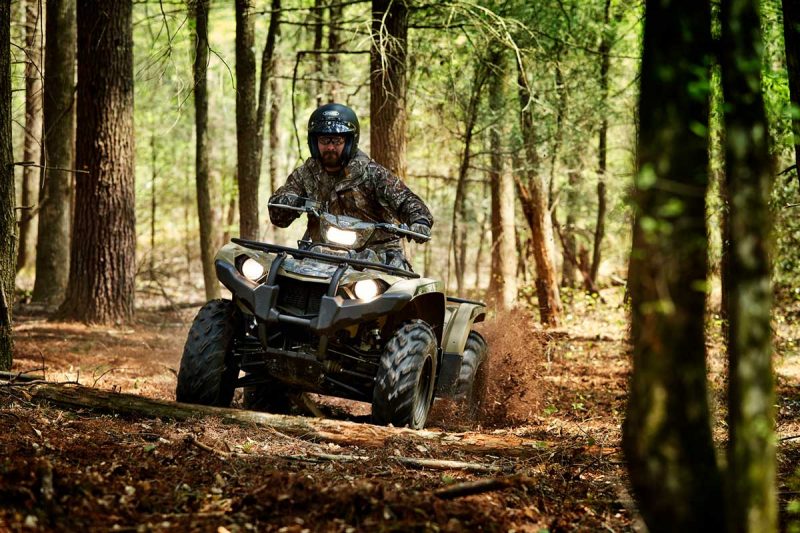 As a larger rider (6 feet; 250 pounds), I found the independent double wishbone suspension to be very good, and I'm sure a smaller rider might be even more impressed. The overall width of the Kodiak is 46.5 inches, and Yamaha has widened the suspension arms by 1.5 inches, which makes the handling of this ATV stable, as well as predictable. The shocks on this Kodiak are  preload adjustable, coil over in design, and they were impressive in the rough trail sections.
My ride into the tightest of trails proved the agility of the Kodiak to be spot-on; I had no trouble turning the Kodiak during off-camber, narrow downhill or uphill twists and turns in the route. I had plenty of rocks that seemed to tower over the trails in places, but with 9.6 inches of ground clearance, the Kodiak 450 didn't seem to notice. My fellow riders and I did find a few large ledges that grabbed at the underside of the ATV, but the full-length skid plates allowed us to glide over these with little trouble. Of course, the Yamaha On Command 2WD/4WD limited-slip switch on the right side of the bars might have been pressed a few times to get us through those challenging areas.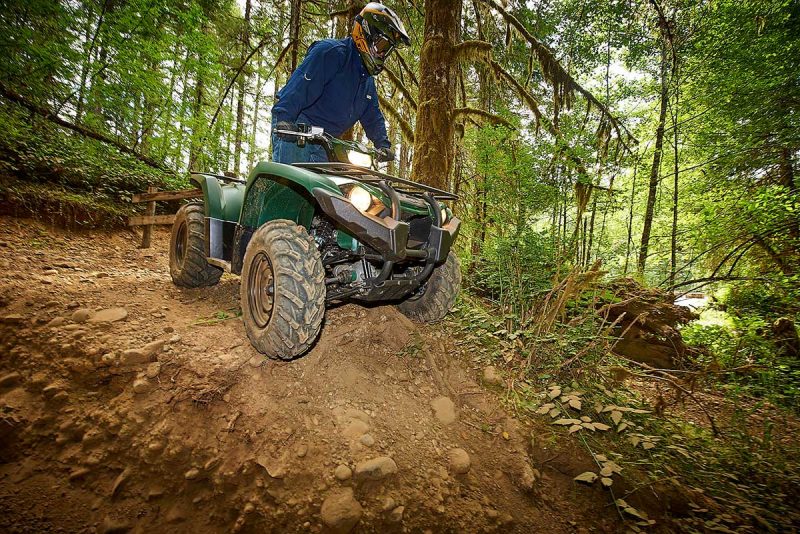 If you use your ATV for work as well as hunting, then you'll be happy to know that even in the toughest sections of tight rock- and root-laden trails, this engine was very smooth, giving me  predictable power output when the throttle was pressed. The fuel-injected, liquid-cooled power plant gives even the most jaded ATV owner a smile. With a peppy response, you feel the 421cc four-stroke come alive, and there is plenty of grunt for towing as well.
When designing the framework to cradle the engine, Yamaha engineers made sure to reduce vibration as much as possible with redesigned rubber engine mounts. With all the excitement of my ride, I don't remember any excessive vibration at all. Fatigue was also lessened by the Electronic Power Steering on my test machine. This was very evident as the speed of my ride slowed to a crawl up onto Capital Peak.
Additional features important to hunters include plenty of rack space for gear, and wide feet and leg areas for more mobility, as well as comfort. With a total combined rack carry weight of 264 pounds (88 pounds, front; 176 pounds, rear), I'd say getting gear and possibly a mature buck back to camp is more than possible. If you need to pull a trailer to haul even more gear, the Yamaha Kodiak 450 will tow more than 1,300 pounds. With this much power, it'll be great for food plot work, too. The gas tank is 3.7 gallons, so you'll be able to hunt several days in a row without worrying about refueling.
The seat on the new Kodiak 450 is sculpted to maximize your ability to move around in the saddle without restriction. I found myself getting off each side of the seat many times during steep descents, as well as on the rocky stepped ledges of the trails. As a larger rider, I didn't feel restricted in any way, and with the gear selection lever moved further up onto the left front fender, there was nothing to catch my knee on.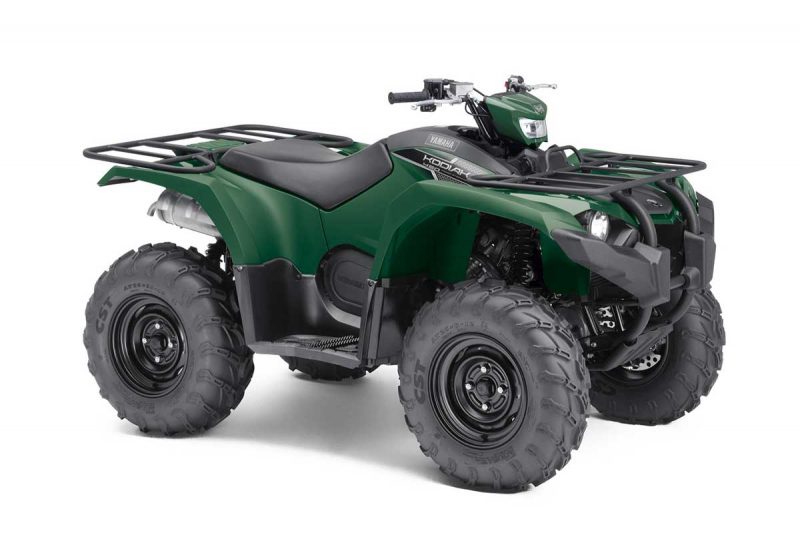 This might be splitting hairs, but I could have lifted the bars just a touch, and maybe the throttle lever should have been adjusted around toward the rider a tad more, but from my sitting or standing position, these items were well within reach. The floorboards are large and provide ample grip with a raised peg in the center that extends out to almost the edge of the plastics. Fender coverage on the plastics caught the vast majority of the mud and water, and trail debris were cast out away from my feet. The floorboards have plenty of drainage, too, should the day turn to a muddy mess.
Slowing down the Kodiak 450 isn't difficult at all provided the ground beneath the tires is solid. Using hydraulic disc braking up front, and a sealed rear brake system in the back, the stopping power for this 637-pound machine is adequate. One feature that's worth noting is the sealed rear braking system; the entire rear brake setup is enclosed in a water-tight, oil-bathed section of the rear differential. This means you'll always have brakes, even in the wet or muddy trails of your property.
My first ride on Yamaha's new Kodiak 450 was extremely enjoyable. This is one ATV that benefits from many years' worth of Yamaha innovation, and it comes in a package sized and priced to fit most any rider.