With early goose seasons underway, it won't be long before full-fledged waterfowl shooting begins. So, dig out the calls, touch up the decoys — and if you're facing another season of cussing out the old "jam-o-matic," maybe it's time to scout for a new shotgun.
Here's a near double-handful of awesome fowling pieces, one of which is sure to make your 2017 season a whole lot sweeter.
Benelli Super Black Eagle 3    $1,799.99

Benelli's Super Black Eagle has been a stalwart fowling piece since its introduction, and the thoroughly redesigned third-generation SBE 3 only strengthens the semiauto's reputation as a rugged and reliable duck and goose getter. Enhanced ergonomics in the form of a slimmer forearm and precision balance make shouldering quick and intuitive, while its shock-absorbing ComforTech 3 stock and gel recoil pad and comb take the punch out of heavy waterfowl loads. Follow-up shots are fast and accurate. Plus, the oversize bolt handle, bolt release and safety are designed to function flawlessly with gloved hands.
Browning A5 Wicked Wing    $1,749.99 (on sale now: $1,649.99)

The distinctive humpback receiver on Browning's new A5 Wicked Wing shotgun provides a clear sight plane for quick target acquisition — and a classic look that might bring back fond memories of tagging along in the blind. But make no mistake: this ain't grandpa's duck gun. It features a fully chromed corrosion-resistant bore and the gun maker's exclusive Kinematic Drive System, which cycles shells quickly and reliably while softening the blow from magnum waterfowl loads. Its most striking differences — a camouflaged composite stock with a Dura-Touch Armor coating along with the Cerakote Burnt Bronze finish on the receiver and barrel — are sure to make this shotgun a stand-out in any duck blind or goose pit.
Beretta A300 Outlander        $669.99 to $799.99

Beretta's legendary performance and design shine through in this worthy heir to the 300 Series — the new A300 Outlander. While light and nimble in the hands, its barrel and receiver are made to take the repeated pounding of heavy hunting loads; and the rugged synthetic stock, with an adjustable length of pull from 13 to 14½ inches, repels rain, snow and mud under the most unforgiving waterfowl hunting conditions. A compensating gas valve and self-cleaning piston provide smooth, reliable operation. Following the gun maker's philosophy on trouble-free maintenance, the A300 also breaks down into four major parts for quick disassembly and easy cleaning.
CZ-USA 712 G2           $549.99 (on sale now: $499.99)

Resilient and weatherproof, the new 712 G2 semiauto is built to withstand nasty weather that comes with a waterfowl hunter's territory. The receiver and barrels sport a scratch- and abrasion-resistant bronze Cerakote finish, while the camouflaged synthetic stock provides a secure and comfortable hold, whatever the environmental conditions. A long recoil spring in the stock simplifies assembly and allows cycling of 2¾- and 3-inch shells, which means this versatile shotgun is at home in a pheasant field or on a clay target range as it is in the duck blind.
Winchester SX4 Waterfowl Hunter   $949.99 to $999.99

Slim, light and agile are adjectives that well describe Winchester's new SX4 Waterfowl Hunter semiauto. Its tough synthetic stock, smaller pistol grip, and textured forearm are slimmer for a more controlled feel, while an alloy magazine tube and recoil spring system cut the weight by a half-pound. Yet, it's no slouch in the duck blind. Winchester's Back-Bored technology produces optimum patterns with large shot, while the Self-Adjusting Active Valve system reduces felt recoil and ensures cycling speed and dependability under all conditions. Choose between a 3- or 3½-inch chamber and Mossy Oak Shadow Grass Blades, Realtree MAX-5 and Mossy Oak Bottomland camo patterns.
Franchi Affinity           $849.99 to $949.99
Optimized for fast-handling and instinctive shooting, the shotguns in Franchi's new Affinity series handle like a smaller-gauge gun, yet deliver all the power today's 3½-inch shotshells produce. With a slim forearm and grip, the refined design is responsive and fast-handling, while its ultra-reliable inertia driven bolt system features a rotating head that ensures a positive lockup every time. Like all good fowling pieces, the Affinity offers an oversized bolt, bolt release and magazine port for smooth operation with gloved hands. And it's available in synthetic black, or a butt-to-muzzle Mossy Oak Bottomland or Realtree MAX-5 camo finish.
Remington V3 Field Sport      $869.99

Neither a hard-flying mallard nor a wily old honker are a match for the easy swinging, smooth-cycling V3 Field Sport shotgun from Remington. Its lightweight design features the Versaport gas system that regulates cycling pressure based on the length of the shotshell — either a 2¾-inch or a 3-inch magnum — softening the recoil and allowing for quick and precise second or third shots. Dipped in Mossy Oak Shadow Grass Blades camo, the gun features a weather-beating synthetic stock and forearm, twin bead sights and Remington's cushioning Super Cell recoil pad.
Mossberg 500 Field/Deer Combo     $429.99

Waterfowl hunters who require a little versatility from their firearm should check out Mossberg's new 500 Field/Deer Pump-Action Combo. Its chambered for 3 inches and comes with a 28-inch ported, vent rib smooth barrel for winged targets, and 24-inch rifled and ported slug barrel for four-footed quarry. Its synthetic stock, receiver, forearm and both barrels are dressed in matte Mossy Oak Break-Up Country camouflage against sharp-eyed waterfowl and whitetails, while the interior features dual extractors and an anti-jam elevator to keep shells flowing smoothly when the action heats up.
Stoeger P3500             $349.99
Another beauty for pump-gunners is Stoeger's new P3500, with a precision anodized-aluminum receiver that features a rotary bolt for added strength, and flawless feeding and extraction of 2¾-, 3- or 3½-inch shotshells. Ergonomic styling with a sleek forearm profile and a well-balanced vent-rib barrel make for smooth swinging and instinctive pointing. It's wrapped head-to-toe in Realtree MAX-5 camouflage, and features a synthetic stock and forearm that are impervious to cold, rain and mud. But best of all, this feature-packed shotgun comes with a price tag modest enough to put a smile on any waterfowl hunter's face.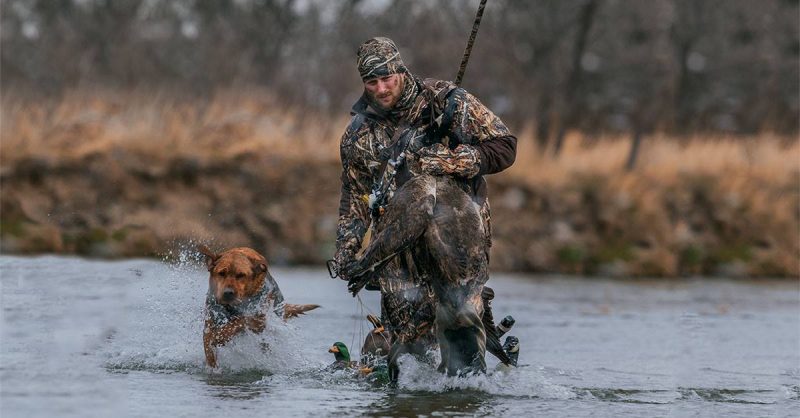 This article was produced in cooperation with Cabela's.