Most things that Matt McPherson (below) has envisioned, put his mind to, and engineered have turned to gold.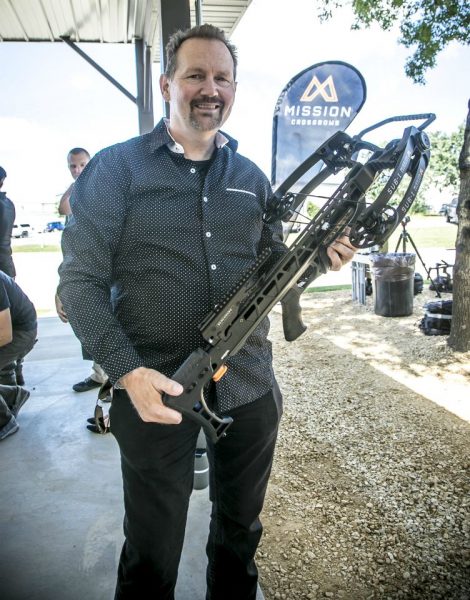 From inception of the SoloCam through the NO CAM, and now latest HALON line of Mathews Archery bows, these products have consistently been the industry standard.  And now with Mission Archery rededicating itself with Mission Crossbows, the release of the SUB-1 Crossbow will certainly follow suit. Just like its vertical bow brothers, it will set an incredible standard as the best shooting experience in the industry.
"I looked at conventional crossbow designs and was blown away at how cumbersome, loud, inaccurate, and cheap they felt," McPherson said. "I thought to myself, we can do this better."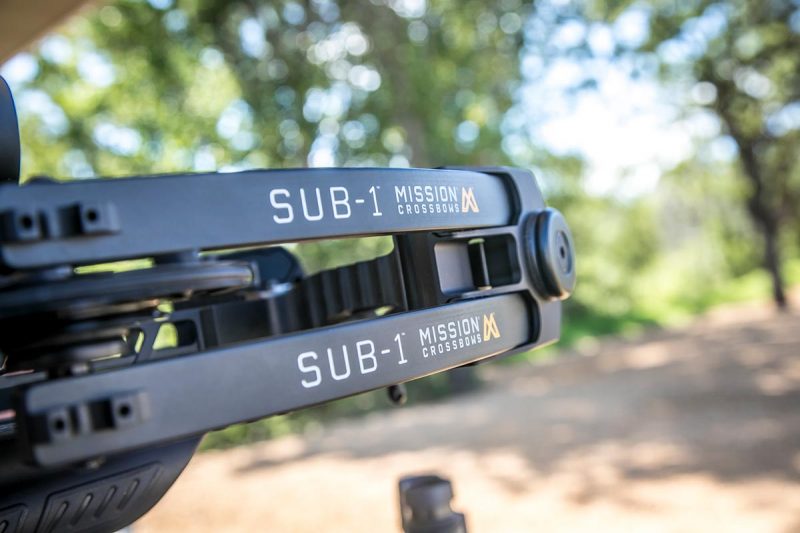 With the development of a high-end crossbow, Mission Crossbows separates itself from the Mission and Mathews vertical line of bows. The SUB-1 is the perfect way to launch Mission Crossbows to the forefront of the premium level in this ever-growing crossbow market. Important note: The reason for the SUB-1 name is that during testing, the bow has consistently delivered groups of 1 inch or less at 100 yards!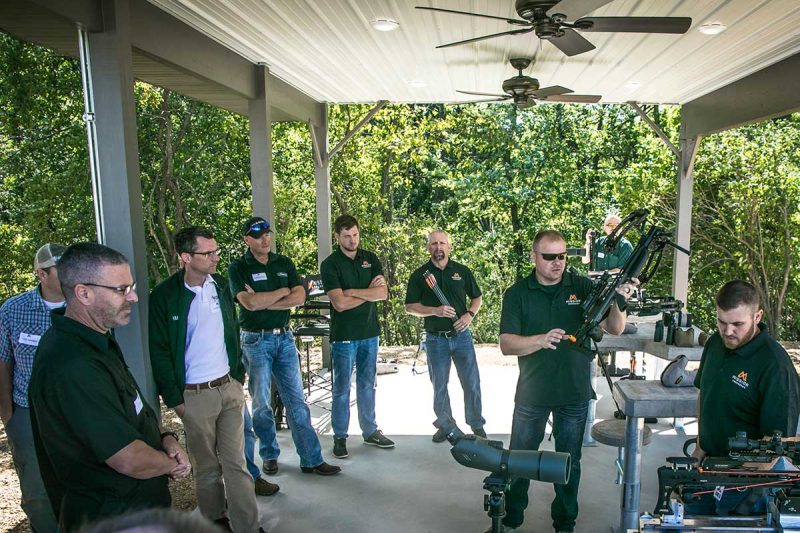 I recently visited the Mission facility for the exclusive media day rollout of this new crossbow.  Seeing the process from initial engineering plans through final production and range test shooting gave me an inside look at the knowledge, experience and passion invested in releasing what will be the one of the best crossbows on the market. The entire day was so impressive, and the incredible passion that McPherson and his team have for all the products they produce was so apparent.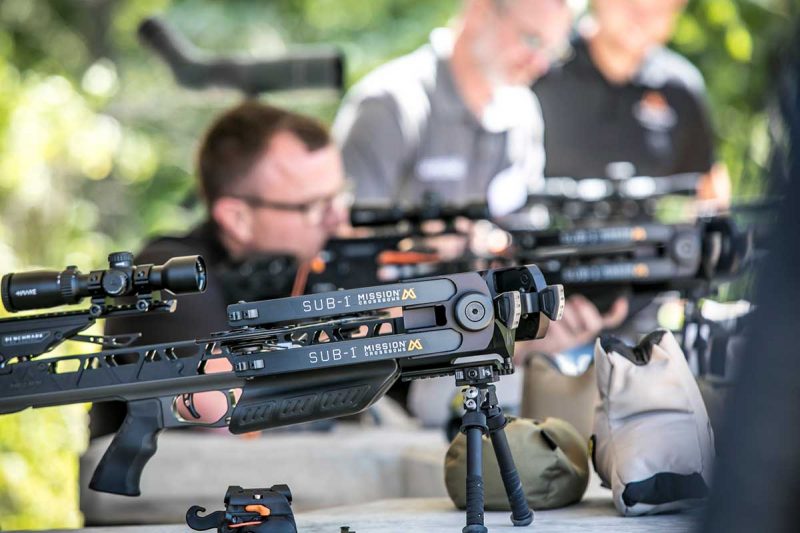 Like with any product, we can analyze numbers, compare data and compare features. I'll leave that to the charts and reviews that will surely be provided across the market. Like many of you, I'm not an overly seasoned crossbow shooter, but I can tell you a few things initially that stood out with this crossbow.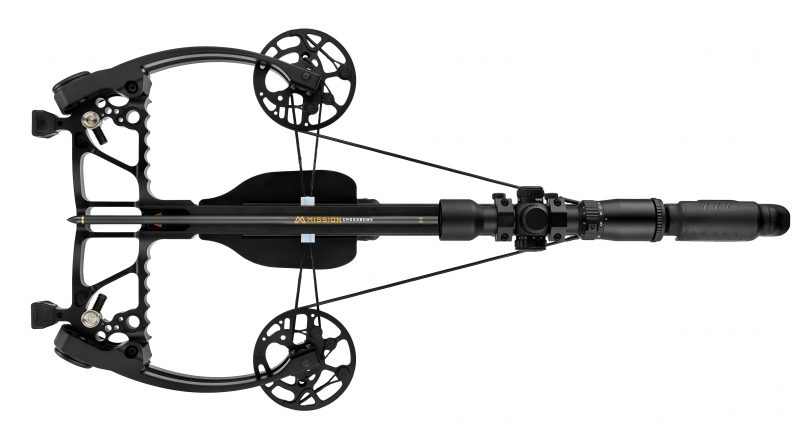 It looks really cool and feels super solid:
The SUB-1 has a high-end appearance, and once it's in your hands, you can feel the quality. McPherson commented that its appearance and feel would be a priority. It is compact, but incredibly stable. For hunters and the crossbow's intended use in the field, these specs will be something that folks will appreciate right away; with an overall length of 30.5 inches and uncocked axle-to-axle width of 13.8 inches, it's very portable and maneuverable. With those dimensions and a weight of 7.5 pounds, the SUB-1 is perfect for a treestand or ground blind.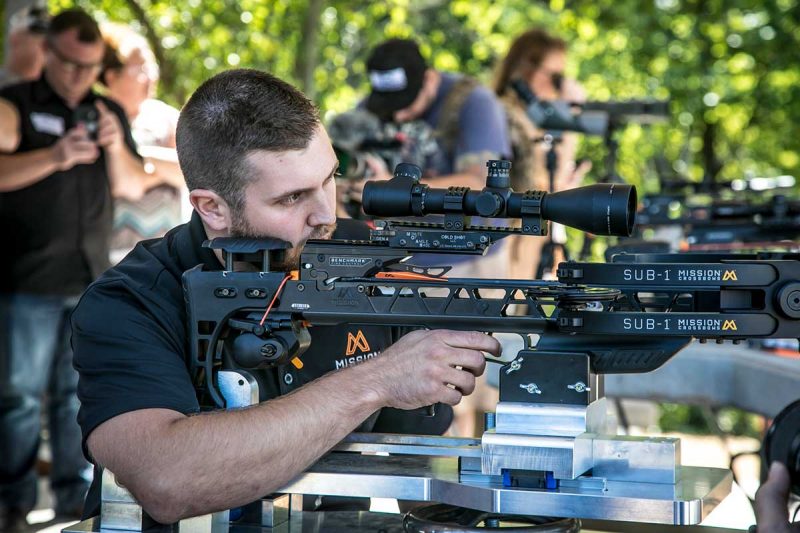 This is great, too: The stock of the SUB-1 functions like that of a top-notch AR, which is to say it's fully adjustable for a custom fit, including six positions for adjusting stock length. The comb — with an ambidextrous cheek piece (see photo above) — can be adjusted 1.25 inches so you have a perfect inline view through the scope.
During our media day, we shot the SUB-1 in black. It will also be available in Under Armour's Ridge Reaper Forest camo.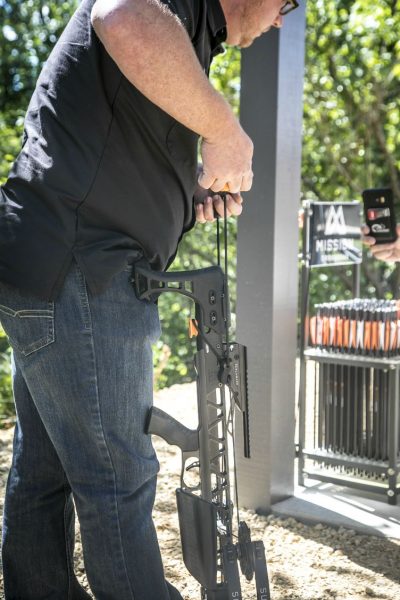 It was very easy to cock — and de-cock:
It was super easy to rope-pull the 35-pound holding weight, which will be very useful, especially for older or disabled archers who want to stay active in the field. This bow has 24 patents pending, one of which is a total game changer: Benchmark Fire Control (below). Three years in the making, this is the first of its kind to allow shooters to safely de-cock their crossbow without disengaging the safety, pulling the trigger or shooting a bolt. You merely pull the rope back, press a button and disengage the string. It features a very easy let down, suitable for all sizes and ages of shooters
It was ultra-quiet and so smooth to shoot:
Most crossbows have a loud clang/clap feel and sound to shooting them. The SUB-1's patented Sync X cam system eliminates any horizontal and vertical nock travel, and its 80 percent let-off delivers a smooth, controlled acceleration, resulting in uniform arrow launch. McPherson explained it well, comparing a gunshot to a rocket launch. The bang of a gunshot is gone and replaced by a smooth, yet incredibly powerful rocket takeoff.
The two-stage, 3.4-pound trigger was a real treat to pull. There wasn't that fear of touching off like some friction triggers have. This is crucial for those hunters who will be in less-than-ideal settings, such as shooting without a rest.
The 80 percent let-off is exclusive to Mission Crossbows, and is one of the 24 patents integrated through the 3-plus years of engineering. Though the 200-pound-draw (adjustable) bow advertises 350 fps with a 400-grain arrow, this let-off and Sync X cam system cover any concern about speed. I think many people in both the crossbow and vertical bow world get completely hung up on how fast their bow shoots, with forgotten regard of its noise and downrange accuracy. A speed of 350 fps is very good, especially considering what this bow will deliver on the target end of the shot.
Like previous products in the Mathews and Mission line, acute attention has been paid to vibration reduction. The best materials available have been matched with innovative engineering to provide a quiet, smooth shot. We were able to watch super slow-motion video of the SUB-1 alongside other crossbows, and there was virtually no string oscillation on the SUB-1 because of the Sync X cam system.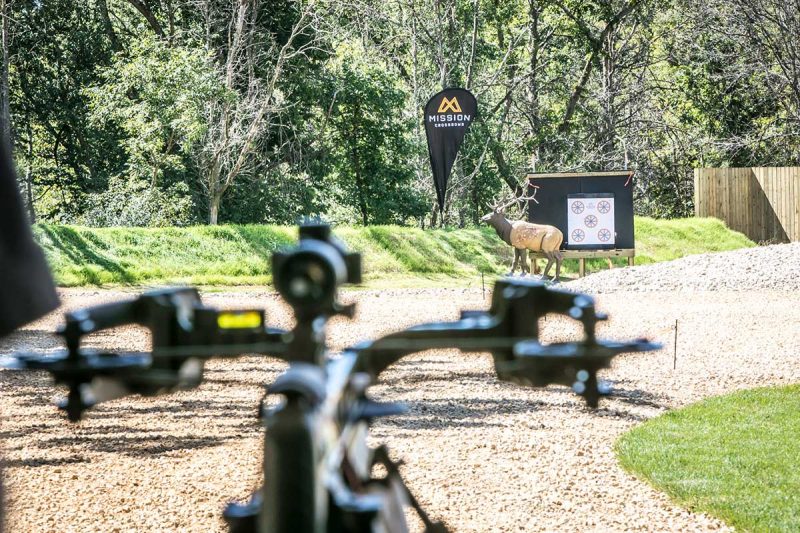 Accuracy — it's named SUB-1 for a reason:
Our media day on the range was less than ideal. We had a consistent crosswind of 12-15 mph, and because of the range's location with some nearby manufacturing buildings, it was swirling downrange. Flags at 50 yards were blowing one direction, while those at 100 yards were blowing the opposite. Tough conditions, for sure!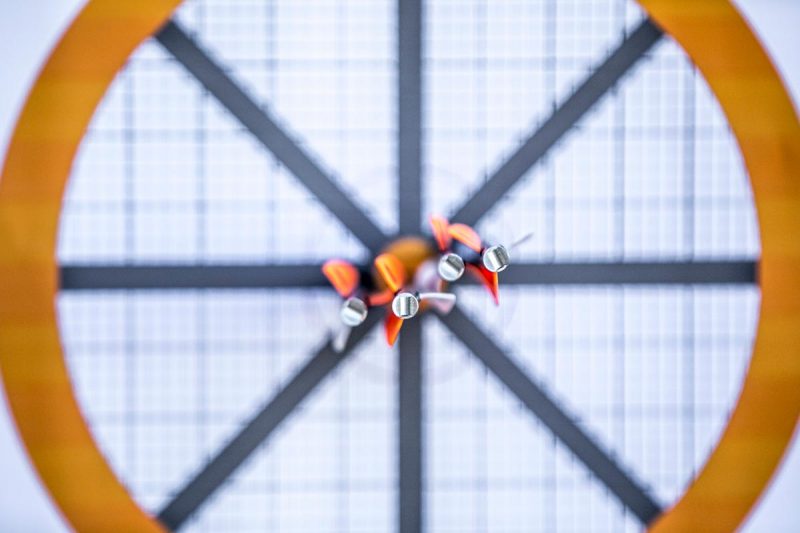 That being said, I was anxious to see the SUB-1 in action. And the crossbow didn't disappoint. Like I said, I'm not an expert shooter by any means, but even in breezy conditions, I was able to shoot insanely tight groups at 50 yards. Out to 100 yards, my shots were still in the kill zone for a big game animal.
Since the day at the range, I've shot the SUB-1 on my backyard range in different weather conditions, and it continues to amaze me. Even for a novice shooter, the SUB-1 is deadly.
"We wanted to hand this bow to anyone and have them all experience the same thing," McPherson explained. "A shooting experience like no other."
I recently marked a target with a golf tee at 40 yards just to check my scope, and after placing the crossbow on a shooting rest, my first shot splintered the wooden golf tee. Like I said — amazing. Note: I'm not an advocate of flinging arrows at wild game at 100 yards, but this bow will give a shooting experience unparalleled in this industry.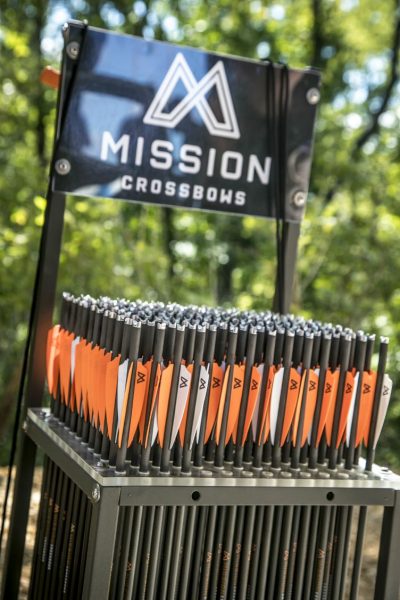 To sum up, I'm not here to sell crossbows, but I can tell you that in my opinion, the SUB-1 will change the game in this growing corner of the shooting industry. I'm grateful that I could share that day with so many people who ARE experts in the crossbow industry.
Though I loved shooting the SUB-1 and taking part in this media day, my goal wasn't to come away with a review filled with technical details. Instead, I wanted to observe and photograph the experience of a new product amongst industry experts. And I can tell you this: Their overwhelming reaction to the SUB-1 is evidence that Matt McPherson and Mission Crossbows have something pretty special here.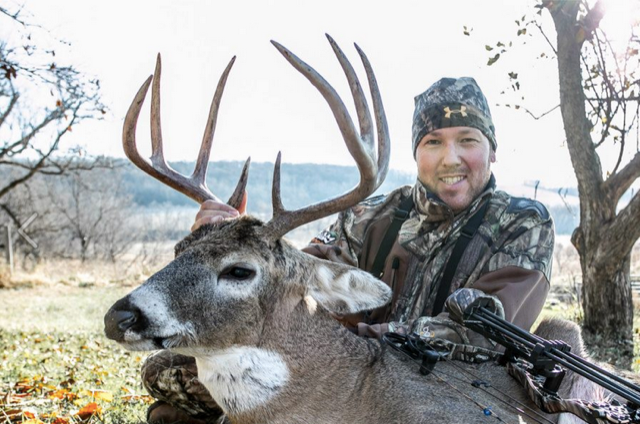 About the author: Matt Addington (above) is a Minnesota-based photographer, outdoorsman and teacher. He spends much of his time capturing authentic images for clients in the hunting, fishing and agricultural industries. His work is on Instagram/Twitter: @mattaddington or www.mattaddington.com