First a bit of background: I've used hand and gas augers for 40 years. Specifically, I own a 6-inch StrikeMaster Mora hand auger, which works fairly well when ice thickness is less than 1 foot, and an 8-inch Jiffy gas (2 cycle) auger for midwinter, when it's safe to drive my full-size pickup on the ice.
During the last few years, I've noticed more and more serious ice anglers switching to a new drilling system that at first glance seemed too good to be true. During the winter of 2016/2017, I decided to check it out for myself, and the results were nothing short of amazing.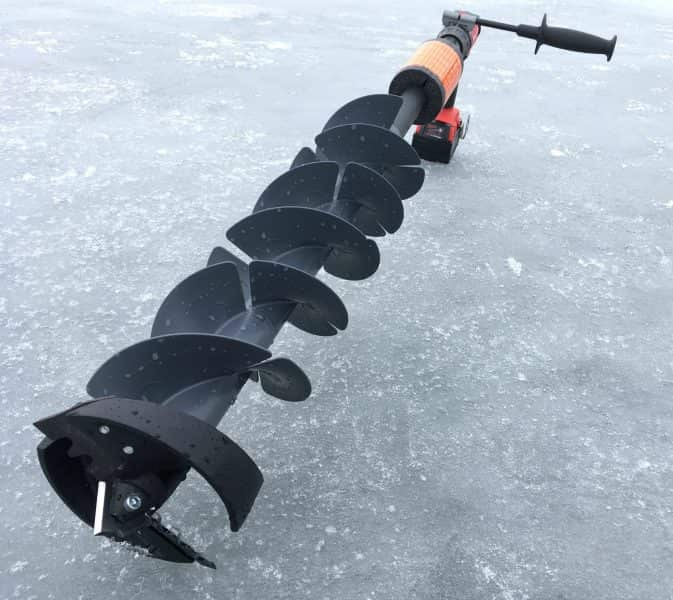 The auger part of the system comes from K-Drill. It looks similar to the bottom half of a standard ice auger, but with some important differences. It measures 3-feet in length, features a heat-treated steel blade set, a powder-coated aluminum cutter head, an aluminum drive tube, and composite flighting (the spiral-looking things). Both the 6-inch-diameter and 8-inch-diameter K-Drill weigh only 5 pounds. And here's the most important part: The K-Drill was designed specifically for use with a half-inch brushless electric (cordless) drill.
But not just any drill. To maximize ice-cutting performance, you should power the K-Drill with a Milwaukee Tool M18 Fuel Drill/Driver (Model 2703-22), which is the most powerful 18-volt cordless drill on the market. Space is too short here to get into all the specifics on this hard-working drill, so let me focus on one thing: the lithium ion battery. The M18's REDLITHIUM XC5.0 battery pack delivers more work per charge and more work over the life of the pack than any other battery. Period. Even in cold weather, the M18 Fuel battery performance is outstanding. The required drill criteria for this system are as follows: half-inch chuck; minimum of 725 inch-pounds of torque; minimum 4 amp/hour lithium-ion batteries; brushless.

This is not a misprint: Using a 6-inch K-Drill and a M18 Fuel with a fully charged battery, I had no trouble cutting 20 holes through 2 feet of ice. And although I carried the second battery on the ice with me (Model 2703-22 comes with two batteries), I never needed it.
Think about it: You can cut through approximately 40 feet of ice per battery; that's 80 feet of ice if you carry both batteries! I don't care how many people are in your ice fishing party, or how much hole-hopping you do to find and stay on biting fish, this two-part drilling system flat out gets the job done.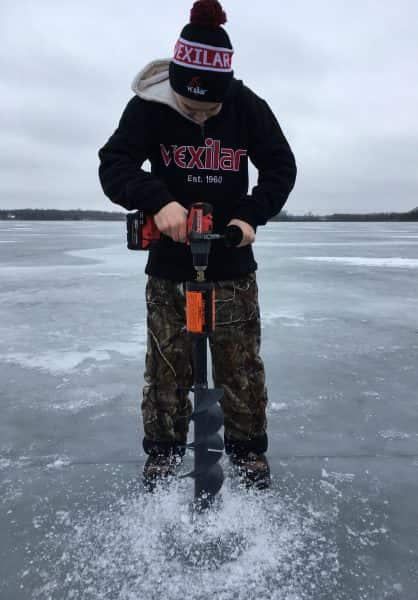 Big Takeaways
In the title to this article, I called this new drilling system a game changer. Why? The reasons are many:
In the past, I carried a hand auger for early and late ice, when I'm pulling a sled and walking out from shore. Hand augers are lightweight and relatively fast when drilling through 4 to 12 inches of ice. But the K-Drill/M18 combo weighs only 10 pounds, and it's much faster. Anyone want to buy a hand auger?
My Jiffy gas auger weighs about 30 pounds. Sure, it cuts a lot of holes, but at a price. I'm not getting any younger, and more than once I've hurt my lower back pulling the heavy gas auger out of a finished hole. Then there's the mess and smell of gas. And because my auger is a 2 cycle version, I have to mix gas with oil, which is a pain. Then there's the hassle of storing a gas engine during the off-season. Anyone want to buy a gas auger?
The K-Drill/M18 combo is so light and simple to use that I'm 100 percent confident in letting my responsible 14-year-old son take it with him on ice fishing trips with his classmates. I never would have done that with my gas auger. Never.
The new drilling system is quiet for use in permanent ice houses, and it easily re-opens existing holes thanks to the K-Drill's unique center tip and chipper-style blades.
Talk about convenience – you can switch the M18 drill to counterclockwise rotation and then flush ice shavings down a finished hole! No need to carefully skim the shavings, or have the shavings and water soak your boots or mess up the floor of a permanent ice house.
If you own a pop-up (hub) style ice house, the kind that relies on ice anchors to keep the house firmly attached to the ice, you can use the M18 and a standard bit to drill starter holes for your anchors. Try it once and you'll never again place anchors without use of a cordless drill.
And I'm saving the best one for last: After the ice fishing season, you simply store the K-Drill assembly and then use the Milwaukee Tool M18 Fuel for all sorts of projects around the home or otherwise. Personally, I used mine during spring 2017 to tap trees for maple sap collecting (400 taps on my dad's land in Wisconsin), and then this fall I've been using the M18 to drill starter holes in hardwood trees for easier installation of screw-in-style treesteps during deer season. Nice!

One last thing – perhaps you're wondering: Can you land big fish through a 6-inch hole? Yes. Shown below are my two sons with 21.5- and 20-inch largemouth bass taken last winter through holes drilled with a 6-inch K-Drill. A fish with a girth measurement of 18 inches will fit through a 6-inch-diameter hole. To put this in perspective, a 38-inch northern pike with 17-inch girth (circumference) weighs about 14 pounds. If you plan to fish tip-ups for giant pike, or catch monster walleyes and insanely big crappies, then buy the 8-inch K-Drill. That said, you can cut two, or three – or as many as you like – connecting holes with the 6-inch K-Drill to create any size hole you wish. I've done it, and it's easy.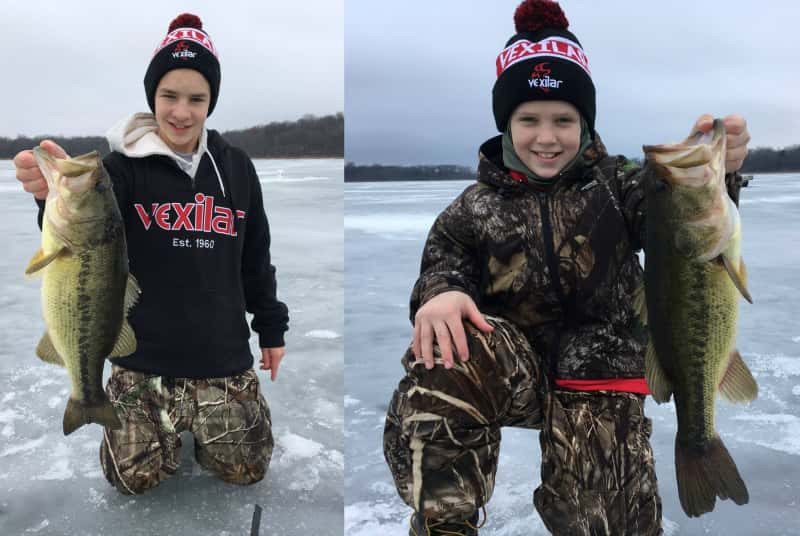 I'm excited to continue using the K-Drill and Milwaukee Tool M18 Fuel Drill/Driver during the 2017/2018 ice fishing season. Based on its performance last ice season, on a scale of 1 to 10, it's an 11.
To learn more about the K-Drill and Milwaukee Tool M18 Fuel combo, check out the informative video below.
What's Your Reaction?