Great Gift Idea: All-Steel, Locking Freedom Cabinet
Dave Maas 11.24.17

Need the perfect gift for someone who always stands for "The Star-Spangled Banner?"
Metal Art of Wisconsin is a family owned and operated business in Manitowoc, Wisconsin, on the shores of Lake Michigan, and they design and produce stunning artworks with a strong American flavor. They have recently expanded their range of patriotic pieces with a new, lockable American flag strongbox, the Freedom Cabinet.
American-made in Wisconsin from locally sourced timber and 16-gauge cold rolled steel, the Freedom Cabinet is a great way to show your love of country, while adding a crazy-cool showpiece to your mancave.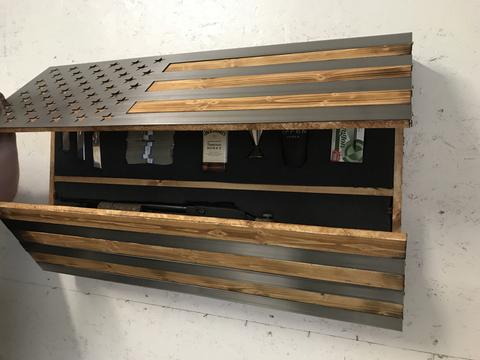 Each Freedom Cabinet comes complete with a tough, foam insert that can easily be configured to store guns, cash, spirits or anything you want to conceal. Encased in a steel, lockable frame, whatever you decide to store in it will be hidden behind Old Glory. The Freedom Cabinet is available in three lengths: 23 inches, 34 inches and 42 inches.
Note: In my opinion, while this cabinet is lockable, it isn't as secure as a true gun safe. If a burglar didn't want to take the time to pry open the hinges, or break the lock, they could walk off with the entire cabinet. I see this as a way of keeping certain items away from kids and meddlesome neighbors and relatives, not criminals.
The short video below shows the Freedom Cabinet in action. Check it out!