There's no better time than the holidays and the days after them to find the perfect optic for a modern tactical or sporting rifle. Between having (hopefully) a little extra cash on hand and the deluge of sales emails, tantalizing options abound. Here are seven of my favorites that won't break the bank, allowing you to get a few more boxes of ammo to dial in your new optic.
Prices are based on the approximate numbers I could glean from current online sources. Depending on when you're reading this, they may vary from what is shown in the text.
Red Dots
Non-magnified red dots are some of the most common and versatile sighting devices available. They're effective for just about every type of "practical" shooting most gun owners can expect to engage in out to about 300 yards.
Primary Arms Advanced Micro Dot — $150
Primary Arms has made a name for itself as a purveyor of high-quality optics at an extremely low price. Their Advanced Micro Dot is arguably the best "budget" red dot available today. With a single CR2032 battery, it can remain on for up to 50,000 hours (about 5.5 years). I've used and abused Advanced Micro Dots over the past several years on ARs, AKs, and other intermediate-caliber rifles. They have yet to fail me — and I have yet to replace a battery on one.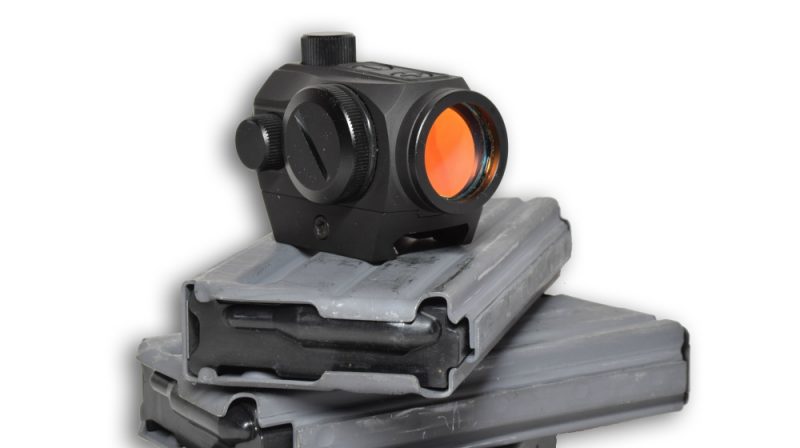 Whenever my budget is tight and I can't afford to grab one of the higher-priced items listed below, I always default to the Advanced Micro Dot.
Aimpoint PRO (Patrol Rifle Optic) — $440
While the Primary Arms Advanced Micro Dot might be the best "budget" dot available today, the Aimpoint PRO may very well be simply the best dot you can find for less than $500. It's my favorite red dot.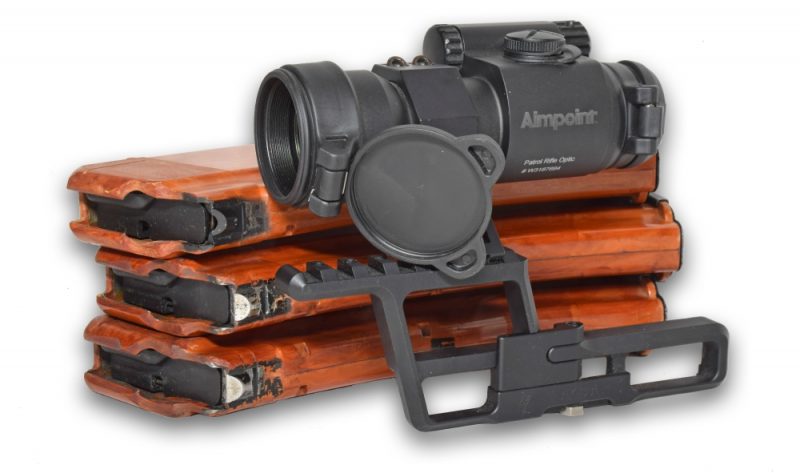 In addition to being built like a tank and having a 3-year runtime on a single battery, the PRO uses a standard 30mm tube that makes it easy to mount on a variety of platforms — and it includes an adjustable picatinny mount and riser. Like the PA dot, I've used the PRO on a variety of intermediate- and battle-rifle-caliber (.308 Winchester and 7.62x54mmR) rifles for several years, and it has been completely reliable. It's also night-vision compatible.
Aimpoint Carbine Optic (ACO) — $380
If the PRO sounds appealing but it's just a tad too expensive, consider the Aimpoint Carbine Optic (ACO). The ACO is effectively a "PRO lite." It shares the PRO's 30mm tube and controls, but the ACO has a shorter battery life (about a year), it isn't compatible with night-vision devices, it lacks lens covers, and it comes with a more minimalist, non-adjustable Picatinny mount and riser.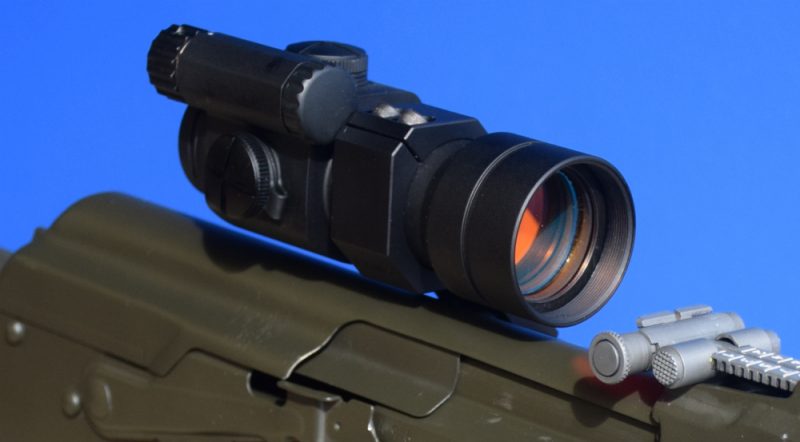 There are several other differences between the PRO and ACO, which you can read about in my review from 3 years ago.
Variable Magnification Scopes
Variable low-magnification scopes are also popular choices for sporting and tactical rifles. Scopes in the 1-4X magnification category have become quite affordable as of late. In addition to enabling accurate shooting up-close, they let you reach out a bit farther than a red dot.
Leupold VX-R Patrol 1.25-4X20mm with FireDot Illuminated Reticle — $480
 The VX-R Patrol is one of the best variable scopes I've ever used. In addition to featuring high-quality glass and an excellent reticle, it's incredibly light. Coming in at only 11.5 ounces, it's one of the lightest 1-4X scopes available. It's the perfect optic for an otherwise heavy rifle and uses a common 30mm tube.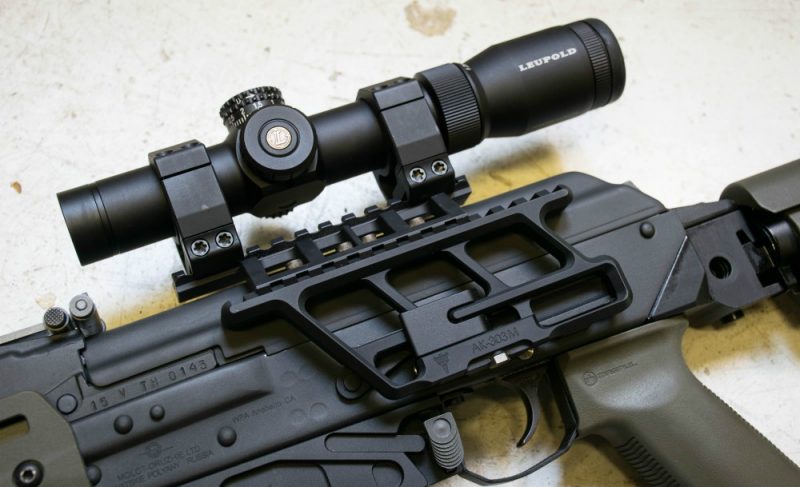 I've used it on my PTR-32 and 6.5 Grendel Vepr, enabling me to obtain more accurate hits at range while keeping those guns at a much more acceptable overall weight. It is also, of course, a good choice for a run-of-the-mill AR.
Hi-Lux CMR-AK762 1-4X24mm — $310
Hi-Lux's CMR-AK762 is another great 1-4X scope that comes in at an even lower price point than the VX-R. The AK762 model is a 30mm tube optic and features a BDC reticle designed for use with standard 7.62x39mm FMJ rounds, making it one of the few affordable optics on the market that is purpose-built for the popular Combloc cartridge. Accordingly, I've used it to great effect on many 7.62x39mm rifles. The only slight downside is the scope's weight, roughly 17.7 ounces. It's still very manageable on most rifles.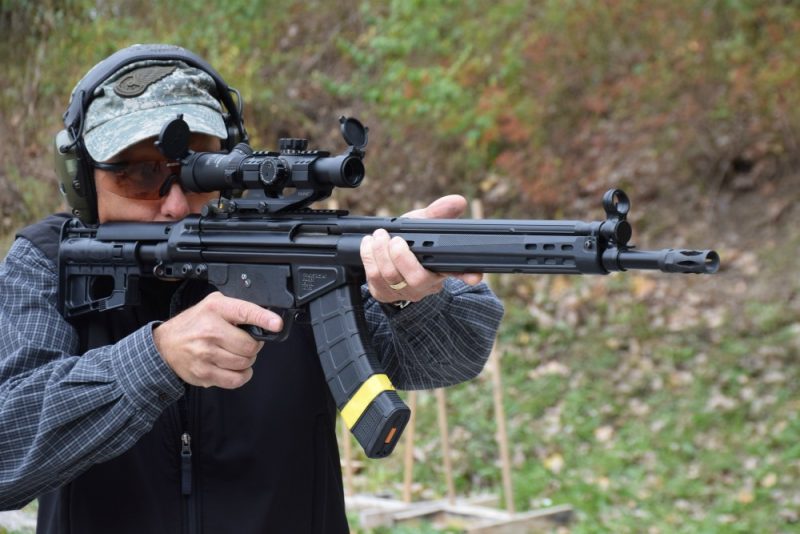 CMR variants with BDC reticles for 5.56 and .308 are also available, though they appear to have been discontinued.
Burris MTAC Riflescope 1.5-6X42mm — $400
Now that many 1-4X scopes are firmly in the realm of "affordable," manufacturers have moved on to bigger targets such as 1-6X and 1-8X optics. The 1.5-6X42mm MTAC Riflescope is one of Burris' economical offerings in the higher-magnification category. The 5.56 CQ reticle is intended primarily for AR-pattern rifles chambered in that cartridge. The reticle is quickly acquired and easy to use at all distances; the higher magnification lets you reliably make hits even farther downrange. As with my other suggestions in this category, the scope's 30mm tube ensures that it will be compatible with the widest variety of scope mounts and rings.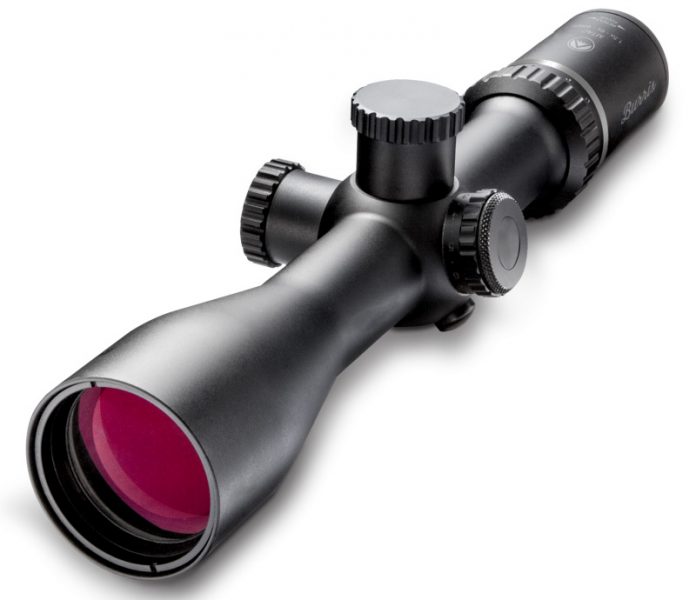 The extra bit of magnification can be helpful if you're into competitive shooting and the stages you're running feature longer-distance targets. The reasonable weight (15.5 ounces) is another plus.
Flat Magnification Scopes
Sometimes you want a compact, flat-magnification scope to keep things simple. While ACOGs are still quite expensive, there's at least one option that offers a lot of features for a more palatable price.
Primary Arms 3X or 5X Compact Prism Scope with ACSS Reticle — $260/$280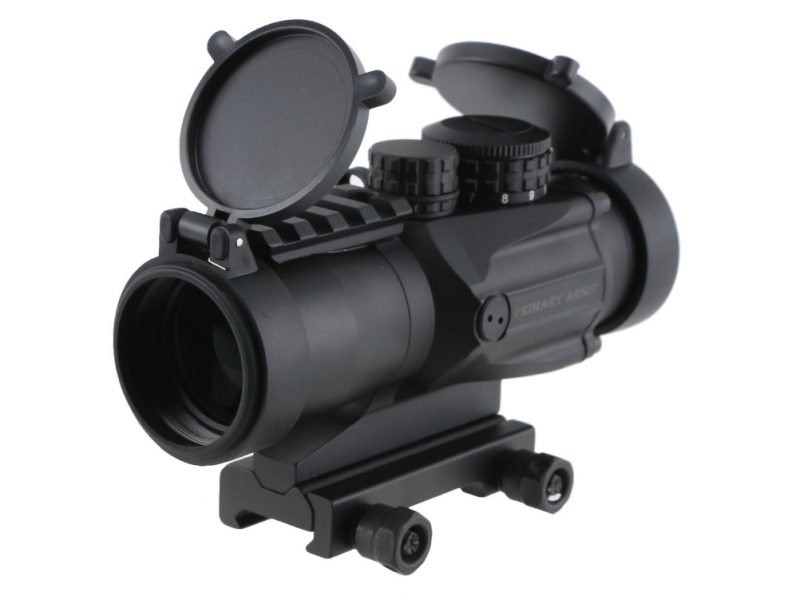 Primary Arms' 3X and 5X Compact Prism scopes are probably the best affordable, flat-magnification optics out there. Both models weigh in at right around a pound and include an AR-height mount and riser. The ACSS reticle is detailed and usable without being too busy. Though they might not be as nice as ACOGs, the 3X and 5X Prism scopes can certainly get the job done in a reliable way. Since they're cheaper, they're also great scopes to learn what you do and don't like when it comes to magnified shooting — enabling you to make a more informed, experienced decision when you decide to invest in a more expensive optic.