5 Reading Picks from Amazon for the Hunter/Angler/Hiker/Camper
Randall Bonner 12.18.17

Sometimes buying gifts for the hunter, angler, hiker and camper can be difficult because as outdoor enthusiasts, we like to be prepared, and probably already spend way too much on gear as it is. However, a good book, whether informational or entertainment, shares knowledge and inspiration. When the decoys, tackle and camping equipment take up every square inch of the garage, but there's room on the bookshelf and a little storage left in their minds, a book can make a great gift.
Here are a few personal picks from some of my favorite authors that you can select from on Amazon.com: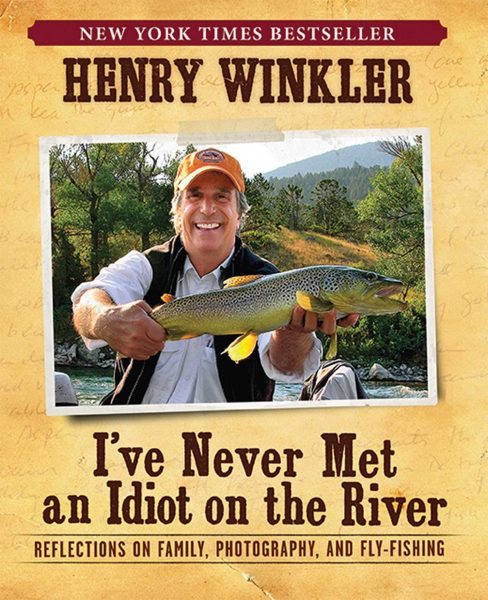 "I've Never Met an Idiot on The River" by Henry Winkler
At under 150 pages filled with photos and scenery, this is a light read perfect for all ages that you can enjoy a little at a time or easily finish in an evening. Winkler begins with an opening introduction written by his wife, titled "Stacey Winkler's Side of the Fish Story." Chapter one talks about his personal battles with dyslexia, academic struggles and self-esteem. He tends to approach all of these subjects with a realistic insight of the fear, anxiety and depression many of us face as we continue to age. The quick mention of these items is closely followed by triumphs, personal victories, and of course, Happy Days.
Patience, persistence and learning are a great deal of what it takes to not only enjoy, but be successful at fishing (or catching). Both are thought-intensive practices. When a fly is tied, thought goes into weather patterns, seasonal hatches and spawning runs. The conditions of the water are considered to apply different color scenarios that will attract or avoid spooking the fish. Special adhesives finish the wrap of thread that holds everything in place to avoid unraveling the fly when it bounces off the cobblestones on the riverbottom. The excitement to get on the water when preparing for an outing the night before feels a lot like the night before Christmas. The river creates a strange release from everyday anxiety that no benzodiazepine can compare to. Henry Winkler puts this release into words in chapter two of this book: "The River Is a Washing Machine for My Brain."He explains that, "If you allow your mind to wander anywhere else, you will neither catch nor land your trout."
The meditation that stems from focusing on the water and the task at hand is why people go fishing. Catching is just a bonus.
"Go with the Flow," (Chapter 5) describes Winkler family outings that don't go exactly as planned.  When the rivers are high and so are your tensions, this book is a spirit lifter. It will help you appreciate the slow days on the water. The stories Winkler shares truly capture the zen and art of angling.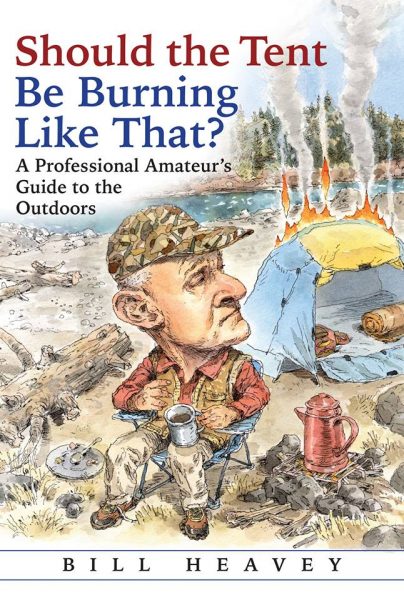 "Should the Tent be Burning Like That?" by Bill Heavey
As a writer for Field and Stream, Bill Heavey has been able to connect with hunters, anglers and those who appreciate the great outdoors by sharing an honest perspective of his experiences. In an industry fueled by ego, Heavey's writing style is far less serious, and focused on sharing his very own brand of comical failures with his readers.
Danny Heitman from the Wall-Street Journal said, "Bill Heavey has offered himself as a poster boy for personal incompetence. His stories chronicle the comic and sometimes perilous consequences of one man's reach routinely and recklessly exceeding his grasp."
As sportsmen, we tend to get a little competitive about our outdoor adventures. As we begin to grow older, we start to acknowledge our age and scale back our abilities, trying to learn an appreciation for the little things.
Heitman went on to say, "Readers don't have to hunt or fish to appreciate Mr. Heavey's essays, which are more broadly about the bruising limits of middle age . . . (but also) the freedom to defy convention without embarrassment."
Heavey has also authored several other books, such as "You're Not Lost If You Can Still See the Truck," "If You Didn't Bring Jerky, What Did I just Eat?" and "It's Only Slow Food Until You Try To Eat It."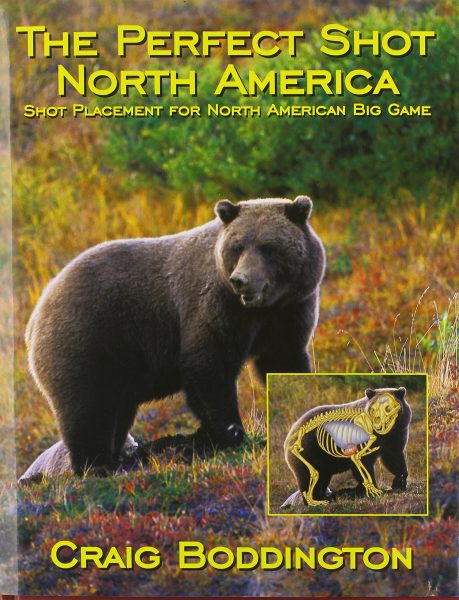 "The Perfect Shot: Shot Placement for North American Big Game" by Craig Boddington
This fascinating book not only offers a visual of shot placement options in varying situations, but it gives an anatomically correct x-ray view of vital organs, as well as skeletal structure. For an advanced hunter, it offers additional insight to shot placement when an ideal broadside position isn't offered by the animal.
The text also offers a great deal of helpful information as far as effective calibers for different big game species. It covers proper calibers for different hunting situations for those species as well. While the pages offer a great deal of educational text, sometimes a picture is worth a thousand words. The detailed diagrams give hunters of all experience levels a new perspective on what to aim for, better preparing them when the time comes to pull the trigger.
Boddington also offers a "Mini Edition" and a "Mini Edition II" that split the target species into two groups: deer, elk, antelope, etc. and bear, cougar, sheep, etc. He also has several other books, including the Perfect Shot's classic prequel, "Shots at Big Game," and "Hunting Whitetails" that are also popular choices with great reviews.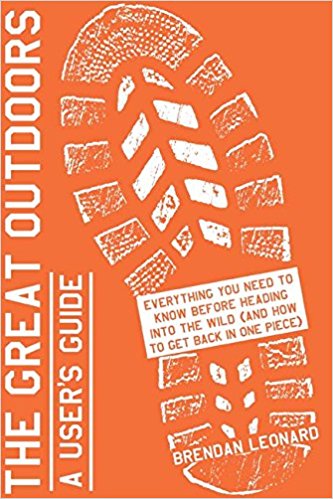 "The Great Outdoors: A User's Guide" by Brendan Leonard
This comprehensive guide includes "Everything you need to know before heading into the wild (and how to get back in one piece)." It's easy to identify with Leonard's comical and simplistic style, as he analyzes the foundation of how we use our experiences outdoors to challenge ourselves. It's almost as if his material is a motivational speaking event disguised as a field guide to basic survival skills, and advice on how to efficiently and effectively produce an optimal outing in nature.
He is a bit of an expert on getting stoked about turning off the electronics and being outdoors. This guide in particular covers a vast range of subject matter, as described on his website semi-rad.com: "a useful (but also sometimes humorous) how-to on everything in the outdoors, from the basics of putting a canoe on top of your car to how to climb ice. And also, whether or not it's a good idea to drink your own urine in a survival situation."
Other great options from Leonard include "Funny Shit in the Woods," a collection of short stories, illustrations and hilarious flow-chart diagrams. "60 Meters to Anywhere" is a slightly more serious-themed memoir of his path towards sobriety and redemption that led him to appreciate the great outdoors.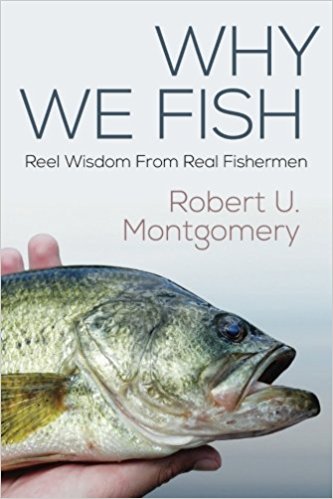 "Why We Fish" by Robert Montgomery
As an accomplished writer for Bassmaster magazine, Montgomery's line of books include everything from children's books on growing up with nature, to instructional guides such as "Better Bass Fishing," that is a comprehensive bass angler's bible. His writing style is by no means dry on all accounts, offering humor and inspiration alongside a wealth of useful information.
"Why We Fish" in particular is a more in-depth look into what larger lessons fishing teaches us, like being humbled about what we don't know, the "aha" moments of discovery, and simply slowing down to enjoy our blessings in life. It's not just about why we go fishing, but also about why we come back. "We hook fish, they hook us."