Video: Finally a Leak-Proof Gas Can Designed for Hunters and Anglers
Dave Maas 12.19.17

Like many of you, I'm a bit of a fanatic when it comes to staying odor-free while hunting, and the same can be true when it comes to my hands while fishing.
I HATE getting gas on my hands or clothing. Period.
Sure, there's no way to know if a deer-less morning in the woods was the result of gas odor on your camo pants, or a slow afternoon of fishing was caused by getting gas on your hands while filling up your ice auger. But the way I see it, the more factors you can put in your favor, the better.
Just yesterday I learned about a company that makes an innovative gas can design that I can't wait to try this winter and beyond. It's called a SureCan, and the reason an email arrived to my inbox regarding this company is because they just partnered with Mossy Oak to offer their product featuring Mossy Oak's best-selling Break-Up Country camo pattern. Click here to see the 2.2-gallon and 5-gallon Mossy Oak camo gas cans.
Will a camo-accented gas can make your ATV, ice auger or generator run any better? Of course not. But a quick check of the SureCan website revealed that the price (red vs. camo accented) is the same in the 2.2-gallon can, and the Mossy Oak-accented version is $5 more than standard red in the 5-gallon can.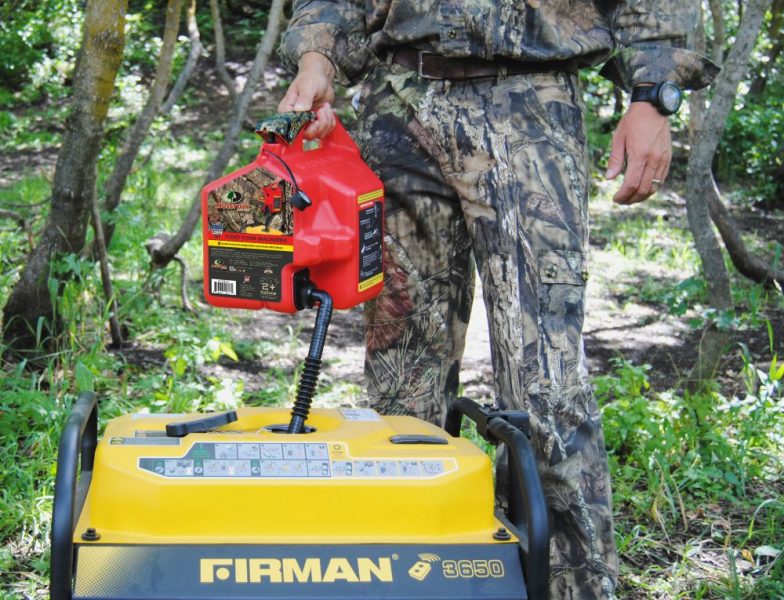 Regardless of whether you go with camo or red, this system is amazing. The SureCan features patented spill-proof technology, with a rotating spout and thumb release trigger. This allows the flow of fuel to dispense from the bottom of the can, putting gravity to work, and keeping you clean in the process. The SureCan is self-venting, has a comfortable grip, and is fully backed by a 1-year warranty.
Think about — the days of bending over your lawn mower in an awkward position and spilling gas all over the place are over. And the same is true for your ATV — how many times have you spilled gas on your seat? Not good!
To see the SureCan in action, check out the video below.