Field Test: Clam Yukon X Thermal Ice Fishing Shelter
Dave Maas 12.20.17

Before I get to the meat of my review, let me give you a bit of background about my history with ice shelters and specifically Clam Outdoors.
If you're an avid ice angler, you know the name Dave Genz. He's largely responsible for pioneering many of the critical tools used by the modern ice fishermen, including electronics (flashers), efficient rod-and-reel combos, and portable shelters.
I met Dave 30 years ago, 1987, after I'd graduated from college. I landed a retail job at Thorne Bros. Custom Rod and Tackle in a northern suburb of Minneapolis, Minnesota, and Dave, who lived nearby, was just starting to sell his Ice Box, which was designed to hold a depth finder (flasher), transducer and a motorcycle battery. The "Blue Box" as they came to be known, were made of wood and hand-painted blue. (Click here to see the modern Blue Box.)
At the same time, Genz was building (in his garage) an innovative, flip-over-style, one-person ice shelter called the Fish Trap. The original Trap had a wooden sled base and white canvas top attached to conduit; later models featured a durable plastic base and gray-colored canvas.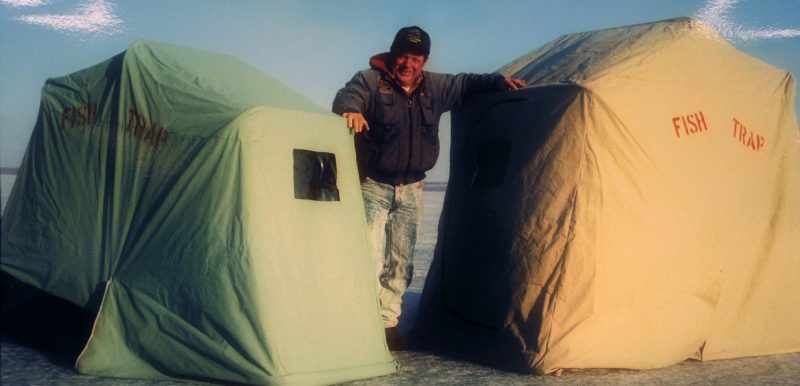 I can still remember driving a large van over to Dave's garage to pick up Fish Traps and Ice Boxes for display in the Thorne Bros. store. And I still own two of the Fish Traps I bought in 1987; one gray, one white, both with plastic sleds. The shelters are as effective today as they were 30 years ago, and I use them often. I was still working for Thorne Bros. when Genz partnered with Clam in 1992. The tall tub/sled of a Fish Trap was changed and made a bit shallower so it could be shipped easier across the country, and the fabric was changed to trademark Clam Outdoors blue.
This winter I needed a larger shelter than my one-man Traps because my two sons are joining me on the ice. As I considered my options, one prerequisite was the new house had to fit in the short bed of my Ford crew cab. As I checked out the Clam Outdoors website and considered my options, I finally settled on the Yukon X Thermal. And as you can see in the photo below, it fits perfectly in the back of my pickup with the tailgate closed.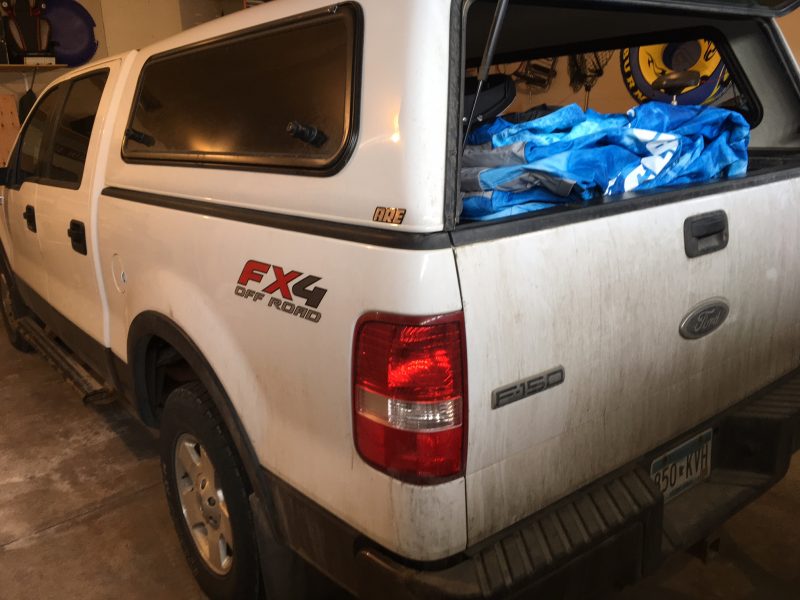 Like my original Fish Trap, the Yukon X Thermal allows me to carry all of my ice gear in one sled. When it's time to go fishing, I load the Yukon X into my pickup and I'm ready to roll. At the end of the day, I unload the shelter in my garage. Everything stays organized, which is a big timesaver.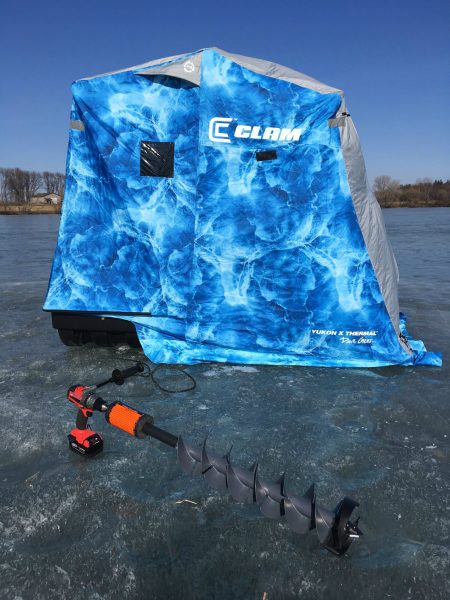 On the ice, the Yukon X Thermal really shines. It comes with a strong 1.25-inch pole system and a full thermal skin. This winter I most often fished in the Yukon X Thermal with no heat source, and on the coldest days I fired up a lantern, which provided plenty of heat. Of course, if you're the type of angler who wants to fish in only a t-shirt and jeans, you might want a small sunflower-style heater.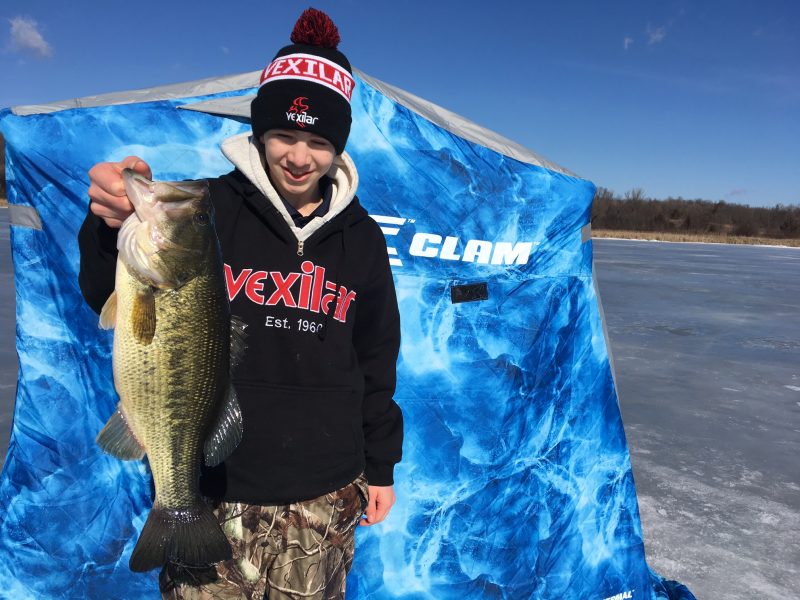 The Yukon X Thermal is sized perfectly for two adult anglers, and I had no problem fishing with my 12- and 15-year-old sons in the house with me. One child simply sat on a bucket on the ice, while two of us occupied the included deluxe padded seats. Note: These seats are adjustable and removable, so if you want to save weight and sit on buckets, you can do so.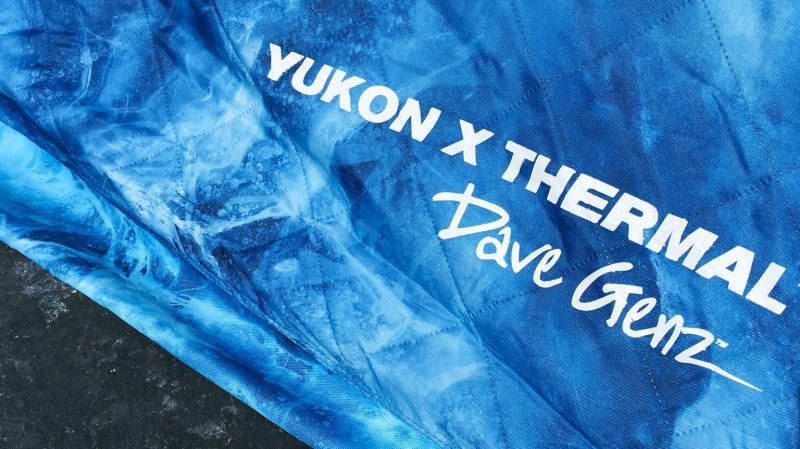 Other top-notch Yukon X Thermal features include: full thermal skin (retains heat and reduces condensation); super-tough 600 Denier fabric in cracked-ice pattern; black inside fabric (great for sight-fishing if you keep all the windows closed); instant set-up with Rapid Pole Slide Extreme (RPSX); hammocks located underneath seats for accessory storage; gray plastic tub interior (easier to locate gear).
The spec chart below details the measurements of the Yukon X Thermal.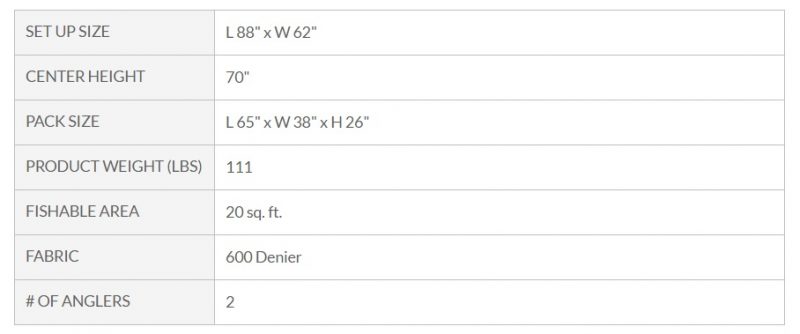 My sons and I love this shelter, and judging by the quality I'm observing in the Yukon X Thermal this winter, it will help our family catch untold numbers of fish for many winters to come. And to think it all started in Dave Genz's garage!
P.S. To get a glance at the crazy-comfortable and adjustable seats in the Yukon X Thermal, as well as the other fisherman-friendly features, check out the video below.