The path to kid-sized fun is sometimes best traveled on an ATV. But what size machine is best? And what about safety?
Let's discuss three new machines, all from the same company (Textron Off Road), and explain why we think they are good choices.
Alterra 90
The Alterra 90 is built for youth 12 years and older, is compliant to stringent CPSC/SVIA standards, and is packed with features like full floorboards, padded handlebars, standard dual rear brake lights and headlights, and an orange whip safety flag. It's powered by an electric-start 90cc, 2-valve, 4-stroke engine with Duramatic automatic transmission, automatic choke and a 15-mph speed governor (removable). The Alterra 90 comes with both forward and reverse. It's rugged independent front A-arm and rear swing arm suspensions deliver comfort, while hand-operated front and rear brakes keep it controlled.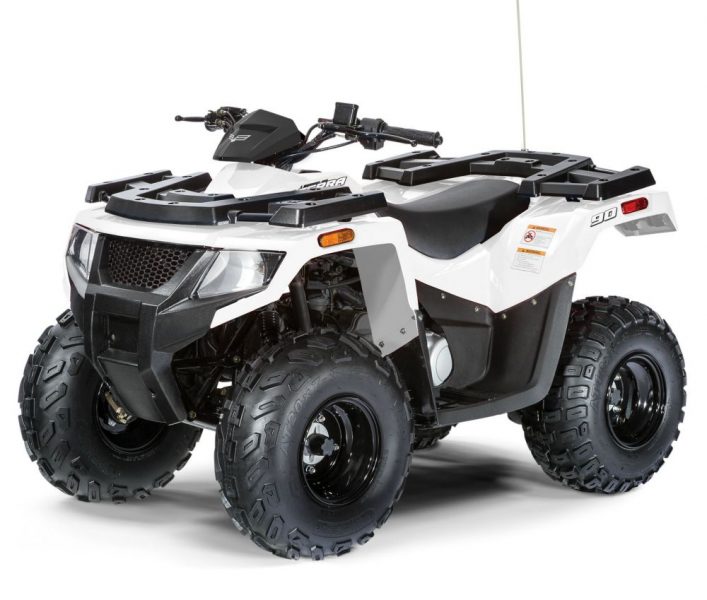 This machine is sized perfectly for young riders. Its overall length is 58.4 inches, and width is 34.5 inches. And it's light, too, weighing only 260 pounds.
Alterra DVX 90
For a race-inspired look, check out the Alterra DVX 90 (below). It shares all the same features found in the Alterra 90 described above, but has a single headlight and brake light, and no front/rear racks. Dimensions for this machine are nearly identical to that found on the Alterra 90: 57.8 x 34.5 inches; it also weighs 260 pounds. Like the Alterra 90, it has ground clearance of 7.25 inches and a 1.5-gallon fuel tank.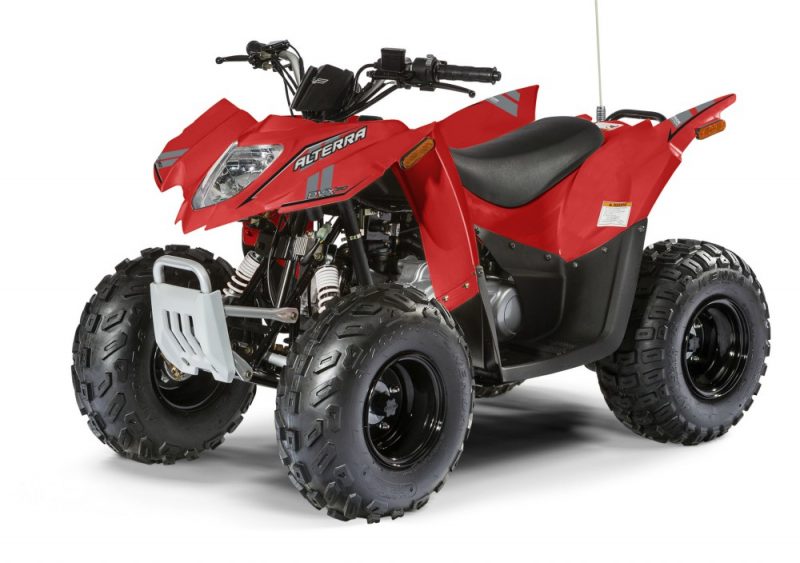 Alterra 150
If your youth rider is 14 or older, then the Alterra 150 might be the perfect choice. Considered a transitional ATV, is delivers topnotch handling and performance in a midsized package. This two-wheel-drive ATV has a 149cc, 4-stroke engine with fully automatic CVT transmission, offering both forward and reverse. Other features include: front drum brakes, rear hydraulic disk brakes, fully enclosed shaft drive, and digital instrument panel. The Alterra 150 has a governed top speed of 20 mph, but it can be adjusted up to 30 mph when your child is ready.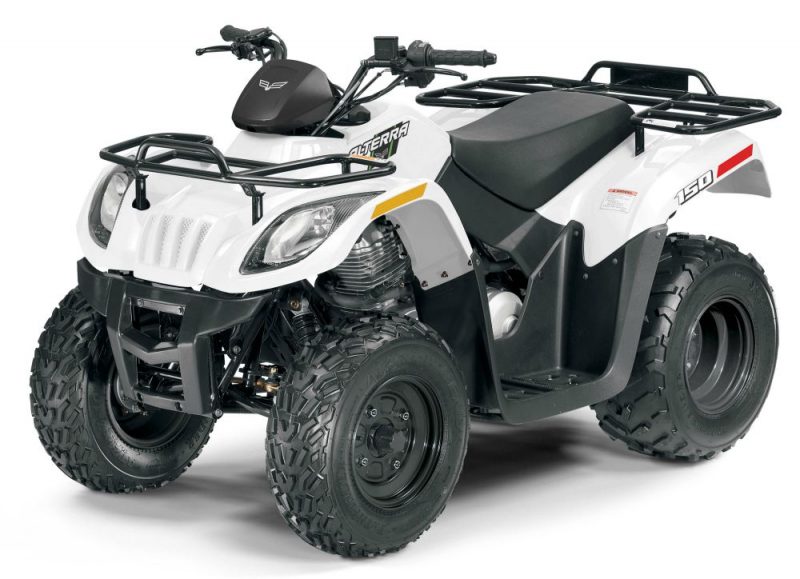 To learn more about ATVs for youth with specific emphasis on safety, check out this website from 4-H. Here, you and your children will learn the "golden rules" of ATV riding from the ATV Safety Institute (ASI), see the ASI's three age-specific e-learning courses. After taking a course, users can take an ATV safety exam and receive certification of completion.
Safety first!