It's finally here! The temperature has dropped, the boat is put away, and the hardwater fishing season has arrived. It's time to gear up and get ready to hit the ice, and the latest advancements in power auger technology are making getting through the ice to the fish easier than ever before.
When ice fishing wasn't so popular "way back when," the common way to get through the ice was by way of a spud bar, basically a sharp chisel on a steel pole that diehard winter anglers used to chip their way to open water. The invention of the hand-powered ice auger made it easier, by taking the concept of a hand drill to allow for drilling a hole. Still, a hand auger makes for a lot of work, and can take a while depending on the thickness of the ice.
When the notion of adding a gas-powered motor to the auger took hold, the sport took on a new dimension. Now, anglers could quickly drill a hole through thick ice with relative ease. This was a revolution in ice fishing, that while still having some flaws, made the sport more enjoyable for many. Even better, the latest ice augers are taking things to a new level.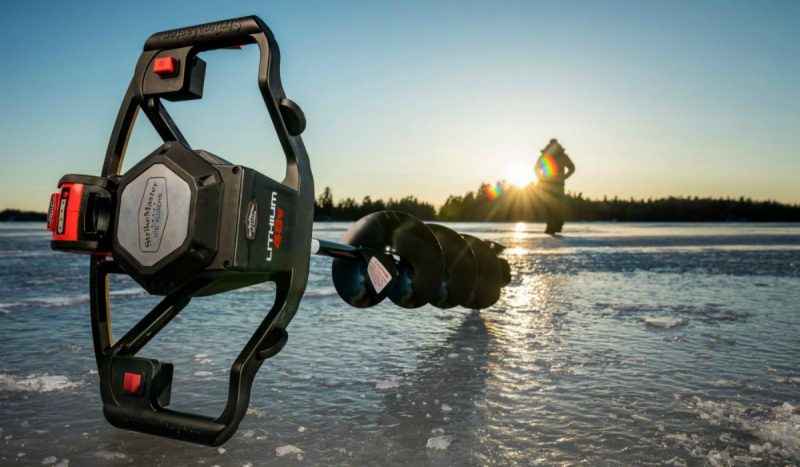 Advantages of Going Gas-less
Think about never having to fuss with messy and smelly gas again. For many ice anglers, an electric auger the only way to go.
By its nature, an electric motor is far better suited to use for powering an ice auger. There is no lag in torque with an electric motor, so the auger would instantly snap into the ice.
That's what makes an auger such as the new StrikeMaster Lithium 40-Volt Electric Ice Auger (below) such a perfect way to quickly and quietly drill a hole. How many holes, you ask? This auger will drill up to 100 holes through 16-inches of ice on a full battery charge.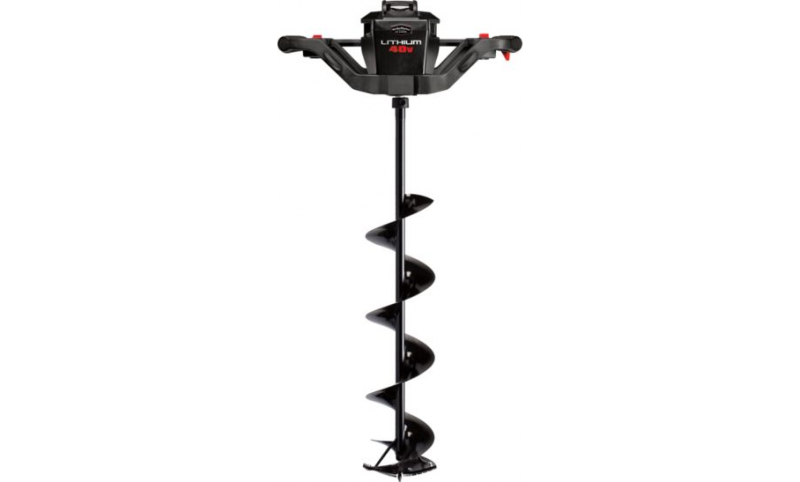 Another advantage of an electric auger is that it isn't going to be temperamental, even during extreme cold. Some gas-powered augers, after they've been used a few seasons, and especially if they haven't been properly maintained, have a tendency to be extremely cold-blooded and hard to get started. Electric doesn't have that problem.
If you don't have the money for an electric auger, but already have a good 18-volt cordless drill in the garage, there are other options. Check out the K-Drill (below), which has a lightweight aluminum shaft, rugged composite flighting and ultra-tough tool-steel blades. It even floats!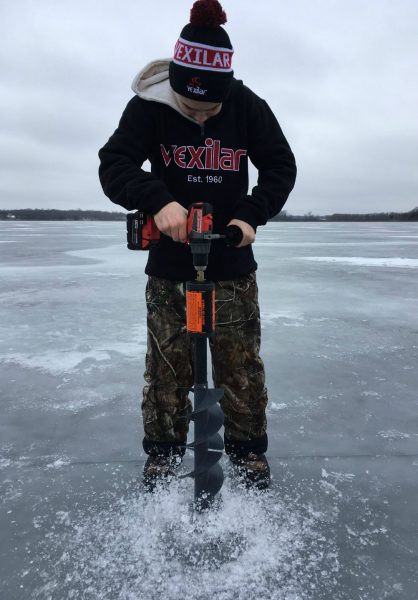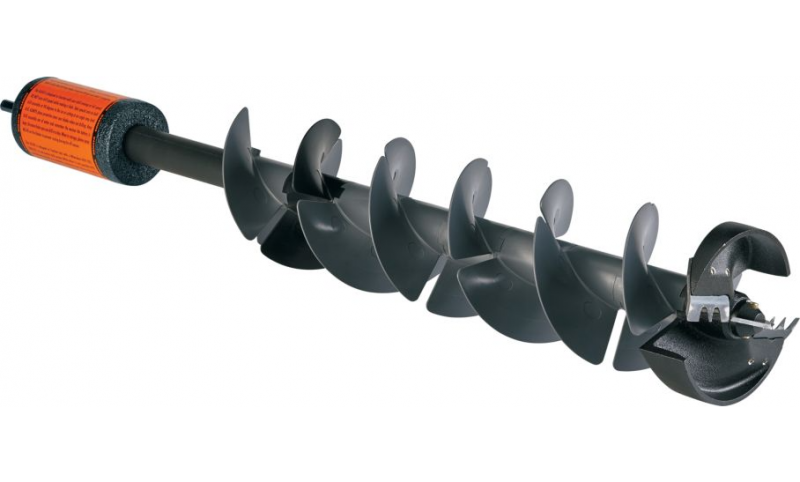 Another solid choice is the Clam Outdoors Drill Auger Conversion Kit (below), which features rubber-dipped handles and trigger for a non-slip grip. The upright bracket accommodates most cordless drill types (cordless drill not included), and the entire kit (bracket plus auger) for drilling 6-inch holes weighs only 9 pounds.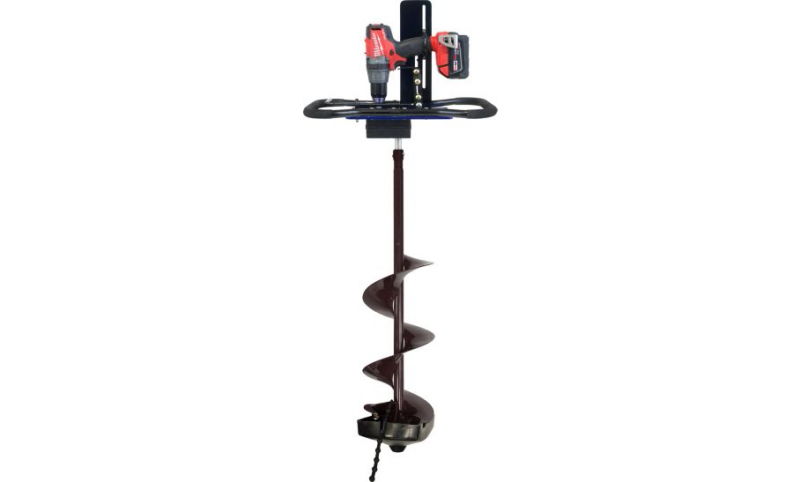 Old School — but Better
Just because the electric augers are making a big splash, that doesn't mean that development of gas-powered augers has stalled. For example, the new Eskimo Rocket Auger F1 (below) has a 33cc two-stroke motor that powers either an 8- or 10-inch blade. The all-steel transmission is more durable and efficient than ever. The compact design is made to be lightweight and easier to use, especially with mittens on your hands. The auger weighs in at 22 pounds for the 8-inch model. Gas-powered augers work very well and are reliable as long as you keep up with the minimal maintenance required.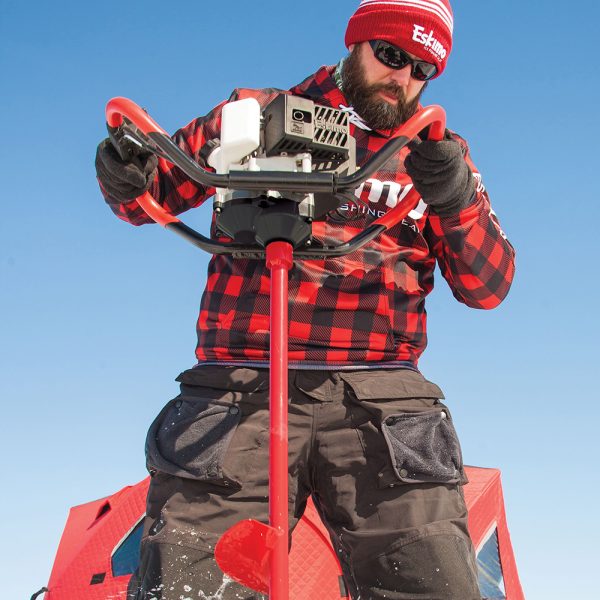 Propane Power
A different kind of gas option is making waves these days — propane. It's a very efficient fuel to use for augers because it burns incredibly clean. An auger such as the new Eskimo Rocket Propane Auger (below) uses a 40cc engine with an auto-priming ignition, eliminating the need to prime the engine first. You simply flip the switch and go.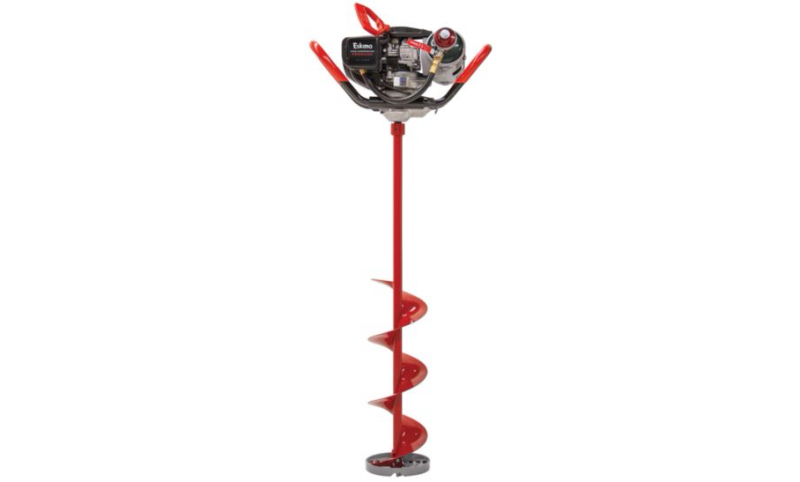 Another area that has proven to be tricky with augers is size. No, not the size of the engine, but the overall size of the auger. For obviously reasons, a smaller compact auger is preferred for drilling holes inside of an ice house. The Jiffy Pro4 X-Treme Ice Drill (below) runs on a propane-powered, 49cc four-stroke engine. You can get it with either an 8-inch or a 10-inch auger with three cutting blades to make quick work of drilling holes. Designed for use indoors, it has a shorter overall profile with a wide stance grip for ease of control.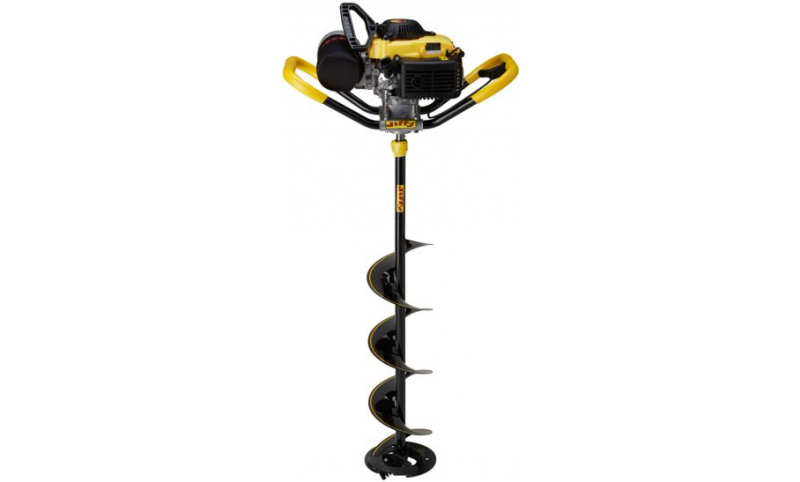 With all the latest augers, getting out on the ice and down to the fish is easier than ever. It is a great way to spend a winter's day, and these new augers make it more enjoyable for all.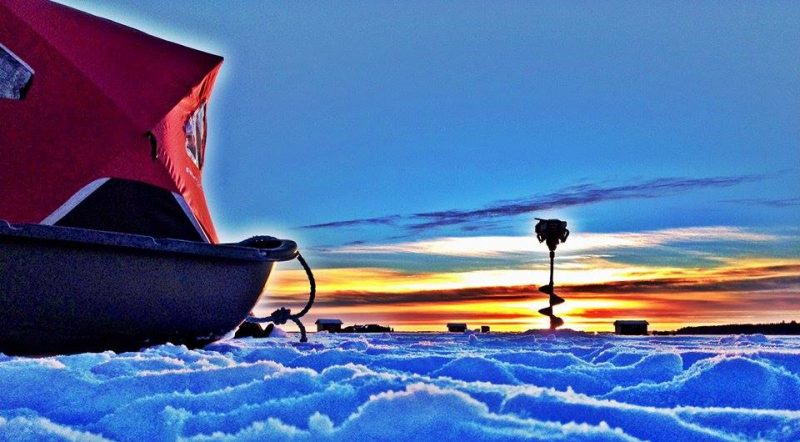 This article was produced in cooperation with Cabela's.