In December of 2017, Federal Premium announced the all-new 224 Valkyrie, and it's been getting a lot of attention, even though it's not even commercially available yet. I've had a chance to tinker with this new load, in all its configurations, and I'm truly in love.
Here, I'd like to touch base on some of the common questions I'm seeing floating about, and give you some important specs and info on what's sure to be the most talked-about round of 2018.
(FYI: You might be wondering: What's a valkyrie? As explained on Wikipedia: "In Norse mythology, a valkyrie (from Old Norse valkyrja 'chooser of the slain') is one of a host of female figures who choose those who may die in battle and those who may live.")
Q: Do I need to build one from scratch?
A: Because the 224 Valkyrie was designed as a true long-range MSR cartridge, simply getting a new bolt, barrel and mag will get you into a Valkyrie without having to buy or build a complete gun. Swap out the aforementioned parts on your existing AR-15, and you're in business. Remember: Any time you are changing barrels, it's advisable to have a knowledgeable gunsmith or someone experienced in AR builds check headspace for safety and peak performance. A 6.8 SPC/224 bolt and magazine complete the package.
Q: If I want a complete gun, where do I get one?
A: Expect a lot of companies to offer the 224 Valkyrie by the time SHOT Show comes to a close in early 2018. While the list continues to grow daily, there are currently less than a dozen manufacturers making barrels and bolts, or complete guns. JP Enterprises has several options for hunters and long-range shooters, and I've had the pleasure of hunting with one of their gas guns. Other players include Seekins Precision, LaRue Tactical, MasterPiece Arms, MagPul, Accurate Mag, LMT Defense, LWRC International, and by the time this article hits OutdoorHub, Savage Arms will have the 224 Valkyrie option available in their popular MSR-15 lineup (below).


If you're looking for a tack-driving bolt gun, getting in touch with Buck at C&H Precision Weapons is highly recommended. As I write this, I've got a piercing pain in my cheeks from smiling after shooting a few boxes of 224 through one of their custom Heritage rifles (photo below). Fun, accurate and slow-eating. While it is indeed fun to burn through mags at the range, sitting down with a true precision rifle and taking your time to see what you, the gun, and the round are truly made of is something special.

Q: What loads will be available?
A: While the 90-grain Gold Medal Sierra MatchKing is the flagship cartridge in 224 Valkyrie, there are four configurations from which to choose.
90-grain Gold Medal Sierra MatchKing is the precision round in the lineup. The SMK bullet design has been shot to win more matches than any other, thanks to a uniform jacket that ensures consistent, long-range accuracy, and a sleek boat-tail that maximizes ballistic coefficient. Precision and long-range shooters will love this round.
60-grain Nosler Ballistic Tip will be my go-to predator and varmint round. A lighter bullet with unmatched speed will be a favorite for people hunting prairie dogs and predators across the country. At 3,300 fps out of a 24-inch test barrel, this round will be blazing fast, and holds speeds up to 934 fps at 1,000 yards.
90-grain Fusion will be the mid-sized big game cartridge. Fusion already has a name for itself amongst deer and other mid-sized game hunters from coast to coast, and in 224 Valkyrie it's going to be a deer hunting dream. With half the felt recoil of calibers with similar ballistics, this will be the perfect deer cartridge for the entire family.
75-grain American Eagle TMJ will be the entry level, low-cost round in 224 Valkyrie. At just $13.95 per box, this will take plinking to a whole new level, and will be a favorite amongst three-gun shooters and casual shooters alike. With the low entry level cost, you won't be disappointed in its speed or accuracy. It's still thumping close to 3,000 fps out of the muzzle.

Q: Is the 224 a true 1,000-yard round?
A: Yes, the 224 Valkyrie will be the new benchmark for people looking to shoot at longer ranges with their AR platform rifles, and precision short-action bolt guns alike. To say the 224 Valkyrie is fast, even at long ranges, is an understatement. Testing conducted by Federal Premium engineers confirms its high-speed capabilities. For example, the 224 Valkyrie 90-grain Gold Medal Sierra MatchKing leaves the muzzle at 2,700 fps; it maintains a blistering 1,950 fps pace at 500 yards, and 1,268 fps when crossing the 1,000-yard line. In fact, it remains supersonic (1,125 fps) out to 1,300 yards.
Q: How does it stack up against other cartridges?
A: As you can see in the illustration below, the 224 Valkyrie wins hands-down when it comes to inches of wind-drift and inches of drop by a landslide. When compared to the popular long-range 6.5 Creedmoor, the 224 holds its own. With a 10-mph crosswind, the 224 Valkyrie 90-grain SMK experiences 92.8 inches of drift and drops 350 inches at 1,000 yards. In comparison, the 140-grain AE 6.5 Creedmoor drifts 92.7 inches and drops 352 inches.

Check out the video at the bottom of the page to see the 224 Valkyrie in action.
Q: Can I hunt with it?
A: "224 Valkyrie legitimizes .224 centerfire cartridges as a medium-sized game caliber," said Jared Hinton, a rep from Federal Premium. He continued, "The heavy-for-caliber 90-grain Fusion reduces overall recoil, compared to its 6.5mm competition, making the Valkyrie a perfect option for young hunters. Low recoil (see chart below), excellent accuracy, and reliable expansion buck the traditional norms, and are sure to surprise those not otherwise paying attention."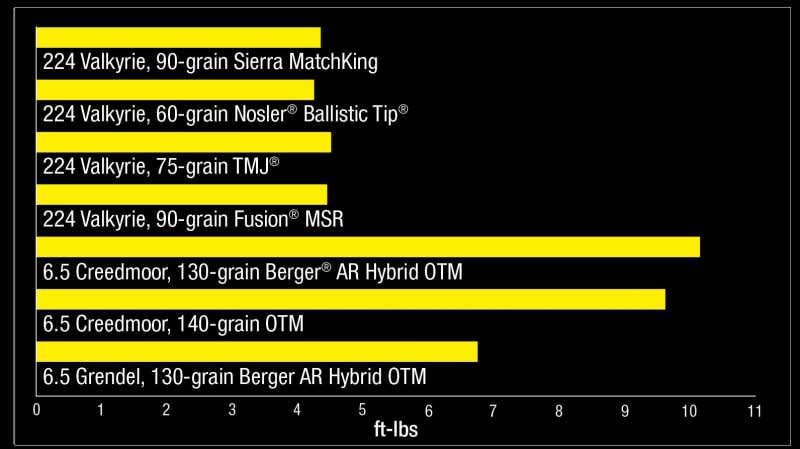 From small varmints such as prairie dogs, to predators and even medium-sized big game such as whitetails, the 224 Valkyrie will flat out put down game.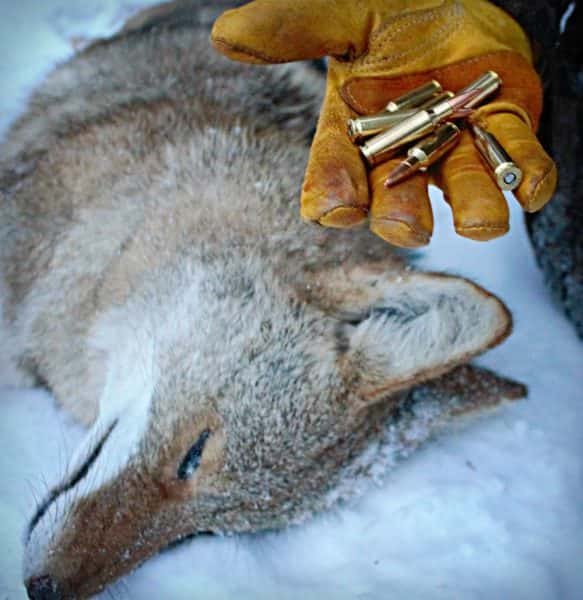 Q: Will it be expensive?
A: In addition to shattering the boundaries of ballistic performance, the 224 Valkyrie lowers the financial barrier of entry into shooting 1,000 yards for fun and competition. Valkyrie allows shooters to use the widely available and popular AR platform in conjunction with commercial ammunition that costs less than traditional long-range rounds such as the 6.5 Creedmoor. It will also give the 223 Rem. strong competition, with an ammo starting at a suggested retail price of $13.95 a box, you should see it in stores for roughly $11 a box.
Images by Matt Breuer
What's Your Reaction?