Everyone knows that predators are most active at night. Foxes and coyotes spend most of the day napping, and they're active throughout the night — hunting down mice, voles, rabbits and the occasional farm chicken or house cat. Hunting these canids can be difficult, because we don't have the senses they do. Their vision, sense of smell, and hearing are far superior. The only things we can rely on are high-quality calls to appeal to their predatory and territorial senses, and top-notch lighting to make a clean shot.
Calls
Electronic calls have been around for a long time, and mouth calls before them. The number of predator callers in the 1980s and '90s was relatively low, however, trapping helped keep predator numbers in check. With the crash of the fur market, trapping has turned into more of a hobby for a lot of folks, and fewer full-line trappers exist. Adversely, predator calling has grown, and the number of predator callers today dwarfs the number from 20 years ago. A large reason for that is the advent of high-quality electronic calls.
One company has stood out since their inception in 1993. FOXPRO went from a single-man operation to selling products worldwide that aren't just limited to the predator hunting community. On numerous occasions, FOXPRO has been contacted by universities and government agencies to build custom units for their specific needs. FOXPRO has also worked with the U.S. military, oil refineries, and many other businesses and organizations.
I've hunted with several electronic calls, and I've cozied up to the FOXPRO Shockwave. The sounds are crisp and the high-end notes really stand out with the added tweaters. The amount of options are endless with the Shockwave, from FoxData that records all of the info from your hunts, allowing you to compile a spreadsheet of the conditions on nights when you were successful, to features like the FoxGrip that allows you to add a grip to your AR platform rifle that connects to the Shockwave, allowing you to change sounds with the push of a button located on the side of the grip.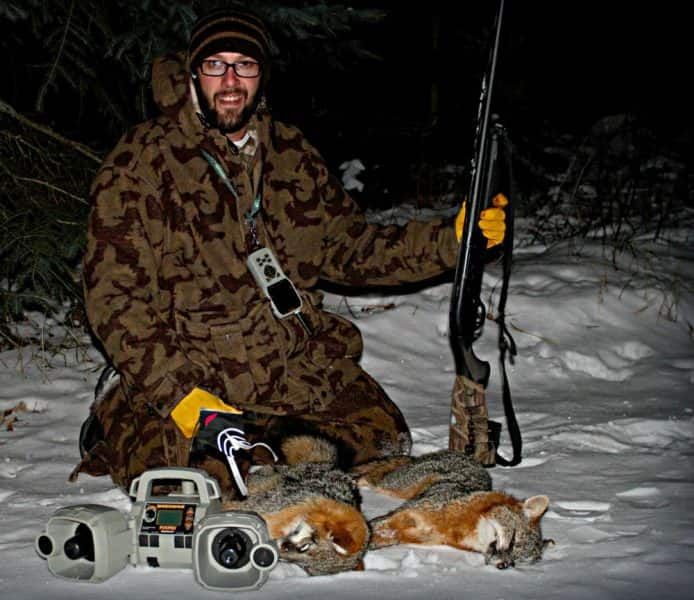 Night Hunting with Lights
We've established that night hunting is the best way to ensure success when it comes to foxes and coyotes. When it comes to night hunting, there are a lot of factors that come into play, and the first and most important factors is knowing the laws for the area you're going to be hunting. Some states don't allow hunting at night; others allow night hunting only with natural light (the moon). Some states require permits to hunt at night with the aid of a light. It's imperative that you do your research and know the laws for your hunting area, especially if you travel to hunt predators in several states. Less than half of the states in the U.S. allow night hunting with artificial light, so know your laws.
In my home state of Minnesota, no lights were allowed for hunting until 2009, when a law passed that allowed for predator hunters to take foxes and coyotes with the aid of a handheld light from January 1 through March 15 under the following conditions:
While on foot and not within a public right of way
Using a shotgun
Using a calling device
Not within 200 feet of a vehicle
While this law change wasn't perfect for predator hunters, it changed things for the better. Next, was finding the right light for hunting at night. Cue the music and hand me the FOXPRO Fire Eye Scan Light Kit.
The new FOXPRO Fire Eye Scan Light was designed with the predator hunter in mind. With four light color options that can be chosen with the push of a button, and a single click trigger to turn the light on and off, it's the perfect light for finding a predator's eyes in the darkness, and aiding in tracking jobs on wounded game. The four LED lights are red, green, amber and white.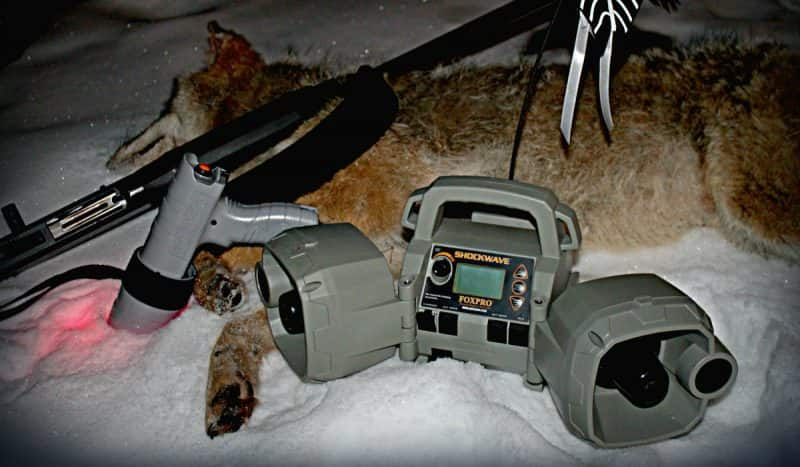 Canids can't see the color red well, and it's been said that they see it as a gray void. I've never spoken with any foxes to confirm this, but all canines have trouble with colors, so it makes sense. Plus, I have yet to be busted when using the red light for scanning.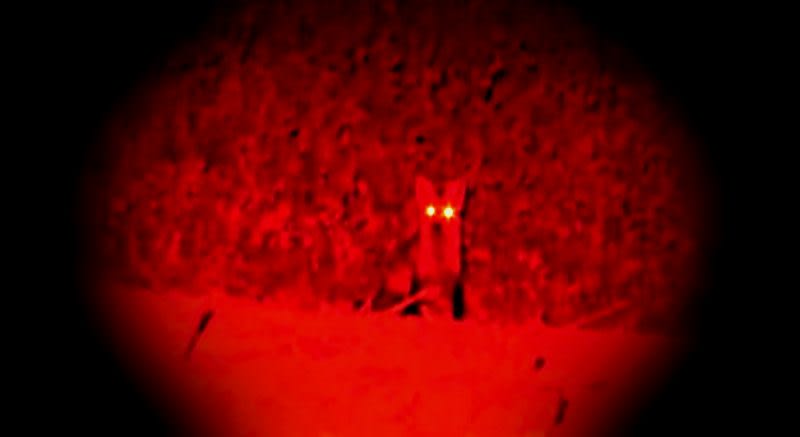 The pistol grip is comfortable and natural to hold, and there's a dimmer switch that can be slid with your thumb. Everything aside from the focus ring is manageable with one hand. The kit comes with a carrying case, two batteries, a wall charger, and a car charger.

Get Addicted
Fond memories fill my head when I think about how predator hunting started for me. My first predator hunting experiences were with my dad, driving back roads on cold winter days in northern Minnesota, looking for fox sunning themselves on rock piles or fencerows. Fast forward to my first calling experience with a FOXPRO, with my wife, on our little farm; we called in a gray fox that first night out. Jump ahead again to the first time I took both of my kids out calling; we called a big timberwolf to just under 40 yards. These are moments I'll never forget, moments that feed an addiction that started with a simple drive down an old dirt road on a lazy winter morning.
Give predator hunting a try. The first time you have a fox or coyote come hard-charging out of thin air, you'll be hooked for life.

Images by Matt Breuer
What's Your Reaction?