The Sig P365 takes the concealed carry gun concept to a new, NEEDED level
Eve Flanigan 08.14.18

Say hello to the Sig P365, a striker-fired, 9mm subcompact with 10 + 1 capacity and an optional 12-round magazine. I've been carrying this little number on a daily basis for about four months now, have run in excess of 500 rounds through it, and am pleased to say it's unseated some other handguns as my everyday carry (EDC) top pick.
Round capacity versus concealability has historically been an unavoidable compromise for most people who carry concealed. Even a so-called compact gun that holds 10-13 rounds is darn hard to fit into a waistband and feels like a ball and chain around an ankle. Pocket-size models are easy to pack but have anemic capacity that runs contrary to peace of mind. Many sport redundant "safety" mechanisms that prevent dry fire practice and rapid deployment when they're needed most. But Sig Sauer just changed all that.
Here's why, in order of importance:
Reliability
In my book, nothing about my EDC gun matters more than whether it goes "bang" when I press the trigger. The P365 shines in this department. I've challenged it by running aluminum-cased FMJ mixed with two brands of HP in the magazine; no problem. It cycles like a champ.
Capacity—for its size
The P365 comes standard with two 10-round magazines. One fits flush; the other has a slight bevel for pinky support but isn't so angled as to cause a bruise when the mag's slammed into the well—a minor win there, but one my palm appreciates!
The remarkable thing about these mags is their size—they only slightly exceed the footprint of a six-round Glock 43 mag. The remarkable thing about the gun is that it's also small! The closest market comparison I've found is the Walther PPQ SC—also a 9mm subcompact, but is 1.3 inches wide as compared to the one-inch thick Sig, and weighs a quarter-pound more. Those differences sound minor but make a big difference in concealability.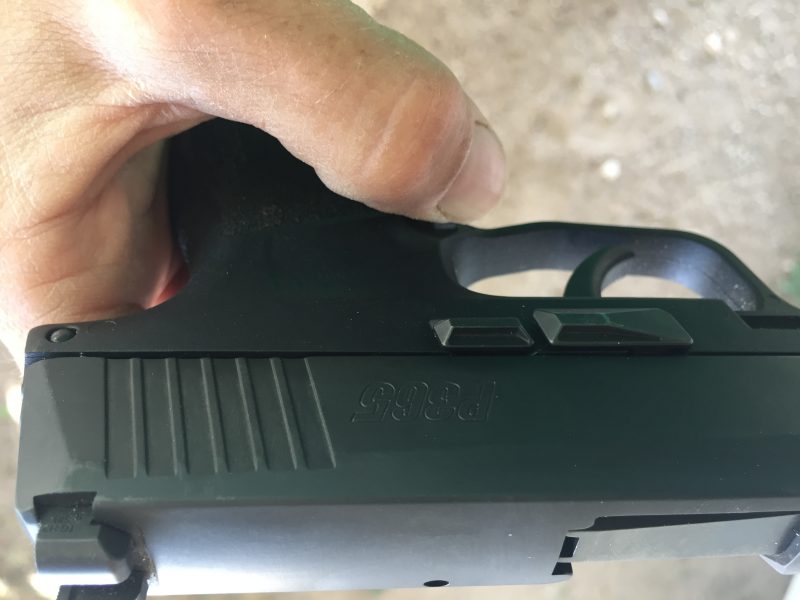 Shootability
While "shootability" may not have been a word before you read this, it means the joy of shooting the P365 does include what everyone obsesses about—the trigger. There's more to love than just the trigger, but let's start there. As measured by a Lyman trigger gauge, my P365's trigger pull averages 5.4 ounces, a full pound less than my Glock 43. The take-up is reasonable—which is to say about half an inch—and silky. The break and reset are crisp; just right in my opinion. I'm opposed to the philosophy that a concealment gun's trigger pull should be long and heavy so the shot won't break unless you're really sure about it, and then the work of pressing is likely to incur a miss. Finger discipline is a thing; a heavy trigger is no substitute for it!
Enough about the excellent-for-carry trigger. The P365 has an easy feel in the hand. While it's small enough for virtually anyone to shoot, it's also easy to grip well and doesn't invite most shooters to insert too much finger into the trigger guard during firing. Sig's engineers did a masterful job on the angles of this little handgun.
The grip is only lightly pebbled; I find it satisfactory even with sweaty hands. Many will find it not grippy enough. Very well, stipple yours. But use caution—that light weight and big capacity have been created, in part, by molding the wall of the grip with thinner material than is usually seen on polymer-lower handguns.
Did I mention it's rated for +P ammunition? That's a win over many other subcompacts.
Features—and lack thereof
Sig Sauer treated customers well and put steel, tritium night sights in the slide. The rear sight is adjustable for windage. In daylight, the front sight dot looms larger than the rear tritium inserts, making aiming intuitive. The sights work well, day or night.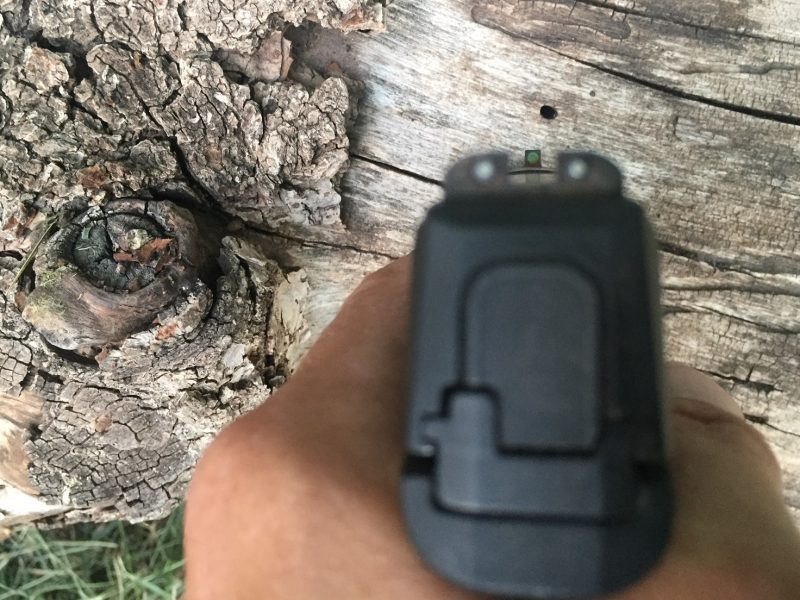 As if they knew some of us like to shoot our concealment guns at the range, often, Sig released a 12-round magazine for the P365 late this spring. At $55, it's not cheap, but at least it's available.
In this writer's opinion, Sig did well in crafting the P365 not to look "like" something other than a straightforward handgun. It's not cute, not aggressive, not remarkable in its appearance. Concealed carry isn't about making a statement, after all. If you can't stand the plain Nitron-on-stainless finish, which does show fingerprints, there's always Cerakote.
A fine job was done in angling potential clothing- or holster-catching points so as to minimize hang-ups when drawing from concealment. This includes a mag release that follows the contour of the grip. It took a bit of training to understand I need to push it with the two-o'clock edge of my thumb to effect a good release, but since that move's been ingrained, I don't tarry on reloads. The mags drop free from the well without assistance, a real asset in a gunfight or shooting qualification when reloads are necessary.
I also love this pistol for what it doesn't have—external safety devices. The user interface is clean, simple, and fast to operate. There's no grip safety to fail in my weirdly hollow palms. No thumb levers to forget to operate under stress. That said, I bear no prejudice to those who prefer safety devices.
Easy maintenance
In what's become a virtual industry standard for striker-fired pistols, the P365 breaks down into four easy pieces for cleaning and reassembles easily in a fashion that will feel familiar to users of similar handguns by other makers. Maintenance is quick and easy. Probably like you, I have a lot to accomplish in a week, and prefer that gun cleaning not occupy more time than necessary.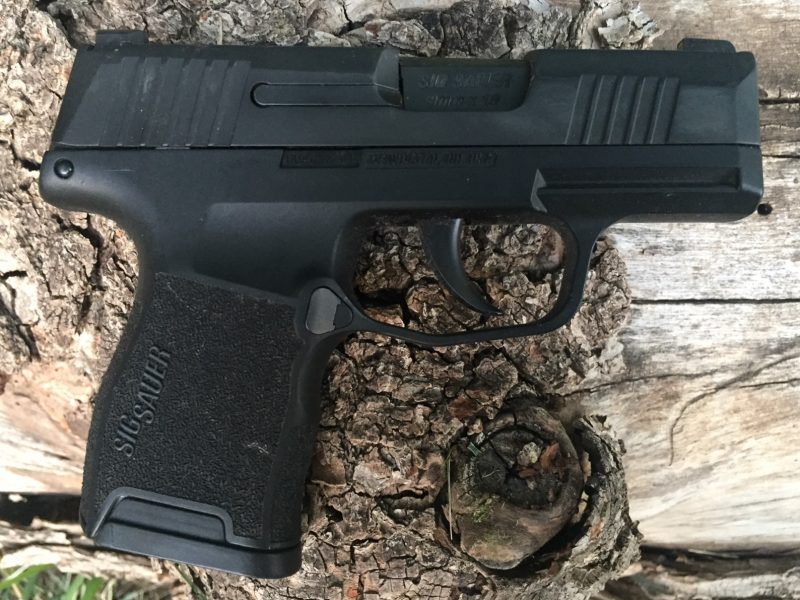 Just one thing that's off
A couple of reviewers have reported extraction issues with the P365; I've never experienced that even under rapid fire. What I do experience consistently is a failure of the slide to lock back after the last round. This might be due to the gun's minimalist construction—it's the first I've seen not to have a slide lock notch that's visible from the exterior of the slide, for example. I believe other components were minimized in an effort to squeeze maximum round capacity into that small space.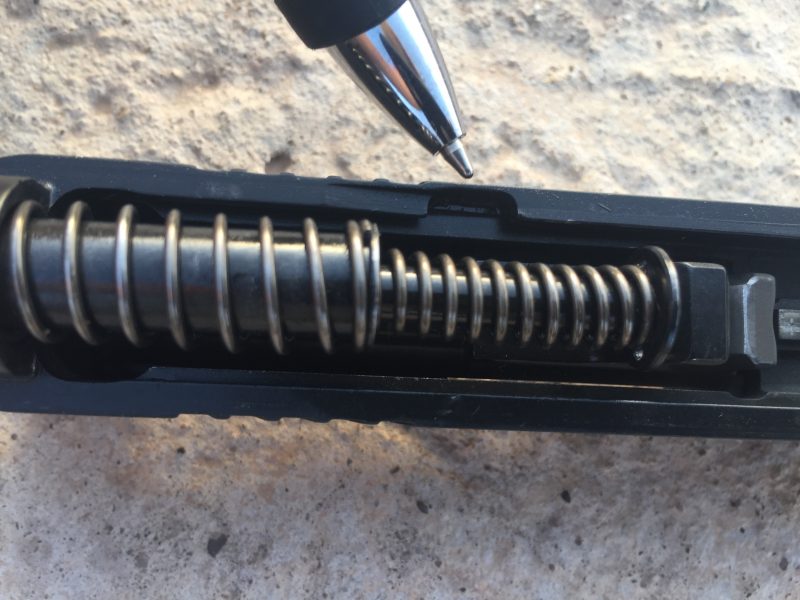 Because my primary use of the P365 is EDC, and it's unlikely I'll need to fire 11 rounds then reload more in a civilian situation, I'm opting to treat the lockback issue as a minor inconvenience, as the P365 truly has everything else going for it I've searched for in a concealment gun, all in a package I can easily carry under summer clothing.
The specs
BARREL LENGTH: 3.1 inches
OVERALL LENGTH: 5.8 inches
OVERALL WIDTH: 1.0 inches
HEIGHT: 4.3 inches
WEIGHT: 17.8 ounces
MAGAZINES: Two 10-round magazines included
MSRP $599