Nike is one of the largest and most prolific manufacturers of shoes and apparel in the world. At the same time, Nike is also most well known for making casual clothing and sports apparel. Relatively few people know that the company also makes tactical gear and apparel as well, including tactical boots.
What To Look For In A Pair of Tactical Boots
Tactical boots are without question some of the most important pieces of tactical gear to have, whether it be for the military, law enforcement, security guards, or civilians.
That being said, not all tactical boots are built equally, and regardless of which manufacturer or brand you choose, your pair of tactical boots will need to meet a specific set of qualities in order to get your money's worth.
These qualities include:
LONGEVITY
The tactical boots you choose need to be durable and long lasting.  If you buy a pair of boots now, you should expect to still be wearing them several years from now.  The best way to know whether your tactical boots will be long lasting will be to buy boots from a reputable manufacturer and that
COMFORT AND SUPPORT
Tactical boots also need to provide you with excellent comfort and support.  To this end, they should have a height of at least six to eight inches along with a comfortable heel, outsole, midsole, and overall structure.  Many tactical boots these days use EVA foam on the inside for added cushioning as well.
TRACTION
Tactical boots are different from other kinds of boots and footwear primarily because they are designed to be used in adverse, rough, or slippery environments while still offering you with excellent traction and grip.  A tactical boot that doesn't offer you good traction should automatically not be considered by you.
WATERPROOF
Besides offering you excellent traction, tactical boots also need to offer you excellent protection from the weather.  The best tactical boots are built out of durable materials along with a truly waterproof membrane or exterior to keep your feet, toes, and ankles protected from the outside elements.  Full insulation is another excellent quality you need to have as well.  If your tactical boots are not waterproof or properly insulated, it can result in bacteria developing in the interior.
3 Best Nike Tactical Boots
Here are the three best Nike tactical boots that meet the above qualities listed above:
NIKE MEN'S AIR GOADOME BOOT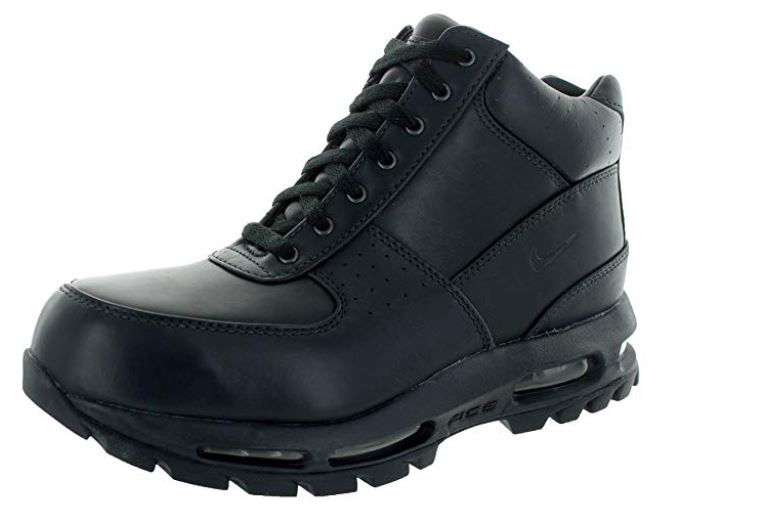 The Nike Men's Air Goadome Boot is built out of leather with a rubber sole that sports a lugged tread to provide you with the best traction possible over rough or uneven terrain.  It's also a fully waterproof boot that is designed to keep moisture out in wet and humid conditions.  Wearing the boot should also be very comfortable for you thanks to its Air-Sole cushioning technology in the midsole.
NIKE MEN'S AIR WILD MID BOOTS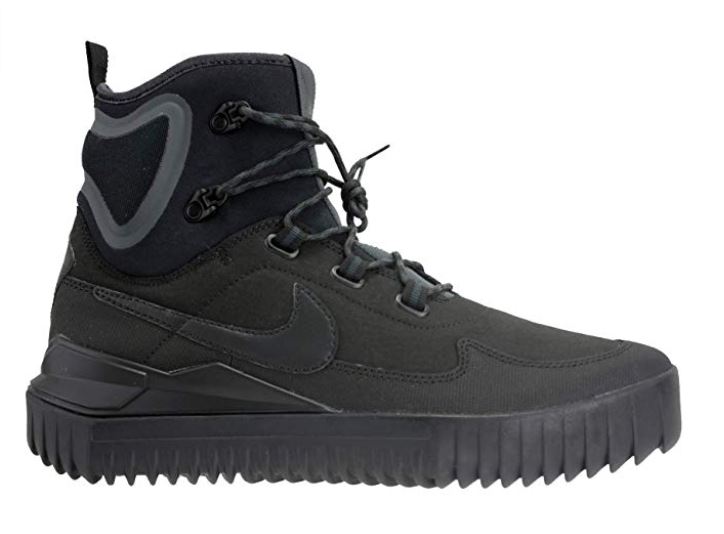 The Nike's Men's Air Wild Mid Boots are most notable for their textile upper that have a durable and water repellent (DWR) finish to ensure that all water and moisture is kept completely out of the boot at all times.  The Neoprene collar also wraps around your ankle and can unfold easily on and off at all times.  The padding over the heel and foam midsole provide you with better comfort as well as support.  Meanwhile, the solid rubber outsole provides you with superior traction and durability.
NIKE SFB GEN 2 BOOT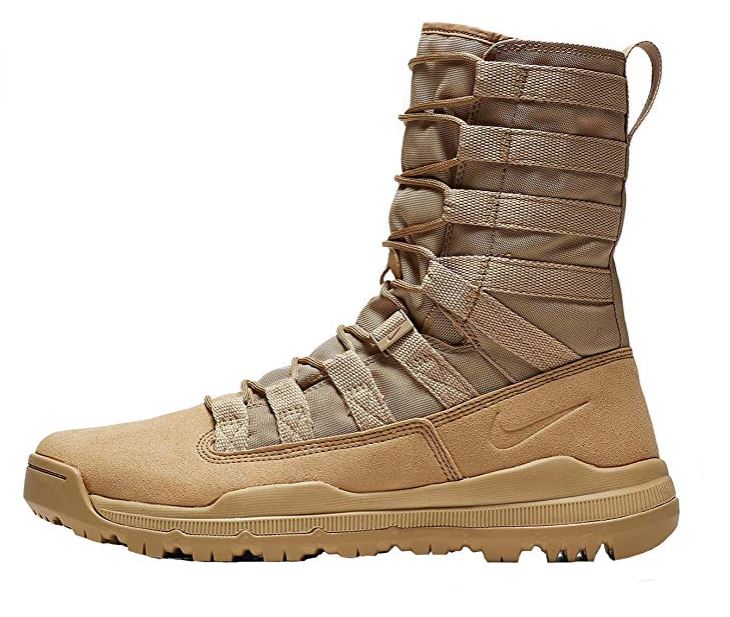 The Nike SFB Gen 2 boot is designed to provide you with the most protection and comfort as you walk through rough terrain.  The boot is built out of synthetic leather and nylon canvas that together make the boot both very breathable and durable.  This boot also sports water resistant Gore-Tex lining to help keep your feet dry.  The collar measures eight inches long to provide you with superior ankle support and protection.  The locking lace system is also notable as it allows you to lace up quickly with a locked-in fit.  In other words, these boots can be pulled on and off of your feet very quickly.