Fishing livewells are increasingly popular for a couple of reasons. For fishermen who use live bait, having a livewell pretty much the best way to keep that bait alive until you need it. Another huge market for livewells is bass tournament fishing. Because tournament fishing encourages catch and release fishing, being able to keep that big bass alive through the weigh in so you can release it is important. But regardless of your reason for keeping a livewell, the heart of the entire system is the livewell pump.
You need a pump to circulate fresh water into the livewell and also keep it aerated so that the fish or bait can keep breathing. Sport Fishing Magazine gives excellent tips on selecting a livewell pump including handy calculations and tips on selecting the ideal size for a livewell pump. Armed with that information, let's look at pumps!
Inexpensive and functional might be the best way to describe the Amarine 800gph pump. Unfortunately there isn't much more to say about it. It utilizes features that should be standard on any livewell pump. Nobody wants a livewell pump that isn't going to be fully submersible, corrosion resistant, equipped with stainless fittings, and sealed against water. Those standard features and a few more combined with a low price point will suffice to serve as a quick and dirty livewell pump. But if you need a cheap pump to get you through or for casual, light duty, here it is, and for less than 20 bucks.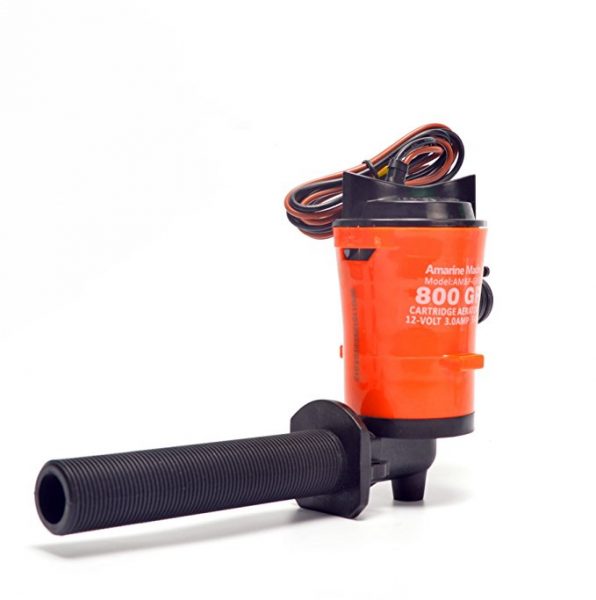 Johnson Pumps 1000pgh pump is a robust, and rugged livewell pump that also offers a fitting for attaching a raw water washdown hose. Now you don't have to have two pumps installed on your boat. The powerful thousand gallons per hour pump will ensure a healthy livewell, and at the end of the day, give you enough pressure to wash down your boat as well. On top of all that, it also serves as an aerator pump in your livewell, so you don't have to install a second aeration system. Built of extremely durable ABS plastic that is both long lasting and impact resistant, this surprisingly affordable and high quality pump is a professional grade livewell pump that will serve you well for years to come.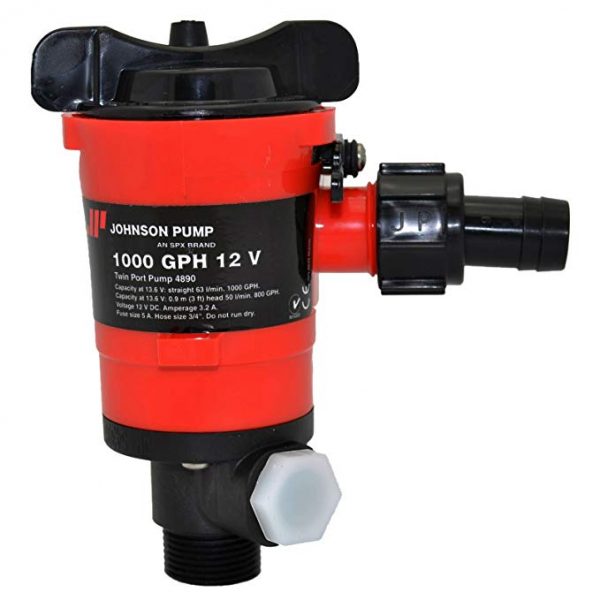 Sometimes you need an added aeration system for your livewell. While some pumps can also aerate the water, it never hurts to have a dedicated aeration pump system for your livewell. Capable of aerating two different 35 gallon live wells, this handy little 12 volt kit is a must have to keep that trophy bass alive. Surprisingly affordable, and designed to integrate into most any livewell system, each unit is factory tested so you know it's going to work out of the box.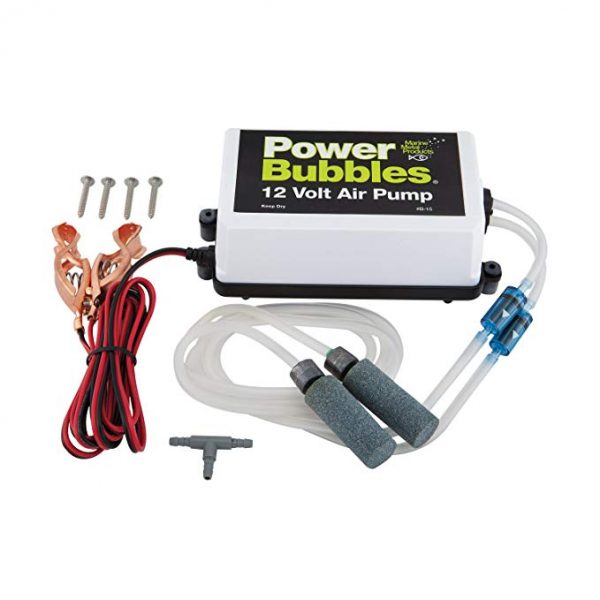 Choosing a Livewell Pump
There are a number of different livewell pumps, and they all do about the same thing. Some just move water, while the better quality ones also aerate the water in the livewell. Then you have high end pumps like this one from Shurflo  which can safely run dry, and offers a washdown outlet, but lacks an aeration system. Be sure you know if your pump has a built in aerator or not when you buy it. Many folks have installed a pump and learned the hard way that it wont' aerate the water, and they lose their bait or catch.
Ideally, the best livewell pump will be one that also aerates the water. However the risk of having an all in one system in a marine environment means that if there is any problem with the pump, you might risk losing everything. Having a dedicated aerator means you just have to ensure the pump is working. But on the other hand, having two separate systems means two points of failure. The whole thing is a tossup, and it might be best to maintain redundancy in both systems if you can, or simply buy high end gear the first time around and be very proactive on your maintainence.
Any of the pumps we looked at will more than do the job. The Johnson and Shurflo pumps are industry leaders and well respected. The cheap Amarine will work, but you need an aerator with it, and you probably aren't going to get years of good service. Consider it a temporary pump rather than a long term solution.
Make sure you select a flow output consistent with your tank needs and the distance the pump has to draw to get fresh water. The longer the draw, the lower the output. We haven't covered all the possible flow rates, but multiple versions of similar pumps are available from the manufacturers to ensure that you can get a sufficiently powerful pump for your needs.
So no matter if you are chasing the next award winning big bass, or just keeping some live shrimp alive for a few hours while you are out fishing, choosing the best livewell pump is as important as selecting your pole and lures!