Most tactical backpacks these days offer you two separate straps, one for each shoulder.  This system is popular because it creates proper retention and security, and also reduces the chances of an injury to your back or your neck.
At the same time, backpacks may be too big for certain missions.  Furthermore, they do not allow easy access at all, as you have to actually remove the backpack to get to the items inside.  
This is why tactical sling bags could be a good option for when you want or need to carry less items that you can have faster access to, whether it be for hiking, hunting, tactical use, or anything else.
The best tactical sling bags will be lightweight, have multiple compartments, be waterproof and rugged, have an adjustable and fully padded sling, and inflict as low stress as possible on your shoulders and your back.  
The entire tactical sling bag will also need to be secured across your body, so the amount of movement of the bag sliding around you have to endure while you walk and run is kept to a minimum.
With all that in mind, here are the top five best tactical sling bags on the market today, presented in alphabetical order:
5.11 Rush 10 Moab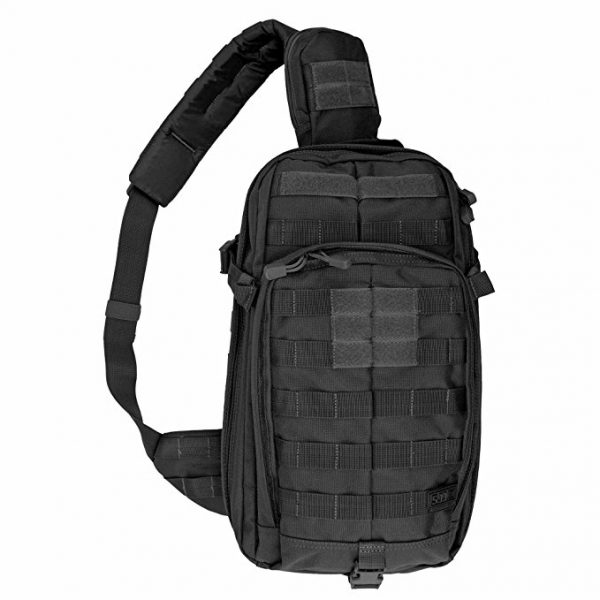 This is an 18 liter tactical sling bag and also is fully attachable to any other Rush backpack thanks to the 5.11 Tier System.
Examples of features that the 5.11 Rush 10 Moab can boast of include:
Water Resistant

Ambidextrous Cross Body Shoulder Strap

Lots of Pockets

Hydration Pocket (1.5 Liters Capacity)

Pistol Compartment

Sunglasses Pocket

Padded Grab Handle

Self-Healing Zippers

Compression Straps

Double Zip Pocket

Ipad/Tablet Compartment
As far as negatives of this pack are concerned, it is definitely on the higher end price wise for tactical sling bags, so it's not the best choice for those on a budget.  The sunglasses pouch and compartment for the hydration hose system are also the same, so you cannot use both simultaneously, which is a bummer.
Maxpedition Sitka Gearslinger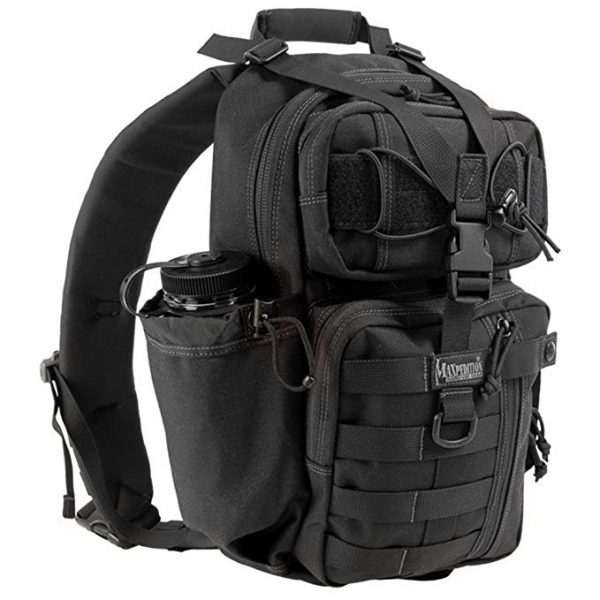 The Maxpedition Sitka Gearslinger tactical sling bag is designed more to be an EDC bag rather than a bag that you would use for tactical endeavors out in the boonies.
Nonetheless, this bag still comes with a number of key benefits and features, including:
Made out of waterproof materials (thanks to the DuPont Teflon Fabric)

Reinforced stress points

Lightweight

Designed for the left shoulder to provide you with easy access to a firearm inside

Compartment for firearm

Laptop compartment

Contains a hydration reservoir
As far as negative aspects of the Maxpedition Sita Gearslinger are concerned, it does not have the greatest weight distribution of tactical sling bags on the market.  Also, in contrast to other kinds of sling bags, the number of small compartments are also minimal, as instead the bag focuses more on having fewer larger compartments.
Vertx EDC Commuter Bag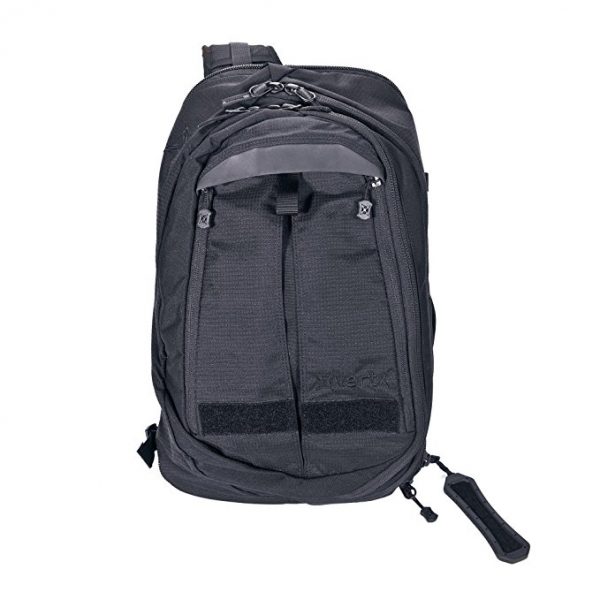 The last tactical sling bag that we will discuss here is the Vertx EDC Commuter Bag.  As the name suggests, this is designed to be a smaller sized EDC bag, but it's still one of the most efficient and accessible sling bags on the market.
Examples of features that this sling bag can boast of includes:
Compartment for laptop or tablet

Large grab strap

Orbital design for fast sliding front to back

The sling strap is very comfortable, adjustable, and padded

There are multiple smaller compartments and pockets for organization and carrying smaller items

The overall materials are sturdy and durable
The biggest negative to this bag is the fact that it is not fully ambidextrous, which stands in stark contrast to many other sling bags on the market.
Conclusion
All in all, tactical sling bags are designed to be lightweight, compact, and more accessible alternatives to two strap backpacks.
The three tactical sling bags that we have covered here today may not be flawless options, but then again, practically any bag or tactical backpack you find is going to have cons.
These bags we have covered are each built out of sturdy materials and from reputable manufacturers, and therefore represent some of the very best that the market has to offer today.