We all recall that moment when we graduated from our BB guns to something with a little more pop. For most, the .22 LR was their first experience. This was the case for me, and I can almost smell the gunpowder, hear that high-pitched crack, and picture my father standing over me proudly as I punched holes in paper or flipped pop cans in the air. We've come a long ways since tube-fed .22 LR's with iron sites and shooting pop cans. I recently took my kids out to tinker with a couple of new Savage rimfires, and their excitement made me feel young again. And, I must admit, I was a little giddy pulling the trigger myself.
Savage B17 Compact .17 HMR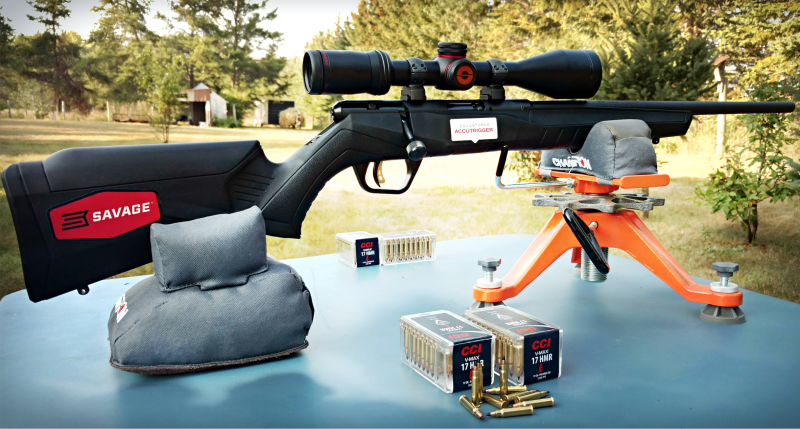 The B-Series rimfires from Savage aren't new, and anyone who follows guns has done some research and reading on them since they hit the market a couple of years ago. They have offerings for everyone. From stainless models, heavy barrels, or threaded options, to entry-level models in configurations in .22 Mag, .17 HMR and .22 LR. They all have a lightly higher comb which really caters to their optics-ready design. They also have a target-style vertical pistol grip, allowing the shooter to hold the gun in a more natural position. An oversized bolt handle, a proprietary 10 round rotary magazine, a tang safety, and complete with Savage's AccuTrigger, the B-Series rifles are fit for shooting. The B17 Compact has a shorter stock, and is what it says it is… compact. It's the perfect gun for a trapper to carry on the line, or a younger shooter just being introduced to shooting.
Savage A22 FSS .22 LR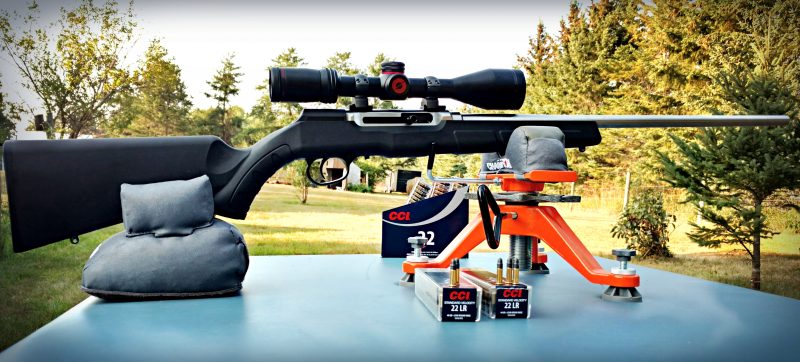 With the Success of the original A Series, Savage decided to expand their line of A-Series rifles in .22 LR this year. While the differences from the .17 HMR and .22 WMR models are almost invisible to the naked eye, aside from the bolt handle, the guns are quite a bit different. The barrels on the A22's are threaded to the receiver using a barrel lock nut, just like the centerfires from Savage. This makes the accuracy incredible, and the consistency spot-on. The same rotary 10-round magazine that fits flush to the belly remains, as does the AccuTrigger. The A22's have a straight comb on the stock, which is perfect for shooters choosing optics. The A22 FSS comes with Weaver bases, and is optics ready. With a 22" barrel, and a 13 3/4  inch length of pull, the A22 FSS is full sized.
Optics
While the Simmons Aetc may be considered a centerfire scope, I couldn't resist putting my new 4-12×44 Aetec on these new Savage's for some really crisp views while shooting with the kids. The Aspherical Lens technology provides flat, distortion-free images and the lenses are fog and shock proof for added reliability, durability, and longevity. A great feature for me is the generous eye relief which is perfect for people like me who wear glasses. Honestly, you'd be hard-pressed to find optics that are a better bang for the buck, as the Aetec's run on the mid-to-low cost end.
Ammunition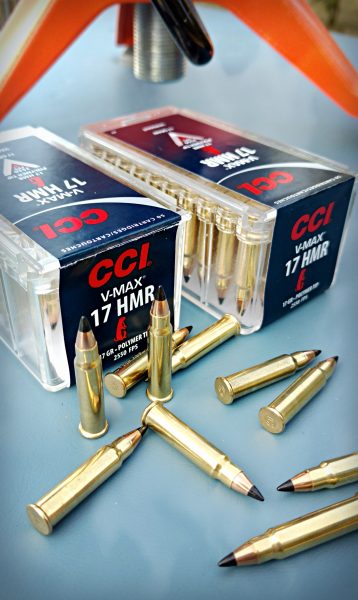 For the B17 we shot CCI V-Max polymer tips. Zippy little things, blazing at over 2500 FPS. This round would be perfect for varmint shooters, target and competition shooters, and even small predators.
For the A22 the CCI standard velocity 22 LR 40 grain lead round nosed bullets were used. These are the same bullets I use on the trapline, whether I'm shooting them through my pistol or my B17 in 22 LR. Great for traplines, sufficient for target shooting, and incredible for plinking. At over 1065 FPS, the standard velocity CCI's are cheap, plentiful, and accurate.
Shooting the Rifles.
With the rifles, ammo, a range bag, a Champion Tri-Stance Rest w/ rear bag, eyes, ears, and 2 kids in tow, we headed to our shooting area on the farm.
My daughter wanted to shoot the B17 Compact, as she's smaller, and she thought that she was getting the lesser noise and kick; little did she know that she was shooting a faster bullet through a lighter gun. Luckily, with rimfires there's very little bump and there's almost zero noise with some good Champion muffs. I helped her get it sighted in, and her first 10 shots rang true on a steel pop up target. Starting with a good rest and comfortable, stable seating really instills confidence in a shooter, and for an 8-year old to want to continue in the sport of shooting, she needs to feel confident to continue. Heavy praises were given, and I asked her about how she liked the rifle. Her response was honest and simple, "I really liked how the gun fit me, and was smaller than most of the guns we shoot. I think I need one." This, of course, was followed by an adorable smile. My son buckled up to the rest and shot a few rounds as well, and when he got a little over-confident, he missed one shot when he didn't settle back into the gun before firing again. A quick lesson in taking time to get set before the next shot, and we were on to the next review.
The A22 was up next. My son commented on how "cool" the stainless barrel looked, and appreciated that he was shooting a "real-sized" rifle. He's become a seasoned shooter, so I let him handle the initial sighting in, with a little help and simple reminders. Once sighted in, he had perfect steel hits at 25, 50, and 75 yards. When asked about the gun, he said that he really liked the look and the simplicity of the semi-auto over the bolt, and my daughter agreed.
I also shot both guns, and as always, was very pleased with the simple designed and subtle things that make the Savage rimfires stand above the rest. The B17 Compact really impressed me. Despite being 6'2", I was able to get it shouldered quickly while off-bench, and it felt very comfortable with the higher comb. I might need to add one as a trapline gun.
Shooting at less than 75 yards with little-to-no wind, we didn't see much difference in accuracy. There were no failures in feeding or ejecting. Everything ran flawlessly.
Training with Rimfires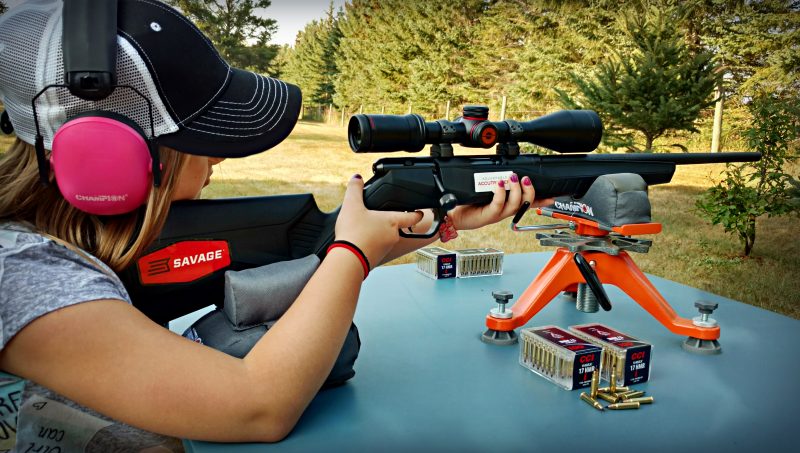 Whether you're introducing a youngster to shooting, or are taking out an adult who is new to shooting, a rimfire is definitely where you want to start. They are lightweight, have almost zero kick, and are incredibly accurate. Ammunition is cheap and plentiful, and a person can really punch some paper without guilt when the price is low. Even the guns themselves come in at less than $500 if you add a really good optic; cheaper if you want basic glass. Plus, whether you're 8, 10, or 38, a rimfire is a great way to learn and to work on basic mechanics.
Click here to learn more about Savage Rimfire's.