When it comes to picking a utility vehicle(UTV), there are no shortage of options. As the end user, you will be looking for a number of features depending on your passion and end use. You may want the vehicle for your farm, for hunting, for general hauling around your homestead, or even for tooling around sand dunes or off road trails. If you are like me, you want something that can handle just about anything, who knows, I may take up farming some day! For this reason, I am always thinking about new purchases and products from a ton of different angles. That's why I was extremely excited to try out the 2018 Honda Pioneer 1000-5 LE.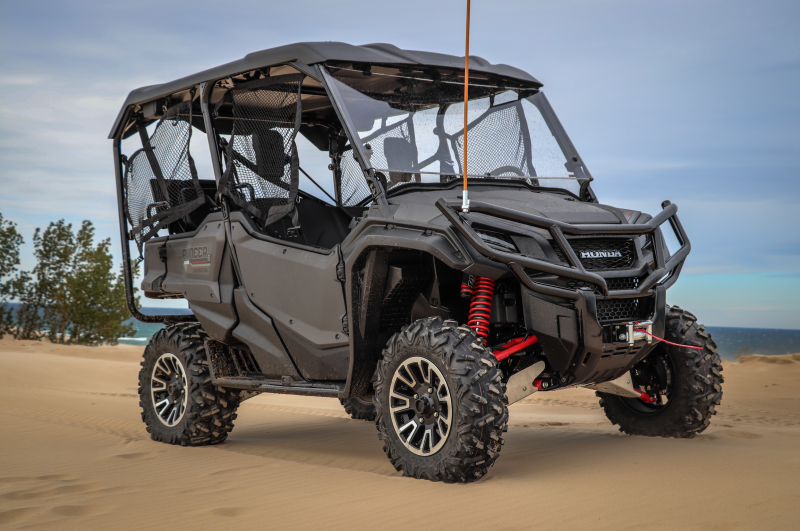 Before we dive in to the Pioneer 1000-5 LE, here is a bit more detail on UTV's. The UTV is essentially a larger version of the ATV, or in some ways, it can be viewed as a cross between an ATV and a car. Subsequently, UTV's are not as effective as the ATV for maneuvering in tight conditions, but nonetheless, it fulfills a number of other very important uses.
BENEFITS OF USING A UTV
Since UTVs are larger, one of the first and biggest benefits is that you can carry more passengers and supplies than you could on an ATV or a motorcycle.
You may ask, well why not use a car at that point, but the truth is that UTVs are designed for off roading, and they can go places where your sedan or minivan will fail to go.
Granted, you may have a truck or an SUV with AWD/4WD and plenty of ground clearance, but a UTV is still more compact than either option and will be able to get into tighter conditions.
Depending on the UTV you buy, you'll be able to hold anywhere from two to six passengers, in addition to much more storage space too.
Another advantage to using the UTV is the fact that it is much safer to drive than either an ATV or a motorcycle.  In fact, it is one of the most safe off roading vehicles in existence, and they even come with seat belts for greater safety as well as you drive over rocks, logs, uneven terrain, potholes, creeks, rock faces, and so on.
WHY THE HONDA PIONEER 1000-5 LE?
Now that we have discussed briefly what makes a UTV a good choice for an off roading vehicle, the next question is, why the Honda Pioneer 1000-5 LE specifically? While the Honda Pioneer is not the only good UTV in existence, it is definitely one of the best. This is because the Honda Pioneer 1000-5 LE comes with a number of cool features that make it worth checking out.
First and foremost is Honda's stellar reputation for making high quality vehicles of all sorts, including UTVs. One example of a specific feature that the Honda Pioneer 1000-5 LE is installed with is a unique power traction system that, when set to 1-4WD mode, will give the vehicle excellent grip over the road, with no difference felt to you as you drive behind the wheel. In addition to the power traction system, you also have the options of electronic brake force distribution, brake traction control, and hill start assistance.
Let's talk about each of these, shall we?
The brake traction control is the result of the transmission on the Honda Pioneer 1000-5 LE being incredibly similar to the transmission on a car.  Specifically, the transmission on the Pioneer is a DCT, or Dual Clutch Transmission.
The electronic brake force distributor is a feature that is admittedly available on many other UTV's and vehicles as well, so it's hardly unique to the Pioneer.  But it's still an excellent feature to have, because it maximizes the amount of distribution between the rear and front wheels when you apply the break.  It's a good thing to have if you'll be adding a lot of weight to your UTV from passengers or supplies.
Last but not least, the hill start assist is definitely something that you will want before you ascend a hill, as the name suggests.  When you come to a hillside or slope, all you need to do is pull a switch, which will maintain enough brake pressure to get the UTV started without having to worry about applying pressure to the accelerator to ensure that you have enough momentum while heading uphill.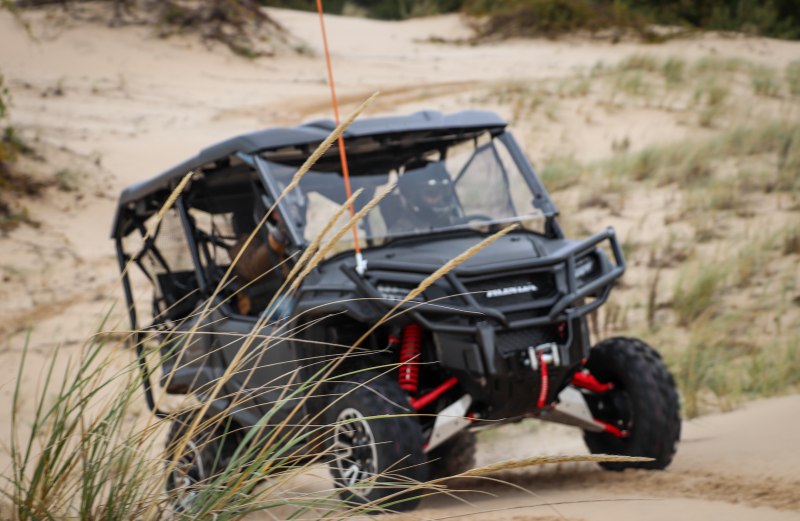 The hill start assist will become even more convenient if you need to head uphill or up a steep slope side while more weight is added to your Pioneer.
Comfort Features
As the name includes a -5, you have up to 5 available seats in this UTV. The front seat features a bench configuration with seating and seat belts for 3 riders. In the back, you have two available fold up seats taking the total capacity to 5 riders. When I say 5 riders, I mean 5 riders comfortably. When the rear seats are folded up, the rear riders have ample leg room and lumbar support so that their risk of bumps and bruises on a trail or dune is greatly reduced.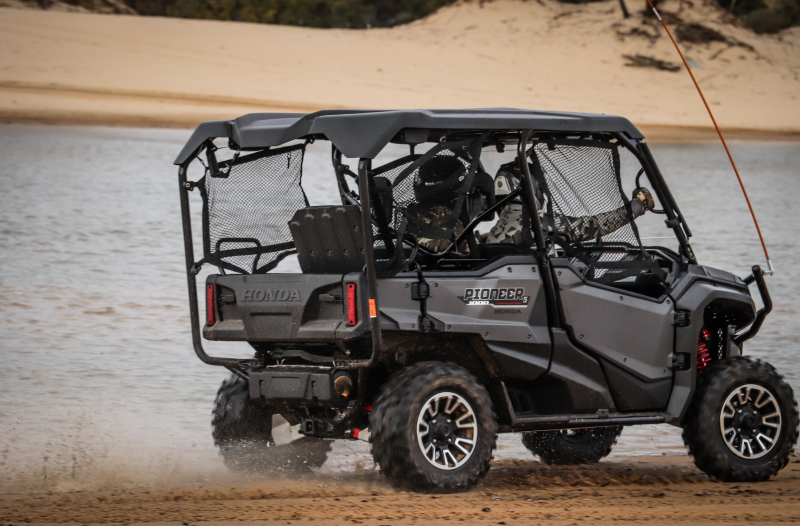 Putting it to use
When it comes to UTV's the name of the game is using and abusing them. These vehicles are built to perform under all different types of conditions. So, we wanted to see how the Honda Pioneer 1000-5 LE would perform at one of the greatest off-roading parks in Michigan, the Silver Lake Sand Dunes.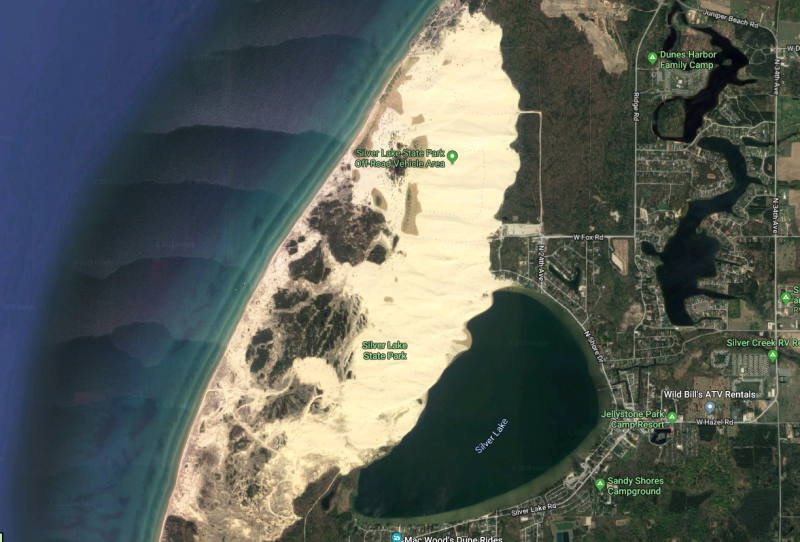 We headed up to the dunes in late fall and were pleasantly surprised to find the parking lot nearly empty, we were stoked! Generally speaking, the Silver Lake Sand Dunes are a hot bead of activity all summer. Off-roaders of all kinds will bring their trucks, Jeeps, dune buggy's, ATV's and UTV's out to run them through a sandy gauntlet. On busy days in the summer, you can't make a turn with out seeing at least a half dozen other vehicles cruising around, interrupting your good time. On this trip, we saw only a half dozen other riders the entire day.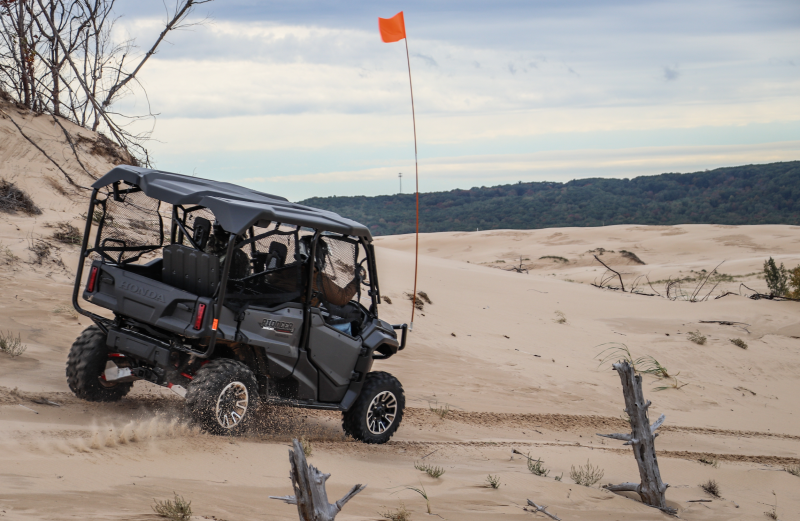 Having not taken this particular vehicle out before, we started out slow. The first hour or so, we tooled around the dunes checking out the different locations and seeing where we wanted to really get crazy with the Pioneer. One of the first things we noticed is how well this UTV handled. Loaded up with 3 riders on the sand, we were shocked at how sharp the turns we were making were and how much acceleration we were afforded. It was a dream to drive this vehicle.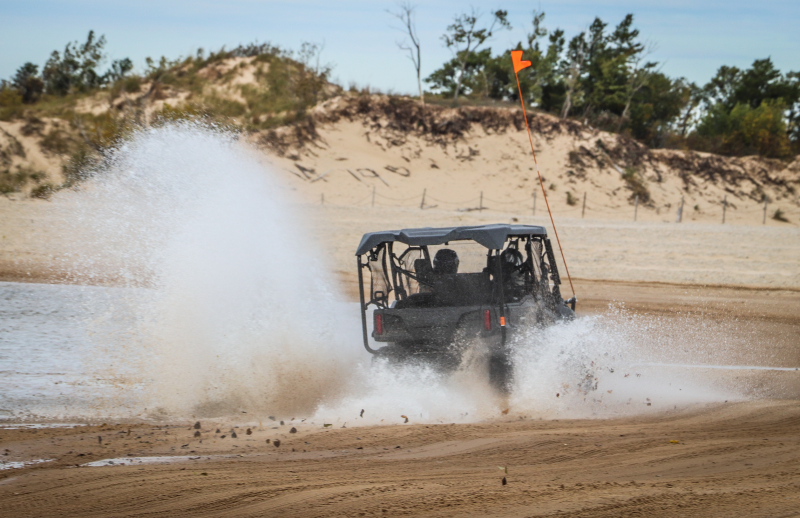 We spent the next few hours jamming up and down hills, though water, and even tackling some very steep inclines without any issues. The most nerve racking moments of the day came about 30 minutes before we were set to leave. One of our drivers was zipping through a back portion of the dunes that we had yet to visit. As he was getting ready to accelerate, a 5 foot drop-off appeared out of no where, leaving little time to course correct or slow down. With nothing to do but hold on and go over, we braced for impact. Like a tank, the pioneer shot over the edge, made impact, and kept going without even a hint of anger at what we had just put it through. The  front and rear Independent double-wishbone suspension doesn't just look cool, it does the job it's intended to do like a champ.
Here is a quick video from our outing:
View this post on Instagram
Earlier in the year, another co-worker had the chance to head out on a turkey hunt where they utilized Honda Pioneer's for all of their back woods travel. He reported the same comfort and performance as we at the dunes. Having experienced this vehicle myself, as well as getting reports from hunting and farming applications, I can easily say that the Honda Pioneer line of UTV's is an absolute must when considering your next new ride.
For those of you who love to see the specs, here you go:
Twin-cylinder Unicam® four-stroke

999 cc

Liquid-cooled

92.0 mm

75.15 mm

10:1

Fuel Injection (PGM-FI), 44 mm throttle body

Full-transistorized with electronic advance
Fully Automatic Dual Clutch Transmission (DCT) with six forward gears and Reverse. Four drive modes include 2WD, 4WD, Turf and Differential lock. | Paddle Shifters with three shift modes (standard, sport, and manual)

Direct front and rear driveshafts
Independent double-wishbone

Independent double-wishbone

10.6 in.

10 in.
Dual 210 mm hydraulic discs

Dual 210 mm hydraulic discs

27 x 9-14

27 x 11-14
116.8 in.

63.0 in.

76.4 in.

80.2 in.

33.1 in.

12.2 in.

13.8 feet
2000 pounds

7.9 gallons

1.7-gallon

1000 pounds for 49 states | 600 pounds for CA models

1773 pounds – Includes all standard equipment, required fluids and full tank of fuel.