Looking For a Comfortable Ground Blind Chair? These Will Make Your Long Sits More Bearable
OutdoorHub Reporters 11.05.18

Hunting isn't exactly the most comfortable activity. Most of the time it's cold, early in the morning; you're in the middle of the woods, surrounded by bugs and brush. You're in a little box that doesn't give you a lot of room to move, and you can't move much anyways because it might scare off potential game. A comfortable ground blind chair for your deer blind can make a world of difference.
No, it won't turn your blind into a 'cushiony palace,' but it's at least a step in the right direction. A comfortable ground blind chair should also be lightweight and easily portable so you can carry it through the woods with ease and fold it up out of your way if need be.
These are some of the best chairs currently available for deer blinds that will give you the comfort you're looking for without getting in the way of hunting.
Browning Huntsman Hunting Blind Chair
Browning, one of the most respected names in hunting equipment, has made a comfortable, efficient, and sleek looking chair for use in a deer blind. It has three adjustable legs, so you can use it on uneven ground without having to worry about it wobbling. The round feet are attached to the legs via a ball joint, making them even more adaptable to whatever the shape of the terrain may be.
Instead of padding, it's made from Browning's specialized Tech Mesh. This mesh supports the body without too much padding to get in the way. It's also water and weather resistant, giving you some peace of mind about its longevity. It pivots 180 degrees and is height adjustable. It only weighs 13 pounds, make it super easy to fold up and take with you.
Redneck Portable Hunting Blind Chair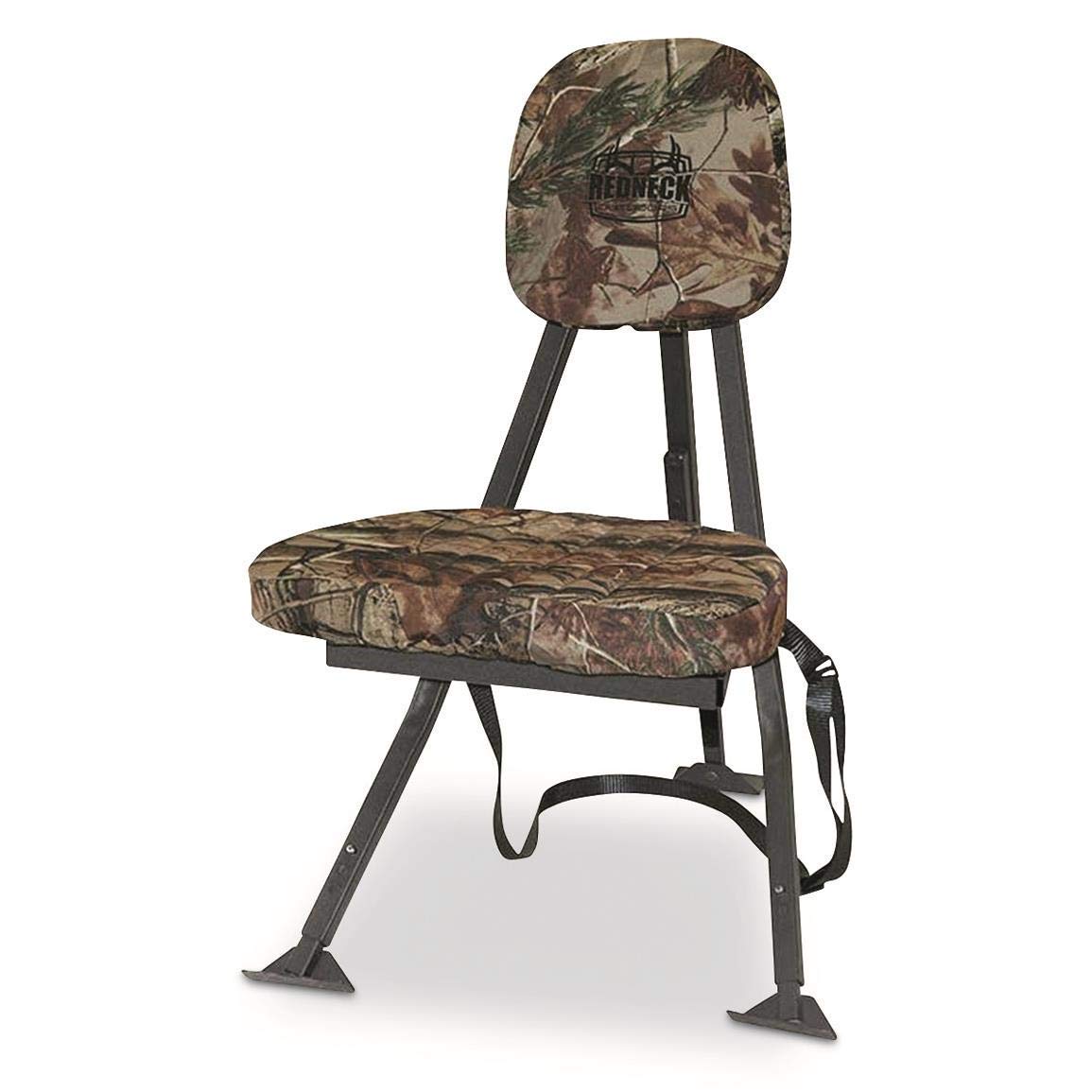 The Redneck Portable Hunting chair is a slightly heavier, more sturdy option. For those in need of a chair that can support a more hefty weight, this chair has your back.
It has adjustable legs with a slightly adjustable height. It can swivel 180 degrees on silent joints, maintaining your secrecy during your hunt. The padding is pretty minimal but still comfortable, and the seat is rated for up to 350 pounds. It also folds up, making it convenient and easy to carry. It weighs 16 pounds and is a good choice for those looking for something a little more robust in terms of support. Some people have pointed out that the seat cover can be a little noisy during the winter, so if you plan on using it in the cold, be sure to take the cover off first.
Primos Hunting Double Bull Tri Stool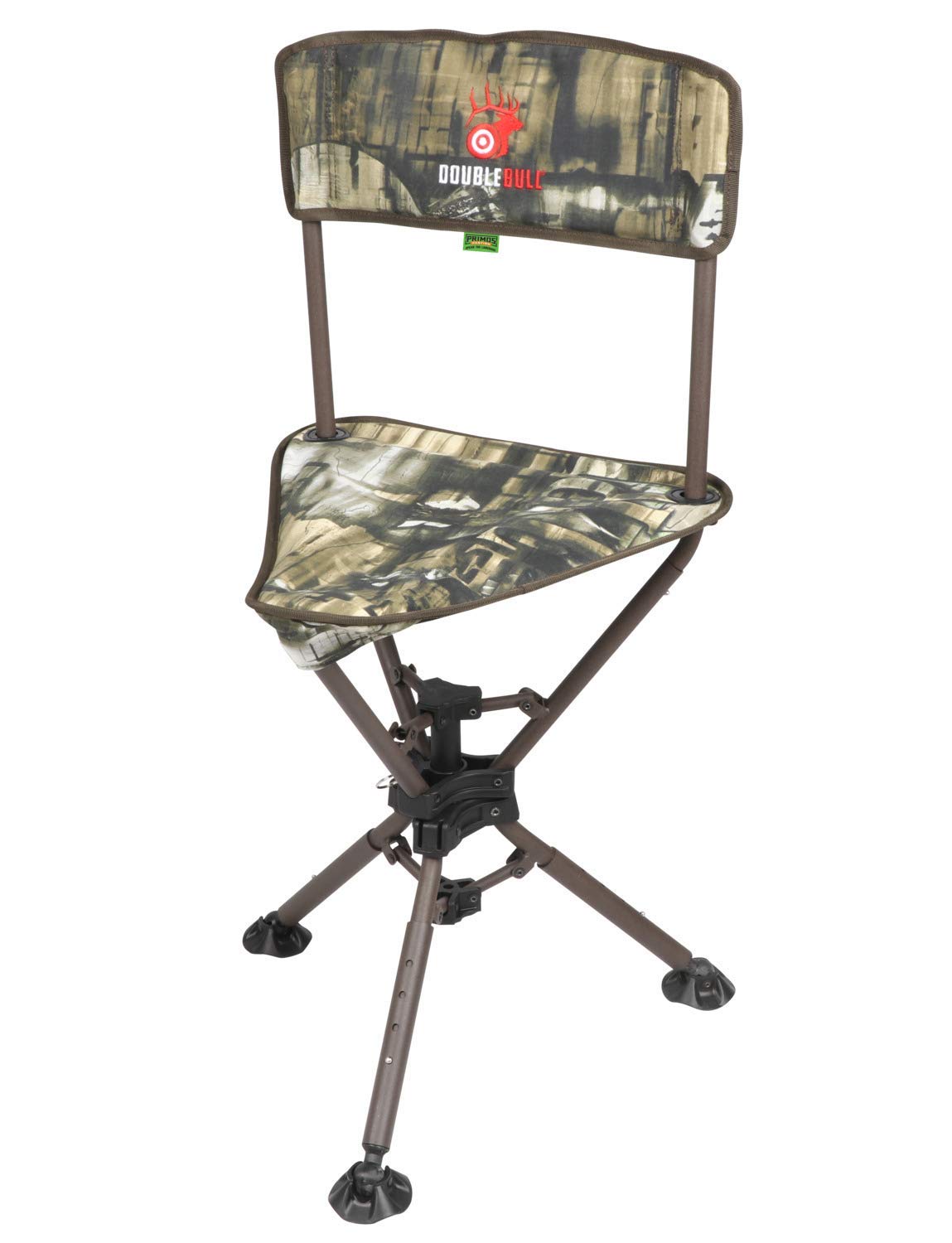 If you're wanting something a little simpler, the Primos Hunting Double Bull Tri Stool may be for you. It's essentially a standard camping chair with only three legs, and a few other features that make it more ideal for hunting.
For one thing, it's extremely sturdy. It has a steel construction that will ensure it holds up to a lifetime of use. It also has a flared backing, making it more comfortable than a normal camping chair. And best of all, it's fairly inexpensive. If you're looking for something that's super lightweight and unobtrusive, this is a great choice. It'll keep you from having to sit on the ground without the need for an office chair in the stand. That said, it doesn't have adjustable feet, and it doesn't easily rotate. So if you're hunting on uneven ground, or need to make a quick adjustment, you may want to look at an option with features better suited to those needs.