Windham Weaponry RP9SFS-7: forgettable name; memorable pistol
Eve Flanigan 11.19.18

Lately I've had my hands on a test model of Windham Weaponry's RP9SFS-7, an AR-style, gas impingement pistol chambered in .223 Remington/5.56 NATO. For simplicity, it's called "pistol" in this article.
It's easy to find this pistol attractive for both form and function. The Windham group made a lot of good decisions, in this writer's opinion, crafting and outfitting this little shooter. And by "little," I mean it's short, just 24.75 inches overall, and light; 5.5 pounds sans magazine.
Working from front to back, we find a classic birdcage flash hider crowning a nine-inch barrel with Melonite QPQ finish. Inside, the barrel has 1:7 right-hand twist rifling. Around the barrel is seven inches of Windham's own free-float handguard with Pic rail on top, and a sweet two-inch section of accessory rail on the left front.
That rail continues rearward atop a Windham-forged 7075 T6 aluminum receiver. It's outfitted with a Magpul trigger guard and has a black, anodized finish. The trigger is mil-spec. There's a standard two-position safety, marked on both sides. Inside is a Carpenter 158 Steel bolt. The finger-groove, beavertail grip is a Hogue product. Bringing up the rear is an update to this pistol from that currently shown on Windham's website: SB Tactical's slim, trim SBA3 AR pistol stabilizing brace, a $170 item when purchased alone. The brace telescopes to four positions and has a socket for a sling mount stud.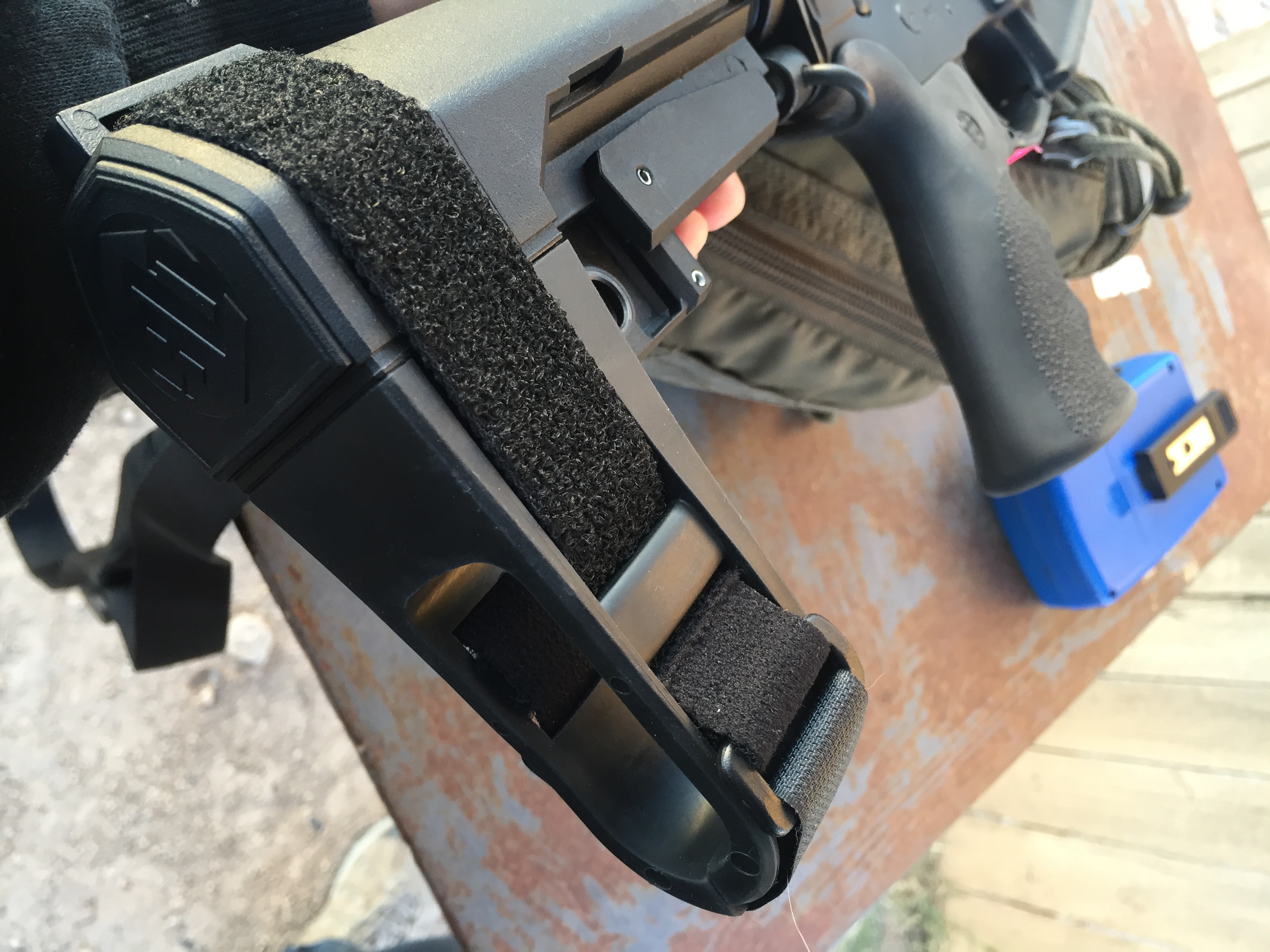 The charging handle, at 2.0 inches wide, is 0.25 inches narrower than milspec. It's a perfect and practical fit for this compact weapon, and helps insure it'll fit in the tight spaces where many will stow it.
In addition to the perfect amount of accessory rail included on the pistol, it has other touches that make it useful and ready to go, right out of the box. There are adjustable, polymer front and rear flip-up sights by Kriss, and a QD sling swivel attached at the rear of the receiver, on which to clip the included web sling. It's also shipped with a 30-round metal magazine.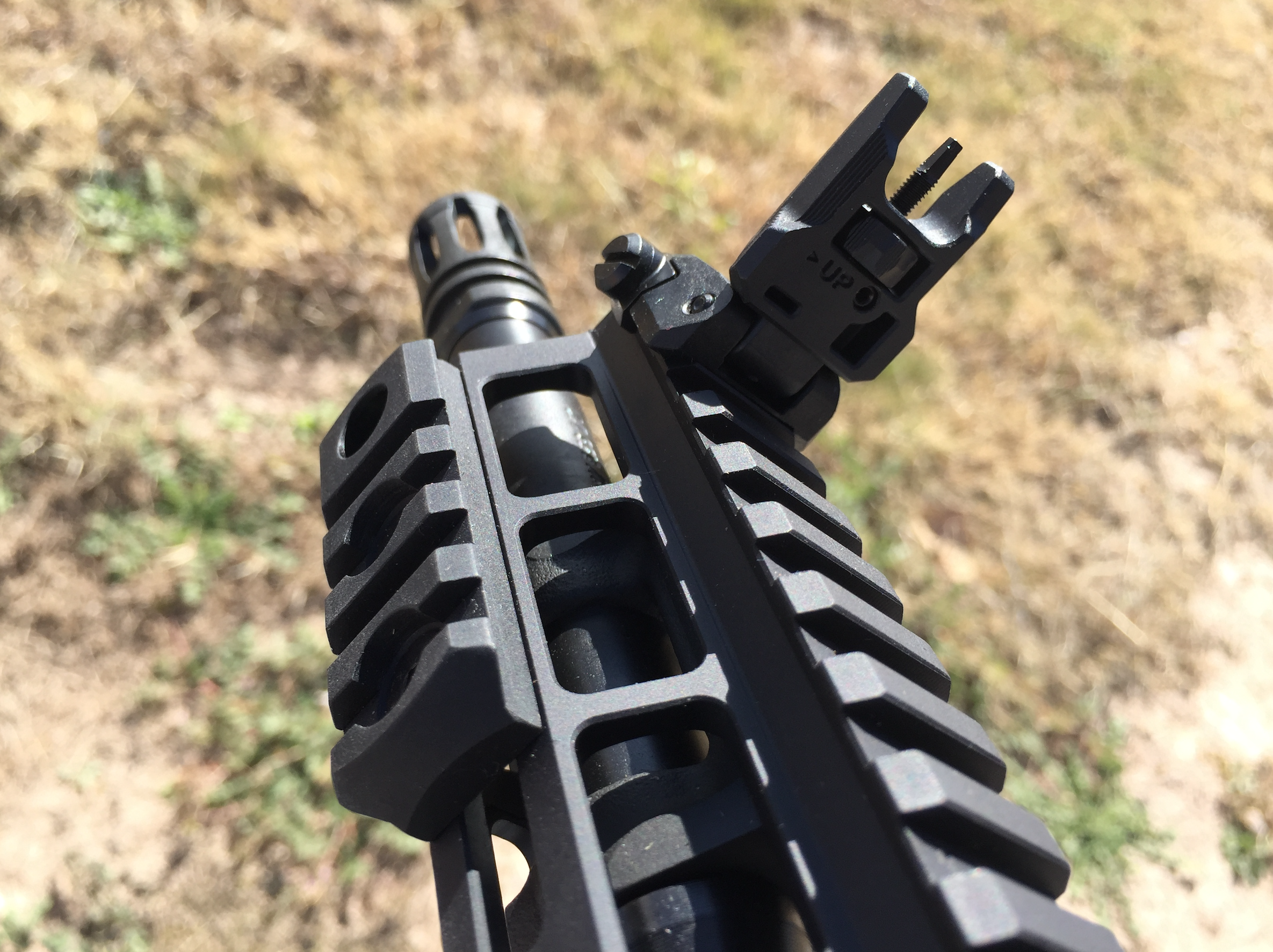 With my own red dot sight on a quick-release mount, I had the RP9SFS-7 whacking steel at 175 yards after a couple minor windage adjustments. While its compactness makes it more suitable for short-range engagements, I found it quite capable of immediate transitions from bedroom-distance shots to moderate-range hits.
This is a solid platform that has run without one hiccup so far, at the 200 round mark, and having been fired by four different shooters. It's gloriously easy to carry, with the exception that the inexpensive, stretchy elastic one-point sling I put on it (a factory sling wasn't included in the writer's kit) was basically useless as the elastic bottomed out fast, leaving the muzzle to hang annoyingly low.
Not completely useless, the cheap sling does allow one to brace the pistol on the neck, providing stability. I found this technique useful and fun when shooting from the flat of my back, a weird and unlikely shooting position, but one in which this platform is easier to handle and aim compared to a carbine.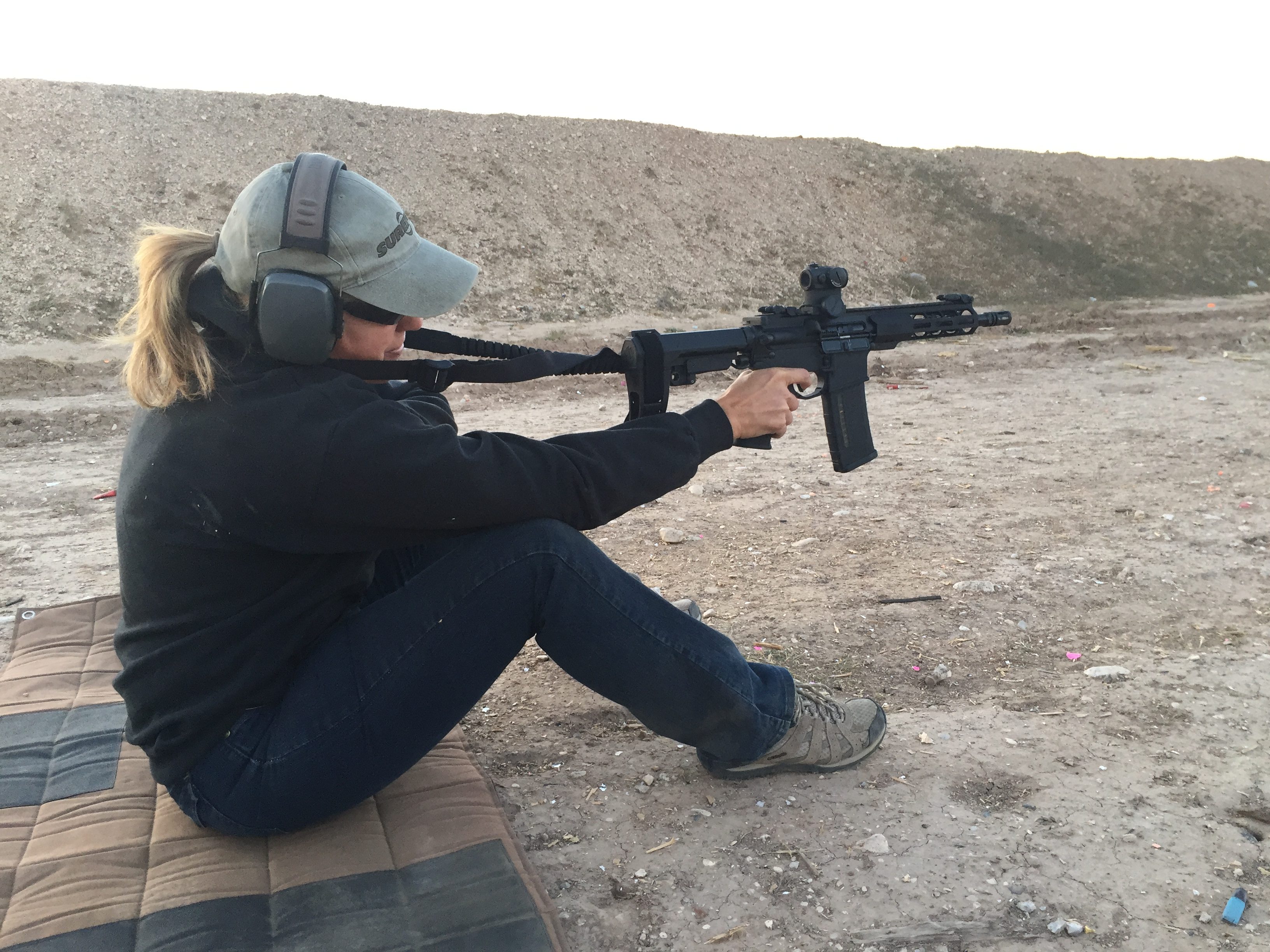 In addition to the providing a place to mount a light, the two-inch rail provides a palpable, intuitive index point for the support hand, one that supports safe shooting via gently blocking the support hand from moving forward into muzzle blast territory. Most left-handed shooters would benefit from moving the rail to the opposite side of the handguard.
The Kriss sights adjusted easily and form a nice lower-third co-witness with my Aimpoint Micro T1, mounted on a LaRue Tactical high mount.
Three associates and I put the RP9SFS-7 through its paces from several different positions that precluded shouldering the gun. To do so would automatically turn this "pistol" into a "short-barreled rifle" under the nonsensical National Firearms Act. We fired it from an single, extended arm, a difficult position to hold for long. Adopting a cheek weld and keeping the SB Tactical brace all the way forward so as not to risk shouldering it, the pistol did all we asked in terms of accuracy. Even with the little .223 round, one limitation of this platform, when shot without shoulder contact, is recoil recovery time. Looking at pictures from the range test, I was surprised at the degree of muzzle jump while in the standing position using a cheek weld and two-handed grip. Bracing it using the sling around my neck and knee contact in a sitting position offered better control.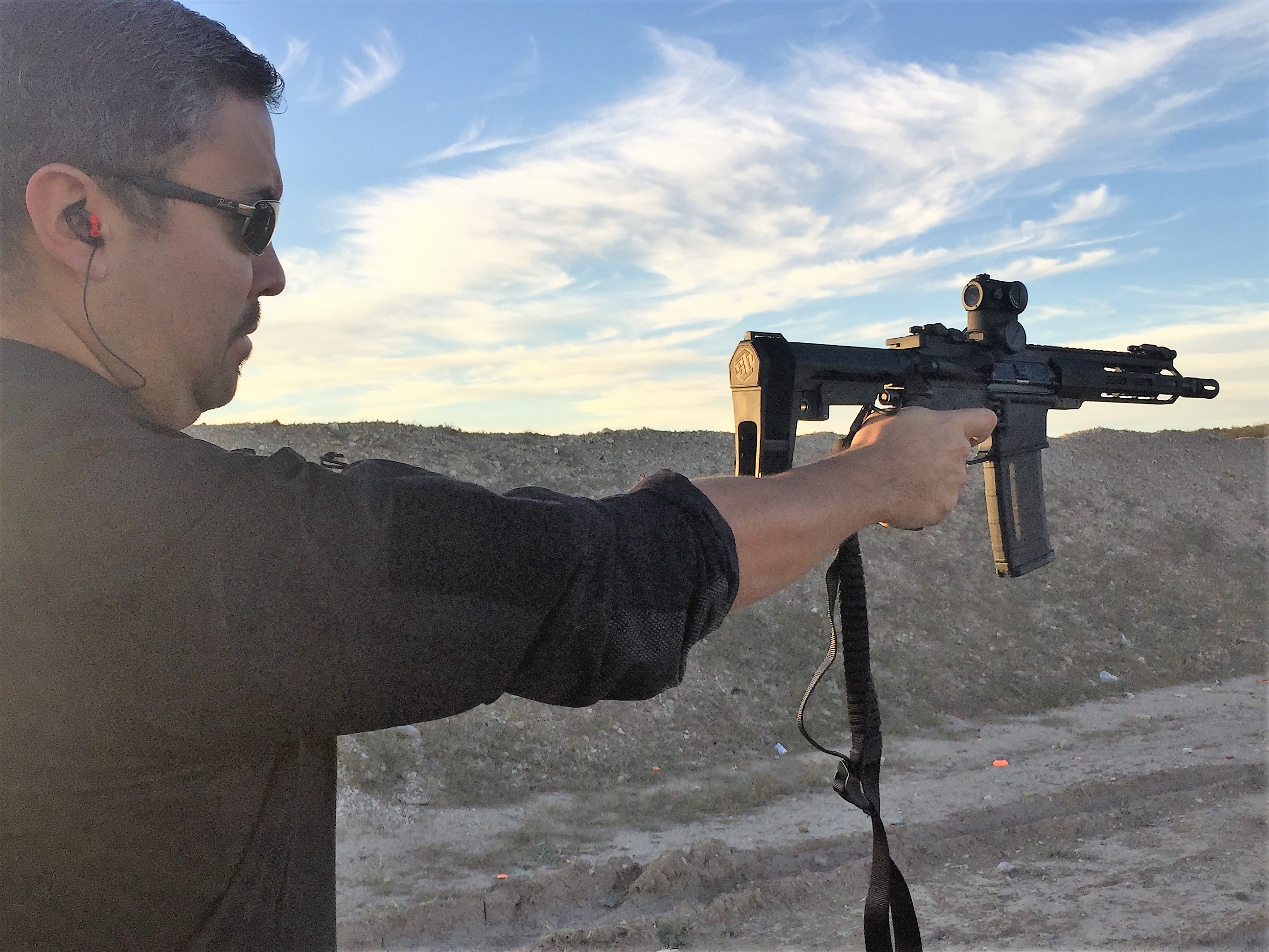 One thing none of us did was use the SB Tactical SBA3 brace as an arm brace. The slim profile of this brace has a downside, and that is its branches are too short, and the Velcro strap is the same, for wrapping it around a forearm. But I agree with Windham's move to this brace, which is different than the one shown on this pistol on their website as of this writing. The SBA3 is a streamlined, easy-to-pack stock that should warm the hearts of bedside and truck gun enthusiasts, not to mention people who are running out of room in the safe. There's always a little room left for this compact and easily secreted "pistol." In this writer's estimation, it's also perfectly appointed for the job of compact self-protection, with room for a light, included flip-up sights, and a handy way to hang a sling. As a big fan of keeping defensive gear simple and functional, this one's got everything just as it is—unless you want to add an optic.
The only criticism I have is the name. Could Windham Weaponry have come up with something less memorable than RP9SFS-7?  I don't think so. This pistol will surely give pause in the minds of gun owners who think it's silly to name a firearm. Call it Ray, or Chuck, or Sue, anything other than RP9SFS-7!
Despite the name, this is an altogether high-quality pistol that's a joy to shoot. And there's every reason to feel good about owning it. Windham offers a lifetime, transferable warranty. As a company, Windham Weaponry represents American resiliency. When Bushmaster left Maine for New York in 2011, it effectively left its experienced core group of employees high and dry. Bushmaster's founder re-established Windham Weaponry where Bushmaster had once been. The company continues has thrived on the investment and hard work of those who brought it into existence.
The RP9SFS-7 is one of Windham Weaponry's most modern creations, and should please anyone in the market for a truly functional, well-machined, well-appointed AR-style pistol. MSRP is $1,254; look for real prices around $1,000.