Bravo Concealment Rolls Out Three New Products for Wearing a Gun
Eve Flanigan 02.18.19

Texas-based Bravo Concealment has never been one to rest on the success of an existing product. This winter, the company announced three new choices for carrying guns—a holster, a belt, and a paddle attachment option.
Torsion IWB Kydex Holster
The new IWB Torsion has the same minimalist footprint as Bravo's original IWB, with the important addition of a 10-degree inward cant that moves the grip closer to the wearer. This improvement reduces printing and, to this reviewer/instructor, will provide a sense of security to wearers, as the gentle contact of the holster and firearm's grip to the wearer's body gives tactile reassurance that the gun is in place. Especially for new carriers, this should reduce or eliminate the urge to "chicken wing" with the elbow or repeatedly touch the grip from outside a concealing garment—all behaviors that belie one's armed status, at least to informed eyes.
The Torsion has adjustable retention using a single Phillips head screw. In the month since I loosened mine a bit from the very tight factory setting, it's shown no tendency to self-loosen more, as holster screws infamously do. While I'll apply thread locker to insure the security of my retention setting, it's not changed during this trial period.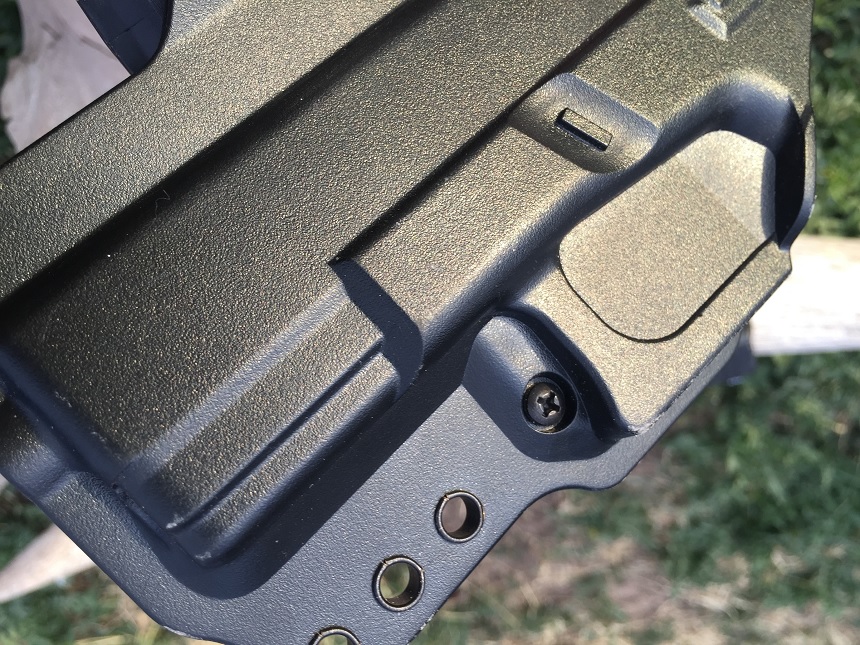 Retention, by the way, is solid, thanks to true-to-form molding that provides a nice "click" when the gun is inserted fully. Bravo Concealment made room for the suppressor-ready XS Big Dot sights. Those who carry with a reflex sight should find it fits very well, with the well-molded body-side panel of the holster protecting the gun from sweat and oils and the wearer from all but the rearmost 0.75 inches or so of the slide.
Another update to the old IWB holster is the option to carry with one belt clip removed. With one clip, the holster easily rotates but stays secure on the belt, allowing the user to change the angle of the gun for sitting or standing. I found the ability to align the barrel approximately to the angle of my thigh/torso junction made sitting down with a Glock 19, worn AIWB, painless – not a claim I can make with many gun/holster combinations.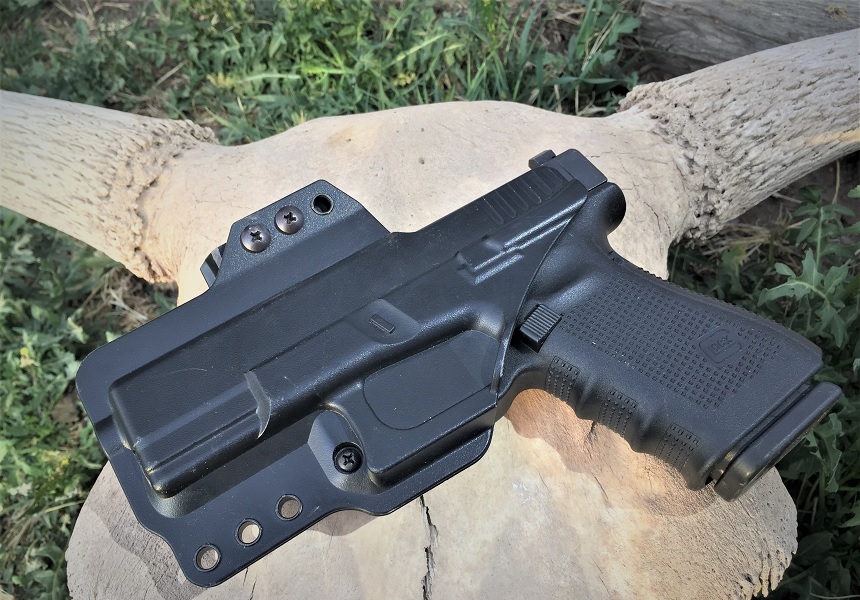 When standing, the gun naturally points almost vertically downward when the holster is held with one clip. It's a bit of work to put the clips around a 1.75-inch rigger's belt, as the clip is the same width. However, once one or both clips were in place, the holster allows for easy draws and safe-as-possible IWB reholstering.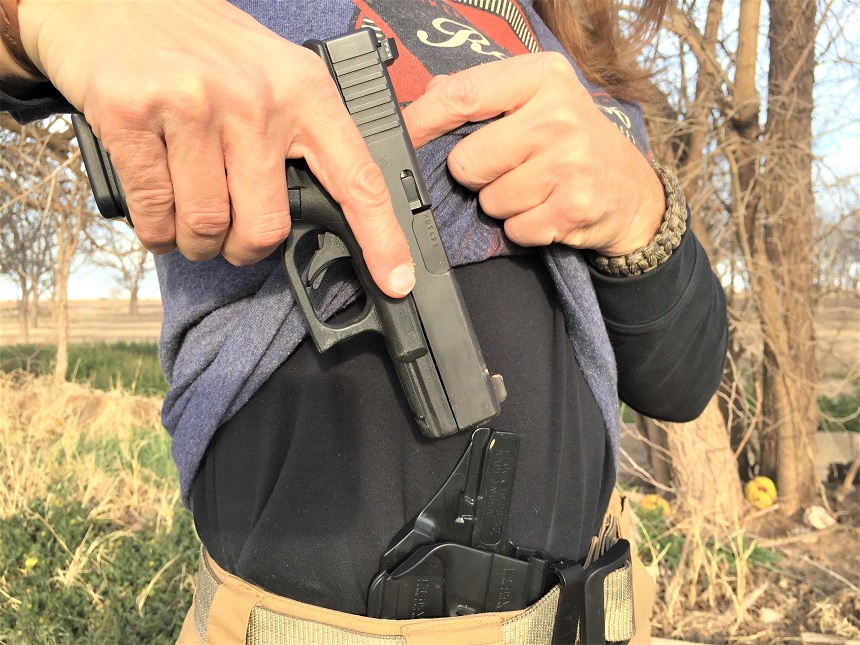 This is a comfortable and economical option. The only shortcoming is the slow appearance of Torsion holsters to fit more than just Glocks. Recently a Torsion to fit the Sig P365 was released. Bravo's reticence to release new holsters for even slightly less common brands is perhaps indicative of a build-as-you-go strategy, which should serve the company well in terms of sustainability, though it is frustrating to those who carry something other than a Glock or P365, especially as their original IWB model, which was available for a variety of gun brands and models, has been removed from their website.
This is a great option for, so far, Glock and P365 carriers looking for a dependable and comfortable IWB holster. At $39.98, it's easy to buy more than one.
Paddle Attachments
Bravo Concealment paddle attachments are another new product. Any of their holsters or magazine pouches can now be converted from belt loop- to paddle-worn.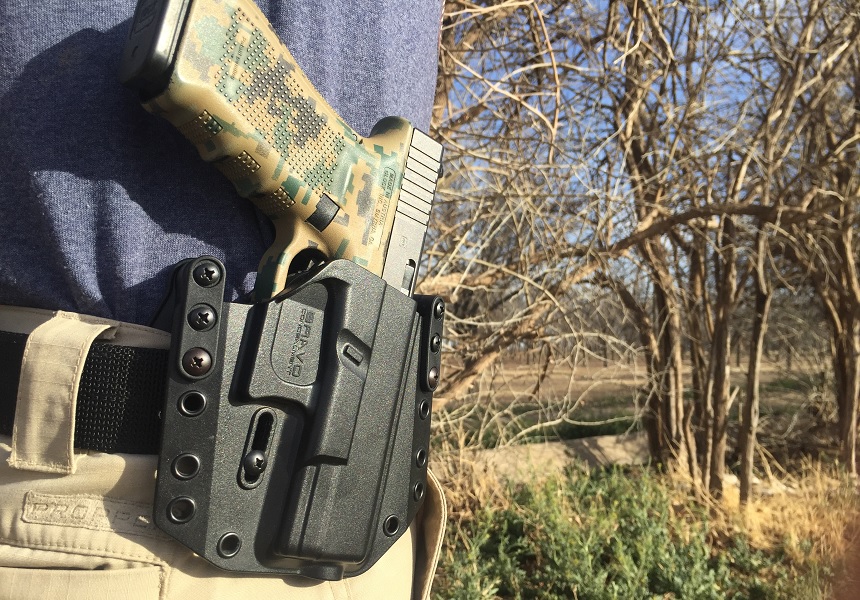 The structure of this product is a bit different than most paddles in that there are two, shoe-horn shaped attachments instead of one big one. Two screws (provided) on each side must be traded out with the ones on the belt loops. Users can choose ride height and cant depending on the position of the paddles. The flanges on the outward-facing side are made to fit a 1.25- or 1.5-inch belt. I tested them with a 1.5-inch belt, and they held securely through many draw/reholster sequences whether slung over the belt only or both the belt and waistband.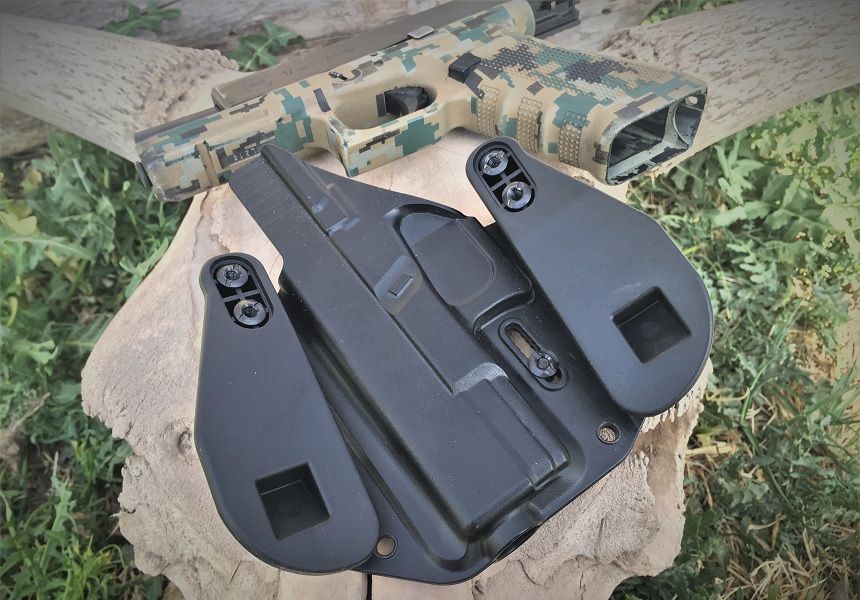 "Struts," two plastic backers with a screw socket, are optional and appear to add strength as they attach  with three instead of two screws.  No explanation is given for them by the company on their product description. This did complicate setup a little, taking about 20 minutes including time to fetch a slotted screwdriver to hold the socket side of the attachment still while the Phillips head male side was tightened. I used the struts in hopes they'd allow the holster to ride a little lower, but any difference is minimal. Concealment is in their name, after all, and all Bravo holsters ride high and tight, including with the new paddles. The paddles sell for $17.90.
Cinturon Belt
The third new item from Bravo Concealment is an EDC belt called Cinturon. It's made of stiff webbing and has coated metal, GI-style buckle. The belt is black; buckle choices are matte black and brushed nickel. It's 1.5 inches wide.
Continuous adjustment of the belt allows for a truly custom fit, as there are no holes. Tightening and loosening are easy, in fact loosening it is faster than a regular belt, albeit a two-handed operation. Simply grasp the belt on either side of the abdomen and push the ends toward each other, and the roller pin loosens.
Two matching elastic loops come with the belt to secure the bight. I found they fell off easily when moving the belt from myself to the closet and back again, and ultimately abandoned them, never missing their presence.
This belt is a real enhancement to concealing under a shirt as the buckle is flat and slightly curved, adding no bulges to the profile. It's sturdy enough to move from carrying a full loadout to securing an IWB rig. My only complaint is minor—the roller pin does rattle inside the buckle when donning or doffing the belt, making life a tiny bit more complicated for anyone who gets dressed while trying not to disturb sleeping housemates.
This is a solid choice for a concealed carry belt. There are four size choices at $44.54.
Bravo Concealment has built quite a following with their well-made holsters that fit a gun like a glove and don't break the bank. This combination of new gear makes for a great trio of purchases.