Match Grade: Savage MSR-15 Competition Rifle
Tom McHale 02.26.19

If you're into action shooting sports, the Savage MSR-15 Competition is for you. Even if you don't care about eking every millisecond of time out of a stage run, it's one heck of a deluxe rifle. With its bright red controls and accessories, it looks the part of a performer, but it's what's under the hood that matters. We tested one out, and here's what we found.

Barrel technology
Think of the Savage MSR-15 Competition as a souped-up Savage MSR with all the bells and whistles, but also one that's built on a custom chassis. Right off the bat, you'll notice that there's something special about the barrel. The exposed portion between the handguard and muzzle brake shows a carbon fiber segment. After a short stainless-steel section where the adjustable gas block is attached, the carbon fiber continues all the way back to the barrel extension. The barrel is designed and specified by Savage but built by PROOF Research. It's made of stainless steel and wrapped with a carbon fiber sleeve. This process allows the steel barrel blank to be smaller in diameter and therefore lighter. The surrounding carbon fiber is 30 times stronger and 7 times stiffer than steel, so the whole barrel maintains rigidity better than an all-metal version. Additionally, the carbon wrap dissipates heat longitudinally and more efficiently that steel, so the barrel cools faster during extended fire. All of this means you get a lighter barrel that's more accurate through heavy shooting sessions. And it has a longer lifespan. What's not to like about that?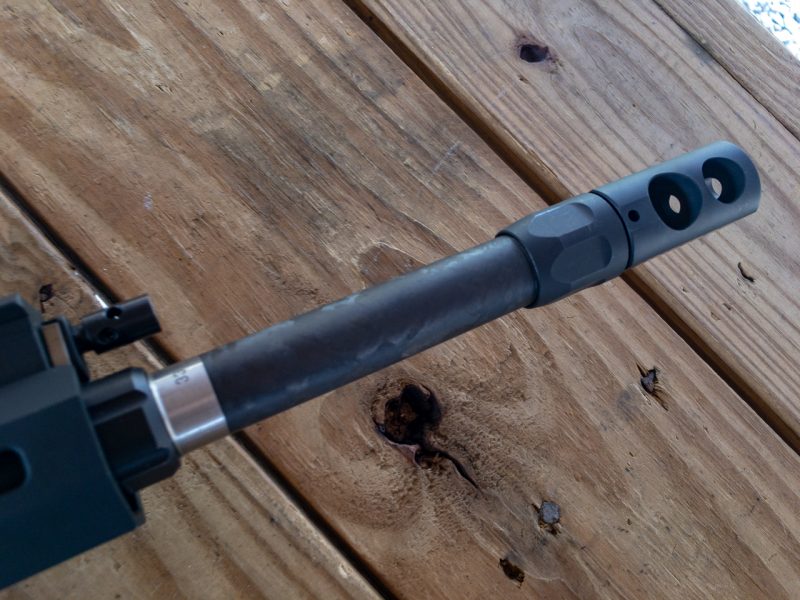 Handguard
I absolutely love the handguard on this rifle. It's an MLOK-compatible guard (over a free-floated barrel) that comes with one (bright red) quick detach sling point already mounted on the left side. Of course you can certainly remove or relocate it. There are MLOK attachment points close to the receiver and again near the muzzle at the 1:30, 3:00, 4:30, 6:00, 7:30, 9:00, and 10:30 positions. In the center where your support hand naturally rests there are not holes but subtle MLOK-shaped indentations. That helps keep your hand cool as barrel heat is shielded by the handguard itself.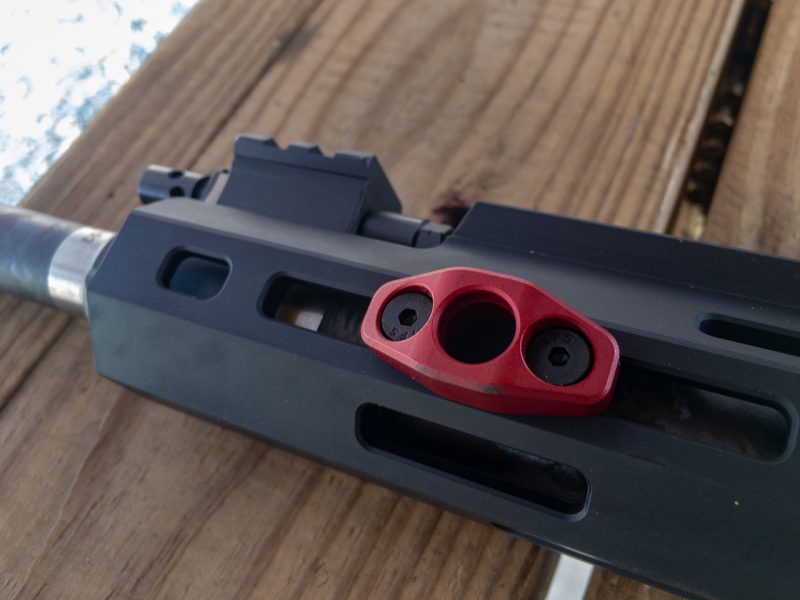 The top of the handguard is smooth except for a small rail segment on the top of the gas block where you can mount a backup front sight. That smooth top surface doesn't allow attachment of accessories but is great for your support hand hold if you like to wrap your thumb over the top. There are also fine grooves along its length to reduce glare on the top surface.
A unique cocking system
Like any other standard AR-15 or AR-10 rifle, the Savage MSR-15 Competition has an upper receiver charging handle just under the receiver rail. It's got a release lever on the left side and operates like any other. However, this rifle is designed for speed during fast competition action and if you're using a magnified optic, the scope will sit right on top of the standard charging handle. When you position a scope to have proper eye relief on any standard AR that's just the way it is. You can still reach the charging handle; it's just not as open and exposed as you might like for fast action. If you keep a firing grip, you have to bring your support hand all the way back near your face to cycle the lever. If you use your firing hand, you have to re-acquire your grip after charging.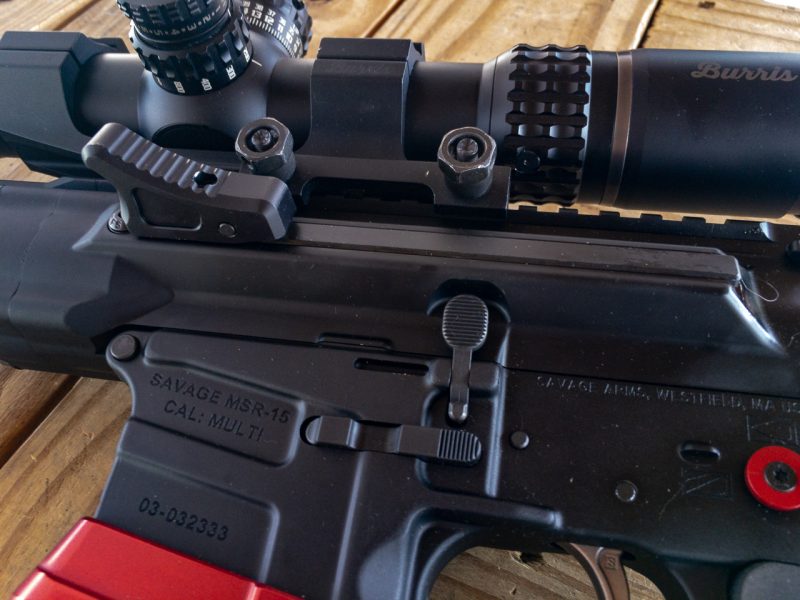 The Savage MSR-15 Competition solves this problem without violating the standard bolt handle operation by adding a side bolt cocking knob. On the left of the receiver, you'll see a hooked lever that's perfect for your support hand index finger. Yank that back and it charges the bolt just as the charging handle does. It's an either-or proposition. The side bolt doesn't move the charging handle or vice versa so you can use whichever method is faster and more convenient given the time and circumstances. The side lever is also almost seven inches farther forward compared to the standard charging handle, so it's faster to move your support hand there and back into position. That large knob presents a "gross motor skill" operation, so it's easy to do without looking or fumbling around for the right position. This system is fast and sure. I wish it was a feature on every AR-type rifle.
Trigger-nometry
As a competition-optimized rifle, you'd expect a seriously boss trigger on this rifle, and it does in fact have exactly that. It's a two-stage trigger press. The first take-up stage offers one-sixteenth of an inch of travel. There's no grit or significant weight to the first stage. At that point, you'll feel another one-sixteenth of an inch of constant pressure until you get a smooth break. The weight on this second stage measured at exactly two and a quarter pounds according to my Timney Triggers scale. If you're going for precision and speed, this trigger makes it easy. I absolutely love it.
I wouldn't want a single-stage trigger this light for an "action" competition gun, but in this case, the take-up stage offers some margin that allows you to control your shot.
Got gas?
This rifle is all about optimizing the little things to eke out every possible time and accuracy advantage. Accordingly, there are two gas system-related features you need to know about.
The muzzle device is a brake with large ports exiting directly right and left. That helps mitigate felt recoil to keep you more or less on target during rapid fire strings. You'll also notice two small holes at the back of the brake in the 12 and 3 o'clock positions. Those are high-pressure adjustable gas ports. The two holes are oversized with a small portion near the inside that is not yet drilled all the way through. You can drill through that last bit of metal to open the port to the desired diameter. Starting with the side port, drill a tiny hole and see if the side-to-side recoil motion stabilizes. Increase the hole size as needed until you're satisfied. Next, repeat the process with the top port to eliminate muzzle jump. When you're finished, the muzzle will remain on target through the shot because those little jets keep it from moving. Obviously, this process only applies to one ammunition type and charge, so it's a feature designed for the serious competitor who will standardize on a specific projectile and load.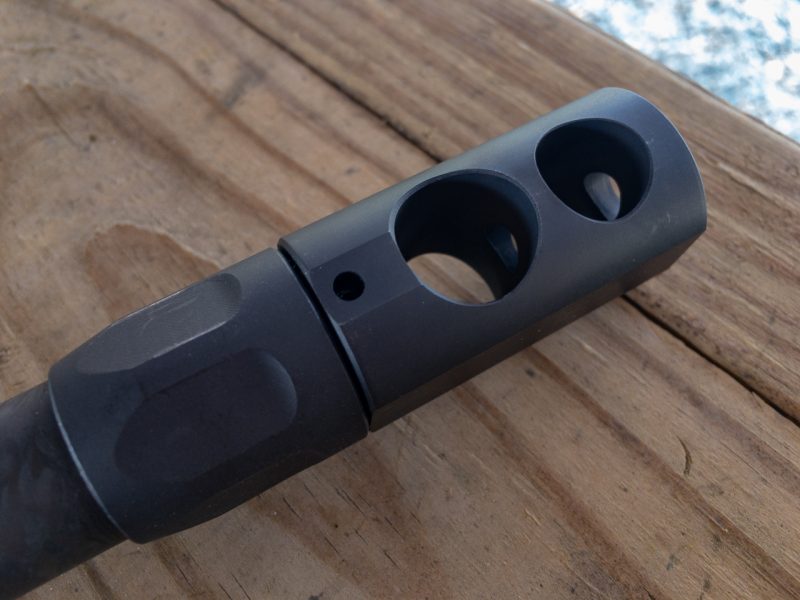 The other adjustment feature increases or reduces gas flow to the bolt carrier group. By turning the adjustment screw protruding from the handguard clockwise, you decrease the amount of gas moving back to the action. Turning counter-clockwise increases the gas flow. The idea is to optimize the amount of gas required to drive the system reliably without overstressing the action. The other use case applies when using a suppressor. Due to the increased back pressure when shooting through a silencer, you can reduce the flow when shooting suppressed to smooth out the action and prevent the bolt carrier from slamming back with too much force. You'll know you've hit the right balance when empty cases eject in the 3 o'clock direction and reliability is flawless. The bolt carrier should also lock open after the last round in the magazine has been fired.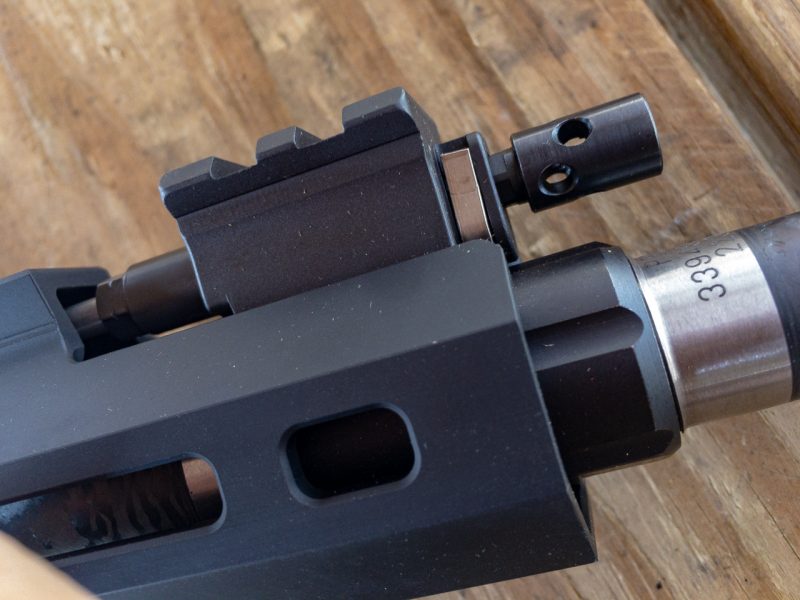 True ambidextrous operation
You'll notice that the safety lever on the Savage MSR-15 Competition is somewhat spiffier than the standard mil-spec version. Not only is it that neat red color, it's been enlarged significantly for easier, more positive, and faster operation. There's a mirror image of this upgraded safety on the right side of the receiver too so you can operate it whether right or left handed. For competition use with a right-hand firing grip, it's also convenient to use your trigger finger on that right-side safety when dumping the rifle after a completing a string.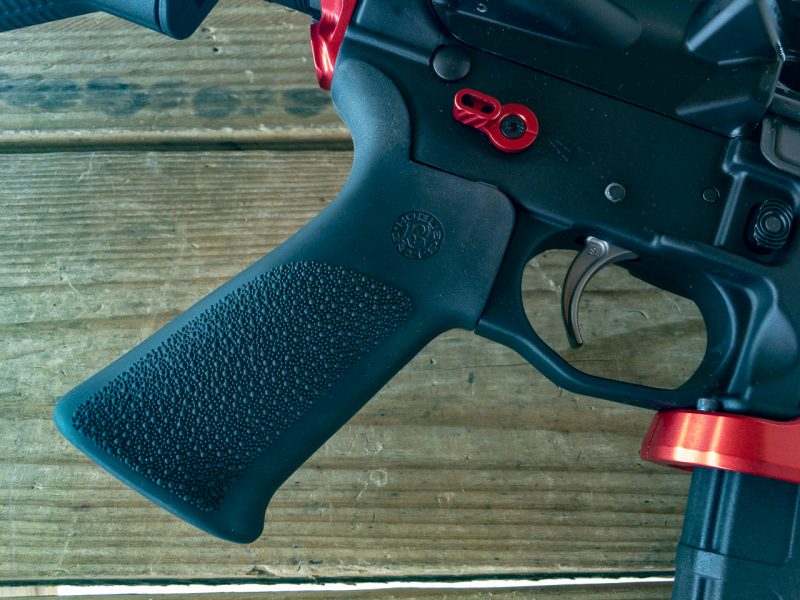 The magazine release on the right side is standard, but there's also one of the left side of the receiver. Just below the bolt catch lever there's a smaller magazine release button, so again, you have the option of using right or left hand, support or firing hand to dump a magazine depending on what multi-tasking you are trying to perform. It's yet another nod to shaving fractions of seconds off your stage time.
Furniture
The red trim looks great, but I think some of it offers a functional benefit too. For example, when going fast and looking to insert a new mag, that enlarged red magazine well is hard to miss. It's also dramatically flared to help guide the magazine in to place. You literally cannot fumble when inserting a magazine, even with your eyes closed. Fractions of seconds to reseat a magazine count!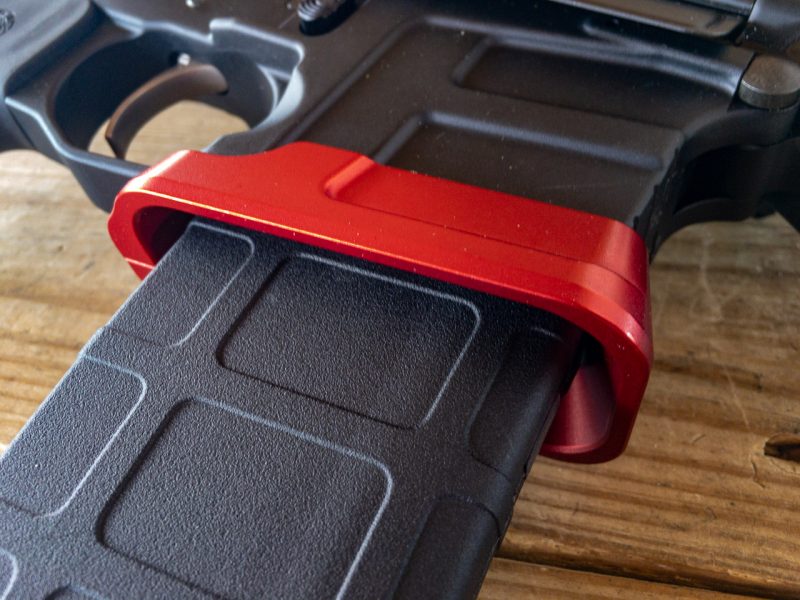 The pistol grip is a rubberized Hogue model and the butt stock is the Magpul CTR. That has a rubberized butt pad, quick detach sling points, and multiple standard sling loops. The CTR also uses a separate locking lever to help make sure that your desired stock position from the six available stays where you want through aggressive handling.
Shooting the Savage MSR-15 Competition
To test the Savage MSR-15 Competition, I mounted a Burris XTR II 2-10×42 scope. It's a beast of an optic with its 34mm tube and I think the magnification range is perfect for a rifle like this. At the lowest 2x power setting, it's not quite a red dot but is still fast and easy for closer shots especially if you're using the illumination feature. That really fat tube helps too; you won't be searching for the viewing area.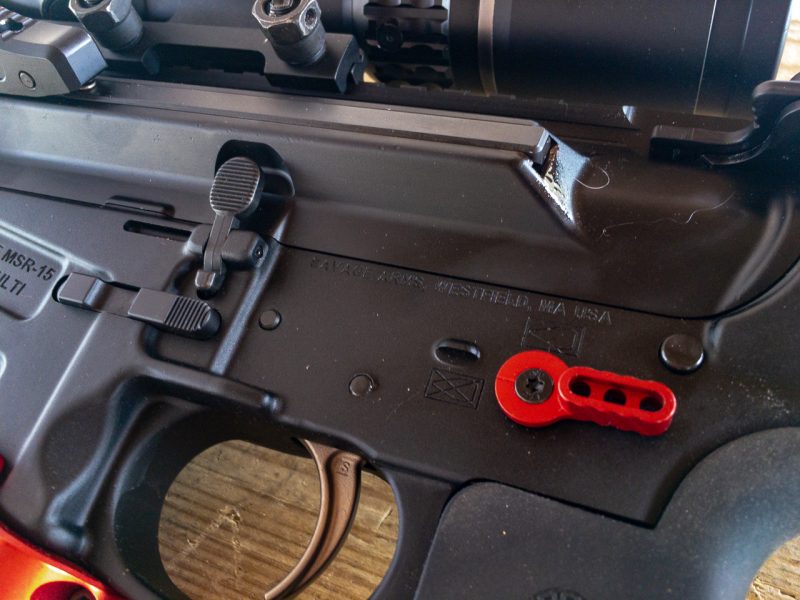 I chose some higher-end ammo for testing since I figured this would be an accurate rifle. First, I measured average velocity and found the following using a Shooting Chrony Chronograph placed 15 feet down range. My range is about 30 feet above sea level and the temperature on velocity testing day was a pleasant 62 degrees.
| | |
| --- | --- |
| Ammunition | Actual Average Velocity (fps) |
| Nexus Match Grade .223 Remington 77-grain | 2,593.7 |
| Norma Match-223 .223 Remington 77-grain | 2,465.3 |
| Sig Sauer OTM .223 Remington 77-grain | 2,391.3 |
I shot for velocity freehand to get a feel for handling and the recoil stunned me. Mainly because there was none – I mean none. Since this is a test rifle, I didn't do any drilling of the tuning ports on the brake. As is, it did a fine job of mellowing out the already-tame .223 ammo I was using. If I buy this rifle, I'd probably take those final steps and optimize the gas ports for a 69 or 77-grain round. That won't change any recoil to the shoulder, but it would keep the muzzle perfectly on target for effortless follow-up shots.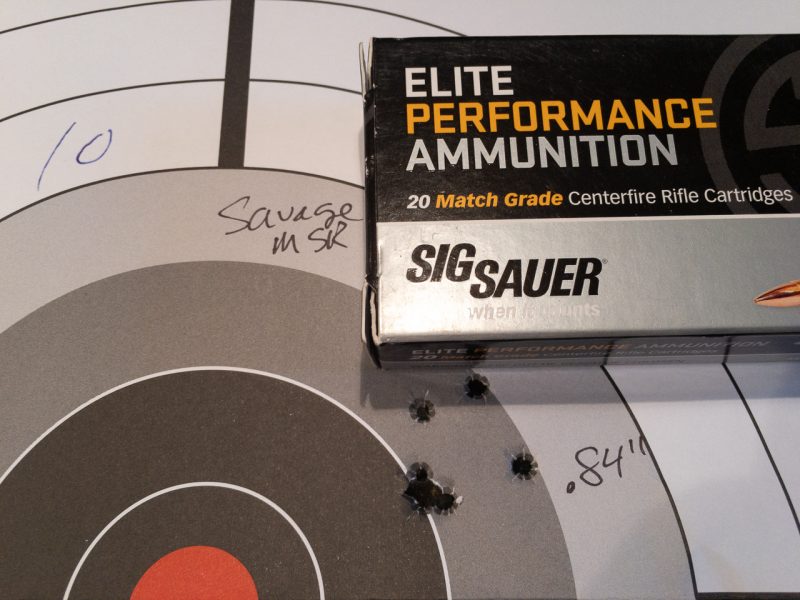 I shot the same ammo for accuracy at 100 yards. I fired multiple five-shot groups at that distance and averaged the results to get the center-to-center group sizes shown below. The wind was gusting a bit between three and eight miles per hour from the 10 o'clock direction so it's possible that may have had a minor effect. To put this light wind into perspective, an eight-mph crosswind from the 10 o'clock direction would blow a 77-grain bullet about a half an inch in the worst case. Even with that variable at play, I got some excellent performance from this semi-auto. Here's how the averages worked out.
Ammunition
Average Group Size

100 yards, 5 shots

Nexus Match Grade .223 Remington 77-grain
1.34"
Norma Match-223 .223 Remington 77-grain
1.49"
Sig Sauer OTM .223 Remington 77-grain
0.89"
The Savage MSR-15 Competition isn't your everyday range toy. You can buy a "standard" AR rifle for a lot less money. If you simply want a home defense gun or range plinker, that's fine – this probably isn't the gun for you. A rifle like this one will appeal to those who value and appreciate the nuances and details of a finely tuned piece of gear. In this case, with competition as the primary design goal, you're paying for those subtle features and details that shave seconds from your aggregate match time. If you're good enough to vie for the top spot on the podium, you'll certainly benefit from this package.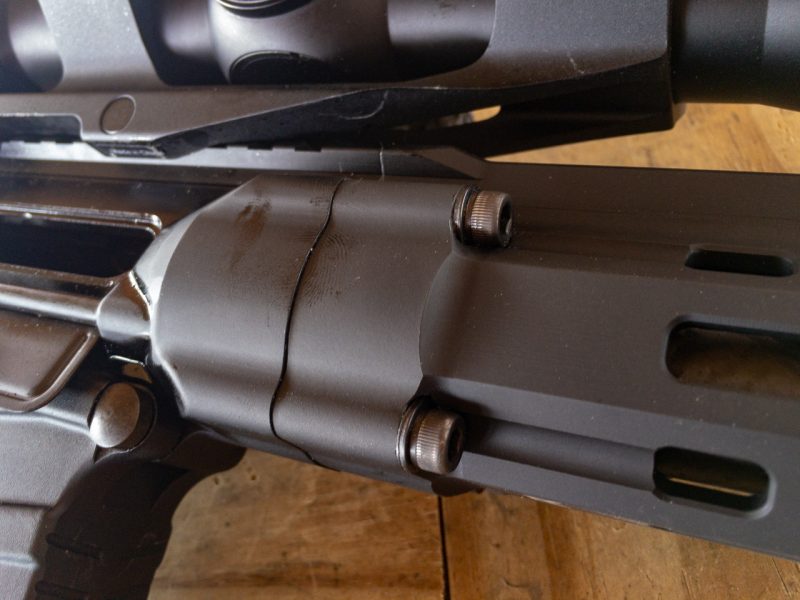 Specifications
| | |
| --- | --- |
| SKU Number | 22938 |
| MSRP | $2,875.00 |
| Action | Semi Auto |
| Barrel Color | Black |
| Barrel Finish | Type 3 Hard Anodized |
| Barrel Length | 18″ |
| Barrel Type | Other |
| Caliber | 223 REM |
| Magazine Capacity | 30 rounds |
| Hand | Right |
| Magazine | Detachable Box Magazine |
| Overall Length | 35.38″-38.6″ |
| Rate of Twist | 8 |
| Receiver Color | Black |
| Receiver Finish | Matte |
| Receiver Material | Aluminum 7075 |
| Type | MSR |
| Stock Color | Black |
| Stock Finish | Matte |
| Stock Material | Synthetic |
| Stock Type | Hogue Pistol Grip |
| Weight Lb | 5.8 |