Henry Rifles' Big Boy Color Case Hardened Carbine is a Dream Come True
Eve Flanigan 02.28.19

For the past month, I've been enjoying an unexpectedly novel find from the Henry company, based in New Jersey with another factory in Wisconsin. Henry is a well-known as a producer of many brass-receiver and commemorative edition lever action rifles, and a couple of shotguns. The eye-catching glint of gold on the profile of a classic American rifle is a lovely thing to behold. Problem is, a body's always got to be concerned with scratching or tarnishing the shiny finish.
There is a blued-finish version of many of the company's rifles, and they're a lot easier in the maintenance department, not to mention more subtly colored and thus suitable for hunting. A handful of chrome-finish all-weather models are handsome and rugged, but the silvery sheen isn't conducive to pursuing game in some conditions.
Like a dream come true is the color case hardened line of rifles, featuring color case hardened finish on the receiver and barrel. This subset of Henry rifles can blend right in with most hunting environments and, thanks to the hardening treatment, sport an extra measure of weather and abrasion protection. But like the company's shinier rifles, they are, in this writer's estimation, stunningly beautiful. It's a marriage of the best features Henry has to offer.
Color case hardening is an ancient method for imparting a tough, hardened surface on steel. Methods have evolved over the years but have never been short or easy. A series of chemical treatments followed by cold-water quenching is the most common application today. In addition to a tougher exterior, case hardening imparts a nearly iridescent rainbow of color to the metal. Its appearance changes constantly with available light and viewing angle. In appearance, it's not unlike the dark but colorful colors of peacock feathers.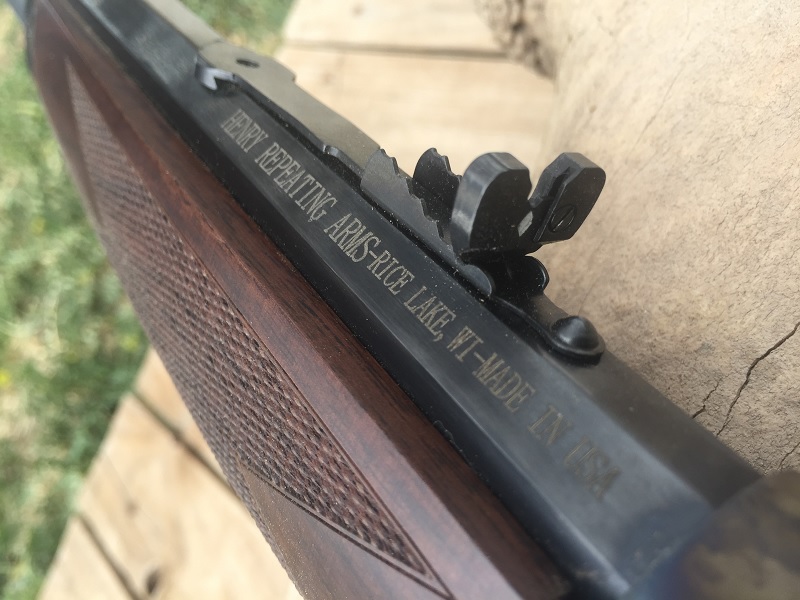 I tested the Big Boy carbine version of this rifle, chambered in .45 Long Colt. It's also available in a full length version. Chambering options include .45 LC, .38 Special/.357 Magnum, and .44 Special/.44 Magnum.
This seven-shooter loads with the top-loading magazine tube that's standard on Henry rifles. As expected, the large loop lever facilitated easy, consistent chambering and hammer-cocking. The buckhorn rear sight and brass bead turned out to be perfectly zeroed at 25 yards, an ideal range for a pistol caliber carbine. Thanks in part to the heavy hexagonal barrel and generous shoulder pad, there's very little recoil to be felt. Adding to its handsome appearance is a walnut stock with detailed, traditional checkering.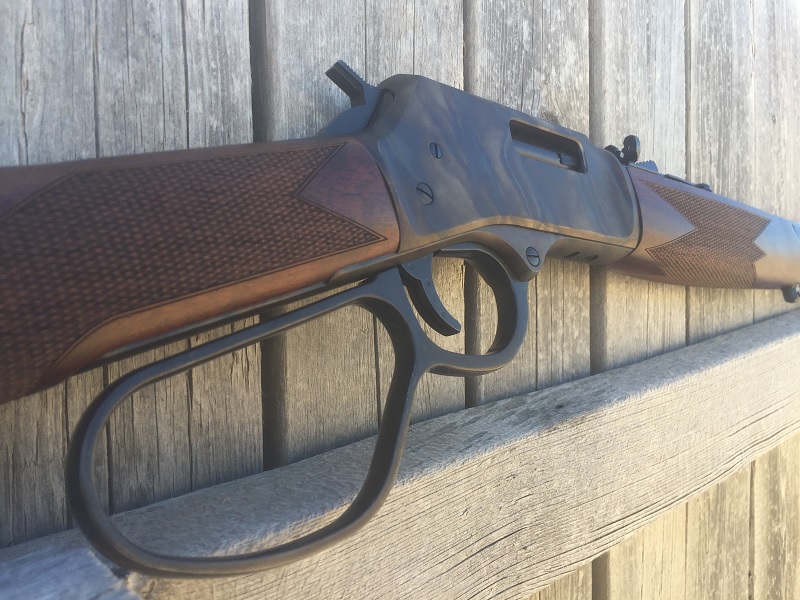 Tennessee-based Lucky Gunner has a wide selection of ammunition, and for this test the carbine sampled two loads from the store: Winchester's 250 grain, low-recoil flat nose, specialized for cowboy action events, and Hornady's 225 grain, Lever Evolution, with a polymer-tipped FTX bullet. The highly unscientific accuracy test was done in variable 12-15 mph winds from a supported prone position.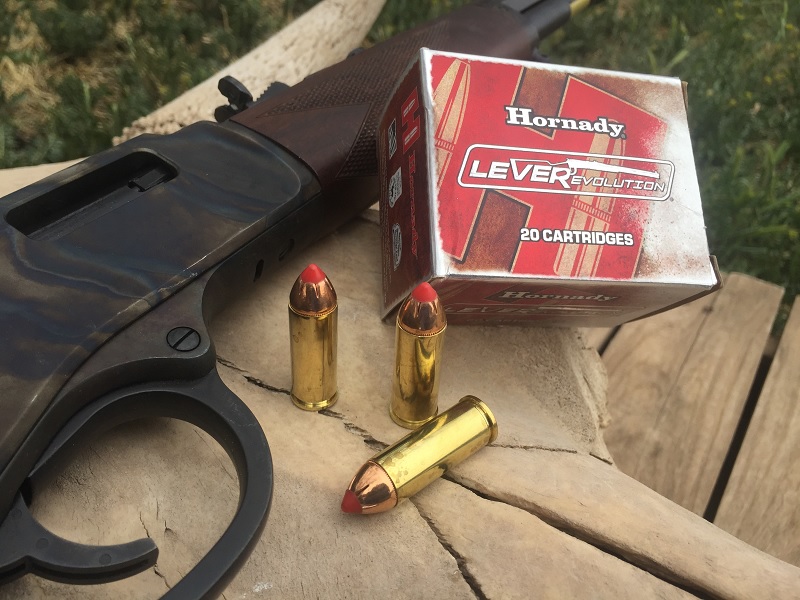 Both brands ran well, with the Hornady turning in an impressive 2.25-inch, seven-round group, which would perhaps have been even tighter had the wind not been moving the target around. Winchester wasn't far behind, with a 3.1-inch group. A little distance shooting was attempted at 175 yards on a large, 36- by 24-inch steel target. Two shots out of five made good hits using a hold a hair's breadth above top edge—about as well as my other pistol caliber carbines do!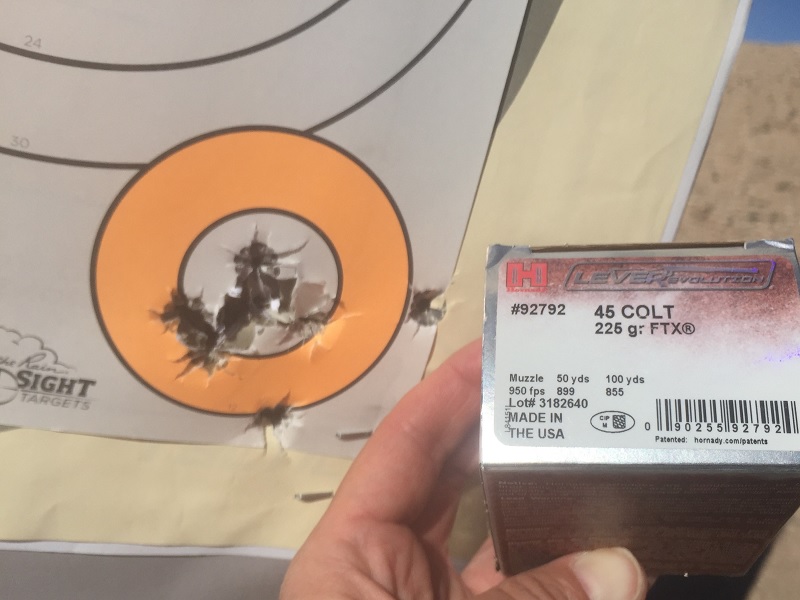 The rifle comes drilled and tapped for a scope. Sling swivel studs are included too. This rifle is very pleasing to shoot and is a plinker's dream—if buying new ammunition or reloading costly .45 LC is an option. Its recoil is tame enough to help a junior-size shooter learn the ropes. For close ranges and well-placed shots, it could even be used as a hog gun.  Over time, I plan on outfitting this one with a leather sling to complement the profile and patina of this carbine.
The Henry Big Boy color case hardened 45 LC carbine has an MSRP of $1, 045, with real prices being substantially lower. For a carbine that'll go from Sunday best to the hunt field, this might be "the one," especially If you already own a .45 LC revolver that will complement it nicely.