Summer Concealed Carry Guide: Tips for Carrying Concealed During Warmer Months
Tom McHale 04.22.19

Summer is almost here – I think. Even here in South Carolina, it's hard to tell, as the weather bounces from 40 degrees to 80 degrees and back during any given week. No matter where you live, though, one thing that's definitely on the short-term horizon is warmer outside temperatures. And with these climbing temps comes shorts, t-shirts, and plenty of outdoor activities. That's all good and fun, but the summer wardrobe and activity regimen adds some new challenges to one's concealed carry plan. In the winter, with jackets and coats, it's easy to conceal an FN FNX 45 Tactical with an optic or two. However, if your cover garment will be a t-shirt, allow this summer concealed carry guide to assist you.
Here are five of my favorite summer carry options; These guns make the list not just because they're small and easy to conceal – that's simple to do – but because they manage to combine performance and ease of shooting well into that small package:
It's not often that I get excited about a new Glock. After all, they've remained largely unchanged since station wagons roamed the earth. Raked grip, squared off grip, you know, that old chestnut. Sure, there have been major innovations along the way, like changing the grip texture or adding and removing finger grooves.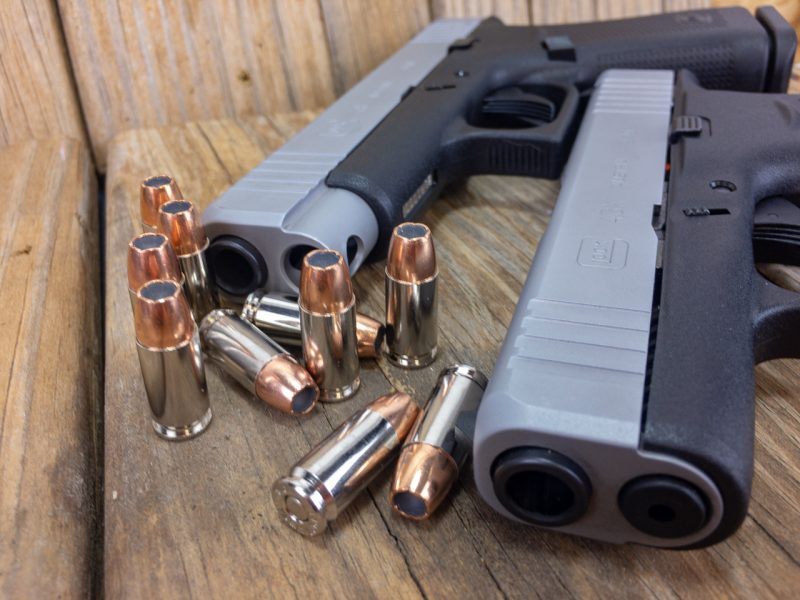 With all that said, I have to abandon my cynicism, swallow my pride, and buy one for the first time in more than a few years. I've been working with two related Glocks, the 43X and the 48 for a few weeks now. Wow. These are nice pistols that fit squarely into the summer carry category – and any other carry category for that matter.
We're listing these two new Glocks together because they share the same frame and magazines. The only difference between the two is the barrel and slide length. The Glock 43X features a 3.41-inch barrel which translates to a 6.5-inch overall pistol length. The Glock 48 has a 4.17-inch barrel and 7.28-inch overall length. Both pistols are 5.04 inches tall and 1.1 inches wide.
These two new "medium-ish" Glocks are plenty compact for summer concealment and carry, but that's not what makes them special. It's the feel and handling. While hard to describe in words when something just "feels" right, we'll try. The grip is as near perfect as I've yet encountered. The rear is rounded, not squared, as is the front. The sides are all flat "Glock" as you'd expect. As simple as this sounds, it fits ideally, and I mean perfectly, in the hand. While it feels right, the real benefit is in hand to gun grip surface area contact. When I grip the Glock 43x and 48, it feels as if every possible square millimeter of my hand is in contact with the grip surface. That makes it easy to control and goes a long way to mitigate the effects of recoil. As a result, it's easy to shoot well.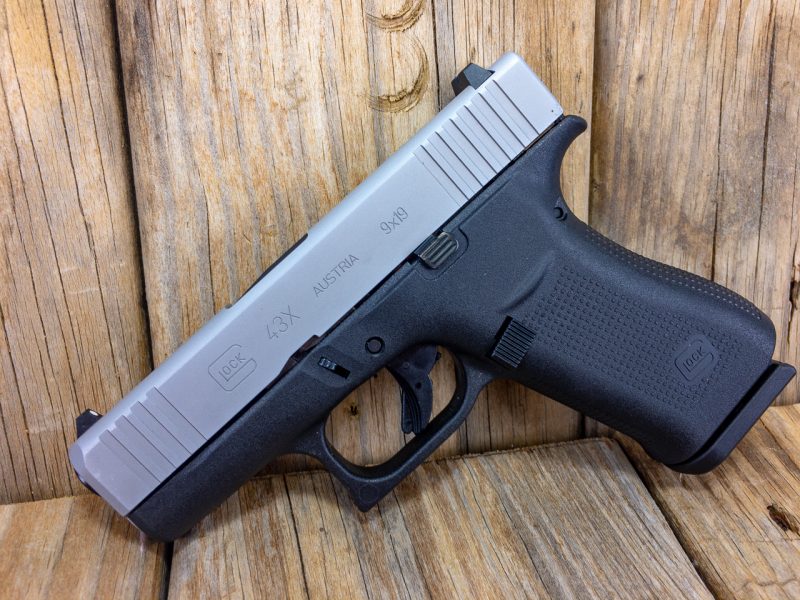 Both models feature 10-round magazines (they share identical magazines) plus an extra in the chamber, so this slim and concealable package totes 11. Both pistols share the same black polymer frame and matte silver slide. Hinting at its concealed carry raison d'être, there's no rail up front and the slide features front cocking serrations. You can order both models with standard Glock sights, Glock Night Sights, or Ameriglo BOLD sights.
MSRP: $538.00
Sig Sauer P365
What makes the P365 such a gem is the double-stack design in a small and carry-friendly package. Many subcompact pistols great for easy carry with light summer clothing are a bear to shoot. Between light weight and ultra slim frames, they're just not much fun to take to the range. The Sig Sauer P365 handles that challenge with elegance. The grip is still small and compact, but it's got enough girth to provide complete surface area contact for your hand. It's a pleasure to shoot, so you'll not only practice more, you'll have fun doing it. It's one of those carry guns that's actually a desirable "must bring" handgun at the range on its own merits.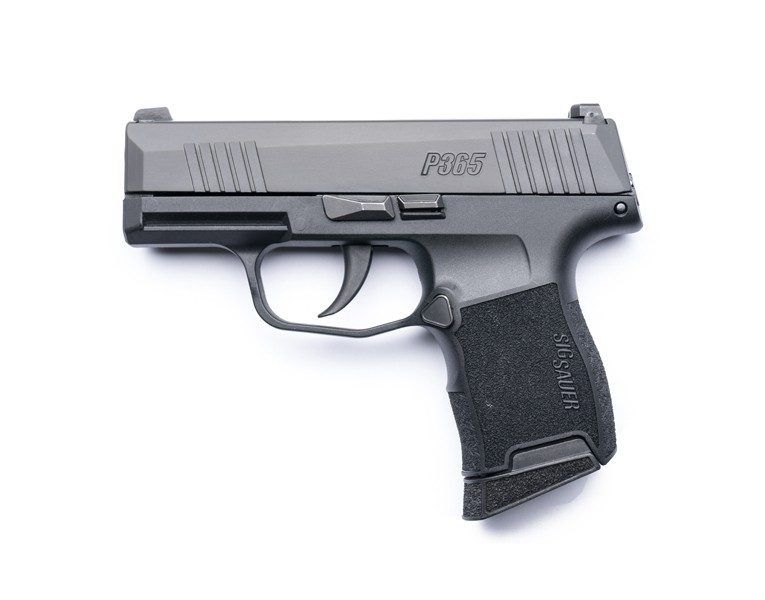 The full name of this exceptionally popular pistol is the Sig Sauer P365 High-Capacity Micro-Compact. Obviously, the design goal of this pistol was to create something one could carry 365 days per year. That's what drives the elegant blend of small size and ease of shooting – two attributes that normally don't pair well. The results of the P365 project speak for themselves. This little pistol won just about every magazine "gun of the year" award available in 2018 and 2019.
The Sig P365 includes two 10-round magazines. One is fitted with a flush flat base while the second adds a pinky extension but no additional rounds. You can order an optional 12-round extended magazine that brings total carry capacity to 13.
The standard sights are the carry-ready Sig XRAY3 Day and Night sights. Both the single front and dual rear dots contain Tritium inserts for glow in the dark operation. The front sight is surrounded by a high-visibility green ring to help with shooting in light and transitional conditions.
MSRP: $599.99
The brand-new Beretta APX Carry pistol is an interesting choice especially when you're considering a snubbie revolver for summer carry. It's about the same height and length, although it is shaped a bit differently. Like the double-action revolver, it has a longer and heavier trigger pull by design. The idea is to offer an extra layer of safety for deep concealment use – you have to intend to shoot this pistol. Unlike double-action / single-action pistols, you don't have to worry about managing both double and single-action modes. Like the revolver, every trigger press feels the same.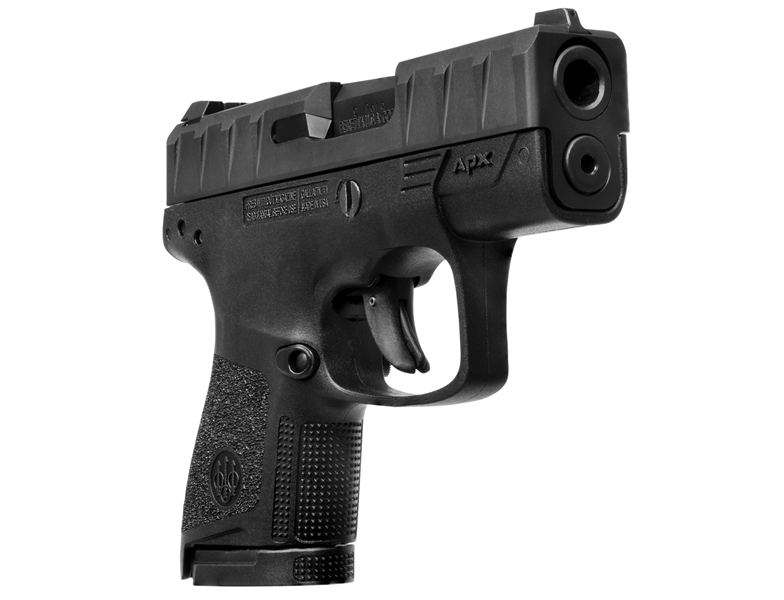 The big benefits to the APX Carry over a snubbie are capacity and ease of shooting. While snubbies get sold to new shooters all the time since they're so portable, they're hard to shoot well. You might more accurately classify them as an expert's gun. With a trigger that's a bit over half the weight of a snubnose revolver, the APX is easier to shoot consistently.
Depending on which of the two magazines you use, you also get more capacity. Rather than five shots of .38 Special. You'll get up to seven or nine shots of 9mm. That's a nice tradeoff. Oh, and reloading is a heck of a lot easier too. The included six-round magazine is outfitted with a pinky extension baseplate while the eight-round version includes a full baseplate grip extension. There's also a flush baseplate in the box you can mount to the six-round magazine for maximum concealment.
You can order this compact single-stack pistol in all black, flat dark earth, olive drab, or wolf gray.
MSRP: $450.00
Release date on the APX is spring 2019.
The Ruger LCR turned the revolver community inside out a few years ago when it showed up to the carry party wearing a… polymer frame? Sure, we're accustomed to pistols being packaged in a polymer frame, but a revolver? Heresy! As it turns out, it's a pretty good idea. As with a pistol, the parts that need to deal with high stress and pressure are manufactured from steel. The parts that are there to keep the steel parts in order and provide a place to put your hands are made from polymer. The result is a pistol that's light and easy to carry, but there are other benefits. Hold that thought.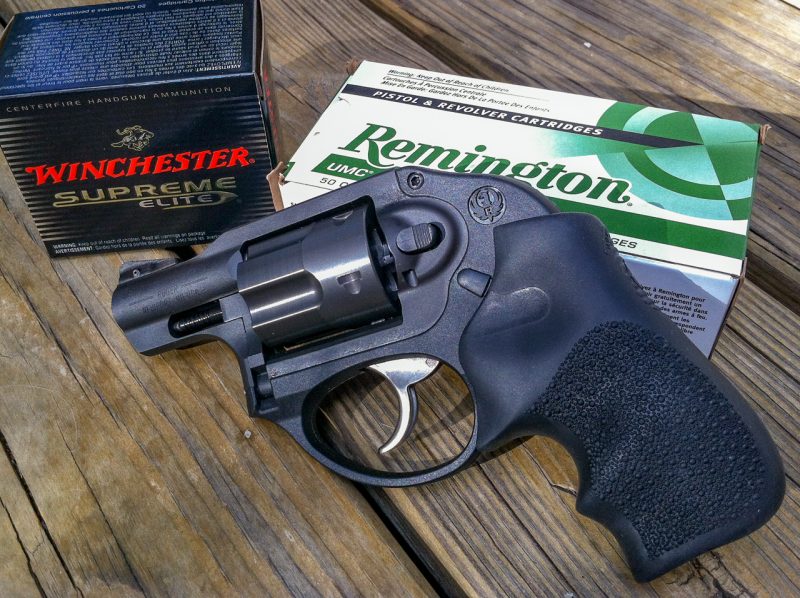 While there are two LCR "styles" available, I'm going to go with the standard LCR rather than the LCRx for summer carry. The shrouded hammer is more concealable and less likely to get snagged on the draw when you have to resort to less traditional summer carry methods. For example, if you're using a belly band under a t-shirt for exercise or other outdoor activity, an exposed hammer is more likely to get caught up on the shirt on the way out.
As for caliber, that's the beauty of the LCR family. You can choose the best option for your shooting preference. I bought one of the originals in .357 Magnum as an experiment. I figured I would probably end up carrying .38 Special loads instead of the full-power monsters. However, it's shootable enough even with those magnum defensive loads. Something about the inherent flex in the polymer frame seems to dampen what you feel on the recoil end. Sure, the energy is still there; I think it's just spread around a bit better so there's a bit less shock. Add to that the Hogue Tamer Monogrip, and the LCR is noticeably softer in the hand than most all-metal pocket revolvers.
So, recoil mitigation is one benefit of the use of polymer. The other directly relates to summer carry. Polymer parts don't rust. If you sweat on them or stuff one in a belly band for your daily ride or run, there are a lot fewer exposed metal parts to worry about.
The Ruger LCR is available in a variety of caliber offerings including .22LR, .22 Magnum (WMR), .38 Special (+P rated), .357 Magnum, and the interesting and compelling .327 Federal Magnum. Of course, if you choose the .357 Magnum as I did, you can always shoot .38 Special in it if you like. I've kind of got in itch to add a .327 to my collection. Because, why not?
MSRP: $579.00 to $669.00
I was sold on the original Springfield Armory XD-S years ago for summer carry. This little single stack is solid and features a great trigger for a subcompact pistol. The grip is short, allowing a two-finger hold without an extension, but that's part of what makes it so easy to conceal. That and the slim profile make this a legitimate pocket carry pistol. It's also great for ankle carry. If you carry a backup or spend a lot of time in the car, check out the Galco Ankle Glove and order the optional calf strap for extra support.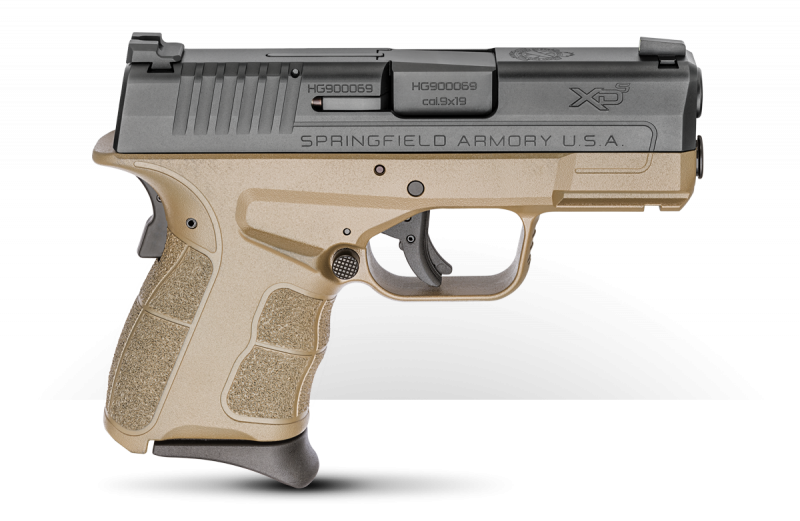 Since the time I bought my XD-S, the company has taken the pistol to a new level with the XD-S Mod.2. Re-engineered around the 9mm cartridge, the new version is even smaller and narrower than the original. It also includes a new grip texture and shape with minimal finger swells to improve the leverage of those two firing on fingers you'll fit on the standard grip without an extension.
The XD-S Mod.2 9mm is 6.3 inches long, just 4.77 inches tall, and weighs 21.5 ounces unloaded. That frame packs a 3.3-inch barrel. The XD-S Mod.2 9mm ships with two magazines: a standard seven round and an extended nine round model. Add one in the chamber for a total capacity of eight and ten respectively.
You can order the Springfield Armory XD-S Mod.2 9mm in a variety of configurations including two-tone frame and slide, desert flat dark earth with FDE or black slide, and tactical gray. You can also choose from an assortment of standard, Tritium, and fiber-optic sight options.
MSRP: $586.00