Over much of the past year, I've been collecting test bows for the 2019 Hunting Bow Shootout, which I run for ArcheryTalk. With all of the individual bow reviews out of the way – here's the latest – it's finally time for the 2019 hunting bow shootout.
The contenders this year, in the order I received them, are the Mathews Vertix, Obsession Lawless, Obsession FXL, Hoyt Helix Ultra, Prime Logic CT3, Bowtech Realm SR6, and PSE Evoke 31.
I've shot many thousands of arrows out of these bows in preparation for the 2019 Hunting Bow Shootout. I like to have a bow for months before doing a full review and I was fortunate to be able to put a lot of hours behind each of these bows.
You may notice that there are several brands not represented here. Please know that I reached out to the likes of Elite, Bear, Xpedition, Athens and others as well, but I imagine they get a lot of requests for test bows and it's just not feasible to say yes to everybody. I am hopeful some of them will join us next year for the 2020 Hunting Bow Shootout.
To keep things as even as possible, the same arrows were used across the test. I used Gold Tip Airstrike arrows, which have a small diameter and are very lightweight. They have proven to be very accurate and work extremely well at any range. My preferred release is a Stanislawski Jet Black three-finger release.
It is also worth mentioning that opinions expressed in this video are mine and mine alone. You may well like different characteristics in a bow than I do. Feel free share your thoughts and opinions in the comments section.
Draw Cycle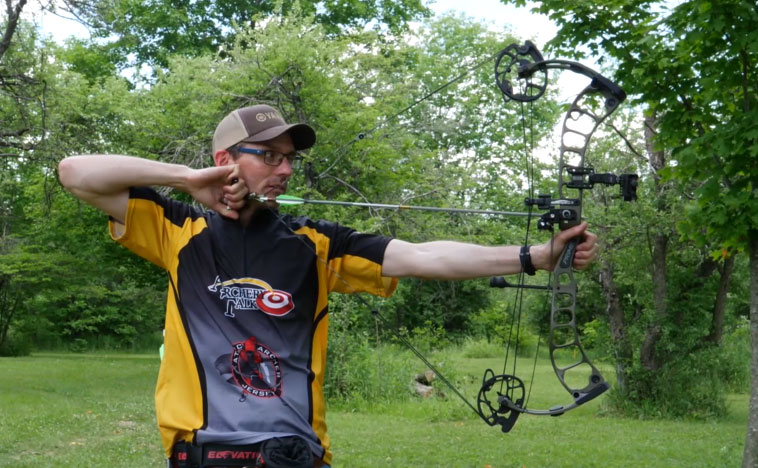 I will be breaking down the 2019 Hunting Bow Shootout by category and the first one just might be the most important – draw cycle.
This is a tough category, as I really like the draw cycle of most of these bows. I'm splitting hairs here, but I think I'll give first place votes to the Prime Logic CT3. It's a very smooth and easy draw with no noticeable dump into the valley and it really doesn't feel like a 70-pound bow at all. Plus, the back wall can be either rock solid with limb stops or a bit softer with cable stops – the bow comes with both so you get to decide for yourself.
Stability
The next category up is stability. For me, this is a two-horse race between the Mathews Vertix and Hoyt Helix Ultra. The Vertix has a short-ish valley, which means I have to stay aggressive on the shot and that has led to some outstanding long range accuracy. This just doesn't feel like a 30-inch bow when I'm at full draw.
Noise/Vibration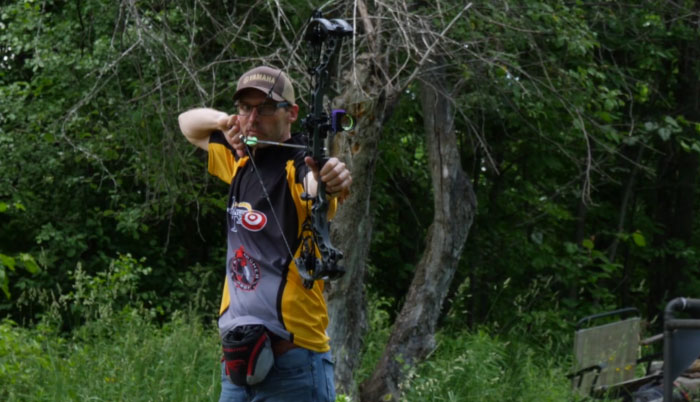 The next category in the 2019 Hunting Bow Shootout is noise and vibration – basically, what happens after the shot. I'm going to give first place votes here to the Mathews Vertix. Like the Triax before it, the Vertix is wonderfully quiet and is as dead in the hand as any bow I've shot.
Grip
Grip is the next category and this has always been a huge factor for me. But honestly, I have no real complaints about any of the grips in this group. Not long ago, the Mathews and Bowtech grips used to give me fits, but they now have grips I find repeatable and comfortable.
Tunability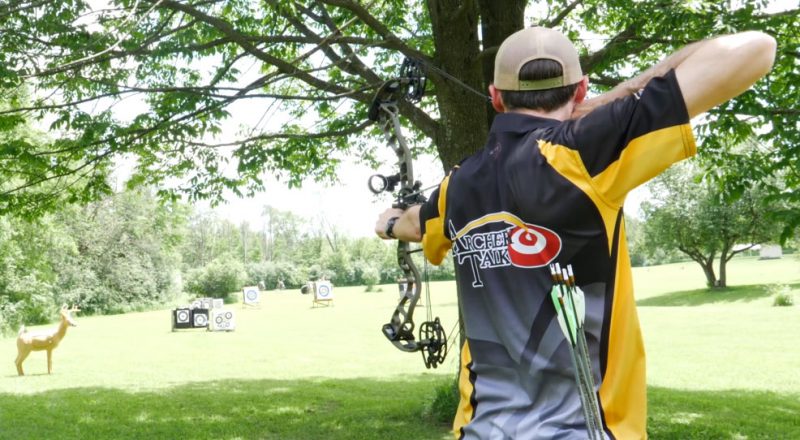 Up next is tunability and since I do all my own work on these bows, having one that tunes easily is a pretty big factor for me.
The good news is I had, for the most part, very little trouble setting up this year's bows. I'd say the Bowtech Realm SR6 and the two Obsessions were the easiest ones I set up this year.
Speed
The easiest category for me to dig into in the 2019 Hunting Bow Shootout is speed. I just let the chronograph do all the work for me. This year I shot all seven bows with both a 350-grain Gold Tip Platinum Pierce arrow and a 475-grain Gold Tip AirStrike arrow. All bows were set up at 70 pounds of draw weight and draw length set between about 29 1/2 and 30 inches.
This year the Bowtech Realm SR6 earns top marks speeds of 339 feet per second with the light arrow and 295 feet per second with the heavier arrow.
Fit and Finish
Our next category is fit and finish and since most of these are considered flagship bows, I expected excellent fit and finish and I wasn't disappointed.
If I had to choose my favorite in this category it would be the Prime Logic CT3. Prime's fit and finish is as good as anyone in the industry and the new Morel color on the riser and limbs of the CT3 is pretty stunning in person and the bow really had no visible flaws, including a string and cables that are holding up great.
Price and Value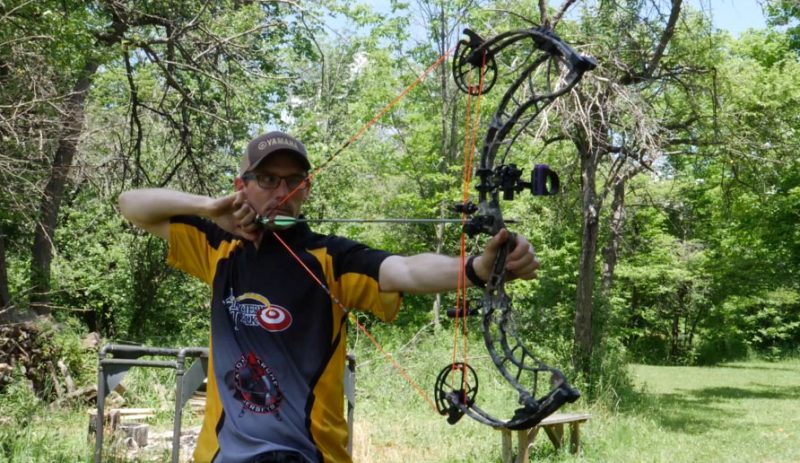 Our final category is Price and Value and this is a fairly close one to call, as all of the bows can be found between $1,000 and $1,100. But I think both of the Obsessions, the Prime and the Bowtech offer some added value worth discussing.
Obsession gets bonus points for the all the ways you can dress your bow up, which includes 31 different riser colors, 18 limb colors, nine string colors and three cam colors. If my math is correct, that is more than 15,000 different combinations you can choose from. Pretty incredible.
Final Verdict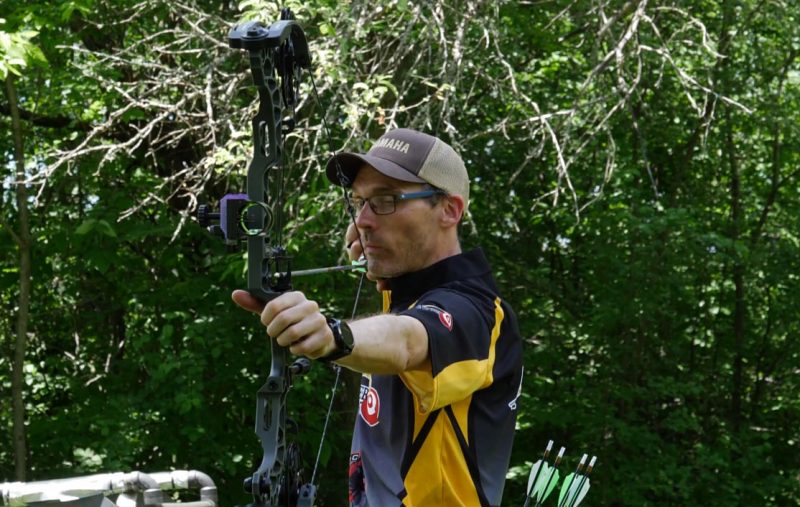 Now it's time to pick the winner of our 2019 Hunting Bow Shootout and this is always tough. Realistically, everybody is making solid bows these days and I'd happily take any of these into the woods with me this fall.
But, if I'm spending my own money on a hunting bow this year, I'm going to go with the Mathews Vertix. Mathews finally has a grip that I like and the result is a bow I am completely comfortable with at any distance I've shot it. It holds rock steady at full draw with or without a stabilizer and after the shot it is as quiet as any hunting bow I've ever used.
But this was no one-horse race. The Hoyt Helix Ultra and PSE Evoke 31 really impressed me and only miss out on the top spot by the slightest of margins and the others don't fall too far behind these.
The bottom line is that with so many great bows available, this is a fantastic time to be a bow hunter.