Thyrm Products Make It Easier To Venture Off-Grid
Eve Flanigan 10.07.19

Thyrm—pronounced like Pythagorean Theorem—produces military-grade, packable storage items that solve the problem of protecting non-waterproof gear from the elements while also keeping said gear close at hand and usable in austere environments. The company is family-owned, based in California, and conducts the maximum possible production within the United States.
The growing company now vends three major "Vault" products that are sure to appeal to outdoors-type people, whether they be hunters, long-range shooters, hikers, fisherman, winter survivalists, or range rats. Items in the Vault line are formed of heat-resistant reinforced polymer. Once familiar with this gear, it's easy to imagine that any of these products could be a lifesaver.
A diminutive start to the product lineup is the PyroVault. The inside of this tiny case is formed to the specs of a pre-2019 Zippo lighter, including fluid style and older butane torch models. An O-ring seal inside the hinged, flip-top lid keeps out dust and precipitation, though extended submersion is not recommended. This little case can be kept handy with its low-profile MOLLE/PALS clip. The lid is spring-loaded for one-hand operation. Stylistically, the PyroVault reminds this writer of a Magpul PMag with the clip-on top, in Zippo side.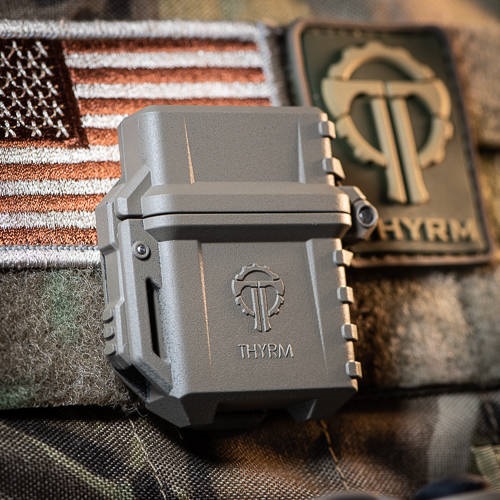 Available colors are black, flat dark earth, olive drab, rescue orange, and urban grey. Que tactical! But what's really tactical is being able to start a fire with a nice, dry lighter on a cold day. These tough lighter cases are $29.99 alone, or $44.98 when paired with a Thryrm-logo Zippo.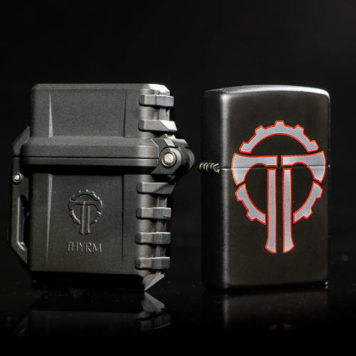 Got more little items that must stay dry and intact? Check out the Thyrm's regular or XL CellVault.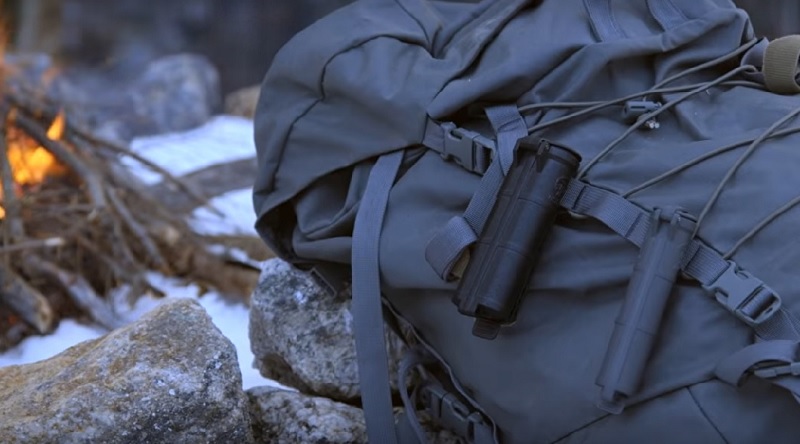 As the name would imply, they were originally designed for storing batteries afield. The bottom of these storage vials is flexible, along the user to squeeze and eject any battery that might be stuck in the bottom. As with the PyroVault, a well-designed attachment system keeps the CellVault upright and accessbile with only one hand when chest-borne. The food-safe polymer of the CellVault means it can be used for more than just batteries. Thyrm provides these examples of items that fit in in the regular CellVault:
Three CR123 batteries
• Four AAA batteries
• Two AA batteries
• Small survival gear such as matches, hooks and line, a light stick, iodine tablets, a compass, and lip balm
• First aid gear including hemostatic clotting agents, tweezers, and bandages
• Consumables* such as medication, instant coffee packets, electrolyte powder, candy
• Emergency money and a Flash Drive
• Cigar/Cigarettes/chewing tobacco
The regular CellVault weighs 1.6 ounces, is 5.1 inches long, 1.1 inches deep, and 1.3 inches wide. Price: $19.99 each.
The XL CellVault can store larger items. It weighs in at 1.8 ounces, is 5.1 inches long, 1.9 inches deep, and 1.8 inches wide. Price:  $29.99
Both CellVaults are available in the same earth tone or tactical colors as the PyroVault, but clear is also offered.
In recent weeks, Thyrm launched its latest storage product into the civilian sphere. Their new DarkVault (DV) and DarkVault-Comms (DVC—see what they did there) Critical Gear Cases. These were designed to protect sensitive electronics that are used in real-world conditions. The hiker who carries camera gear, the long-range shooter who carries an atmospheric reader paired with a ballistic app on a phone, and the hunter whose GPS unit will guide him or her back to camp can all understand the importance of protecting communication and navigation tools.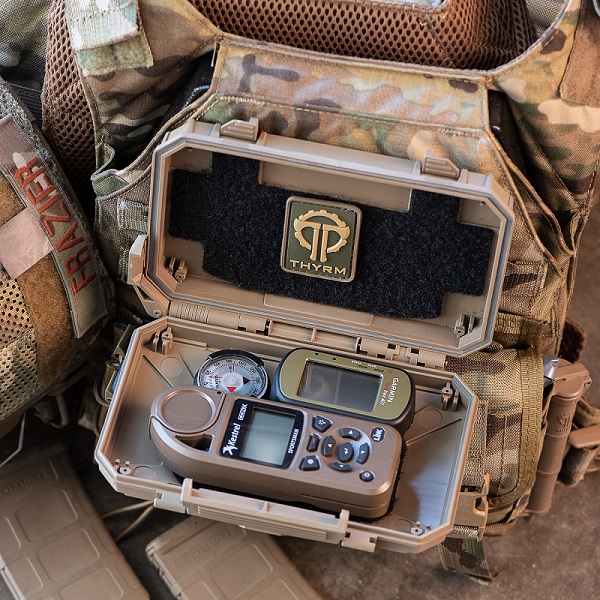 Both items in the DarkVault line feature rubber gaskets around the closure, adjustable hinge tension to make it possible to use the opened box while worn on the chest, and water resistance if not 15-minute submersion protection.
The DarkVault-Comms has GPS and Cellular signal blocking polymer construction. 90+ dB (decibels) of signal reduction between 300 and 1500 MHz to block standard cell tower signals, GPS signals and more.
Both DarkVaults measure 7.2 x 5.4 x 1.5 inches on the outside. Inside capacity is 6.7 x 3.5 x 1.15 inches. Prices are $59.99 for the DV and $89.99 for the DVC model.
Thyrm's portable storage solutions are a needed answer to the problem of storing delicate gear. Anyone even remotely interested in outdoor survival should check them out.