The SIG Sauer MPX will be the perfect gift for anybody you know who is looking for a highly effective close quarters self-defense weapon. Originally released in 2015 as a submachine gun with both fully automatic and semi-automatic firing capabilities, the MPX C is a semi-automatic only version that is legal to own by American civilians, and also has a longer barrel for a longer sight radius and better bullet velocity.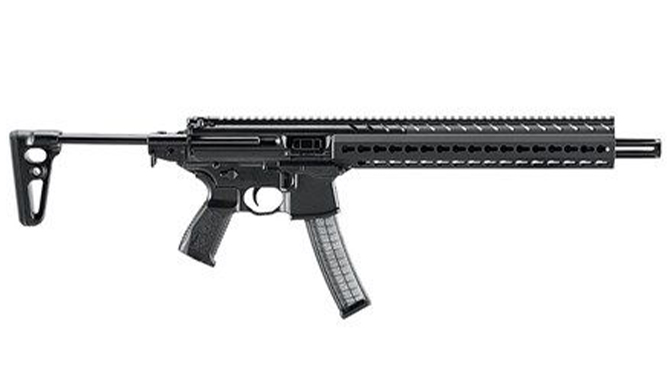 While definitely not identical to the AR-15 platform, the MPX C does share a number of similarities, including a charging handle that is located at the rear of the weapon's receiver. This means that if you already own and practice with an AR-15, then transitioning over to the MPX C should be a breeze for you.
The overall weight of the MPX is just four and a half pounds, which makes it far lighter than most rifle-caliber AR-15's on the market as well.
The MPX C comes with a number of impressive features that make it worth owning and justify the higher price you pay for it, including a short stroke gas piston system that is designed to greatly improve the overall accuracy of the weapon, an ambidextrous bolt catch to accommodate both right handed and left handed shooters, a free floating barrel, and a Picatinny rail with M-LOK mounts located around the barrel to make it easy to attach slings, optics, and so on.
The MPX C is a pistol caliber carbine designed for one primary purpose: close quarters self-defense. The carbine is best utilized when it is treated like a rifle, meaning that the stock should be extended and the weapon fired from the shoulder rather than from the hip like you may see in the movies.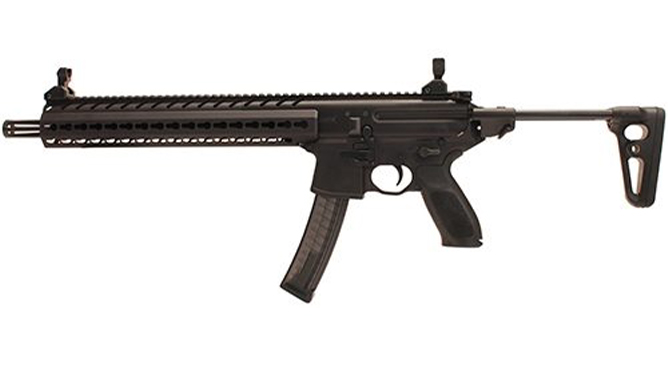 SIG Sauer also offers a reflex sight that you can mount to the top of the weapon, which should be more effective to use for tactical or defensive uses rather than just the standard flip up sights.