Why the Yamaha Grizzly is One of the Best ATVs for Hunting
Derrek Sigler 12.27.19

Hunters love ATVs. They help us get back into places that are more remote. ATVs haul a larger amount of gear than we can carry on our backs. ATVs help us scout before the season, plant food plots to prep our land and haul out our game after a successful hunt. There are many great ATVs for hunting, and the Yamaha Grizzly is one of the best ATVs for hunting. While there are several ATVs on the market with hunting packages, but when comparing the base machine, the Yamaha has a lot to offer.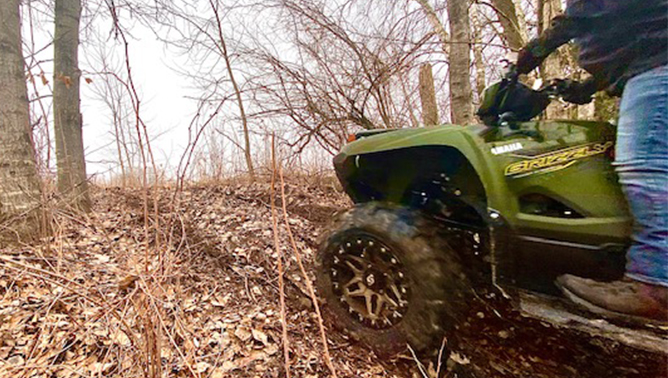 How much horsepower does the Yamaha Grizzly make?
When it comes to big-bore ATVs, there is a lot of bragging being done with regards to horsepower numbers. While I love the Can-Am Outlander and Polaris Sportsman for the gobs of horsepower they put out, Yamaha's power is just as impressive, if not more. Let me explain why this is and how it makes the Grizzly one of the best ATVs for hunting.
Yamaha powers the Griz with a 686cc single-cylinder SOHC, liquid-cooled motor. If you haven't heard by now about how much of a torque monster this motor is, you must be completely new to ATVs. This motor makes the Grizzly extremely fun to ride. You have more than enough power to do ANYTHING an ATV with a bigger motor can do. Food plots and other hunting chores are easy. A jab at the thumb throttle and you can pop the front end over downed trees and other trail obstacles. The Grizzly is a machine made for serious adventure and with that, the motor is tuned to be a little more snappy. If you want the same motor in a more subtle platform, the Kodiak 700 is the machine for you. While other manufacturers produce multiple machines and engines to cover everyone's needs, Yamaha manages to do the same thing with two big-bore ATVs using the same basic motor. If that isn't impressive, you aren't paying attention.
Why You Want a Yamaha Grizzly
As a hunter who likes to find those extremely out-of-the-way places to duck hunt, I love the Grizzly for many reasons, but there is one that keeps it in my mind – reliability. I'm not saying other machines are unreliable. Far from it. However, Yamahas have proven themselves to be extremely reliable to me. I'm not just talking about the motor, either. Every part of the Yamaha is built to last.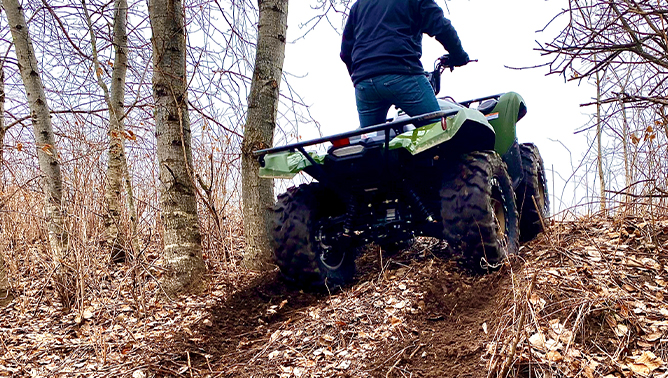 The CVT transmission, which is the best in the industry, has a belt with a 10-year warranty. My local Yamaha dealer has said time and time again, that the only times he's had to replace a Yamaha belt is because the owner really wanted it changed for whatever reason. That, or the person was using the machine in an unreasonable way. That dealer also added that it is so rare that a Yamaha comes in for service that he was happy he sold more products to make up the difference. This extreme reliability gives me extreme confidence when I'm doing something. I've never been forced to walk back due to a mechanical issue. Beat that!
Features You Need
The Griz is packed with things you really need for hunting. It has Yamaha's stellar 4-wheel drive system and locking differential that is, again, one of the best out there. It also comes with a 2-inch receiver for towing. There is no better power steering out there either, which is vital to a hunting machine to avoid bump steer and deflection from trail obstacles.
The chassis is built for adventure, too. It is responsive and sturdy, which inspires confidence in the rider. The ergonomics are great too. It is a comfortable machine to ride with great rider positioning and a comfortable seat. Transitioning from standing to sitting is easy and feels natural. When I'm riding, I tend to stand as much or more than I sit, so I truly appreciate Yamaha's design.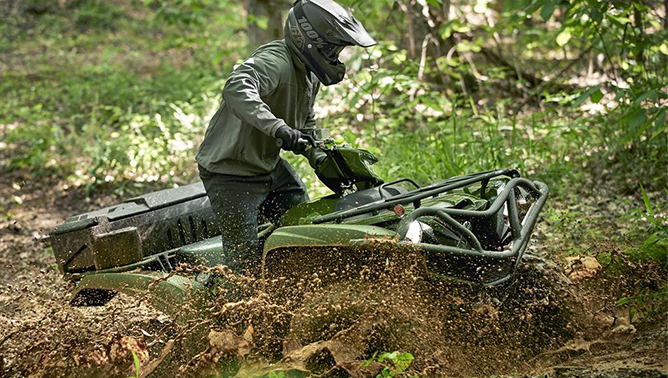 What Should I Add for Hunting?
Since we're starting out with a stock machine, there are a couple of must-have accessories you should add. Every hunting ATV needs a winch, and you might as well buy a Warn. When you get a winch on your ATV, you'll wonder how you got along without one. A Warn Axon 35, 3,500lb winch with synthetic rope is about perfect.
One of the accessories you may not think of right away, that once you have, you'll use all the time is an OxCart. The OxCart trailer is a tow-behind cargo wagon that holds well in excess of 750 pounds of gear, or what have you. The trailer has a lift-assist dump and a swivel feature. It is great for hauling your gear into a remote hunting spot. It is extremely valuable in hauling fertilizer, seeds, lime and more into a food plot. We have been testing one for over a year and find that it is used at least once a week – year round. You can get a big-wheel kit for it to add ground clearance, as well as a wheelbarrow kit that lets you use it without a machine. The frame is powder coated and extremely well made. You can also get a Realtree camo edition. This is a must-have for any ATV.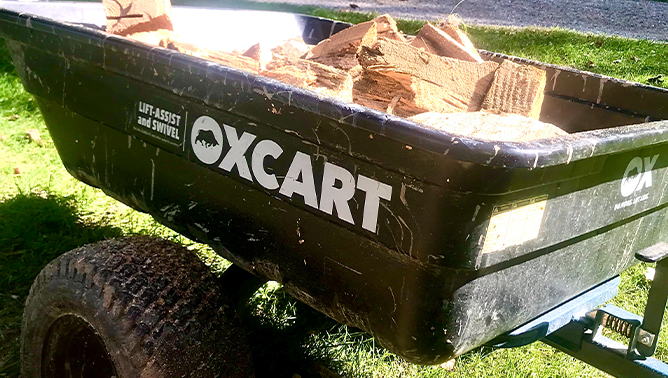 There are more accessories you can add. Gun boots are popular, as are cargo boxes. If you want a more aggressive tire, Yamaha makes an XT-R version with 27-inch mud tires. You can also add your own. We like the Sedona Buck Snort mounted on Sedona's Deep Six wheel. This is one of the nice things about selecting your own accessory packages – you can get what you want.
You Know You Want It
When it comes to the 2020 big-bore utility/recreation ATVs, Yamaha makes a great case for you buying a Grizzly. It is a great combination of power, usability, reliability and near-perfect handling in a full-sized ATV package. Add these qualities up, and you have one of the best ATVs for hunting, and one you'd be happy to load into the back of your Chevy Truck.