The new Mepro RDS Pro V2 from Meprolight, based in Israel, is an updated version of their RDS Pro – which I've not had the chance to use. In my latest optics review, I put the V2 version through its paces, and found the experience pleasing overall.
The optic arrives in a cushioned box with a proper owner's manual and a well-padded neoprene cover that's made to stay in place, and a bellows brush. My first impression was that this is a big sight—shaped very much like a miniature tugboat.
A single AA battery (not included, at least in this case) powers the sight. The battery is in a compartment that's accessible when the Pro V2 is mounted on a rail. Mepro claims their LED display and auto shutoff features, combined, save battery life in a big way. Approximately 3,000 hours of service is expected from one battery. There is a blink pattern to indicate the battery has about 50 hours of life left; and a faster blink to indicate five or less hours of battery life.
Twisting the mode selector to the zero mark makes it easy enough to turn off the red dot manually. If the operator forgets, there's an auto-shutoff function which the manual says happens at "20 or 120 minutes depending on your model," but doesn't specify the model. The test unit shut itself off at 120 minutes, while earning the distinction of being my first gear review to include an oven timer. The motion-activated resume function worked immediately with a very light touch to the rifle. With attention to battery replacement about every six months minimum, if riding in a vehicle where motion could activate the sight more often than not, these features make it easy to keep a carbine ready for action.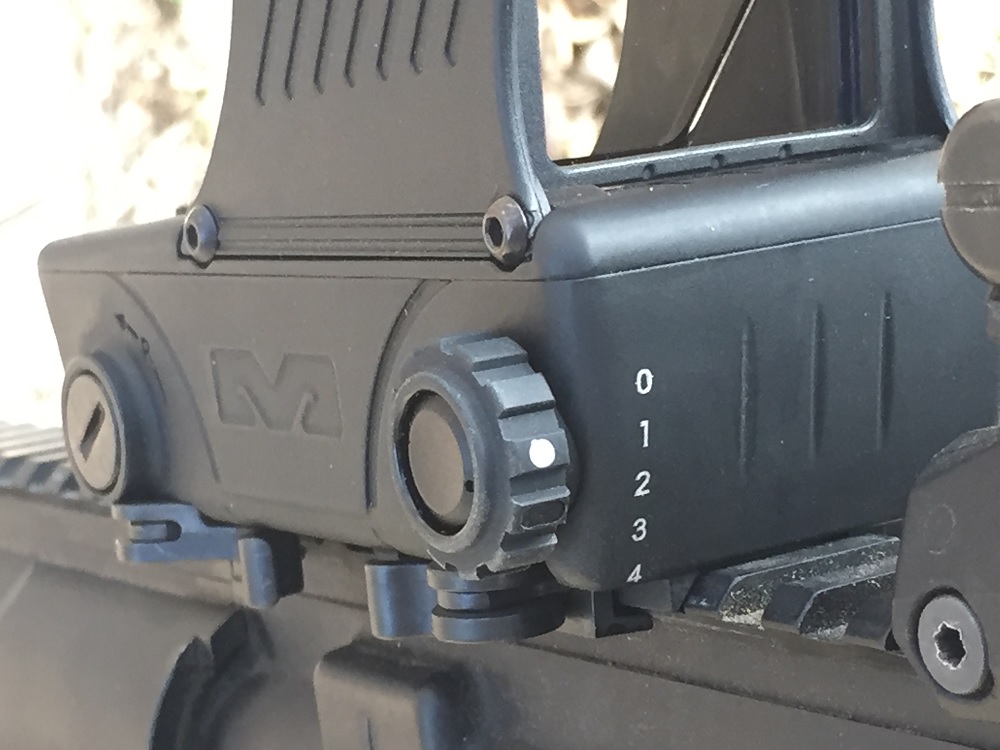 The quick-detach mount is scaled for a standard 1913 Picatinny rail. Mounting required a socket wrench to loosen the right-side nuts and rock the device onto the rail, and then re-tightening them to the point where the quick-release levers would lock down. It's a unique system in that the mounting screws have a quite narrow range of being tight but not so tight that the levers won't close—thus, the two are of equal weight in tightness without the need for a torque wrench. The levers are the one part of the system that appear to be under-built. They're thin and curved, and while they tuck away well out of the danger zone of getting caught on chest rig gear, they don't appear to be sturdy for rough duty. Only time will tell.
This is my only disappointment with the RDS Pro V2:  I wish there were a choice of mount heights, but the unit and mount are joined as one. To get a clear, non-blurry look at the reticle, I have to assume more of a jaw-weld position than a cheek weld. On a low-recoil rifle like the Savage MSR 15 Recon in .223 Wylde, that doesn't matter much, though.
Three choices of reticle type are available with the V2, which is to say one type comes with one unit. Buyers have a choice of a plain red dot, a bullseye, or a .300 Blackout-specialized dot. This unit has the bullseye, with a 2 MOA dot encircled by a thin 55 MOA circle. A 1.5-MOA dot is optional with the bullseye reticle, but I haven't seen that option offered at any online vendors. There's even a color choice for the reticle:  green or red. The one used in this test is red.
In combination with the nearly-monstrous window through which the target is acquired, I really like the bullseye reticle. Acquiring and focusing on the target seemed more efficient than with most other red dots I've used—a big plus no matter what.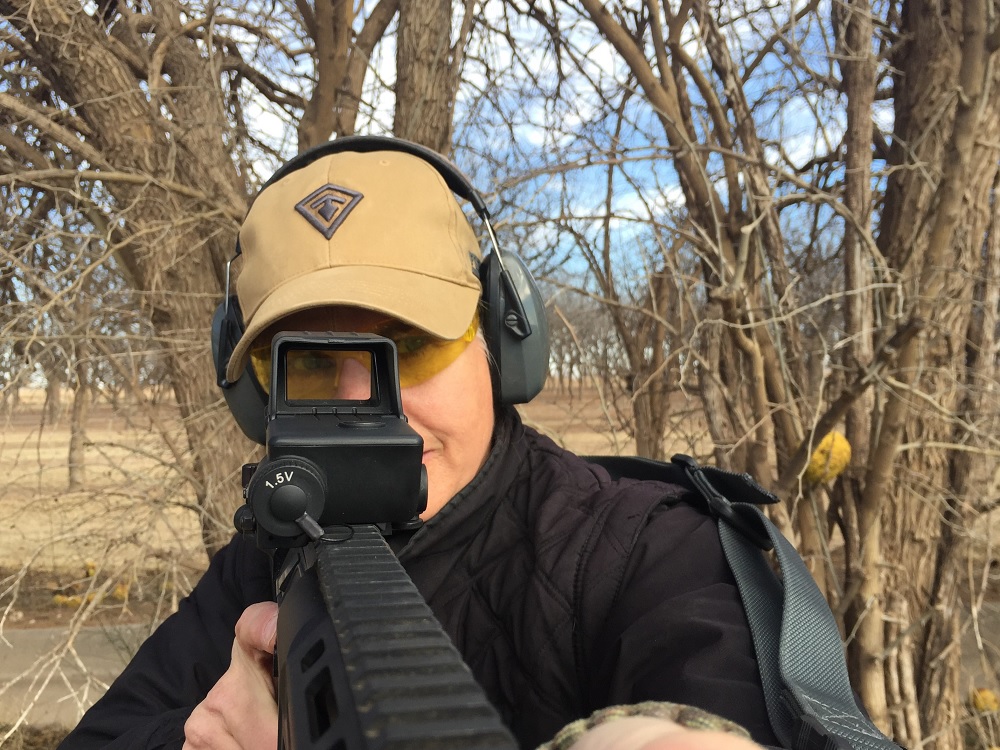 Windage and elevation were easy to adjust with the ½ MOA per click turrets. Thanks to an error in identifying a bullet hole at the outset of testing, the elevation knob was put through its paces from the top to the bottom ends of its adjustment range before I realized the problem. Not to worry, as once it was set at the final zero, located somewhere near the middle of the extremes of the turret's range, it stayed there.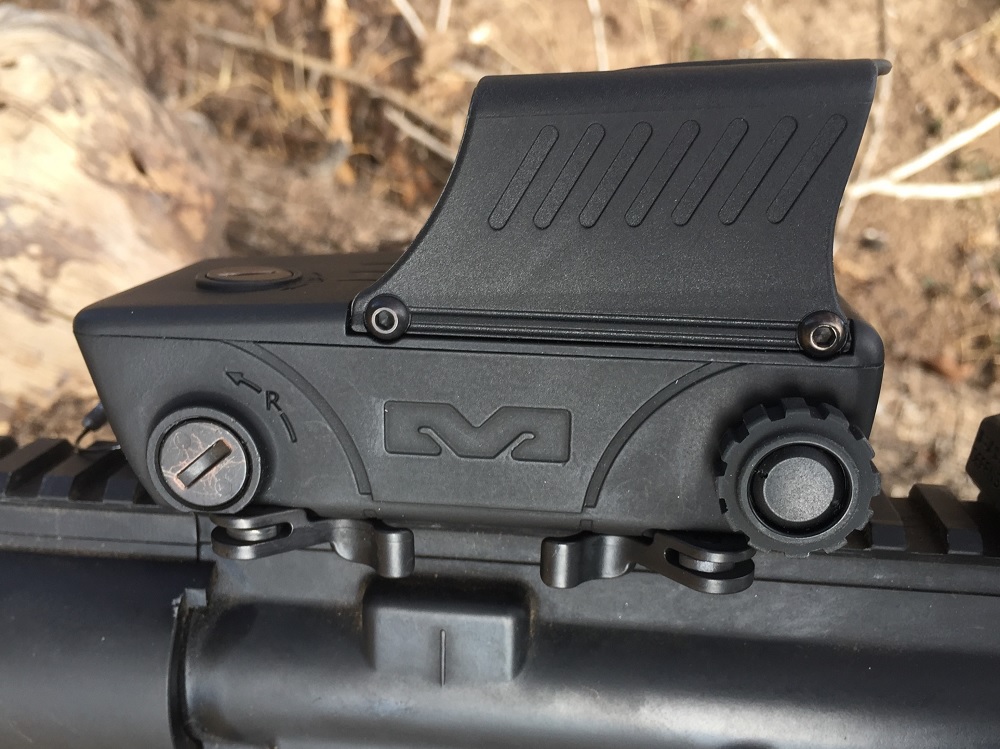 Cadenced shots on an IDPA-style torso at 100 yards seemed easier than normal thanks to the bullseye reticle. At 15-25 yards, the outer ring created a good point of reference for hold-overs. One good thing about the relatively low mount is a resultant minimal holdover for precision shots at close distances—about 2.5 inches at 20 yards.
Precision adjustment of reticle brightness is possible with the Pro V2. There are three settings for normal shooting, and within those three levels of brightness, there are four refined sub-settings. On a sunny winter day, I was comfortable on the middle two of the brightest setting. There is a fourth setting for use with night vision equipment, also with sub-settings. The brightness adjustment dial is on the right side. Turning it cycles between "off" and the four main brightness levels. Pressing the button in the middle of the dial makes the reticle cycle through its four degrees of brightness within a main level. Mepro made this convenient; it's entirely possible to cycle through all the settings while maintaining a view through the lens.
The Pro V2 is compatible with magnifiers; I am confident it would work well in that combo based on the wide-open eye box. And if it's not already obvious, it's no problem to co-witness with iron sights through that window.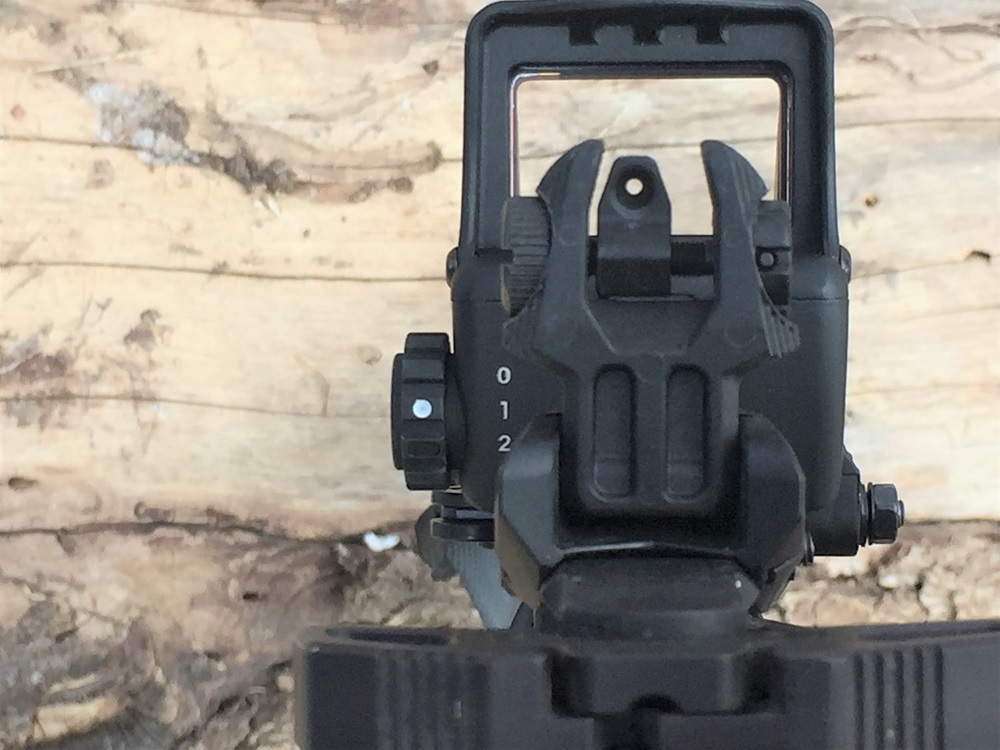 Water resistance is built into the design; a light rinse with water is the recommended cleaning procedure for a heavily soiled V2. I didn't have the chance to use the sight in the rain, but the glass appears to be well-shielded from all but driving precipitation, which would hamper the view out through any optic. In addition to its water-resistant qualities, Meprolight built this sight to MIL-STD 810, which is to say it's met muster for repeated drops onto hard surfaces, temperature extremes and sudden fluctuations in temperature, vibration resistance, and more. Take the batteries out as directed for long-term storage, and this sight should last more than a lifetime.
This is a very lightweight sight, especially considering the size of the aluminum housing. Here, I've converted Meprolight's specs into imperial measurements as that's what this American brain relates to:
Magnification:  1x (magnifier-compatible)
Display Window:  1.3 x 0.79 inches
Eye Relief:  Unlimited
Power Supply:  1-AA Battery (alkaline or lithium)
Energy-Saving System:  Auto shutoff/Auto power-resume
Reticle Patterns:  Dot/Bullseye/300 Blackout
Reticle Colors:  Red or Green
Brightness Levels:  16 (3 visible with 3 sub-levels plus NV with 3 sub-levels)
Dimensions:  Length-4.6 inches, Width-2.4 inches, Height-2.7 inches
Weight with mount, sans battery:  10.58 ounces
Mount:  Integral Picatinny (MIL-STD 1913)
Environmental:  MIL-STD 810
The price of the Meprolight Mepro RDS Pro V2 is fairly consistent at $549 with free shipping from the online vendors I could find. Direct order is not available.