Black Point Tactical's Sig Exclusive Holster Review
Eve Flanigan 03.23.20

Black Point Tactical has teamed up with Sig Sauer to produce a line of IWB holsters made exclusively for Sig pistols. As a daily carrier of a P365, it was a treat to test this highly specialized holster.
Holster features
Although Black Point doesn't say, the Sig Exclusive IWB is made with what appears to be Boltaron instead of Kydex. Boltaron is thinner yet stronger and less temperature-sensitive than Kydex. The holster attaches to a belt or sturdy waistband with a metal clip, which can be ordered for 1.5- or 1.75-inch belts. It also ships with an attached but removable/movable strut, similar to what some other holster makers call a "claw." Mechanically speaking, "strut" is more accurate.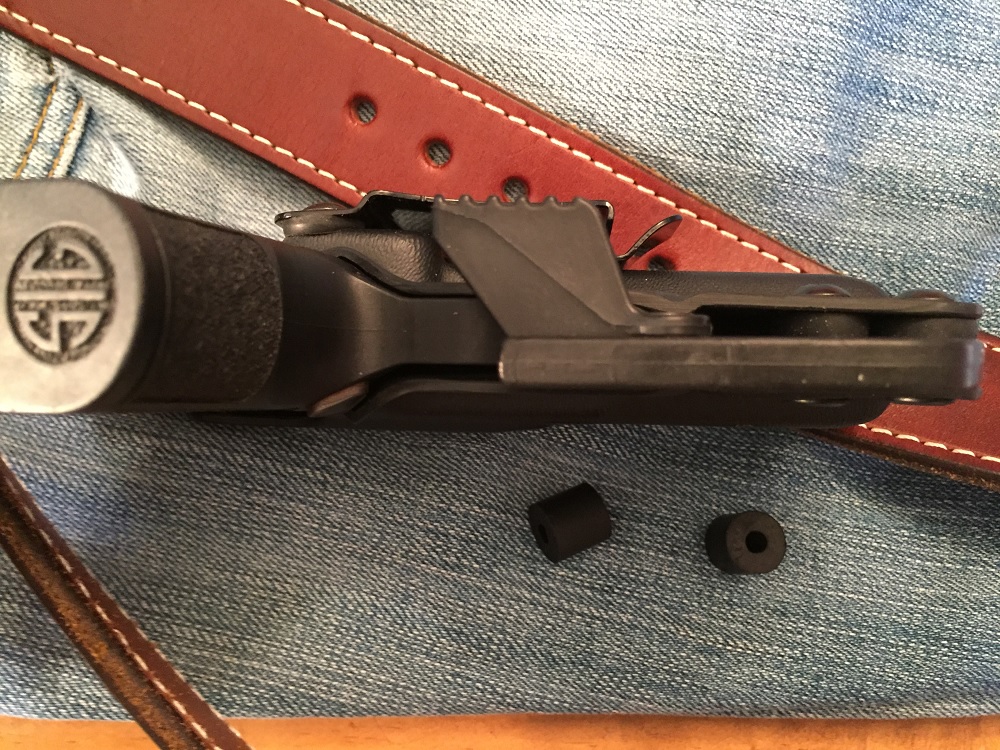 The holster is highly customizable for fit. It arrived, and I wear it, in a vertical carry position. But there is room to add some cant if desired. The strut can be removed for wearing the holster on the hip or lumbar areas.
Each holster is model-specific, and not mass-produced. There is a long lead time, about seven weeks, between order and delivery.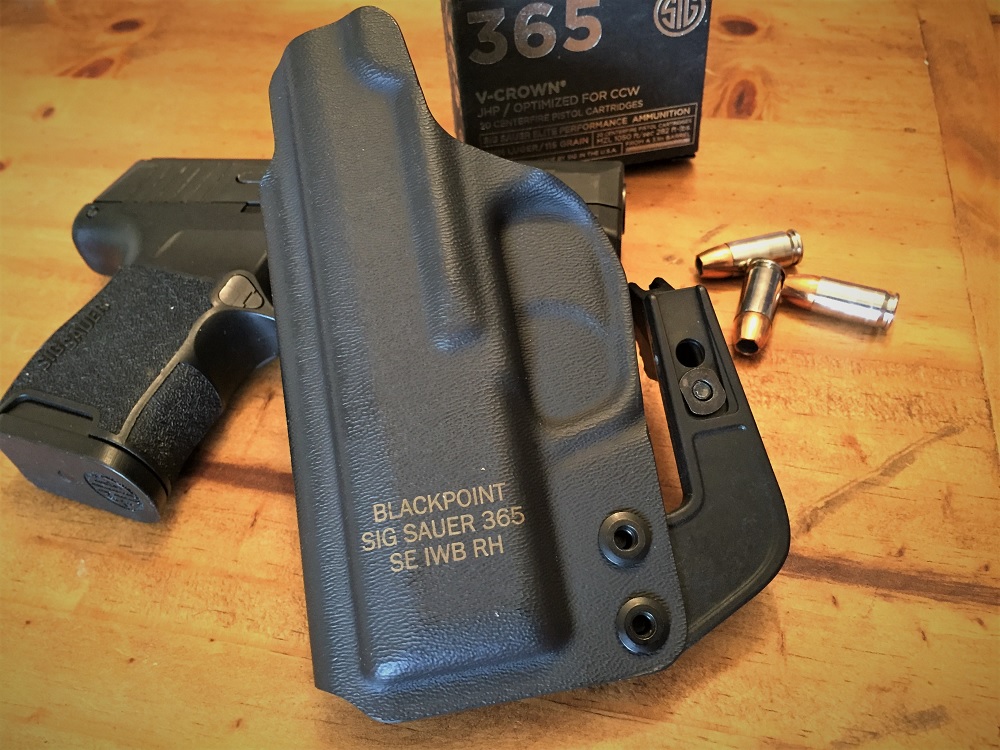 As a Sig exclusive product, the holster is built with a tall sight channel and open cut profile to accommodate a Romeo or other red dot optic.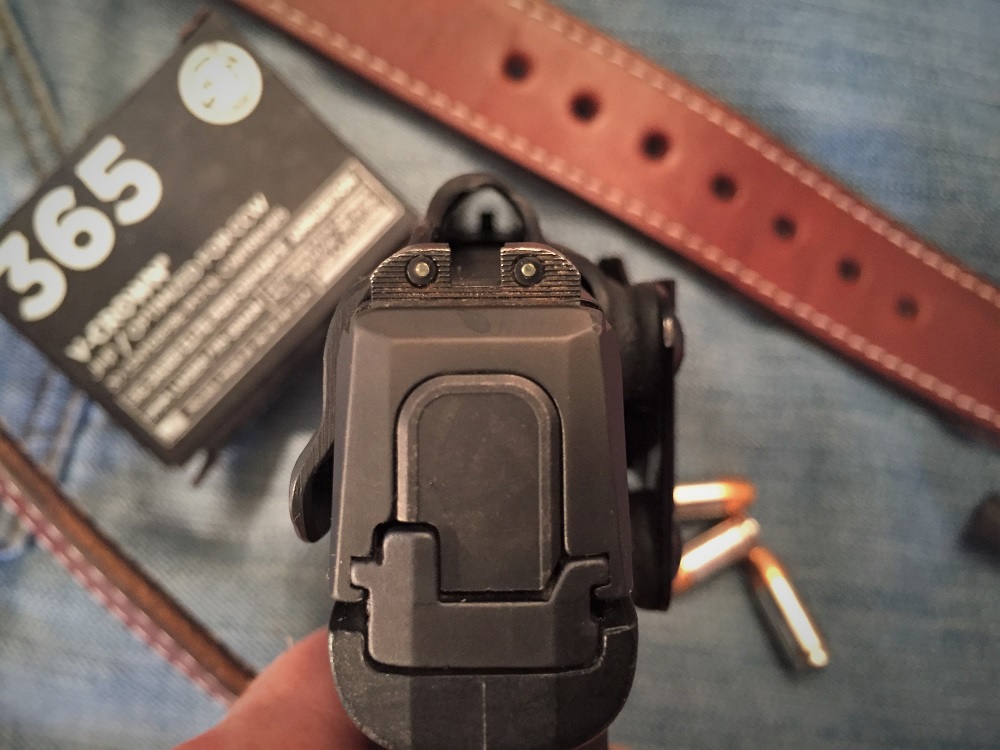 Putting it to the test
This article is based on a short but intensive three-day test in which I hiked, did farm chores, drove two hours, ran an errand in town, and did some extended sitting as I wrote. In many years of wearing concealment holsters of all sorts, this easily makes the top five, save for what for me is one serious flaw but may not be for others. Here's the scoop—
It's extremely comfortable to wear. I never found my self having to scoot it around to get it just so after sitting down or rising.
A strut and strong clip That metal clip is strong. Along with being comfortable, there was never any indication that the clip was creeping loose as often happens with polymer clips. Using "the facilities," it stays secure and tight on the belt, presenting no need to remove the gun or holster. Since public restrooms are a place where guns can be forgotten, it's a real advantage to have one that doesn't have to come off in the stall. With tight jeans, the clip is strong enough to work without a belt, though the belt lends a good feeling of security.
The fit for the gun is precise. My P365 clicked into place with certainty every time. There is no wiggle room for the gun. Did I mention the retention is adjustable? Because there was no play in the holster and retention felt solid, but drawing was easy, right from the box, I have so far not been tempted to mess with retention. I simply hope that Black Point put thread locker in the retention screws. Time will tell.
Likewise the strut, which I was skeptical of at first, seems perfect for my usual EDC jeans/belt combo. No adjustment after unboxing was needed. I was surprised at how well it aids concealment, subtly pushing the grip into the profile of my torso. Even sitting, when I'm accustomed to having "gun bulge," this one keeps the grip well-hidden yet comfortable. If one chooses to remove the strut, Black Point ships the holster with rubber spacers to fill the attachment point.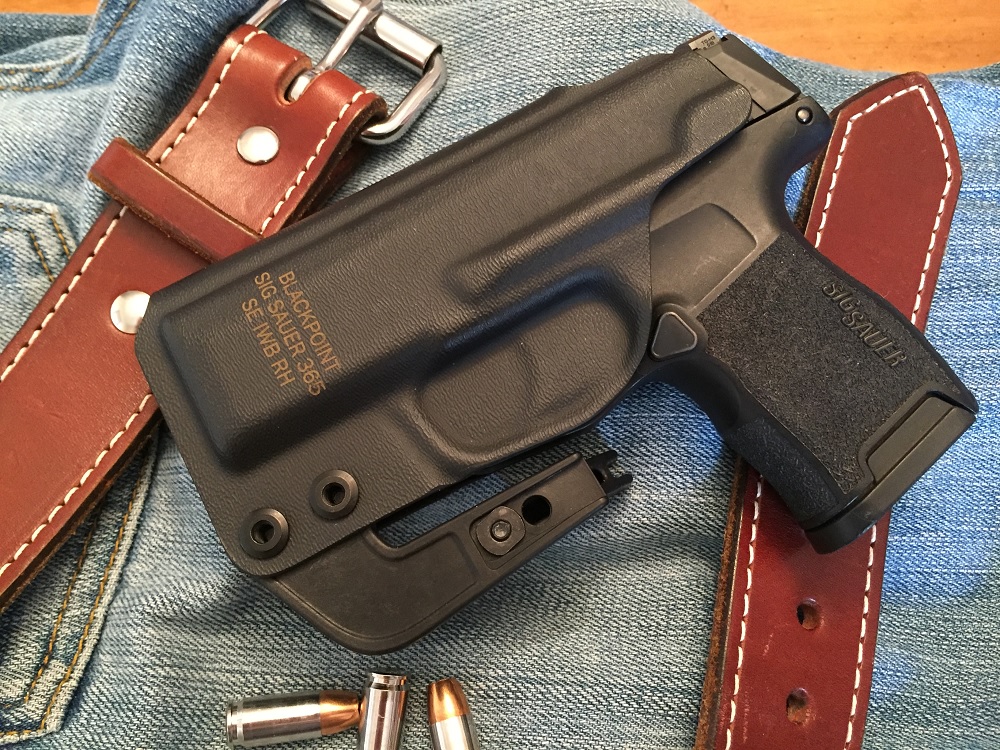 Only gripe I only have one beef with this holster. In the interest of making it red dot-ready, the top half-inch or so of slide is exposed to skin when worn under a shirt. Not only will this result in oxidation of the steel rear sight in short order, and longer-term on the slide itself if ignored, it makes the holster a no-go for this concealed carrier during the summer months, when metal plus sweat equals eczema. From talking to others who've carried IWB for years, I know I'm not alone. My only gripe is that while the company's other holsters, and even some models within the Sig Exclusive line, offer full body-side coverage of the slide, this one doesn't.
Despite that, the holster is still a worthy investment in concealment gear for the price of $78.99.