KelTec P17: Almost Heaven in the .22LR Pistol Department
Eve Flanigan 04.29.20

I recently had the chance to test out KelTec's 2019 release, the P17 handgun. The short version of this story is:  I was impressed enough that the gun is now mine. But every story has details, and if you're considering a new .22 pistol, it's worth reading on.
This is a compact gun that ships with three (three!) 16-round magazines. Loading the mags is very easy; the spring is surprisingly consistent-feeling from the first round to maximum capacity. Though there are no indicator holes to show how many rounds are loaded, the mags make it abundantly clear when they're full. Unlike some others, there's no even trying to stuff a 17th round in there.
The P17 profile is typical KelTec: slim, slab-sided, and with a hiking shoe sole-like traction pattern on the grip. The spacious trigger guard is squared off and there's some molded-in sculping from the trigger guard base, also home to the paddle magazine release, that ends in the grip. It adds a bit of elegance to what would otherwise be an industrial-looking gun. I experienced no grip interference from this decorative touch.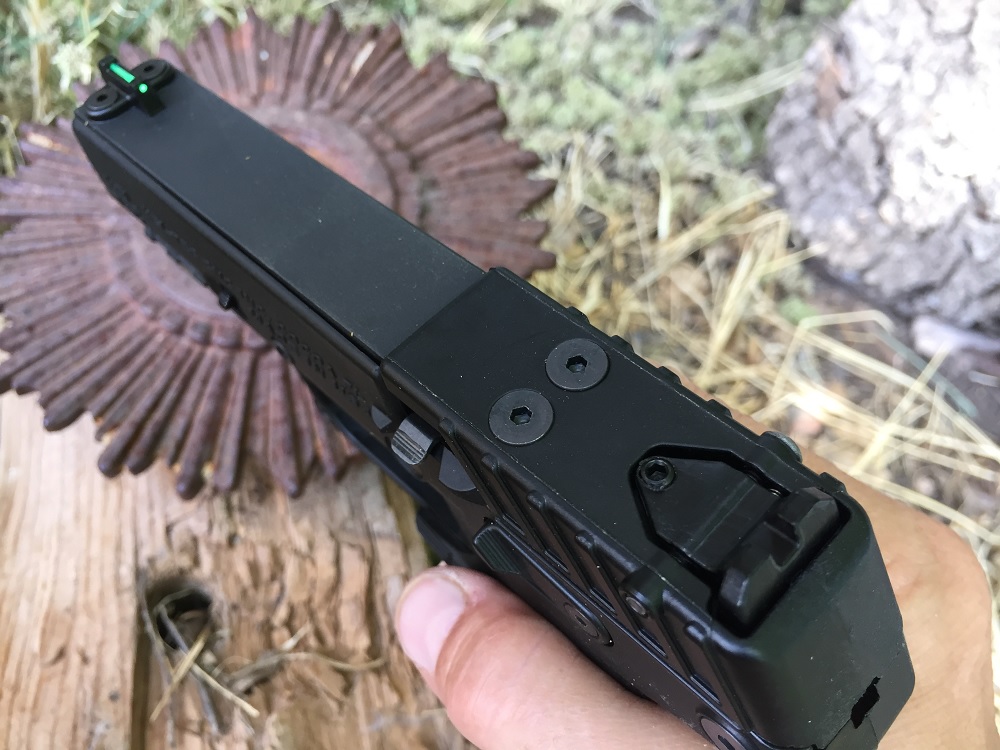 This is a full-featured gun with a windage- and elevation-adjustable rear sight, fiber optic front sight, a loaded chamber indicator, manual safety (the only thing I wish it didn't have), and—get this—a threaded barrel. KelTec is keeping with modern expectations; this gun is also quite easy to field strip and clean despite wearing a threaded barrel and thread protector.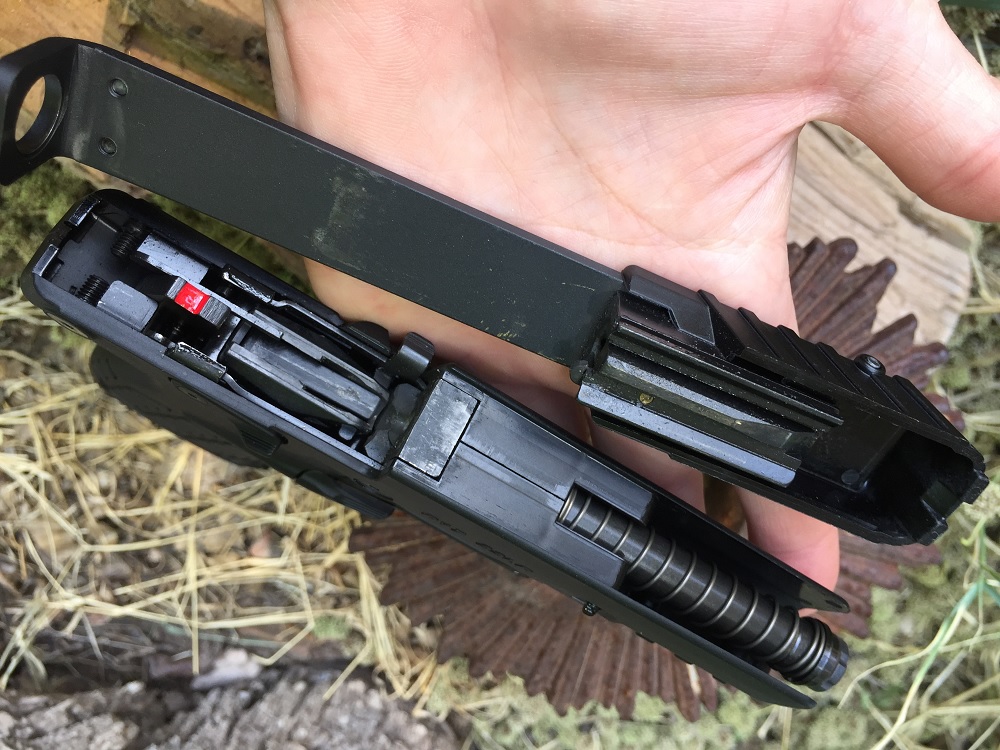 A very helpful and brief features/maintenance video is included on the KelTec website to make the disassembly/reassembly process easy and maintain the integrity of the threads and other parts.
In the hard-case box is also a tool-set: one Allen wrench for rear sight adjustments and one barrel wrench.
Using the little gun is really fun. In this short, introductory test, with the gun looking well-lubricated already from the factory, we ran 32 rounds each of Winchester 36 grain plated HP, Remington HD 36 grain Golden Bullet, and CCI Mini-Mag 40 grain copper plated round nose. Results were very unsurprising for someone who runs various brands of 22LR through semi-autos on the regular. Initial magazines, one of each brand, fed just fine with a mix of slow and rapid fire. By the time we loaded for the fourth time, a little carbon accumulation had apparently happened, and we experienced one failure to feed malfunction with the Remington ammo, two failures to extract on the Winchester, and zero issues with the CCI ammunition. In my personal experience, CCI simply runs cleaner and with less hassles in semi-auto rifles and pistols.
Were these malfunctions an indication of the quality of the pistol? In my opinion, they're more indicative of the chambering. A little 22LR cartridge has so little powder in it that there is little push-back in the system and parts, compared to centerfire chamberings. So errors are simply easier to come by. I believe that with running high-quality CCI ammunition, any 22 semi is made more reliable. And no, I didn't get any free ammo from CCI for this test; that opinion is based in experience with a 22LR rifle training program as well as from my own guns.
I do not care for a thumb-operated safety on a gun that's based on the striker-fired platform, period. I especially am not fond of ambi thumb safeties that are likely to get moved around by outside forces, like seat belts, while the gun is worn on the body. But considering the beginner/plinker market KelTec likely designed this gun for, who tend to value mechanical safety levers, I can understand its inclusion.
The paddle mag release is also ambi and works great. Empty magazines fall clear of the well without assistance. This is one way in which the P17 makes a great training tool in preparation for a larger gun, or for those whose physical condition includes extreme pain resulting from recoil.
Ambi stuff ends at the slide lock, which is diminutive and located on the left. Paired with the compact frame and very easy-racking slide, it's easy to operate despite being small. The gun loaded well with both thumb-releasing the slide lock as well as racking the slide with the support hand.
There is a red striker ready indicator as well as a loaded chamber indicator. The latter is visual and quite hard to see. I find a quick press check easier with this gun. These features have some usefulness and no function-related drawbacks.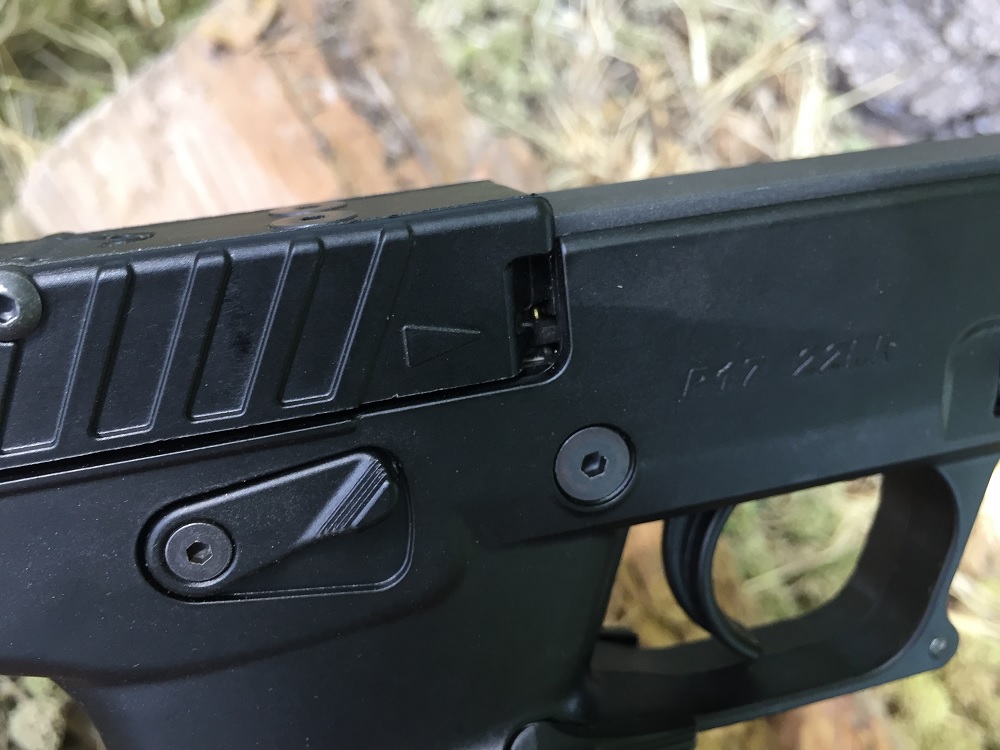 Accuracy from the P17 is good; without trying too hard I made a two-inch hole with 10 rounds from seven yards. Point of impact was about two inches higher than point of aim with the new gun, and I will be adjusting elevation for that reason.
The trigger is quite nice, with a medium amount of travel, clean break, and palpable reset. It's not a match-style trigger, nor should it be.
The P17 is a fantastic gun for introducing new semi-auto handgun shooters to the gun. It not only removes the complication of recoil as any 22 does, it offers the full function of a centerfire gun. As a defensive shooting-priority trainer, weapon handling skills are a top priority. This gun offers it all in a sensible, non-intimidating platform. Its light weight and skinny, skinny mags make it a great backpack gun, too.
Looks don't matter much but function does. I believe the P17 has the competition beat on both counts. Even with the Ruger Mark IV's user-friendly updates, the P17 wins for both looks and compact size – unless you're a fan of that old Luger-style profile. It's slimmer and trimmer than Glock's new 44, without the ridiculously bulky, 10-round magazines Glock picked for their only 22.  It's also worlds simpler to operate than Ruger's more modern-looking SR22. There really is no comparison
All that, and the P17 still manages to be a budget gun. With an MSRP of $199, it's almost a no-brainer for the practical-minded shooter to add a P17 to their collection. If you're only going to buy one .22 pistol, this is the one I'd recommend.
Specs:  KELTEC P17
Caliber:  22LR
Weight, unloaded:  0.7 pounds
Capacity:  16+1
Overall length:  6.7 inches
Overall height:  5.3 inches
Width:  1.2 inches
Barrel length:  3.8 inches
Barrel threads:  1/2-28 threads per inch
Trigger pull:  3.0 pounds