Going Digital: The Best Digital Hunting Maps and Features for Outdoorsmen
Ben Ryder 06.23.20

This post is brought to you in partnership with BaseMap.
In this article, we will take a look at the best digital hunting maps as well as their top features. With so many options on the market today, it can be hard to decide where to spend your time and ultimately your money. With a little bit of research, you will be able to easily decide what is best for you!
Man has long been fascinated with the exploration of our planet. Throughout history, our ancestors have pushed beyond the limits of their known world in search of new lands, new opportunities, and an expanded footprint for their civilizations. From Vikings to Lewis and Clark, the discovery of new grounds has been a driving force for the explorers of their day.
Fast forward from the days of Viking raiders to 2020 and man has been able to map the majority of the planet's land mass by foot and by satellite. Today, we can easily take out our phones and see what the peak of Everest or the Amazon river looks like, just by using Google Earth. While being a digital tourist to the landmarks of the world can give you some momentary satisfaction, it's not going to help you put food in your freezer.
While the majority of the readers of this article won't be scaling Everest any time soon, you may be looking for a new place to drop your tree stand this fall, scouting for a hunt out west, or just looking for a quick spot to call in some coyotes. For that, there is a perfect solution, digital hunting maps.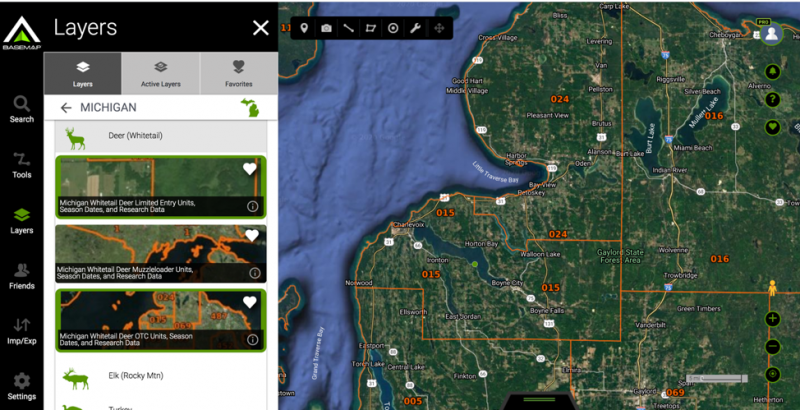 Digital hunting maps have absolutely changed the game for scouting and hunting. Prior to the introduction of map apps for hunting, scouting for small game or larger game would require you to go into the field and walk the public property you were considering setting up your blind or stand. There was a major problem with that however, it was extremely difficult to know the land boundaries as well as how close you are to a private residence.
In this article, we are going to lay out the top 5 reasons that you should use a hunting map app, the best options on the market today, as well as the top features that you will fall in love with. To compare features, we'll be using BaseMap and ONX, the two biggest players in the game today.
The Top 5 Reasons to use a Map App for Hunting
Easy identification of public land boundaries

Owning property with enough acreage to hunt is the dream of most outdoorsmen. That dream, however, can often be unattainable which means public land will be the number one option for most hunters. Size of public land can vary greatly by State and local factors.
For example, in Michigan there are large areas of public land in the Northern portion of the State that encompass hundreds of thousands of acres, meaning your chance of encroaching a boundary is very small. In South Eastern Michigan, the population is much denser, and the State lands are often much less than 10,000 acres and a hunter would need to be far more aware of where they are setting up.
A map app for hunting will allow you to see the exact location you plan to set up your stand ahead of time and also use your phones built in GPS to help you keep on course while hunting.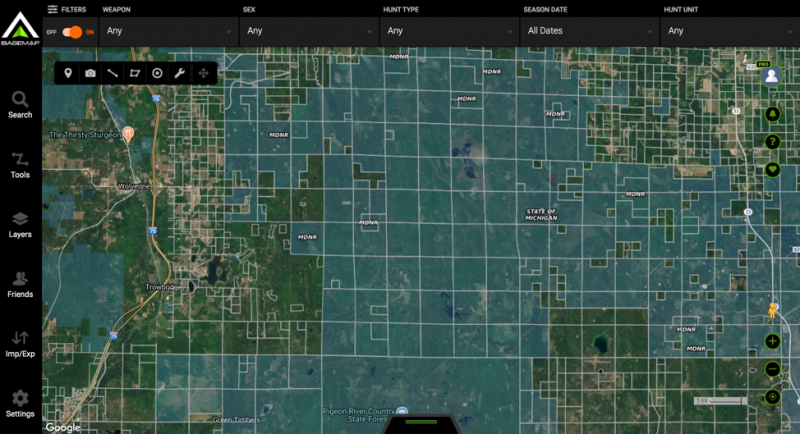 Increased scouting capabilities

Map apps for hunting will bring a number of powerful tools to your phone allowing you to really study the terrain and environment before you even leave your home. For example, if you are planning to scout for a perfect spot to place your tree stand for whitetail season this fall, you can view the surrounding area for potential food sources and water sources, clearings, forest, and may other contributing geographic factors to increase your odds of success. 
The Layers!

This is where map apps for hunters really set themselves apart from Google maps or other standard consumer satellite maps. Almost all of the apps on the market offer layers that will allow a hunter to see various known animal concentrations, BLM, State, and Federal land boundaries, trails, water sources and much, much more.
Saving your favorite hunting spots

Anyone who has hunted public land knows that without a GPS device, it can be difficult to get back to your prime location when venturing into large areas of land. The map apps for hunters allow for you to place pins where you have had success, note areas that are not viable, mark by game, and more. The benefit of this is compounded when adding it to all of the other data available through your app of choice.
Offline Mapping

One of the biggest benefits that you will find with map apps for hunters is the ability to take your maps offline. If you are in a remote area of the woods or even further off grid in the Western portion of the U.S., the chances of having a stable cell connection are slim. With these apps, you can do your scouting at home and save your maps offline allowing you to turn your phone in to a handheld GPS device.
The Top features of Map Apps for Hunting 
Like most products on the market, not everything is created equally. With that in mind, we are going to put the two largest companies in a head to head comparison to let you make the call on what the best use of your investment will be.
Cost
While cost is not a feature you will use, it is definitely a contributing factor. The first thing we are going to take a look at is a price comparison between onX and BaseMap.
onX
onX has set their pricing up with two available tiers. The first is their premium membership which is $29.99 per year and provides you with full functionality for a single State. The second tier is elite and is $99.99 per year. The Premium membership provides access to all 50 States and full functionality. You can also pay monthly for Elite which you cannot do with premium.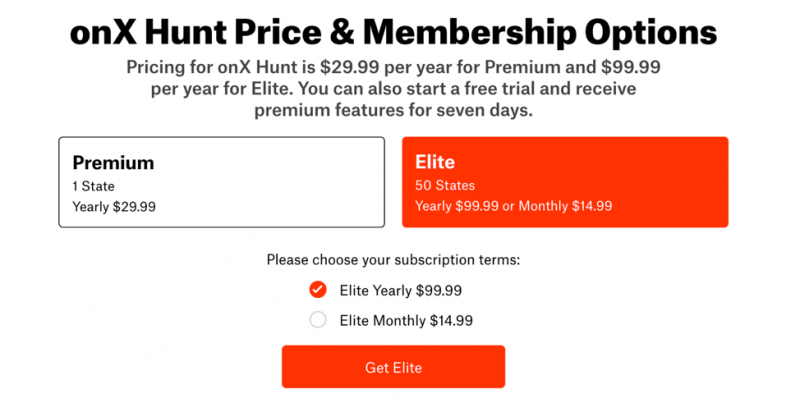 BaseMap
BaseMap has provided a very cost-effective tiered option for it's user base. The first is a free basic membership which allows for a great deal of mapping options that compete with the premium tier of onX. The second tier is their paid membership which unlocks all of their key features as well as all 50 States and comes in at a very affordable $29.99 per year or $4.99 per month. Lastly, BaseMap offers a hunt research option which onX does not, that opens up a desktop version for research as well as nationwide season dates and Western big game harvest date. The research tier is just $9.99 per year.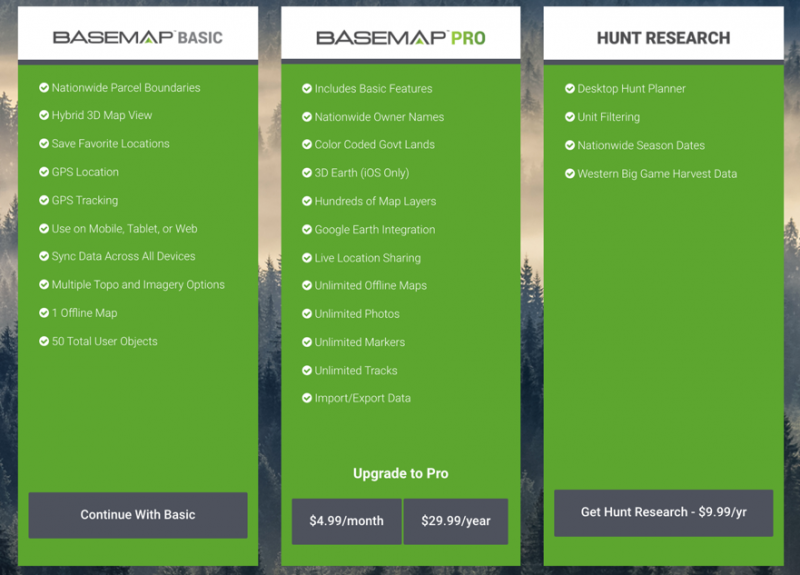 Mapping functionality and Image Quality 
When scouting, the functionality and quality of the images you are able to observe will be just as important as the availability of boundaries. You certainly don't want to spend your time looking at land that seems to be a great fit for your hunt, only to show up at that location and discover that you were actually looking at a wetland that appeared to be a grassy clearing when you were scouting from home.
onX
onX provides what appears to be a base map integration with a service like google maps. The map quality is nice and allows you to zoom in to a considerable degree for scouting. The map quality does leave you wanting for more as you get closer to ground level, but for most needs this is more than adequate.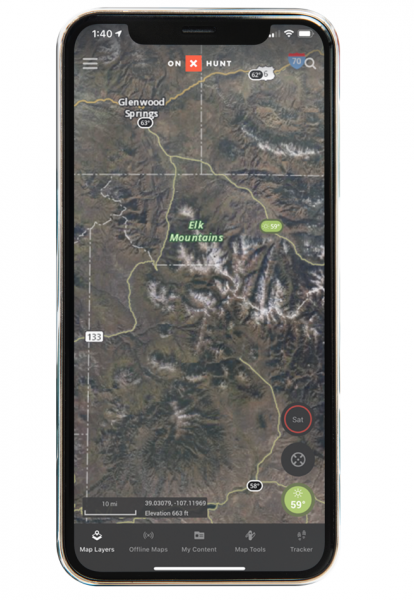 BaseMap
BaseMap gives you the ability to use a Hi-Res Satellite image similar to onX, but they do go a step further in what they offer in this category. Additional layers for 3D and also 3d Earth with Topo provide some added views that can really take the usefulness of the maps to the next level. Part of this is done through an integration with Google Earth, which means the quality of the 3D maps will be some of the best available to the general public. Another very cool feature with BaseMap is SmartMarkers. The SmartMarker feature will automatically capture and record the weather conditions when a user places a map marker. This will give you a much better understanding as to how weather patterns can impact your hunt and help give you a better success rate in the future when planning.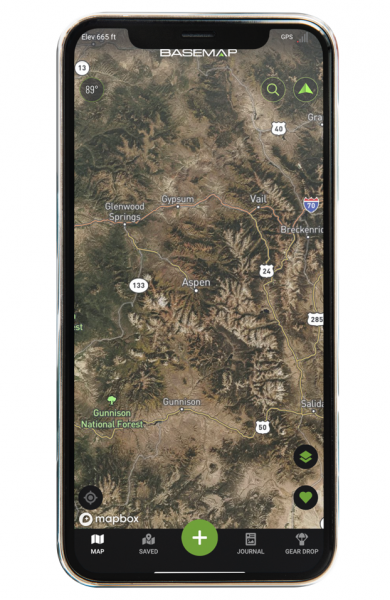 Map Layers
When it comes to layers, both onX and BaseMap will get the job done, however there are some key differences when it comes to what is available.
onX
The onX app provides over 400 different layers ranging from type of land to species. The app allows you to select a blanket layer from hunt, trails and rec, and also water. Beyond the base layers, you can drill in to State specific layers which open up the forest management boundaries for your scouting and hunting.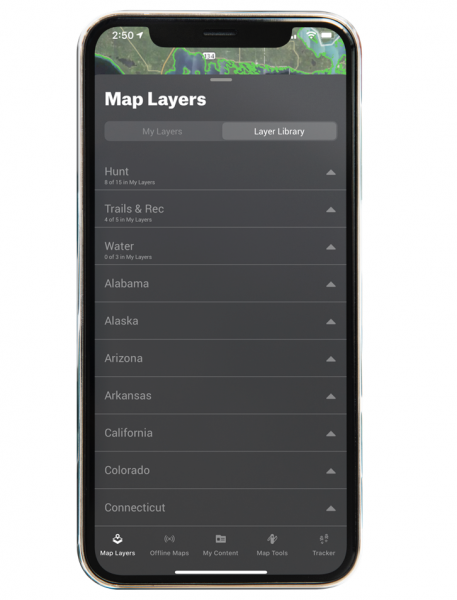 BaseMap 
BaseMap brings an even larger library of overlays with over 800 different map enhancements. Similar to onX, the app allows you to select base hunting layers and State specific boundaries, but BaseMap has something that onX does not. BaseMap has gone the extra mile to make their app crossover in to the fishing world as well providing satellite and topo layers for lakes and waterways.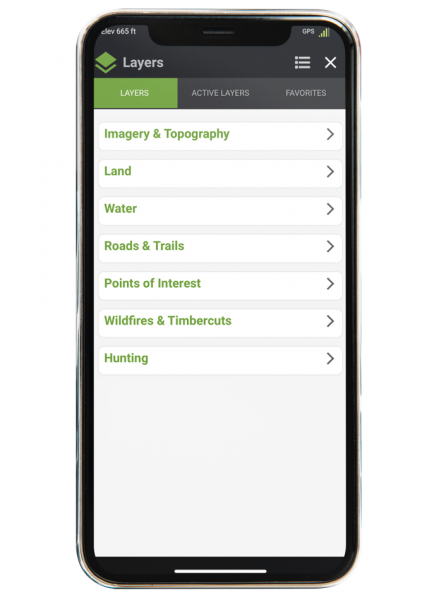 Offline Maps
One of the most important features of any map app for hunters is going to be the availability of Hi-Res offline maps. Anyone who has spent any considerable amount of time in the outdoors knows that cell service can be spotty at best and you certainly don't want to rely on that variable for a successful hunt.
onX
As you would expect, onX provides you with the ability to download maps for use offline. One thing that leaves you wanting more is the quality of the images. With onX, you must select a certain area to download prior to going offline. If you want a larger area, you will be restricted from how far down to surface level you can zoom. If you want a more specific area, you will only be capturing a small portion of the potential zone you are hunting.
BaseMap
While BaseMap also imposing some geographic size restrictions on what you can download, the overall quality of the maps you will have available are higher than those from onX. Having the increased details can mean a world of difference when you are in a remote area and want to pivot from your original plans.
With multiple options available for map apps downloading each one to test will not only be time consuming but also cost prohibitive. With most software, your best bet is to look at the big players as your first resource when researching where to ultimately invest your money and time. Both of the apps we looked at for this article are great options and will certainly do the trick, however, BaseMap's cost and functionality has put it ahead of the pack in our eyes as the first stop on anyone's list when going digital this hunting season.
For more information about BaseMap, head over to their website.
Happy hunting!