Gear Hunter: Bass Pro Shops Folding Fillet Table
Ben Ryder 08.05.20

On today's Gear Hunter, we are going to be looking at the Bass Pro Shops folding fillet table.
Landing your catch is only half of the fun when you are out fishing for dinner. If you are successful, you still need to do the leg work to fillet your fish and get it ready to cook or freeze. This spring we headed out to Lake St. Claire in Southeastern Michigan when the Walleye fishing was hot. We came home with a massive haul of fish! Afterwards, we headed home and put the Bass Pro Shops Folding Fillet Table to work.

The table was a perfect option for running through the dozen plus fish we had to clean up. What sets the Bass Pro Shops Folding Fillet Table apart is the various features built in to it with the angler in mind. The table features 43″L x 23″W polyethylene surface which is perfect for cleaning your fish and easily cleaning up afterwards. The garden hose hookup also allows you to provide running water to the stainless steel faucet which will make your cleaning and filleting much quicker.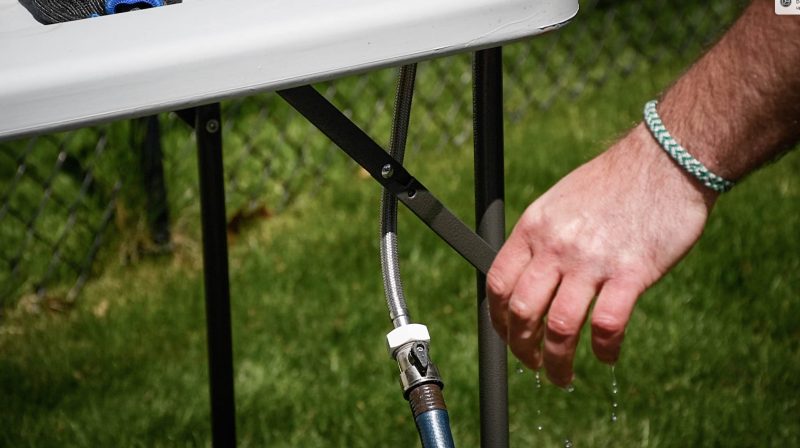 The table fold up very easily is less than 20 lbs, making it easy for transportation and storage. Once unfolded, you also have access to an integrated 31″ ruler, sloped drainage gutter and sloped sink basin.

If you are an avid angler or just a weekend warrior who plans to do a bit more than catch and release, the Bass Pro Shops folding filet table is certainly worth checking out and at an MSRP of $69.99, it won't break the bank.

For more information on the Bass Pro Shops folding filet table you can head over to the Bass Pro Shops or Cabela's websites.

You can also buy the Bass Pro Shops folding filet table here – BUY NOW