OutdoorHub Review: Ultimate Economy Blaster? KelTec P17 .22 Long Rifle
Adam Scepaniak 10.26.20

When it comes to rimfire firearms many of us are drawn to them because of their affordability and the cartridge they are chambered in being economical as well. It is a great way to introduce new shooters through a light-recoiling platform, and if you want to blast away in high-volume it is less detrimental to your bank account. Even still, when you look at some of the offerings in today's market, if you only have $200 there are not a lot of options except for maybe the KelTec P17. So, that begs the question… Is the KelTec P17 the Ultimate Economy Blaster?! In this OutdoorHub Review, we will deep-dive into this firearm to see if it is something worth adding to your personal collection. Let's jump right in!
Specifications: KelTec P17 .22 Long Rifle
Aside from the affordable price-point of the KelTec P17, the huge draw to this specific rimfire handgun is the capacity. When most all rimfire handguns are maxed out at the standard 10-round limit the KelTec P17 pushes beyond that with 16-round magazines (plus one in the chamber) due to their unique geometry and internal design. The rest of the specifications for the P17 .22 Long Rifle can be read below as presented by KelTec Weapons:
CALIBER: .22 Long Rifle
WEIGHT UNLOADED: 0.7 Lbs
MAGAZINE CAPACITY: 16
OVERALL LENGTH: 6.7″
BARREL LENGTH: 3.8″
BARREL THREADS: 1/2″ x 28 T.P.I. (Threads per Inch)
HEIGHT: 5.3″
WIDTH: 1.2″
TRIGGER PULL: 3 Lbs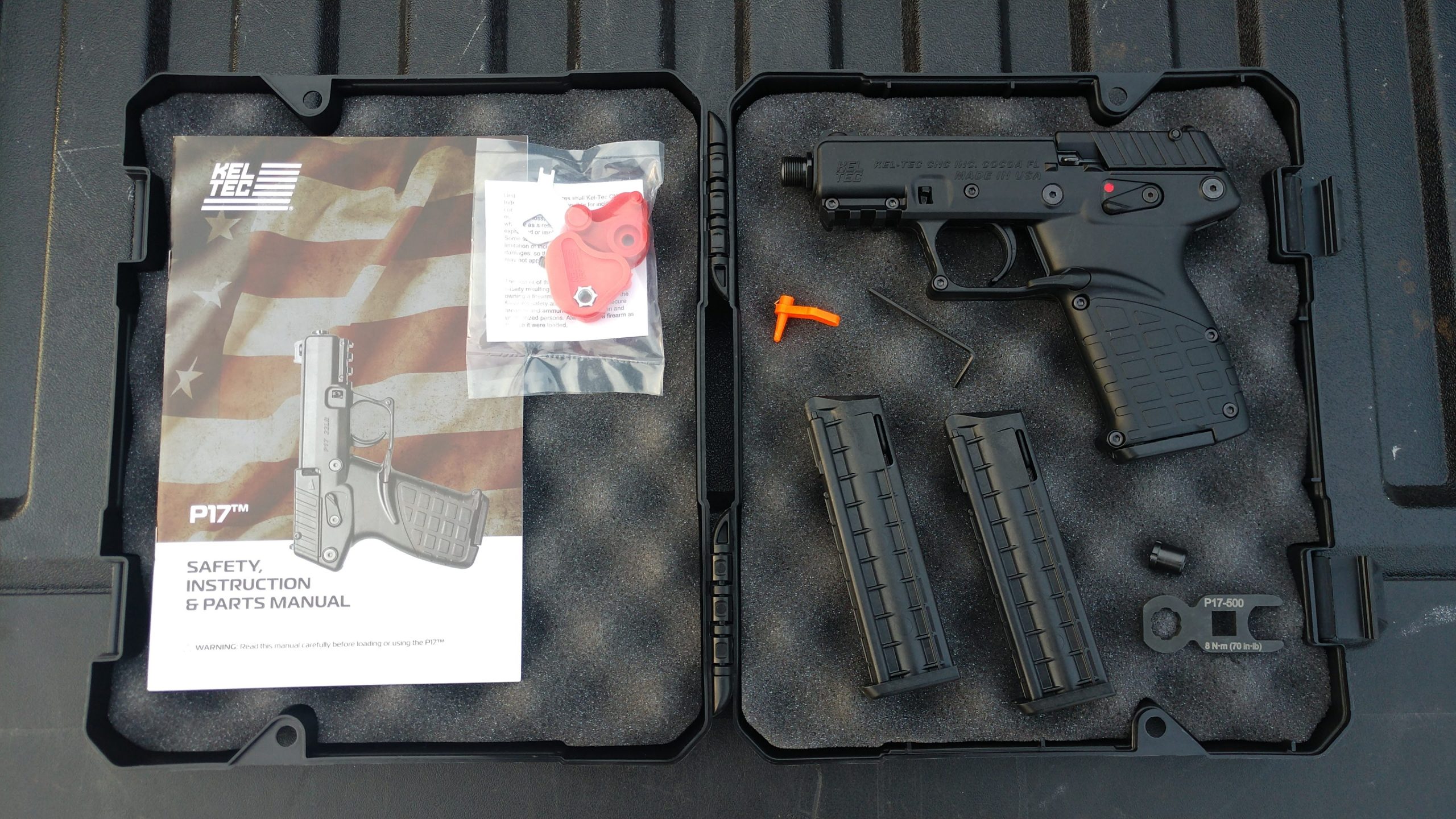 The current MSRP of the KelTec P17 .22 Long Rifle is set at $199 and many firearm retailers are selling this model at even more affordable prices than that. Also, in the rare event that you should ever need service for your firearm you are completely backed by KelTec's Lifetime Warranty. A further explanation of what the P17 .22 Long Rifle is all about can be read below in their Press Release describing this firearm:
"At less than 14-ounces fully loaded, and barely longer than a dollar bill, the P17 is concealable for pretty much anyone. Just don't forget it's there when you need it! The threaded barrel, Picatinny-style accessory rail, ambidextrous safety, ambidextrous magazine release and three (3) 16rd magazines come standard. That's a ton of value added in such a small package. And did we mention the price? Don't let the small size fool you. This little pistol is a tack driver. The excellent trigger, fiber optic front sight and adjustable rear sight help you extend the P17's range. It's a handy little .22LR that builds confidence and burns bull's eyes. Every tool has a purpose and having the right tool for the job sets you up for success. Its size, weight, and caliber are the perfect combination for training that new shooter in your life. For more experienced shooters looking to hone their skills, the P17 is also a great training tool for when you're on a budget."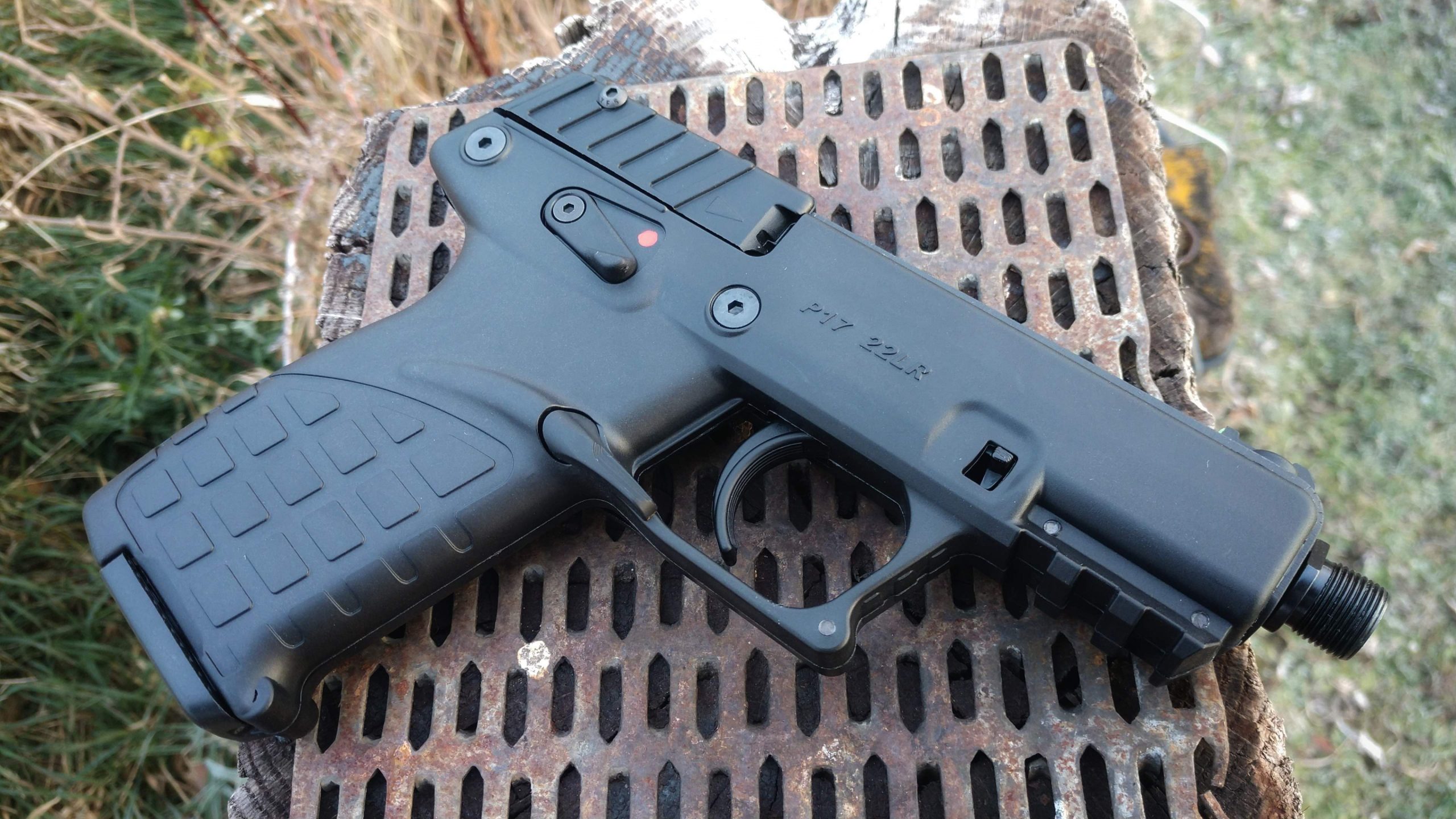 First Look: KelTec P17 .22 Long Rifle
When you first crack the seal on the box of the KelTec P17 you see the familiar lines, aesthetic, and functionality of many KelTec firearms that have come before. The P17 is a pretty small rimfire handgun, but it remains large enough to get a full purchase on the pistol and effectively manipulate all of its functions.
Some of the highlights for features are the KelTec P17's Fiber Optic Front Sight, Threaded Barrel, 16+1 Capacity Magazine, and European-style Magazine Release. For those who might not be acquainted with how they release their magazines across the pond, a European-style magazine release is built ambidextrously into the trigger guard. It is a bit of a departure from how we are used to doing things in the US, but it is something that can be easily learned and cemented into your muscle memory in one trip to the range.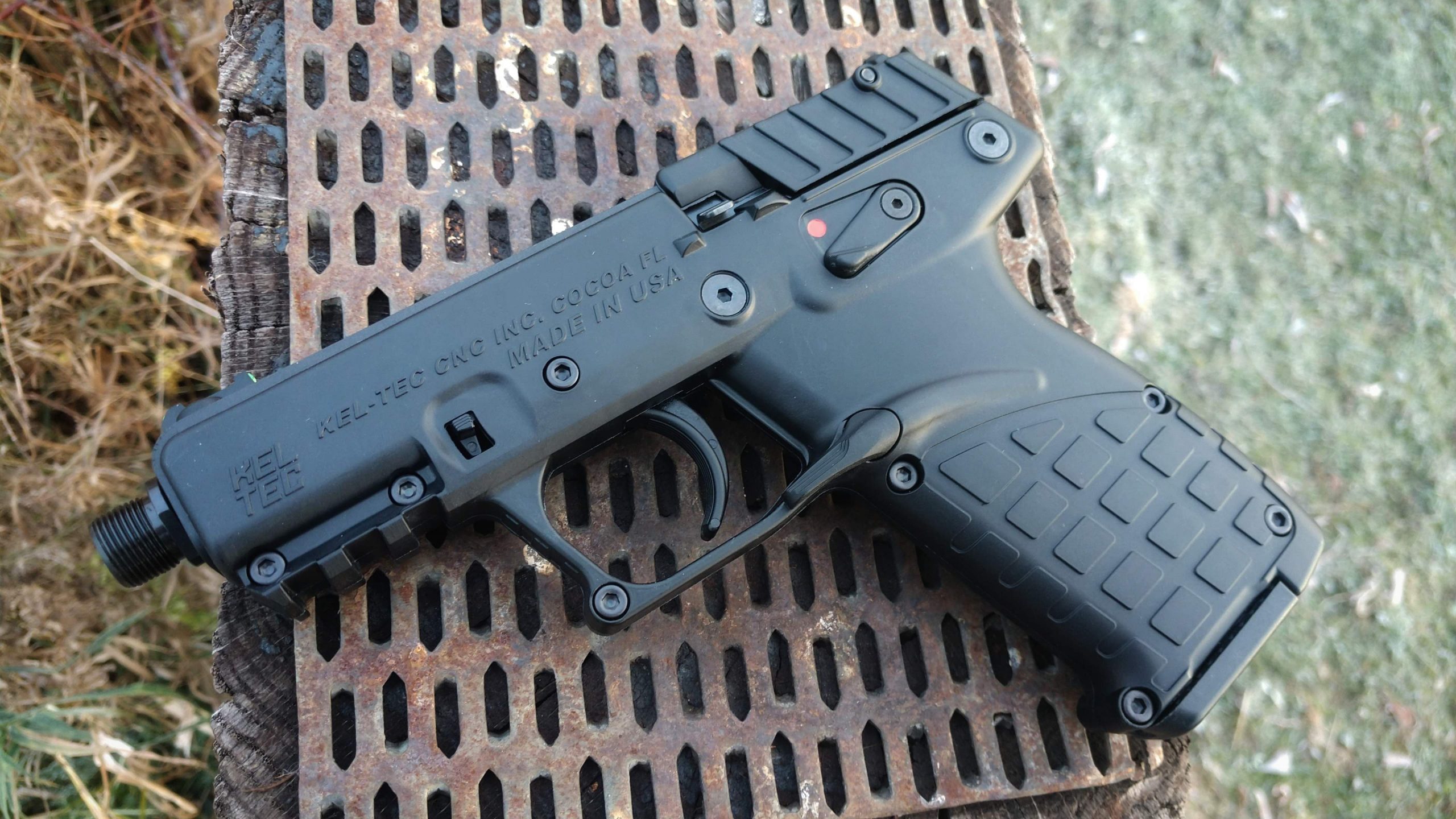 Another feature that is becoming increasingly popular for all handguns are Fiber Optic sights. Whether you are young or old, have good eyes or bad, or it is cloudy or sunny outside, having Fiber Optic sights makes for a much easier to obtain and see sight picture. Something else that is a hallmark feature of this pistol are the 16+1 magazines. I would later catch myself at the range only loading them to 10 rounds because I simply forgot these magazines far exceed all of their competitors in capacity. So, that is definitely something to appreciate. The last noticeable component about the KelTec P17 that will surprise people the most is the Threaded Barrel. It is not uncommon to see threaded barrels on rimfire pistols, in fact, they are becoming increasingly common. What is uncommon is to see one on a gun as affordable as the KelTec P17 which punches in at $199 at full retail. I happen to own a few silencers so we will put that to good use later on in this review.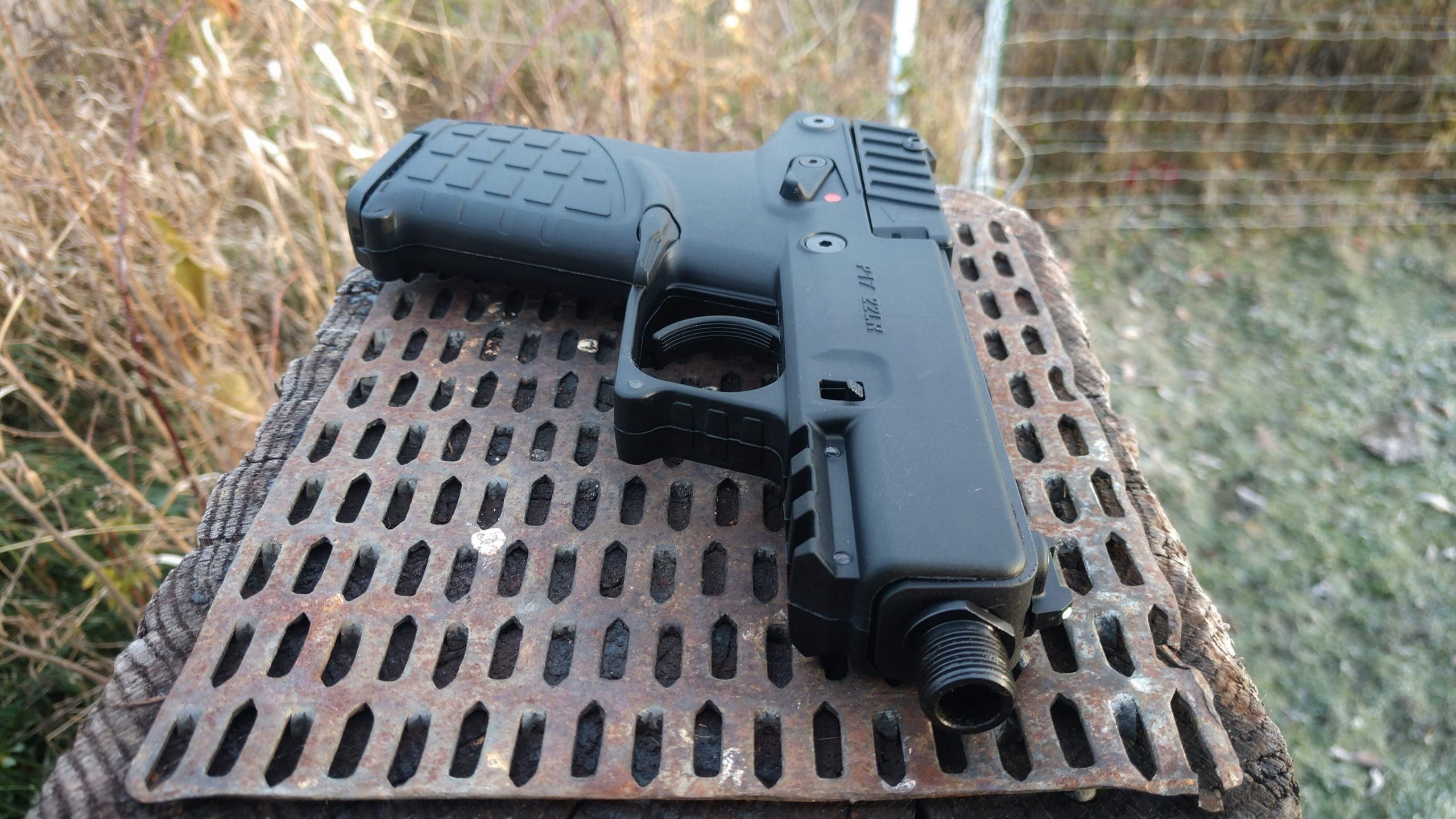 Range Time: KelTec P17 .22 Long Rifle
I had two different range day opportunities to shoot this pistol and they were starkly different which was perfect in the testing of the KelTec P17 .22 Long Rifle. On one day it was a breezy and chilly 40°F day in Minnesota and 2 days later on my 2nd range trip it was 20°F with 1/2 a foot of snow on the ground. Mother Nature can be fickle and that is more than true in Minnesota. This created the perfect testing grounds because I was able to shoot it above and below freezing temperatures both suppressed and unsuppressed.
One of the first things you notice while shooting the KelTec P17 is the ejection port being open on both sides which let out a lot of lead splatter from the cheap .22 Long Rifle ammunition I was shooting. If you are wearing shooting glasses (like all good firearm owners do) it is not a problem, but simply something to note.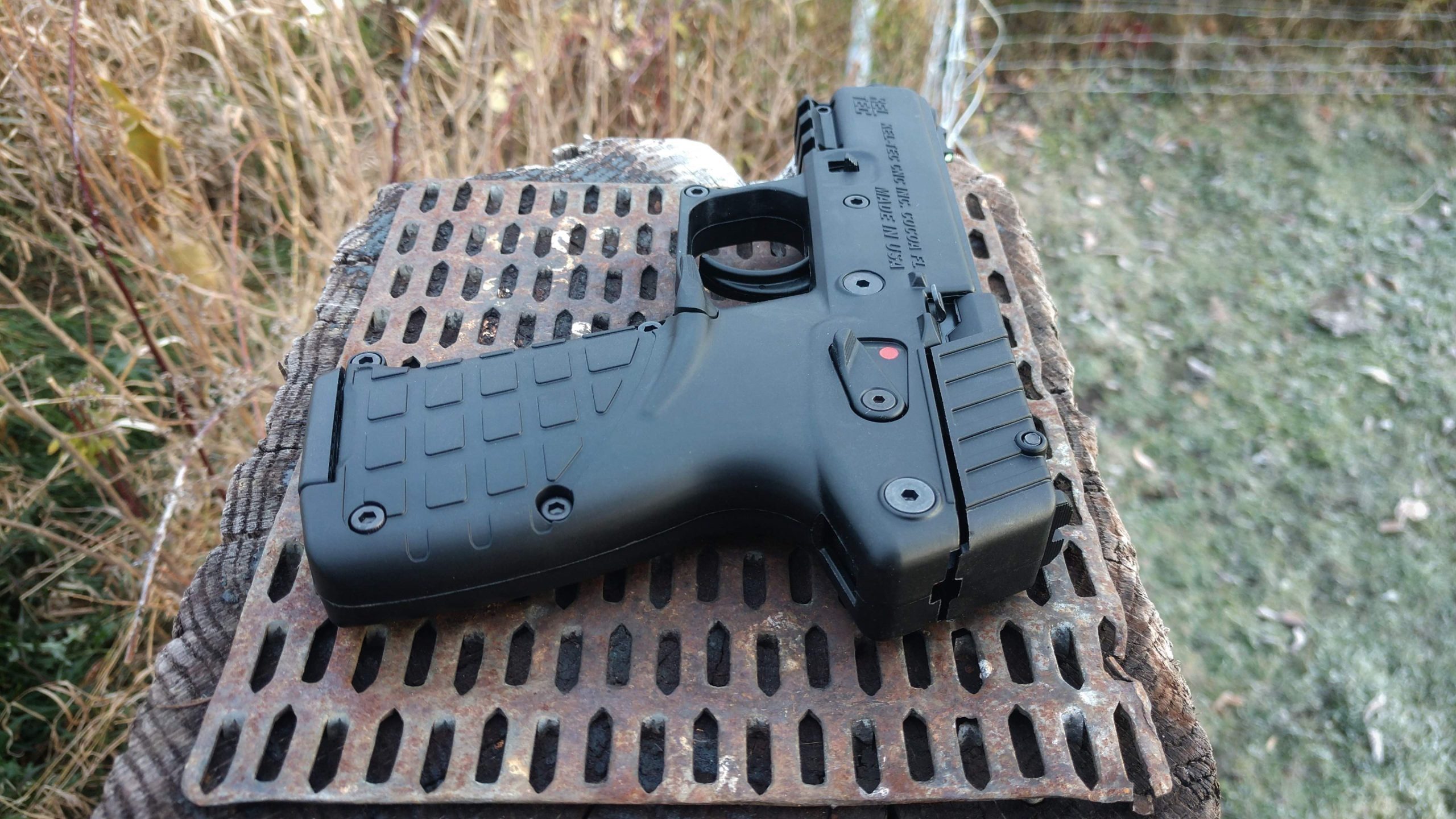 I found the KelTec P17 to be incredibly light so adding a silencer out front created a nice stabilizing effect while shooting. Also, the sights are not "suppressor height sights," but they were plenty high to be above my GemTech GM-22 silencer and afford me a more than ample sight picture. Additionally, the silencer actually tightened up my groups a tiny bit. We are talking in the realm of 1/2″ – 1″ smaller at times. I have seen this happen on a few firearms I have suppressed recently and typically it occurs when you shoot poorer quality ammunition and the silencer likely is aiding in cleaning up the messy gases that are being expelled; thus, assisting in more consistent shots.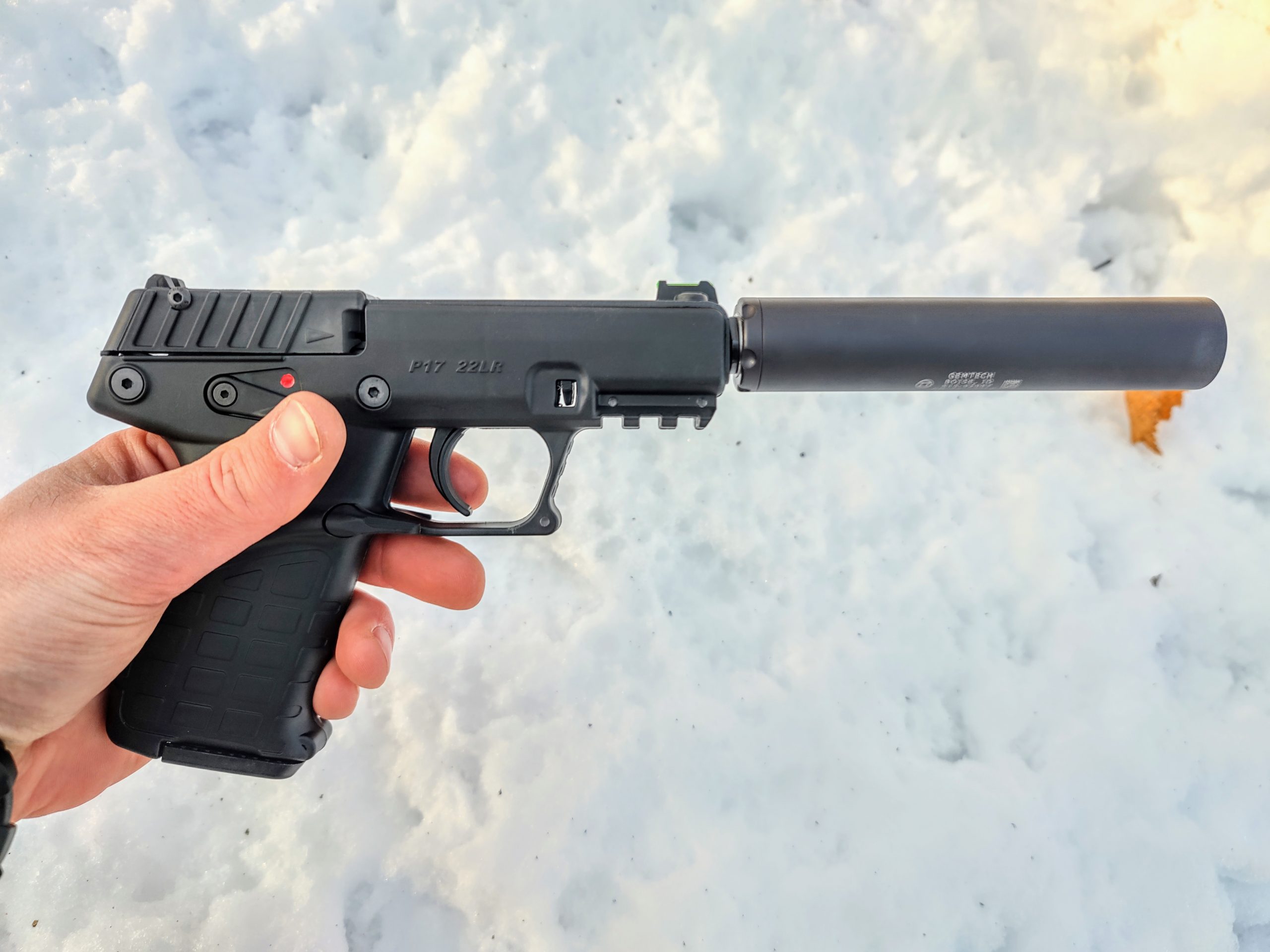 Speaking of the ammunition, I did not use any particular brand. I have an actual junk bucket of rimfire ammunition that I have filled over the years with half-used boxes, refuse ammo from friends, and unknown lots I have bought at gun shows. Basically, it is prime for making guns fail (if they are ever going to) when I need to test stuff. So, naturally I grabbed a fistful, threw it in a Ziploc bag, and brought it to the range with me. After shooting 400 rounds of this bag of misfit ammunition I was appalled… I did not have a single failure. The KelTec P17 .22 Long Rifle chugged through everything!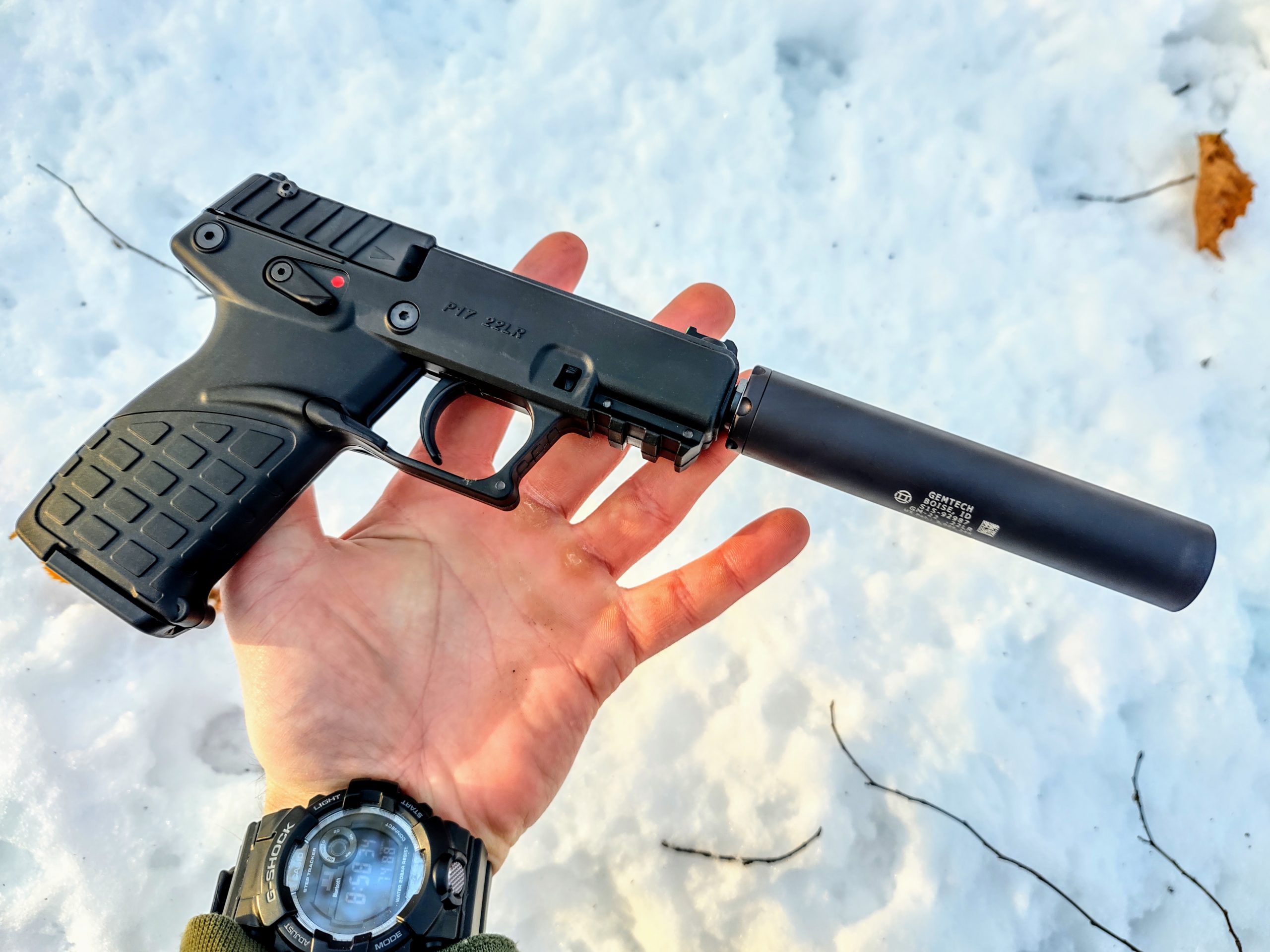 Final Thoughts: KelTec P17 .22 Long Rifle
So, what are my final thoughts?… I understand that KelTec in the past has had some hiccups in developing the P17 model, but with my extended experience now after multiple trips to the range I firmly believe any former issues have been resolved. With all of the horrific ammunition I pushed through this sample and not a single failure of any kind occurring, I have complete confidence in this firearm.
I hate to use the word cheap because that typically implies poor craftmanship, but this is the BEST cheap, affordable, and/or economical rimfire gun on the market in my mind. It has the highest capacity of any I have encountered at 16+1 rounds, you have a factory threaded barrel, fiber optic sights, it is reliable, and did I mention it is only $199? I know many people are always hunting down affordable rimfire guns to train on, shoot in volume for cheap, or teach younger shooters with and this could be that perfect firearm.
In closing, I want to say thank you to KelTec for allowing OutdoorHub and myself the opportunity to try out their KelTec P17 .22 Long Rifle. That is greatly appreciated. Also, we would like to know what all of you guys and gals think? Do you believe that the KelTec P17 .22 Long Rifle is something worth spending your money on? Would you carry it while camping or hiking? Shoot a league with it? Use it as your everyday carry? Let us know all of your thoughts in the Comments below! We always appreciate your feedback.