National Firearms Museum Gems: Theodore Roosevelt's Rough Rider Gear
NRAblog 05.03.12

Curator's Corner shares a number gems here at the National Firearms Museum. Hollywood guns, the Petersen Collection and hundreds of famed firearms filled with tall tales and legendary stories. The latest treasures, to be put on display in the next few weeks, comes courtesy of the U.S. National Park Service — the Theodore Roosevelt Collection.
Today's segment on the Roosevelt Collection focuses on the Rough Riders. The rough and tumble collection of cowboys, prospectors, hunters, Native Americans and others. There's a hat, a sword, a tunic and the regimental colors.
The tunic, as Senior Curator Phil Schreier tells us, comes courtesy of Brooks Brothers. Custom made for then Lieutenant-Colonel Roosevelt, the tunic was a dress, custom-made khaki hunting shirt with a spectacular selection of brass buttons.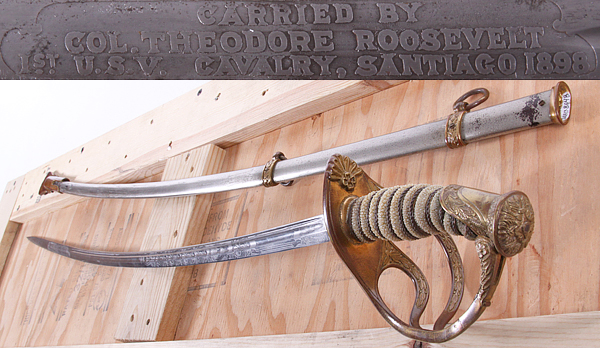 While the tunic saw action during the assaults on Kettle and San Juan Hill, the sword saw little. While making his way through the tropical jungles of Cuba, the sword often found itself tangled between Roosevelt's feet. Within good time, it was removed from Teddy's side and found a spot in the Colonel's tent for the remainder of the trip.
With an engraving near the tip (Carried by Col. Theodore Roosevelt, 1st U.S.V. Cavalry, Santiago, 1898), the sword was made in Germany, sold in Philadelphia and holds the traditional Navy shark skin hilt (as opposed to the Army's traditional leather hilt – a nod to Roosevelt's term as Assistant Secretary of the Navy).
Phil will also bring out Roosevelt's Rough Rider hat (purchased at Franks Brothers in San Antonio), the silk 1st Cavalry flag and stories about the expedition that will thrill young and old alike. So tune in for tonight's episode of Curator's Corner, a Rough Rider special, at 10:40 eastern on NRANews.com and Sirius/XM's Patriot Channel.